Dive into the world of electronic music download and discover the best platforms, tips, and tricks for accessing your favorite electronic beats in digital form.
Electronic music has become a global phenomenon, captivating audiences with its infectious rhythms, innovative sounds, and boundless creativity. With the rise of digital technology, accessing and enjoying electronic music has never been easier. In this comprehensive guide, we'll explore the realm of electronic music download, offering you a gateway to an expansive universe of beats and melodies.
From pulsating techno to mesmerizing house and atmospheric ambient, electronic music spans a vast spectrum of genres and styles. Whether you're a seasoned enthusiast or a curious newcomer, the world of electronic music download is brimming with possibilities. In this article, we'll unveil the best platforms and strategies for acquiring high-quality electronic tracks, helping you build a library that resonates with your unique taste.
Join us as we navigate through the intricate web of digital music distribution, uncovering the best practices for electronic music download. Discover how to access top-notch tracks legally, explore the benefits of various file formats, and learn how to optimize your listening experience. Prepare to embark on a sonic journey that will transport you to pulsating dancefloors, euphoric festival stages, and intimate headphone sessions, all from the comfort of your own device. So, let's dive into the world of electronic music download, where beats and bytes collide!
Article Content Part 1. Where Can I Download Free Electronic Music Online?Part 2. Electronic Music Downloader: Convert Electronic Songs to MP3Part 3. Recommended Electronic Music for Music LoversPart 4. Conclusion
Part 1. Where Can I Download Free Electronic Music Online?
When it comes to discovering and downloading electronic music for free, the internet is teeming with options. While there are countless platforms available, here are ten popular websites where you can find and download electronic music without spending a dime:
NoiseTrade: NoiseTrade offers a vast collection of free electronic music from emerging artists. Artists often provide their music in exchange for your email address, creating a win-win situation for both parties.
Jamendo: Jamendo provides a platform for independent artists to showcase their music. It offers a vast catalog of electronic tracks, allowing users to download and share music legally.
SoundCloud: SoundCloud is a renowned platform where musicians, including electronic music producers, share their work. While not all tracks are available for free download, many artists offer their music as downloadable files.
Free Music Archive: As the name suggests, the Free Music Archive offers a wide range of free electronic music. You can explore various genres, discover new artists, and download tracks without any cost.
Internet Archive: The Internet Archive is a treasure trove of digital content, including a substantial collection of free electronic music. It features live recordings, DJ sets, and even classic electronic tracks from the past.
Bandcamp: Although Bandcamp is primarily a platform for purchasing music, many artists also offer free downloads of their electronic music. Keep an eye out for the "name your price" option, where you can set the price to zero.
Ektoplazm: Ektoplazm specializes in free electronic music from the psychedelic and trance genres. It features a vast selection of high-quality tracks from independent artists and labels around the world.
Last.fm: Last.fm is a music discovery platform that allows you to stream and download music for free. Its electronic music section offers an extensive collection of tracks spanning various sub-genres.
YouTube Audio Library: YouTube hosts an Audio Library where you can find an array of royalty-free music, including electronic tracks. You can download and use these tracks in your own projects, as long as you comply with the usage guidelines.
CCMixter: CCMixter is a platform dedicated to remixes and samples, making it a valuable resource for electronic music producers. It offers a wide range of tracks available for free download, perfect for those looking to experiment with remixing.
These ten websites offer a wealth of free electronic music for you to explore and enjoy. Remember to respect the artists' work and support them whenever possible, as many rely on income from music sales and performances to sustain their creative endeavors. Happy downloading!
Part 2. Electronic Music Downloader: Convert Electronic Songs to MP3
TuneSolo Spotify Music Converter is a reliable software that enables you to download and convert your favorite electronic songs from Spotify into MP3 files, making them accessible for offline listening. With its user-friendly interface and powerful features, you can easily enjoy your electronic music collection without any limitations. Here are the steps to use TuneSolo Spotify Music Converter:
Step 1: Install and Launch TuneSolo Spotify Music Converter
Go to the official TuneSolo website and download the software compatible with your operating system. Once the download is complete, follow the installation instructions to set it up on your computer. After installation, launch the program.
Step 2: Open the Web Player
Upon launching TuneSolo Spotify Music Converter, click Open the Spotify Web Player button.
Step 3: Add Electronic Songs from Spotify to TuneSolo
Once you're logged in, you can browse and search for your favorite electronic songs within TuneSolo. You can either manually search for specific tracks or import entire playlists. Add the tracks you like to the conversion queue.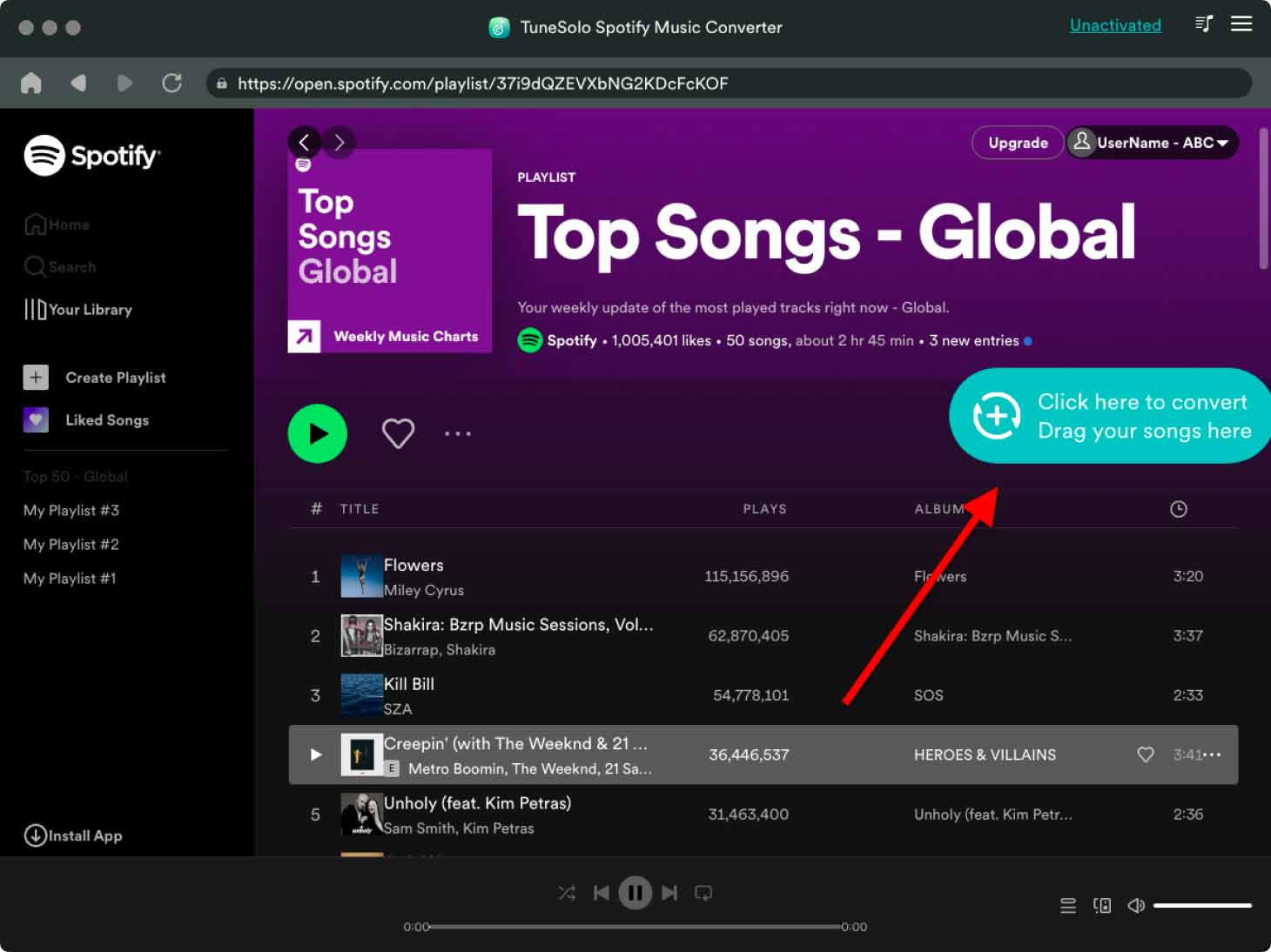 Step 4: Configure Output Settings
Before converting the electronic songs to MP3, you can customize the output settings according to your preferences. TuneSolo offers various options, such as selecting the output format (e.g., MP3), adjusting the audio quality, specifying the output folder, and more. Ensure that the settings meet your desired requirements.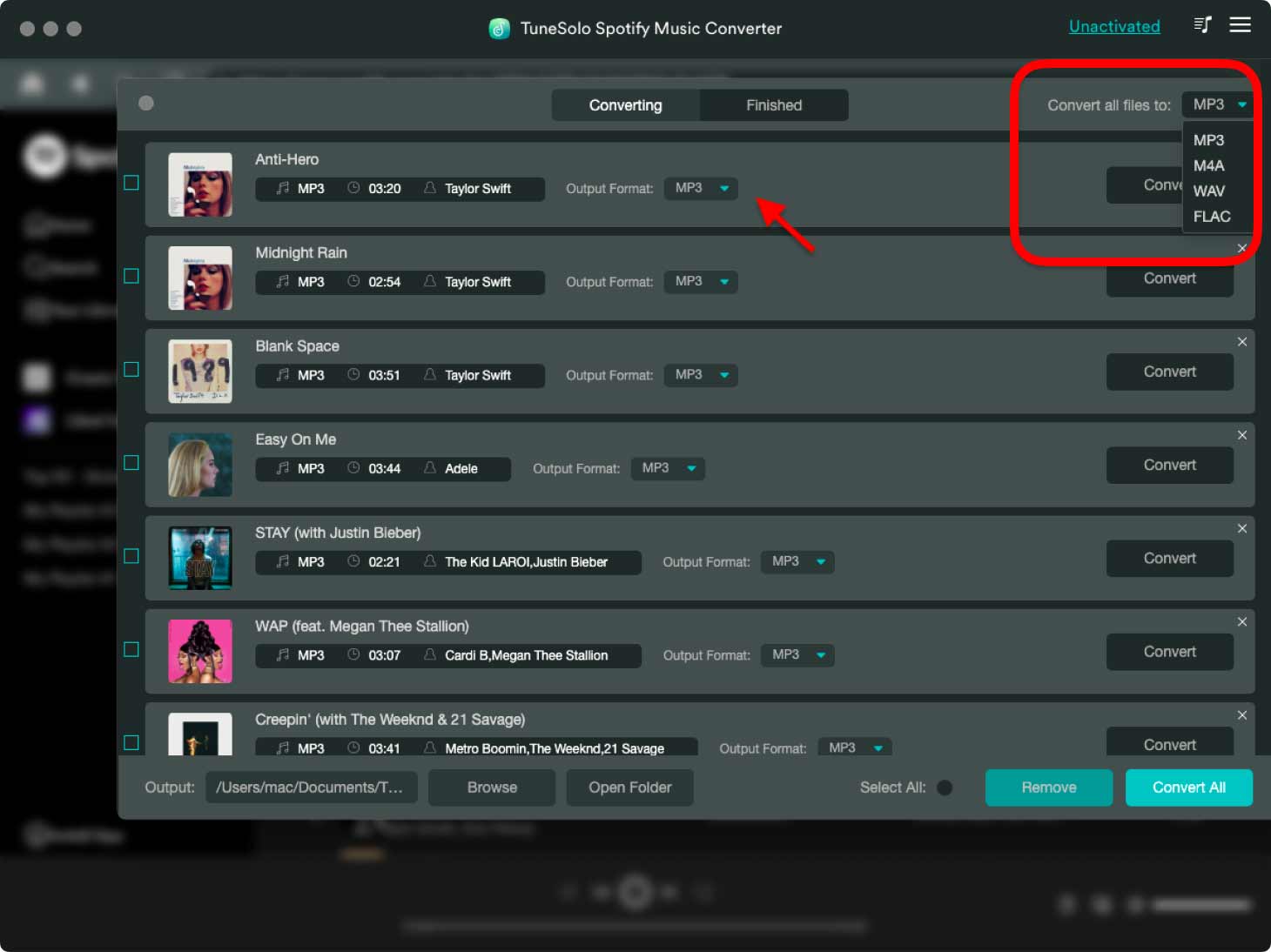 Step 5: Start the Conversion Process
After configuring the output settings, click the "Convert" button in TuneSolo to initiate the conversion process. The software will begin downloading and converting your electronic songs from Spotify into MP3 files. The progress and completion status will be displayed.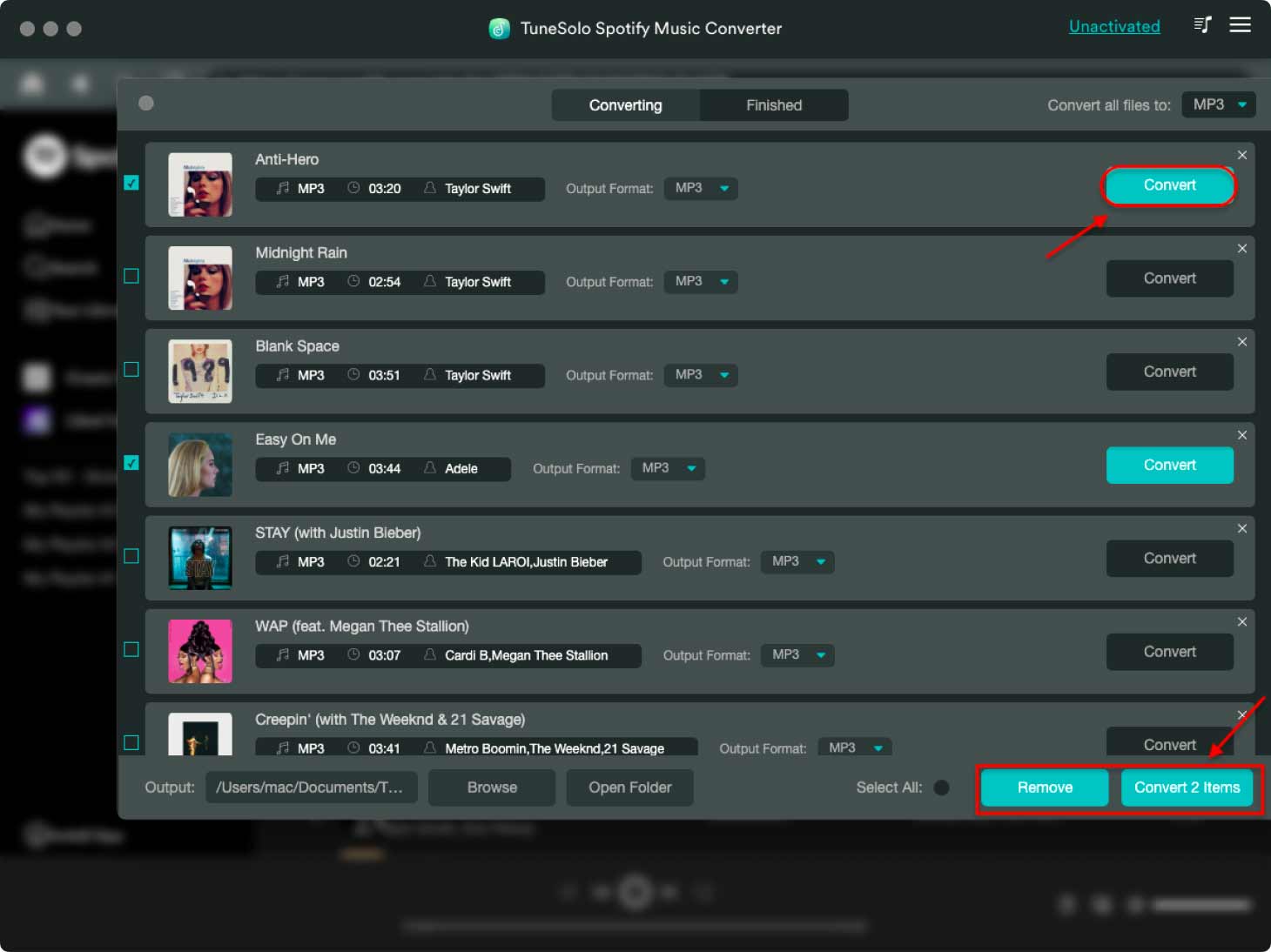 Step 6: Access and Enjoy Your Converted Electronic Songs
Once the conversion process is complete, you can locate the converted MP3 files in the specified output folder. These files are now ready for offline listening on any device that supports MP3 playback. Transfer them to your preferred media player or smartphone and immerse yourself in your favorite electronic beats wherever you go.
TuneSolo Spotify Music Converter provides a convenient solution to convert electronic songs from Spotify into MP3 format, granting you the freedom to enjoy your music offline. Remember to respect copyright laws and use TuneSolo for personal use only. Happy downloading and listening!
Part 3. Recommended Electronic Music for Music Lovers
Here are 15 recommended electronic music songs across various sub-genres for music lovers to explore:
"Strobe" by Deadmau5: A progressive house masterpiece, "Strobe" builds gradually with mesmerizing melodies and atmospheric sounds, creating a euphoric and uplifting journey.
"Rez" by Underworld: An iconic track from the 90s, "Rez" combines pulsating beats, hypnotic synths, and powerful vocals, creating a captivating fusion of techno and trance elements.
"Windowlicker" by Aphex Twin: Known for its eccentricity, "Windowlicker" showcases a blend of experimental electronic sounds, warped vocals, and a unique blend of genres, creating a mind-bending and memorable listening experience.
"Midnight City" by M83: A synth-pop anthem, "Midnight City" features soaring synths, anthemic vocals, and a nostalgic 80s vibe, creating an atmospheric and uplifting electronic masterpiece.
"Blue Monday" by New Order: A groundbreaking electronic track from the 80s, "Blue Monday" blends infectious drum machine beats, pulsating basslines, and catchy melodies, becoming an enduring dancefloor classic.
"Inspector Norse" by Todd Terje: An infectious disco-infused track, "Inspector Norse" is filled with funky basslines, catchy synth hooks, and groovy rhythms, transporting listeners to a lively and vibrant dancefloor.
"Breathe" by The Prodigy: A high-energy and aggressive electronic track, "Breathe" combines heavy beats, distorted vocals, and industrial elements, creating an intense and adrenaline-pumping experience.
"Clair de Lune" by Flight Facilities ft. Christine Hoberg: A dreamy and melodic electronic track, "Clair de Lune" features ethereal vocals, lush synths, and a chilled-out atmosphere, evoking a sense of serenity and tranquility.
"One More Time" by Daft Punk: A timeless anthem, "One More Time" captures the essence of disco and house music, with its infectious beats, soulful vocals, and uplifting energy, creating an irresistible dancefloor hit.
"Teardrop" by Massive Attack: A trip-hop classic, "Teardrop" features haunting vocals, atmospheric production, and a mesmerizing combination of electronic and organic elements, resulting in a captivating and emotional experience.
"Around the World" by Daft Punk: Known for its catchy repetition and infectious grooves, "Around the World" combines funky basslines, robotic vocals, and a hypnotic rhythm, creating an instantly recognizable electronic dance track.
"Levels" by Avicii: A feel-good and energetic electronic track, "Levels" incorporates uplifting melodies, infectious hooks, and a blend of house and pop elements, becoming a global hit and a symbol of Avicii's talent.
"Pjanoo" by Eric Prydz: An uplifting progressive house track, "Pjanoo" showcases melodic piano lines, euphoric synths, and a pulsating rhythm, creating an infectious and uplifting atmosphere on the dancefloor.
"Born Slippy .NUXX" by Underworld: A defining track of the electronic music scene, "Born Slippy .NUXX" combines driving beats, gritty synths, and emotive vocals, capturing the energy and intensity of a live electronic performance.
"The Great Gig in the Sky" by Pink Floyd (Remix by Orbital): A mesmerizing remix of Pink Floyd's iconic track, this version by Orbital adds electronic elements, ambient textures, and pulsating beats, creating a captivating fusion of rock and electronic music.
These 15 songs span different eras and sub-genres within electronic music, offering a diverse and immersive listening experience for music lovers. Enjoy exploring these tracks!
Part 4. Conclusion
In conclusion, the world of electronic music download offers a vast array of options for music enthusiasts to explore and enjoy their favorite beats. From free platforms to legal download sites, the internet provides a wealth of opportunities to build a collection of electronic tracks that resonate with your musical taste.
When it comes to converting electronic songs from streaming platforms like Spotify into MP3 files, TuneSolo Spotify Music Converter stands out as an exceptional tool. With its user-friendly interface and powerful features, TuneSolo enables you to download and convert your desired electronic tracks, allowing for offline listening without any restrictions. It preserves the audio quality and ensures a seamless experience while providing the freedom to enjoy your favorite electronic music wherever and whenever you want.
With TuneSolo Spotify Music Converter, you can take your electronic music journey to the next level, creating a personalized library of high-quality MP3 files. Embrace the convenience and flexibility of this remarkable tool and unlock a world of endless electronic music possibilities.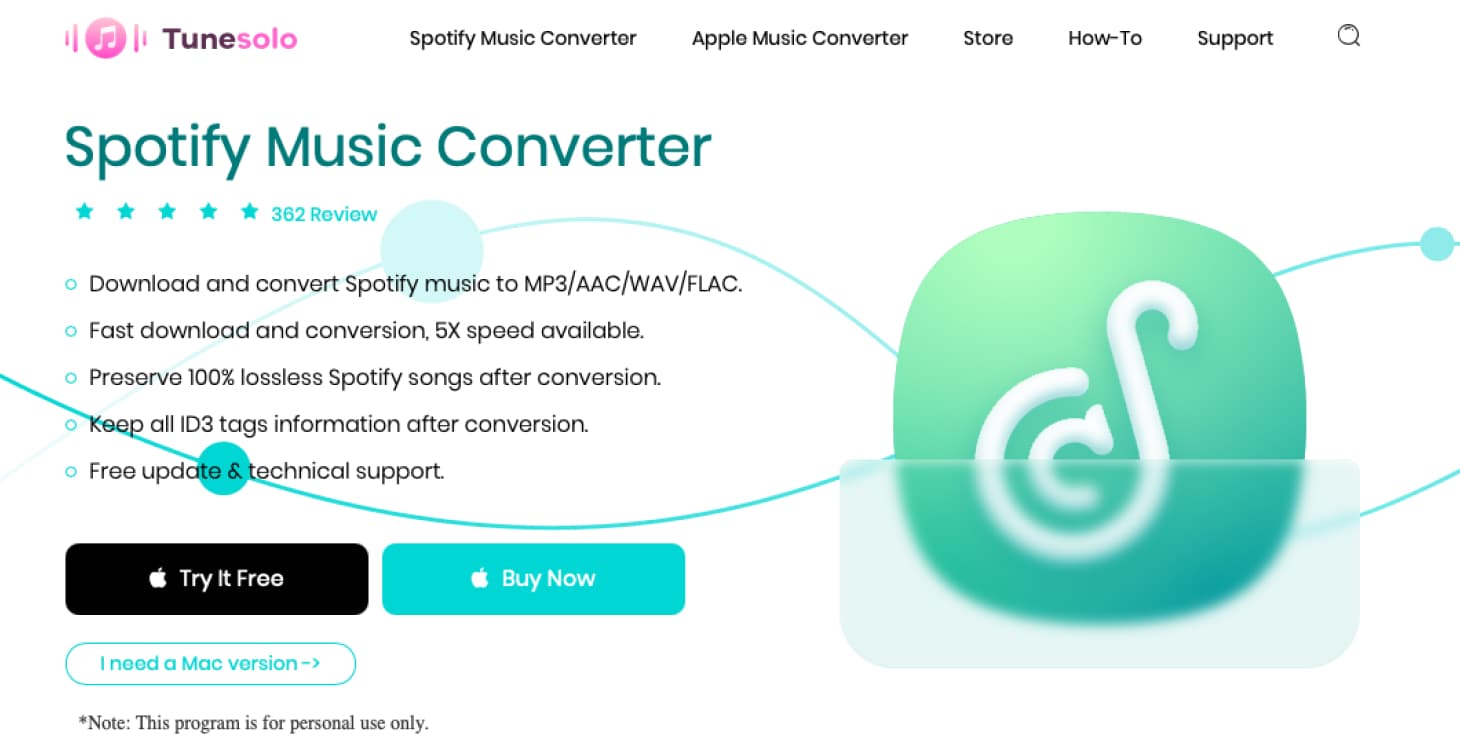 Get started with TuneSolo Spotify Music Converter and embark on an immersive sonic adventure that will accompany you on every step of your musical journey. Happy downloading and listening!