You are probably wondering why so many people are hooked on Spotify. This is considered the leading music streaming platform. Because it offers help not only to music lovers but also to students.
Students use Spotify to listen to audiobooks or podcasts for school, so they were given a student discount. You may wonder if you can get a discount if you are not a student. You certainly can.
In this article, we are going to show you how to get Spotify student discount without being a student. Then enjoy Spotify premium music without restriction.
Article Content Part 1. Get Student Discount on SpotifyPart 2. How to Get Spotify Student Discount without Being a Student?Part 3. How to Get Spotify Premium for Free Forever?Part 4. Conclusion
Part 1. Get Student Discount on Spotify
Most people use Spotify not only to listen to music but also to podcasts and radio. This is the primary reason why Spotify is well-known among its users, as it offers a variety of plans.
Let's go over the perks of Spotify student discounts. Spotify offers a premium experience to students for one month free and at a reduced price. This means you'll have access to Spotify's million songs for ad-free music listening online or offline.
This offer is valid for students enrolled in an accredited higher education institution. This, however, is not available to Spotify users who have already tried premium.
Signing up for a Spotify Premium Student account is very similar to subscribing to the regular plan, except that there is an additional step to verify your registration status (Please note that it has limits. You must be a student enrolled at a US Title IV accredited college or university, and above the age of 18). Here's how to get a student discount on Spotify:
Sign in to your Spotify account or create a new Spotify account on the Premium Student Plan page;
Verifying your student status by following the on-screen instructions;
After filling out your payment information, you'll get a free trial for a period of time; after the trial ends, your plan will continue with the Spotify student discounts.
Students need to renew their Spotify Premium Student subscription every year to continue the plan (for up to 4 years).
Because it is a premium plan, you can now download songs from Spotify to your computer once you have been validated. Once you have your playlist, just simply switch on the "Download" toggle button. Your playlist will be automatically downloaded for offline listening.
Part 2. How to Get Spotify Student Discount without Being a Student?
We are here to help you discover how to get Spotify student discounts without being a student. This service aims to help college students by allowing them to use it at their school. It consists of procedures to use Spotify and be handy especially to students. But it is not a trick to get you Spotify for free, but the opportunity to stream Spotify with less payment.
This hack can help you cut out 50 percent of your subscription fee. This means that you can enjoy your streaming ad-free and original quality. Also, you only need to renew the student discount subscription after one year.
To use this, sign in to Spotify and scroll down until you see the option "Student Discount," then click it. Select "Learn More," then "Graduate to Spotify Premium for $4.99," then "Get Premium." The next step is to sign up and provide your information as well as your school's information, such as an email address that must be in the ".edu" domain.
Be aware that Spotify student discount checks and verifies your school using the SheerID system. When done, you'll be guided to its home page, where you'll have to sign in and enter your information again. After that, select your payment method, and once paid, click on "Start Premium" to begin streaming Spotify!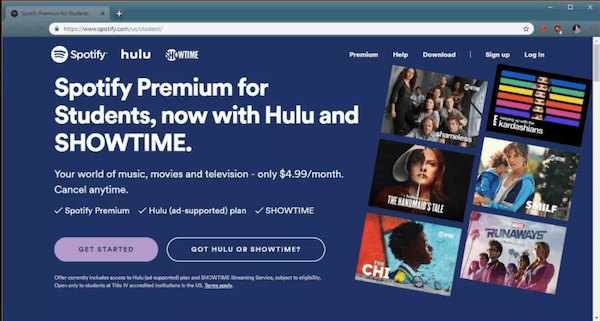 After completing your studies in school, you may no longer have a valid student ID in order to receive the Spotify discount. And with Spotify's million users across the world, many are eager to know how to get Spotify's student discount without being a student. This will be made possible by Spotify students' discount hack.
There're still some easy methods to get the Spotify student discounts even you are not a student:
Register a new account to try Spotify Premium for free;
Create a fake student ID or transcript using Photoshop (we do not recommend this);
Some universities may have .edu email addresses that are provided to non-students;
Try to find a Spotify student discount code online, which can be used to get a discount on a Spotify Premium subscription;
Seek help from relatives and friends, some of whom use Apple Music instead of Spotify. Get their information and submit it to Spotify's SheerID verification service;
Use the inspect element to edit an old schedule that matches the current year and semester and print it out to submit to SheerID if you still have access to the school portal......
Part 3. How to Get Spotify Premium for Free Forever?
As a student, it would be somehow a burden to pay Spotify premium even if it's at half price. You can use the payment for other important things, instead of paying for a music streaming app. But you needed Spotify to aid you and get some free audiobooks for your study.
Don't worry, aside from showing you how to get a Spotify student discount without being a student, we can help you get Spotify Premium for free forever! You'll surely wonder why this might be impossible since Spotify is protected with DRM and think that after your premium subscription ends, you'll not have permission to play the songs anymore.
To make this possible, we recommend you TuneSolo Spotify music converter. It is a music downloader that can help users download and convert Spotify songs to different audio formats without corrupting the original quality of the songs.
This app is unquestionably powerful, as it provides fast conversion speed and a built-in Spotify Web Player. The TuneSolo Spotify music converter's best feature is that it provides a Spotify Premium experience because you can download the songs to high-quality sounds encoded in 320 Kbps.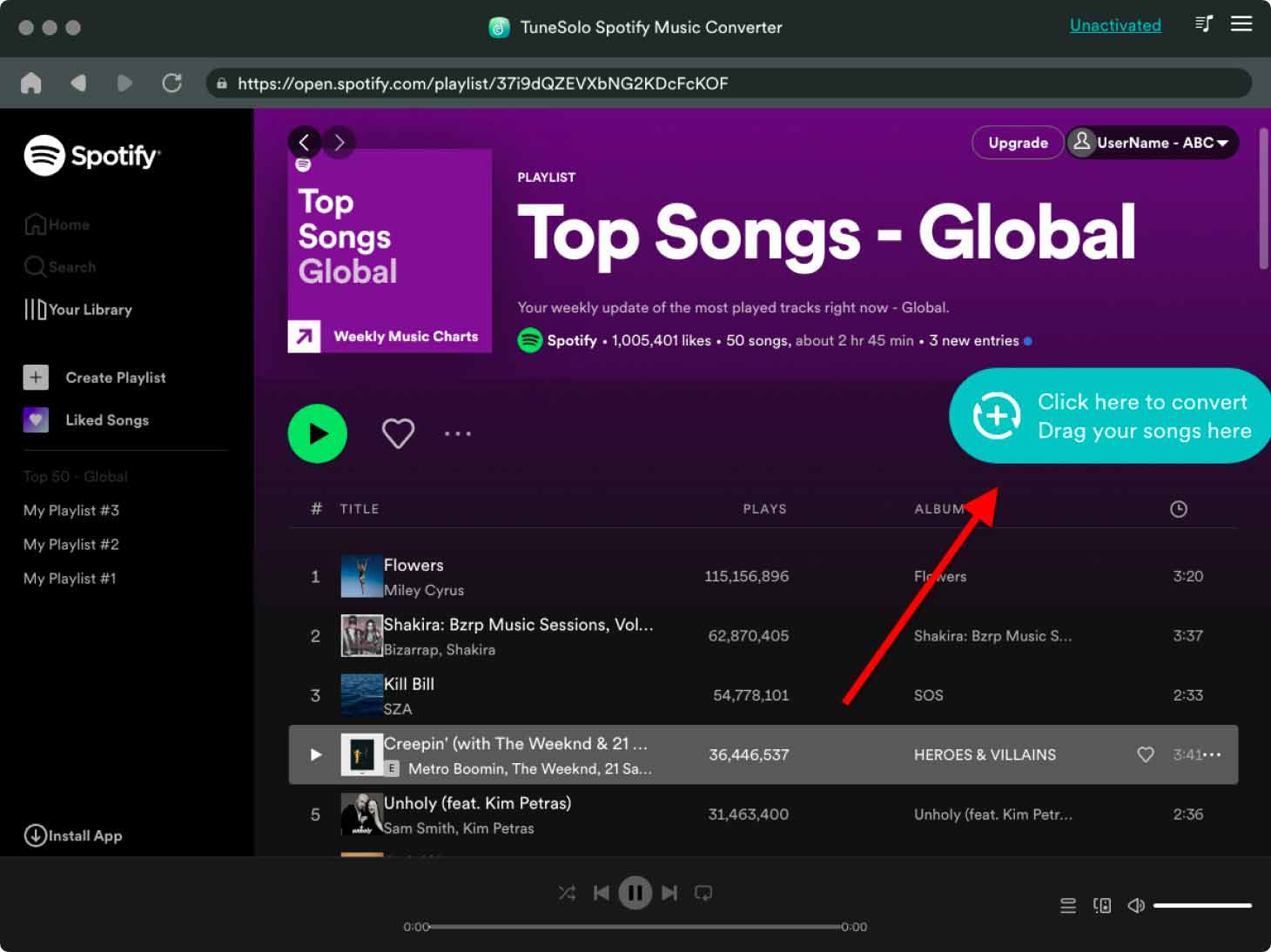 To use this app, you must first download the TuneSolo Spotify music converter from the app store to your device. Install and launch the app once you've finished downloading it. When you reach the app's interface, click "Open the Spotify Web Player" to search for your favorite playlists.
It is important to note that you can add music files to the app by simply dragging and dropping the songs, albums, playlists, and podcasts to the GREEN PLUS button.
The next step is to select an output format and folder for your songs. When you've finished selecting, click the "Convert All Items" button to begin the conversion.
With these easy steps, you will be able to experience Spotify Premium features forever. Also, you don't need to worry about your monthly or quarterly payments for its renewal. You may now transfer the downloaded Spotify songs to your mobile devices, MP3 players, or multimedia platforms and listen to your favorite Spotify tunes without any limitations.
Part 4. Conclusion
The Pandemic's emergence has had an impact on many people and their way of life. To adapt to change, many things have resorted to transitions. The school was one of the sectors that underwent significant change.
Students found this useful because Spotify offers a variety of plans and streaming content. Particularly when it comes to getting audiobooks for their studies. But don't the best things come at a cost?
Fortunately, we have TuneSolo Spotify Music Converter to allow us to experience Spotify premium features! It is indeed a magnificent tool that will help us get Spotify Premium free forever! By simply downloading the files and storing our favorite playlists in our files.
Another good thing is that you can play these songs on different devices anytime you want! With its advanced features, you don't need to worry about how to get Spotify's student discount without being a student. Because, with TuneSolo Spotify music converter, no verification and no restriction are required to experience the most out of our Spotify music.