FLAC stands for Free Lossless Audio Codec and as you can see, it is an audio codec that doesn't experience quality loss even after conversion. As such, you can use it any time you want without having to bear with the risks.
As such, it's becoming more and more popular and is estimated to become more popular on 2020 and further. For that reason, it's only natural to assume that the best audio converters currently will adapt to the FLAC format, and some have already adapted to it.
This article will talk about those best FLAC converters of the year 2020 that will help you convert from or to FLAC. Let's start with the offline and free audio converters.
Article Content Part 1. 3 Best FLAC Converters for Windows and MacPart 2. Top 3 Online FLAC Converters in 2020Part 3. Bonus: How to Convert Apple Music to FLAC?Part 4. Summary
Part 1. Three Best FLAC Converters for Windows and Mac
Online free audio converters are without a doubt great ways to convert your files. However, offline audio converters give you the ability to convert files even without the internet. In this section, we'll talk about three of what we think are the best audio converters.
1. Stellar Converter for Audio Video
One of the most popular developers of helpful tools out there is Stellar, and it just so happens that they also have a tool for your goal which is Stellar Converter for Audio Video.
This software is popular for giving users the freedom to customize. You can change not only the formats and codecs of files, but you can also change the resolution, bitrates, and frame rates.
Below are the most notable features of this software as well as the supported input and output formats:
Metadata Modification. Unlike most software that preserves the metadata, Stellar begs to differ by giving you the option to edit the metadata
Video Editing. Users can edit their videos through this software, although the utilities for video editing is a bit lacking
GIF Creation. You can also create GIFs by extracting clips from videos, but the utilities are also lacking like with video editing
Supported Formats. For audio, it supports MP3, M4A, AAC, WMA, ACC, MP2, and most importantly, FLAC. As for the video, it supports MP4, MOV, MPG, WMV, and more.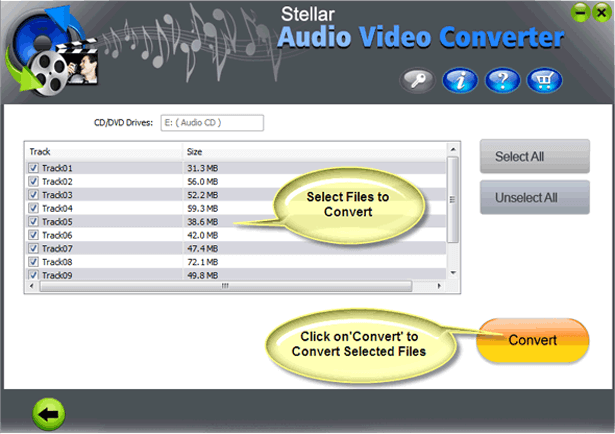 2. Xilisoft Audio Converter
Xilisoft Audio Converter was developed by the Xilisoft Corporation in 2012, though the company already existed back in 2004. It became more popular slowly, unlike Stellar which became popular almost instantly.
Although Xilisoft Audio Converter isn't as popular as Stellar, it's still one of the best audio converters in 2020 that supports the FLAC format and that's why it's on this article.
Below are the features that we thought to be the most significant as well as the supported formats of Xilisoft Audio Converter:
Audio Editing. If Stellar has sufficient utilities for video editing, Xilisoft is your best bet for audio editing. You can add effects such as echo, speed, chorus, and more
Media Player. Not only can you use this as a free audio converter, you can also use it as a very versatile media player
Background Conversion. You can minimize the software to the tray if you don't want the software to always appear on your screen
Supported Formats. Xilisoft supports FLAC, MP3, OGG, APE, CUE, RAM, and more. It also supports other lossless formats such as WMA and WAV, giving you additional two options for a lossless format on top of FLAC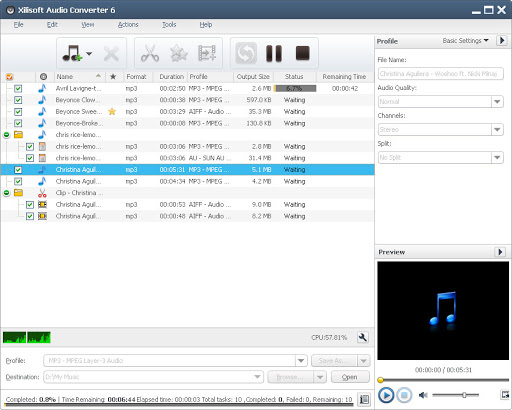 3. Freemake Audio Converter
Our last recommendation for an offline free audio converter is Freemake Audio Converter. Perhaps you've already heard of this as well since it's on the same level as Stellar in terms of popularity. Without further ado, here are the features and supported formats of this software:
Supported Formats. FLAC, MP3, AAC, OGG, M4A, AMR, and more. It also supports rare video formats including HD, H.264, WebM, although it won't be of use if you're only looking for the best FLAC converter
Cloud Access. You can easily upload the music that you convert into the iTunes library
Lossless to Lossy. You can convert files on lossless formats into lossy formats, and vice versa without having to deal with quality loss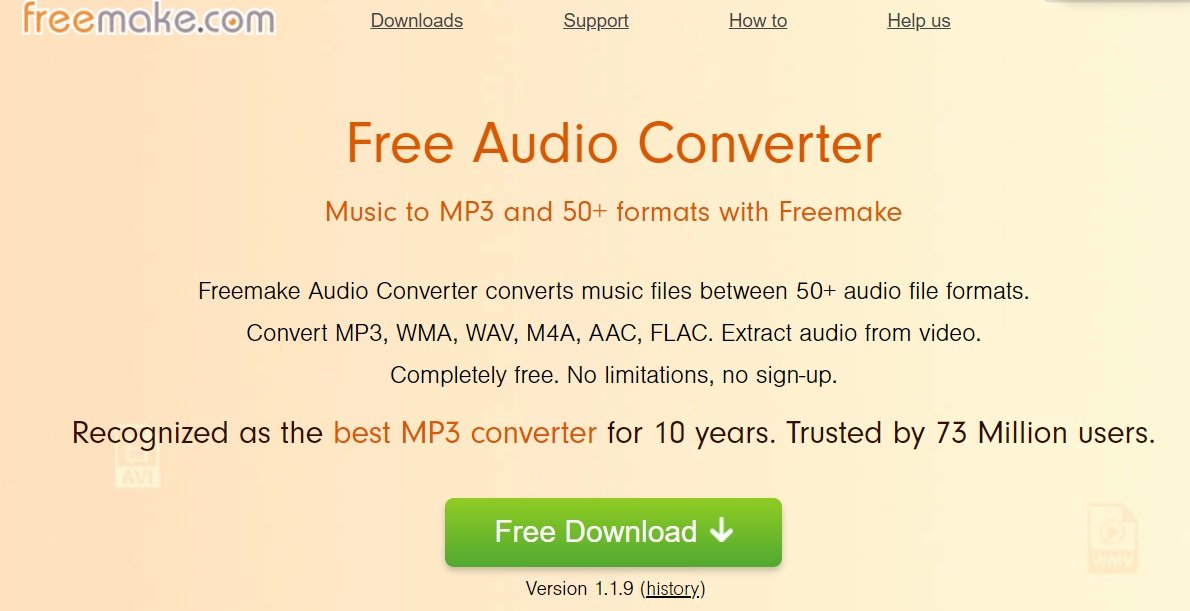 Part 2. Top 3 Online FLAC Converters in 2020
Although offline free audio converters allow you to use it without connecting to the internet, most of them have strict requirements, one being the device compatibility. If your device is not compatible, you may not be able to use it. This is where online converters come in.
With these best audio converters available online, you don't have to deal with the hassle of checking if your device is compatible, especially since you use it on the browser.
1. CloudConvert
CloudConvert was a website developed specifically for file conversions and nothing else. It was first released in 2012 and it is our first entry for the best online audio converter.
CloudConvert is among popular websites nowadays. It supports the FLAC format, so there's no reason not to include this. Below are some of the features that may be of interest to you:
Secure Data. Considering the history of CloudConvert, it's no wonder why they have already gone to extreme measures to secure the data that comes into their website
High-Quality Conversions. Some websites only focus on the file formats, CloudConvert has the luxury to take their time developing the tool to have high-quality outputs
API Integration. Due to the powerful API of CloudConvert, users can easily integrate their apps into this website
Formats Supported. Finally, CloudConvert supports many formats that belong to the file types Archive, Audio, CAD, Document, eBooks, Image, Spreadsheet, Video, and more. This, of course, includes FLAC

2. FreeConvert
FreeConvert can be considered one of the best competitors of CloudConvert. This is mainly because the process is very simple to understand, perfect for beginners. Here's a look at the features of this software:
The main selling point of FreeConvert is it is simple enough for all users. The process takes only little of your time which makes it similar to a website drive-through
Extra Utilities. Although the website is simple, it's not lacking in utilities. It offers features such as video trimming, audio effects, and more
Supported Formats. FreeConvert and CloudConvert don't have much difference with the supported formats. It includes images, videos, and of course, music. This includes the FLAC format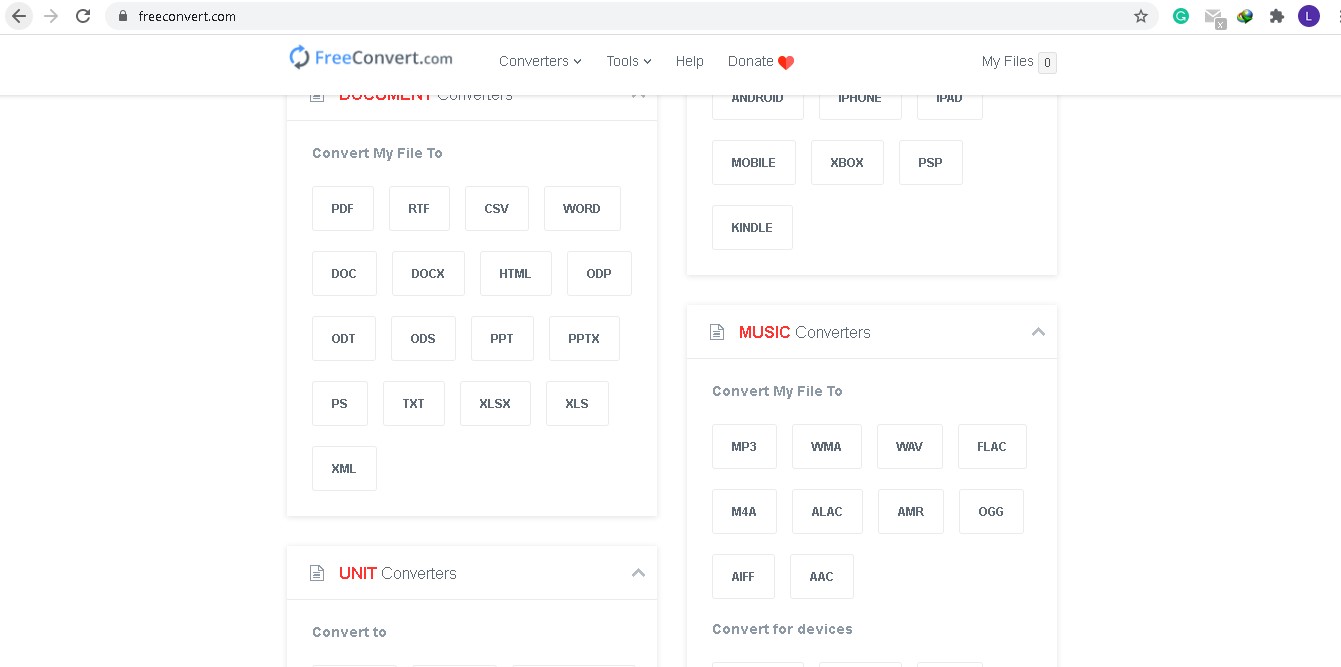 3. OnlineAudioConverter
Our last entry for an online FLAC converter is OnlineAudioConverter, which despite not being as popular, is actually very helpful. So far, this one has the highest number of supported formats, though it shouldn't matter if your only goal is to find the best FLAC converter.
Audio Extraction. Users can extract the sound from video files of different formats using this tool, perfect for making remixes
Advanced Settings. In addition to the format, quality, and codec, there are a lot more settings that can be changed to suit your tastes
Batch Conversion. The tool can convert multiple files at the same time
Just like CloudConvert, all data that enters the website will automatically be deleted
Supported Formats. OnlineAudioConverter supports over 300 formats. Compared to CloudConvert and FreeConvert that supports 200 formats, this is a huge difference. FLAC is of course included in this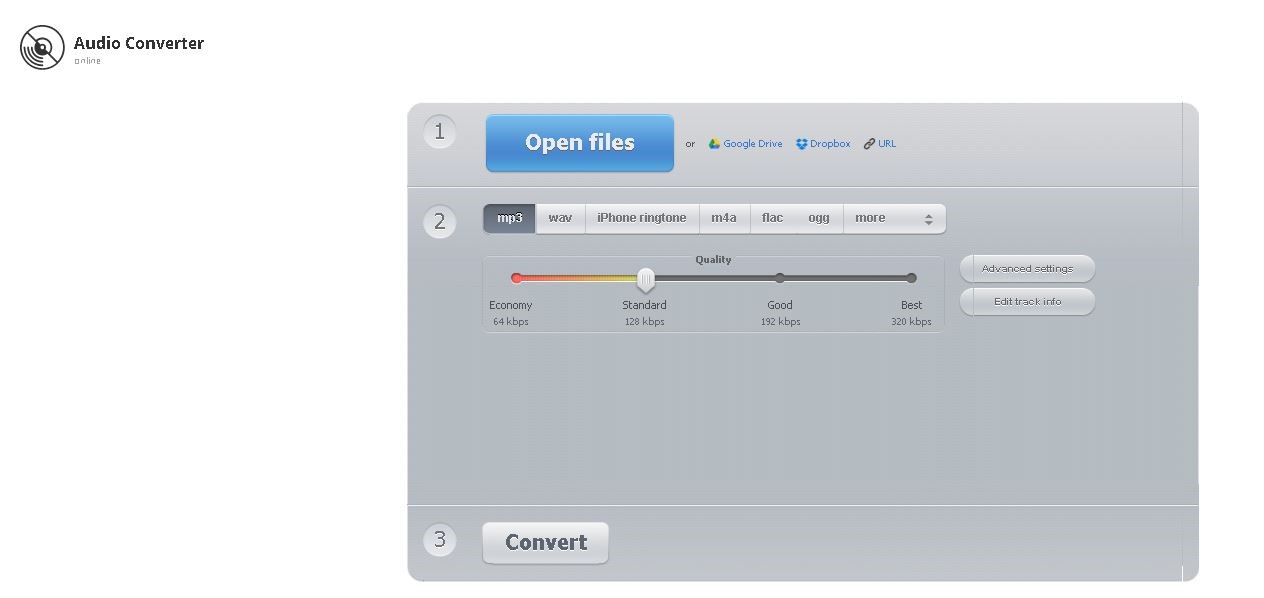 Part 3. Bonus: How to Convert Apple Music to FLAC?
This last section is a bonus entry for the offline FLAC converter that we highly recommend to users, though it hasn't been around for too long.
TuneSolo Apple Music Converter is a tool that is capable of converting media into a specified format. It perfectly removes DRM so that you can easily get the files. This is made possible with the data that it gets from iTunes, so it's the perfect tool if your audio files are stored on iTunes. Below are the features of this software:
Offline Listening. Unlike iTunes, downloading files from this software will give you the privilege to listen to it without connecting to Apple's server
Fast Conversion Speed. TuneSolo consumes as fewer resources as possible while still keeping the speed up to 16 times faster than normal
Preserves Original Data. Although you're planning on converting to FLAC, with this software, you don't have to deal with the loss of quality that most converters possess
With this, you should have a basic idea of how powerful TuneSolo Apple Music Converter is. So if you intend to use it, here are the steps you need to follow:
Step 1. Select Audio Files
Launch the software on the computer. Make sure you have iTunes installed since it will be the main source of the data. Now on the main interface, you will see a list. Simply select the audio files that you want to convert into FLAC, or if it's the opposite, select the FLAC files.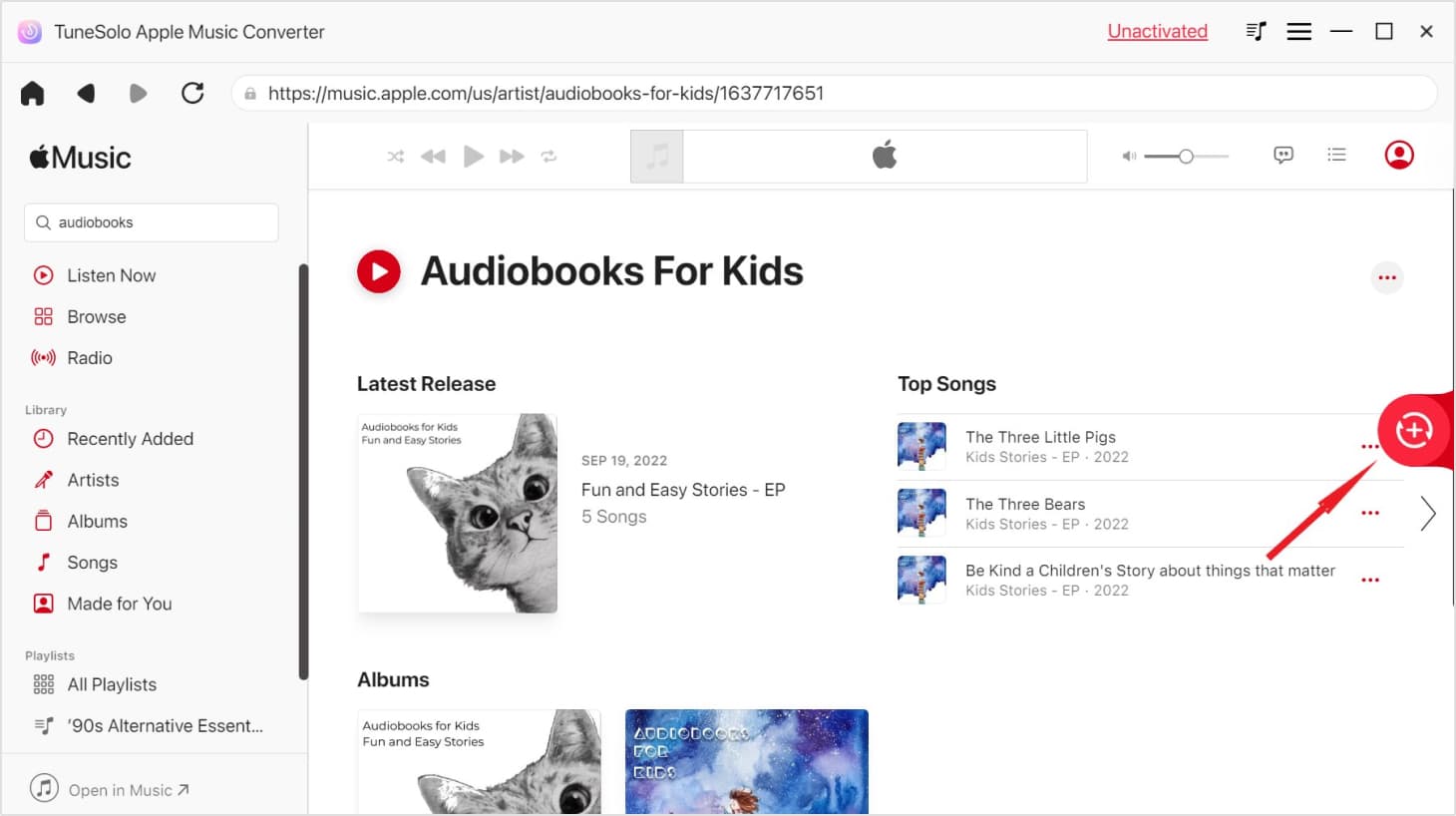 Step 2. Change Output Settings
Under the list, you will see the Output Settings. To convert into FLAC, change the Output Format and Codec to FLAC. To convert from FLAC, change the format and codec to whatever you want.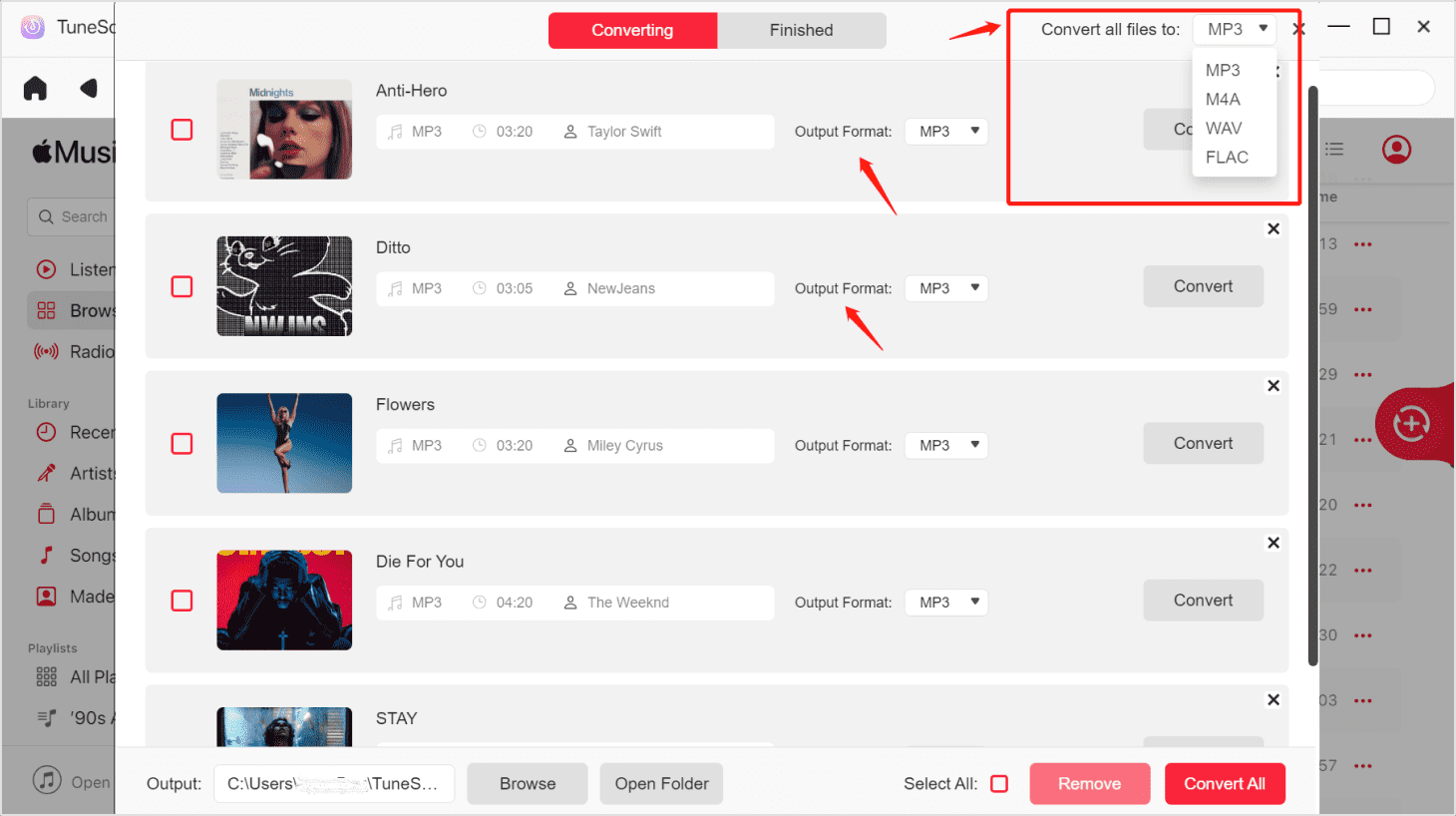 Step 3. Convert from/into FLAC
Once you have set up the configurations, click the Convert button on the bottom part of the window. Then go to Finished and check if it is successful.
Tip: Please make sure that Apple Music/iTunes is closed before opening Apple Music Converter. And during the song conversion, please do not do any operation on Apple Music/iTunes.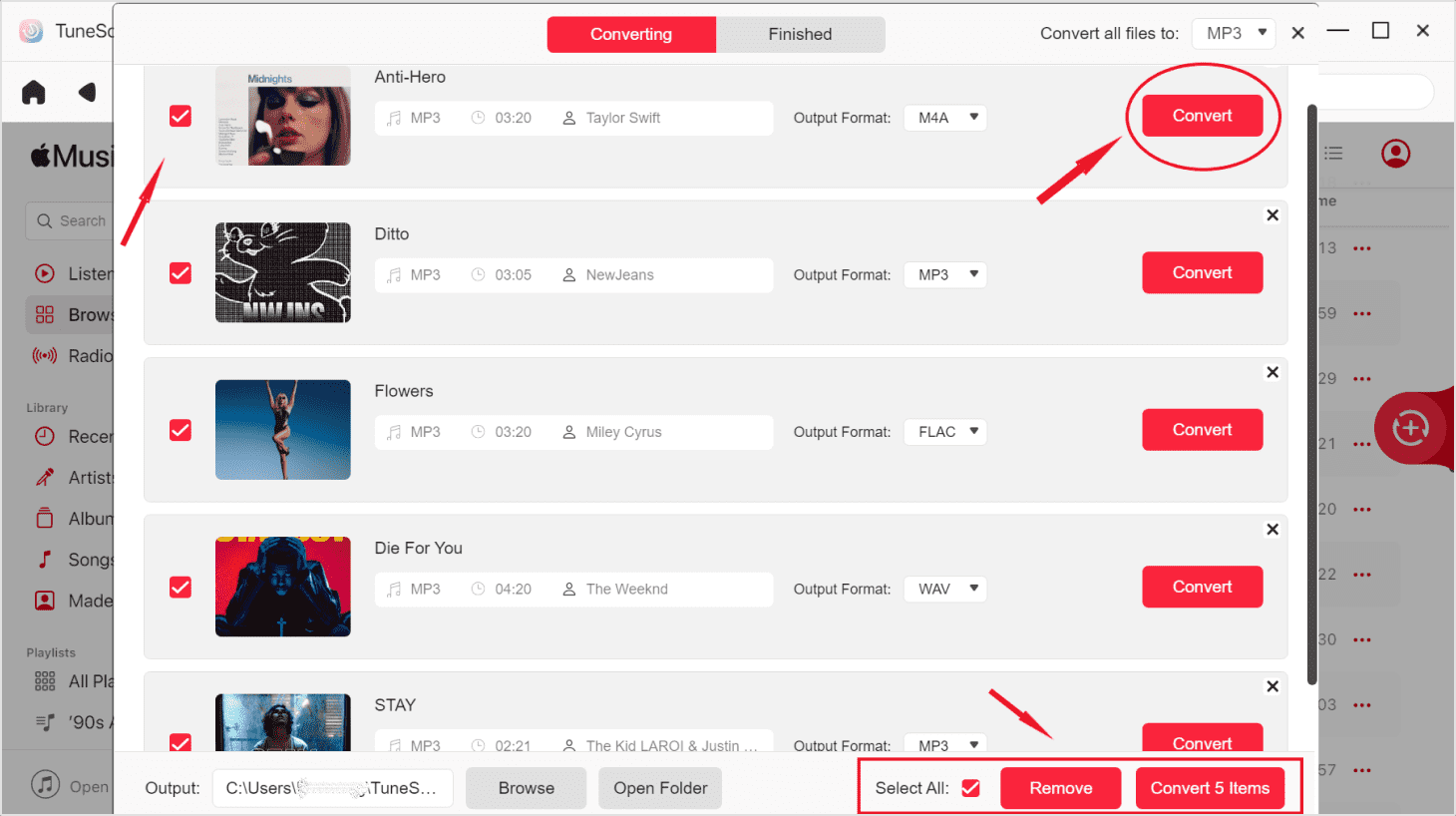 Part 4. Summary
The FLAC format is very useful in many situations, but it may also be disadvantageous on some events. That's why you should have a dedicated converter that can be considered as the best FLAC converter. That way you can turn FLAC files into other formats or vice versa.
This guide should give you more options as to which would be the best for your current situation. You can either use a converter specialized offline, online, or for iTunes. Hopefully, this is enough to help you with your goal.