It would always feel great to enjoy all those tracks you love via a streaming platform like Apple Music. Apple Music is actually one of Apple's most popular music apps, and it is widely used with millions of subscribers worldwide because of its numerous playlists produced by popular artists.
Well, learning how to get Apple Music free forever would definitely mean a lot for Apple Music fanatics around the world. Enjoying the things you love without paying a fee from time to time is definitely great, who would disagree?
Unfortunately, having your most loved Apple Music tracks saved on your device forever could be a difficult thing for some. This is why they are just choosing the option to pay the monthly subscription fee needed to continue streaming. Well, the payment is not a joke as it costs 9.99 USD a month which is a much higher value compared to the fee required by other apps like Spotify (at 4.99 USD per month).
If you do not want to shift from the Apple Music application to another just because you already have your playlists created and you are a true fan, then learning how to get Apple Music free forever via this article would greatly be beneficial to you!
Article Content Part 1. How to Get Apple Music 3-Month Free TrialPart 2. How to Get Apple Music 6-Month Free TrialPart 3. How to Get Apple Music Free Forever for Listening?Part 4. Conclusion
Part 1. How to Get Apple Music 3-Month Free Trial
The Apple Music application offers a free trial period for new listeners to be able to stream great music without actually paying a fee. Getting a free Apple Music membership will give the users access to all the high-quality content being offered by Apple Music (unlimited). Added to that, you can even play the tracks on all those devices you own using the same Apple Music account.
In order to get an Apple Music's free 3-month trial, the process to follow is very straightforward. Actually, this can be found on Apple's official website. But just in case you do not want to shift from one site to another, we have prepared the tutorial here. So, you can use the below steps as your reference if you want to proceed with the free 3-month trial period being offered by the Apple Music application. We will tackle this first before heading to the procedures you need to know on how to get Apple Music free forever.
Update your device and open the Apple Music application.
Hit the "Trial offer" option.
Confirm the details and stream all you want.
Though the above three are simple and straightforward as initially mentioned, we still have the details for each to help you out in case you are still wondering how to.
Step #1. Update Your Device And Open The Apple Music Application
The first thing that you need to accomplish in order to finally enjoy your Apple Music's free trial period is to make sure that the device you are using has an updated operating system and updated iTunes application (in case you are using a Windows device). After ensuring that everything has been updated on time, you can now open or launch your Apple Music application either on your iPhone, Mac computer, or on other Apple devices like iPad or iPod Touch. If you are using a Windows computer, open your iTunes app.
Step #2. Hit The "Trial offer" Option
After arriving at the application's main page, look for the "Trial offer" option, and select it. This trial will work per individual and family version. This is why on the screen, you need to choose the subscription that you would like to try – individual, family, or student version. Once successfully done, there is a need to log in using your Apple account. In case you do not have one, registering is simple and easy so you can do it as well.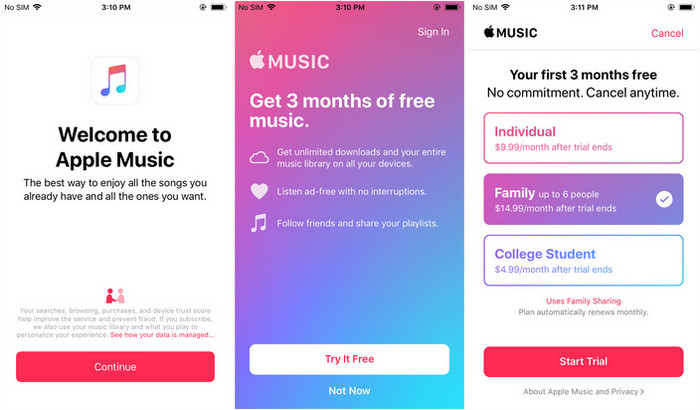 Step #3. Confirm The Details And Stream All You Want
Upon completion of steps 1 and 2, there is a need for you to confirm your details. You need to enter the information about your billing using accredited payment methods or platforms like PayPal, MasterCard, or even VISA. In case you do not have a credit card that you can use, you can purchase an iTunes gift card and do the redemption via the Apple Music app itself. Once this has been completed, you can finally listen to all those Apple Music tracks you love for free for 3 months! Search all you want to listen to even if those are the latest and freshly released!
Have you tried this before and does it seem like the 3-month trial period is not enough? Actually, we can teach you how to get a 6-month free trial as well. And that would be discussed in the second part of this blog post.
Part 2. How to Get Apple Music 6-Month Free Trial
Before learning how to get Apple Music free forever and after getting the knowledge about the process in getting the 3-month free trial, we will be sharing with you another strategy to lengthen the free trial time to 6 months! Well, that is 3 more months than the first offer! This is quite good, right? If you think so, then keep on reading.
Actually, the 6-month Apple Music free trial can be enjoyed by finding other applications that are collaborating with Apple Music. One example of this is the promotion that was released by Apple Music way back 2019. Since they are introducing Shazam, another popular application of Apple, they have given the users a free 6-month trial of Apple Music - "Shazam Apple Music Free Trial". However, this has a restriction since only three countries are capable of enjoying this. Plus, the offer may not be available right now.
Another example is the Verizon app. For the users of this, they can enjoy the free trial for 6 months as long as they are using the unlimited Verizon plan and they have lines subscribed to the "Go Unlimited" plan. If you are located in a country capable of enjoying this, you can use the below tutorial.
Step 1. Make sure to open the Apple Music application that you have on your device and hit the "Try for Free" button that you will see on the screen.
Step 2. A new page showing the number of months that you can enjoy free Apple Music access would be displayed.
Step 3. Select the plan that you would like to enjoy and proceed with the signing-in process. Create an Apple ID if you do not have one.
Step 4. Put in the payment information needed and you are good to go.
Tips: The Best Buy Store also offers 6-months free trial verison with purchases of Apple products like App Music.
Enjoying Apple Music tracks for free is surely a great thing. However, once the trial expired, you can no longer enjoy those anymore. Then what must you do? Well, you need to get some information on how to get Apple Music free forever. Here is how.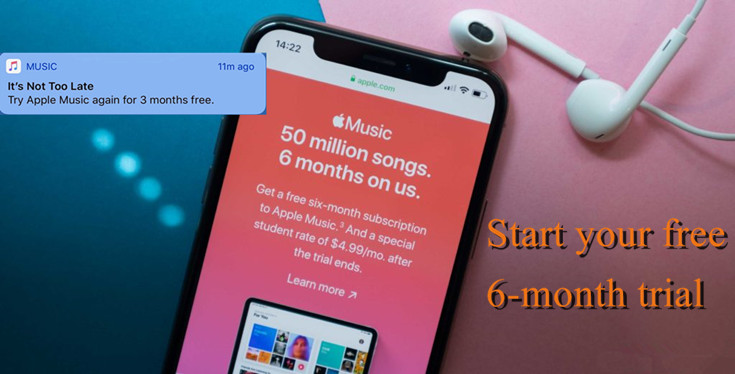 Part 3. How to Get Apple Music Free Forever for Listening?
How to get Apple Music free forever in this 2023? Is there a way to actually do this?
Surely, the above questions already have been bugging you up to this day. Well, the short answer to both is "Yes"! With the help of DRM-removal tools like TuneSolo Apple Music Converter, you can have this achieved easily and without a hassle.
This software application can do a lot of things for the user. And, one of those is to let the user keep all those Apple Music tracks for free forever even after the cancellation of the subscription.
Note: The new version of Tunesolo Apple Music Converter in 2023 no longer requires syncing with iTunes to process the offline music conversion anymore! We have a built-in Apple Music web player to boost download efficiency. You need to log in with the Apple ID to continue the music searching and converting processes. Please try it to know more about its fantastic features!
How can you use this TuneSolo Apple Music Converter? Here are a few other details for your reference.
Step #1. Open the TuneSolo Apple Music Converter
Install the TuneSolo Apple Music Converter on your personal computer. The process and requirements are simple. Once done, open and launch the tool to finally begin with the whole process.
When you open the Apple Music Converter, you will see a simple tutorial at startup. On the welcome page, click on the "Open the Apple web player" button, then you can access to the built-in web player.
Log in with your Apple ID. You can also use the free account without Apple Music membership subscription. If you can't sign in your account, you can't browse the library and download or convert the Apple music using the software.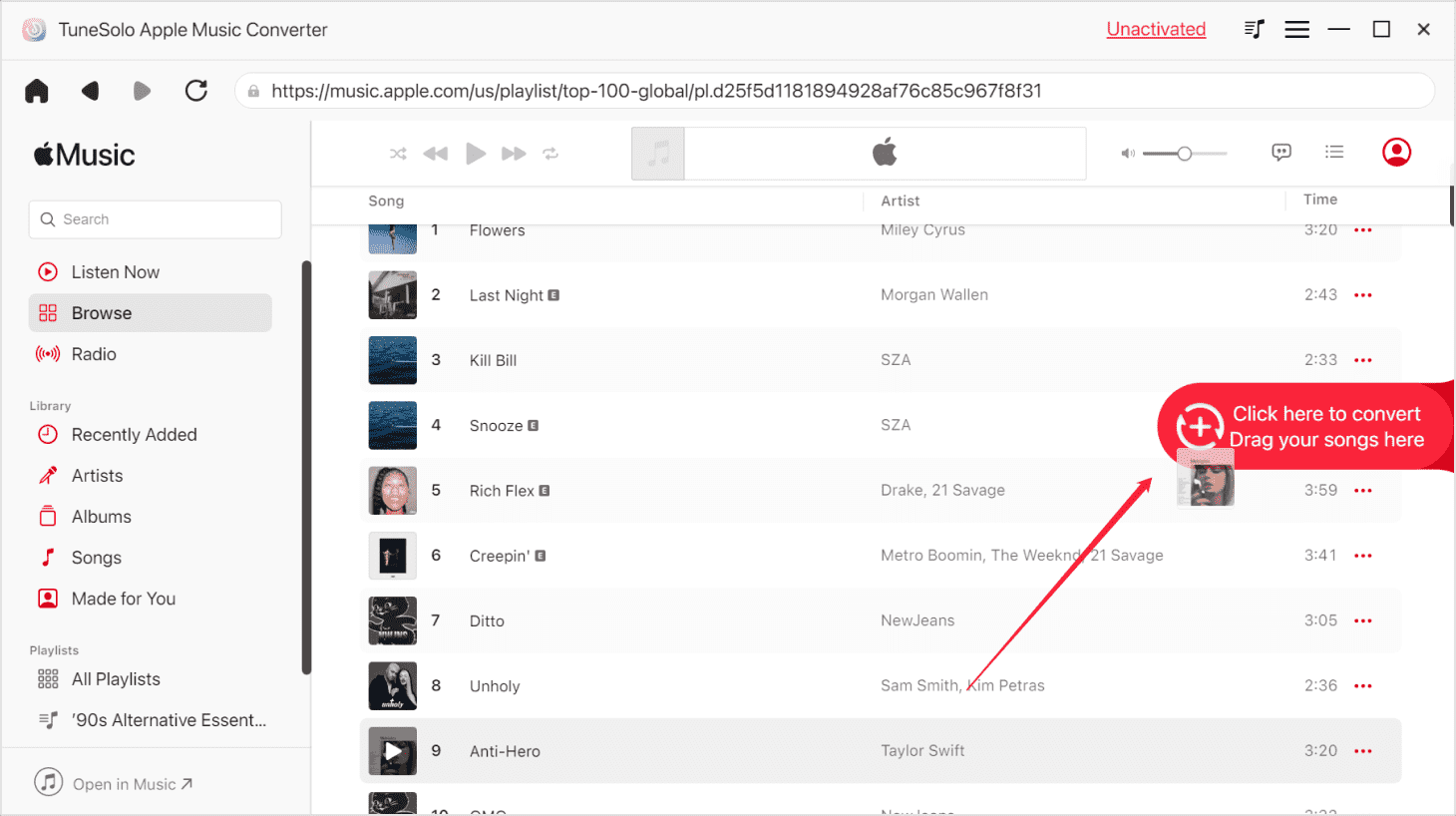 Step #2. Choose And Add The Apple Music Songs To Convert And Download
Now, you need to select all those Apple Music tracks or playlists that you want to keep and download. Add as many as you want since the tool can process numerous items.
After doing so, choose one output format from the available ones. Its better for you to choose MP3 as the output formats so that you can listen to your downlaoded Apple Music songs on very devices later. You can also edit some settings if you wish to.
Step #3. Head To The Process Of Conversion
Finally, you can finish off by hitting the "Convert All Items" button that is located at the lower portion of the screen.
After a few minutes, the converted files will be ready, and you can now stream those anytime you want!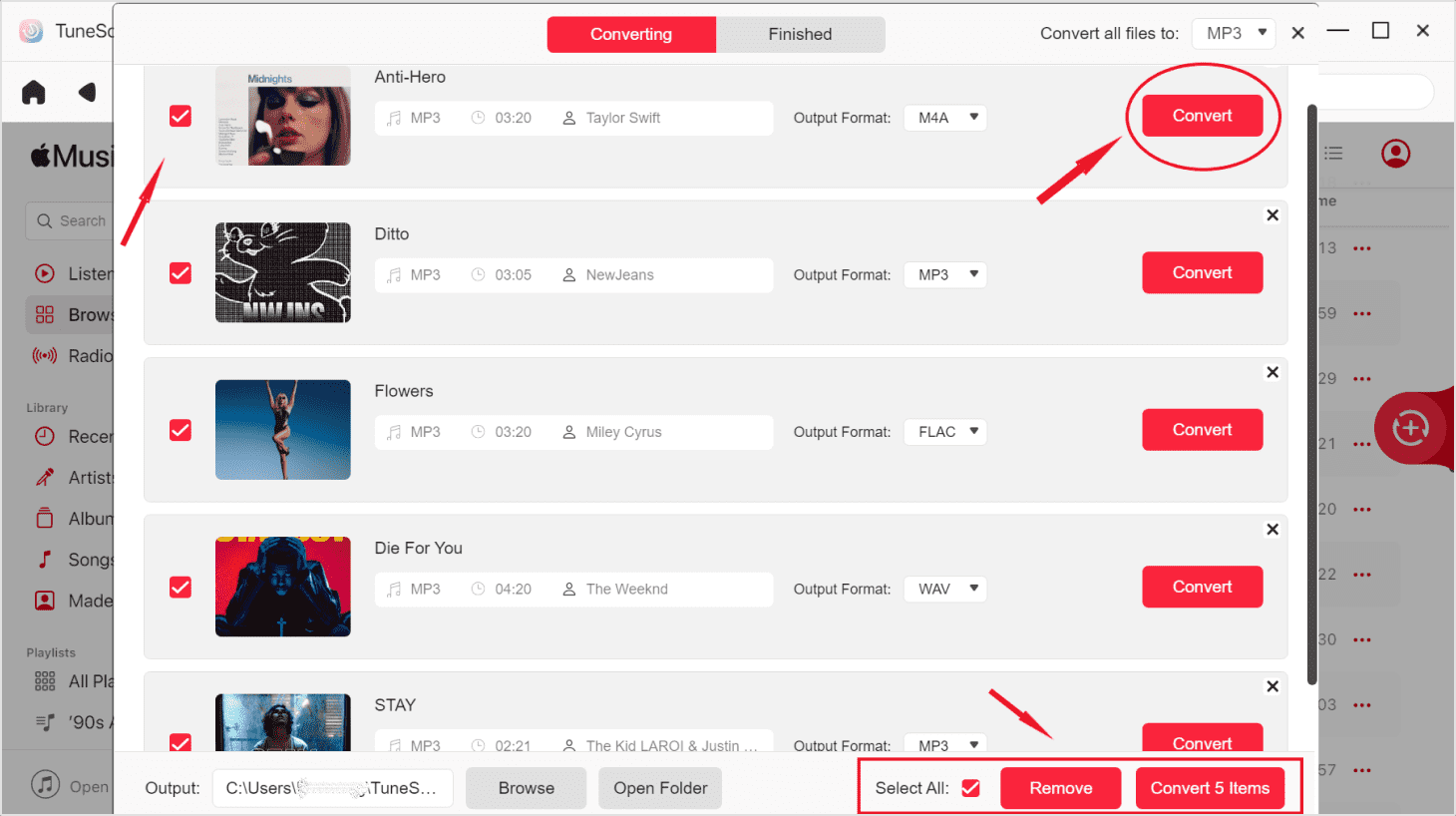 Part 4. Conclusion
Keeping all your Apple Music favorites would be totally awesome! You can play and stream without a subscription that you need to pay or data connection that you need to maintain.
What do you think? Are you looking for such as well? Try the solutions in this article to get Apple Music for FREE forever for listening offline!