Being musically-inclined would mean that users are into a lot of music streaming sites and platforms wherein they can listen to non-stop music and favorite tracks any time of the day. Some music lovers use the Apple Music application while others utilize the Spotify app and many others. In this blog post, the main point would be circling around the Apple Music application and how to convert Apple Music to MP3.
With the many perks being offered by the Apple Music app, there is no doubt that many people are using this platform to save the albums and playlist they love for streaming while on travel going to work, to school, or while doing some house chores. However, there are still some disadvantages that are being experienced by streamers. And, one major dilemma would be discussed here – the DRM protection maintained on each Apple Music song.
There are actually a lot of reasons why people are looking for ways on how to convert Apple Music to MP3 apart from the above mentioned. Those would also be enumerated in this article as well. If you happen to experience some difficulties, it is best to stay on this page to learn more details and finally, solutions to solve the issues.
Article Content Part 1. Why Do We Need to Convert Apple Music to MP3?Part 2. How to Convert Apple Music to MP3 with iTunes?Part 3. The Best Free Apple Music Converter to Remove DRMPart 4. Conclusion
Part 1. Why Do We Need to Convert Apple Music to MP3?
Why is there a need to convert Apple Music to MP3? Perhaps, this is also a question that usually pops up on your mind especially if you are using the Apple Music application for a long time now. If you do not want to switch from Apple Music to other music streaming sites, then you should know that there are methods you can resort to in order to solve the problems you have in mind. But, before finally heading to those ways to convert Apple Music to MP3, stated below are the usual reasons why people keep on looking for such.
Apple Music songs are protected by the so-called DRM protection that hinders the users from playing the songs on unauthorized devices such as the non-Apple or non-iOS ones.
There are media players that are not capable of playing Apple Music songs and supporting the Apple Music application.
Without the ability to remove the DRM protection, there is no way Apple Music songs would be downloaded and saved on your personal computer or handy devices (especially if you do not have an Apple Music subscription). Because of this, if you would want to continuously listen to tracks, you need to pay the monthly subscription fee needed – 9.99 USD for a single user and much higher cost for a family subscription. All those downloaded songs while you are on a subscription will vanish once it ended.
Users cannot also transfer the Apple Music songs from one gadget to another. Thus, sharing your favorite Apple Music tracks to friends and family members won't be possible unless conversion to MP3 is done.
There is no way you can burn the Apple Music tracks to CDs in case you want to.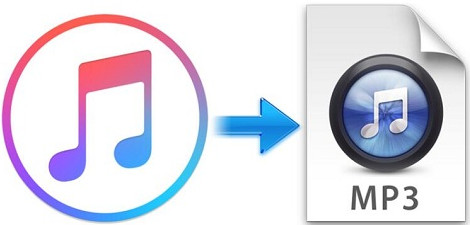 If you think that you need to convert Apple Music to MP3, it is great that we have compiled solutions for you. So, make sure to keep on reading to find out the details about those.
Part 2. How to Convert Apple Music to MP3 with iTunes?
One of the solutions, in order to convert Apple Music to MP3, is through the help of free software applications that could possibly be installed already on your personal computer – the iTunes application! It could be surprising for some people to know that even the iTunes application can do the job of converting Apple Music tracks to the MP3 format. But it is absolutely true! For some, the iTunes application is only being used as a file manager that is utilized to handle videos, movies, shows, songs, and other media files. But it can do more! In this part of the post, you will be learning the procedure in order to convert Apple Music to MP3 with ease using the iTunes application.
Of course, you just need to ensure that you have the iTunes application already installed on your personal computer. If you don't, it is easy to install, you just need to go to the Apple or Google Play store. It is free and installation can be done easily as long as you have a stable internet connection.
So, to begin with here is the process that you need to follow.
Open the iTunes application on your personal computer.
Head to the "Import Setting" menu.
Proceed with the "Create New Version" menu.
Details are provided below for each step mentioned above.
Step #1. Open The iTunes Application On Your Personal Computer
The first thing that you need to do is to launch the iTunes application on your personal computer. As initially mentioned, if you do not have it, you can install it easily. Once you are on the main page, on the upper left portion, you need to look for the "Preferences" option. In case you are using a Windows computer, hit the "Edit" button then you will see the "Preference" option. For Mac users, just tick the "iTunes" button then the "Preference" menu.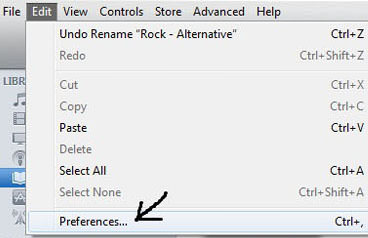 Step #2. Head To The "Import Setting" Menu
Upon doing the first step, hit the "General" button and head to the "Importing Settings" option that you can see on the lower area of the screen. A new pop-up window will be displayed on the screen showing the options under the "Import Using" menu. Make sure that you will select the encoding format that you want the Apple Music songs to convert to (which in this case is MP3). Finish off by hitting the "OK" button. Apart from MP3, there are also available encoders for WAV, AAC, and AIFF. This means you can also convert the files to formats other than MP3.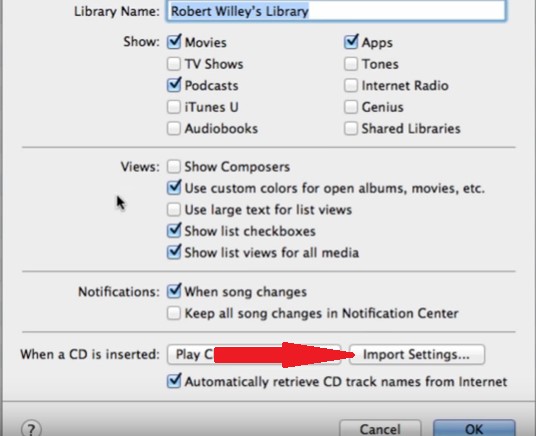 Step #3. Proceed With The "Create New Version" Menu
Ensure that the Apple Music songs that you want to convert to MP3 have been imported on your iTunes library. Choose those songs and from the "File" button, choose the "Create New Version" option. You need to make sure that you will be choosing the "Create MP3 version" option.
It is true that being able to convert Apple Music to MP3 with the use of a free software application is a good thing. Who would not want to enjoy services for free? But since you have nothing to pay while converting Apple Music using the iTunes application, there is a possibility that you might encounter some issues and limitations. Here are some of those.
The converted songs from Apple Music to MP3 would not have the same quality as the original.
The iTunes application has no ability to convert the older purchased Apple Music songs as they are protected.
If you are worried about the above shortcomings, there is actually nothing to be problematic about; you still have the second solution in the next part of this post.
Part 3. The Best Free Apple Music Converter to Remove DRM
There are many Apple Music Converters out there but there is always one that would stand out. And, that is the so-called TuneSolo Apple Music Converter. This is known to be the best Apple Music converter that any user can use. What makes this different and better from the others?
Here are the perks one can enjoy while having the TuneSolo Apple Music Converter installed.
The removal of the Digital Rights Management protection letting the user play the files on any media and music player is possible.
The conversion of songs from their format to other several formats is supported by the software application.
The ability to download numerous songs for users to keep those forever.
Batch processing is supported as well.
Few installation requirements.
Easy navigation due to a simple user interface.
And, most importantly, it has an easy-to-follow procedure for conversion and downloading.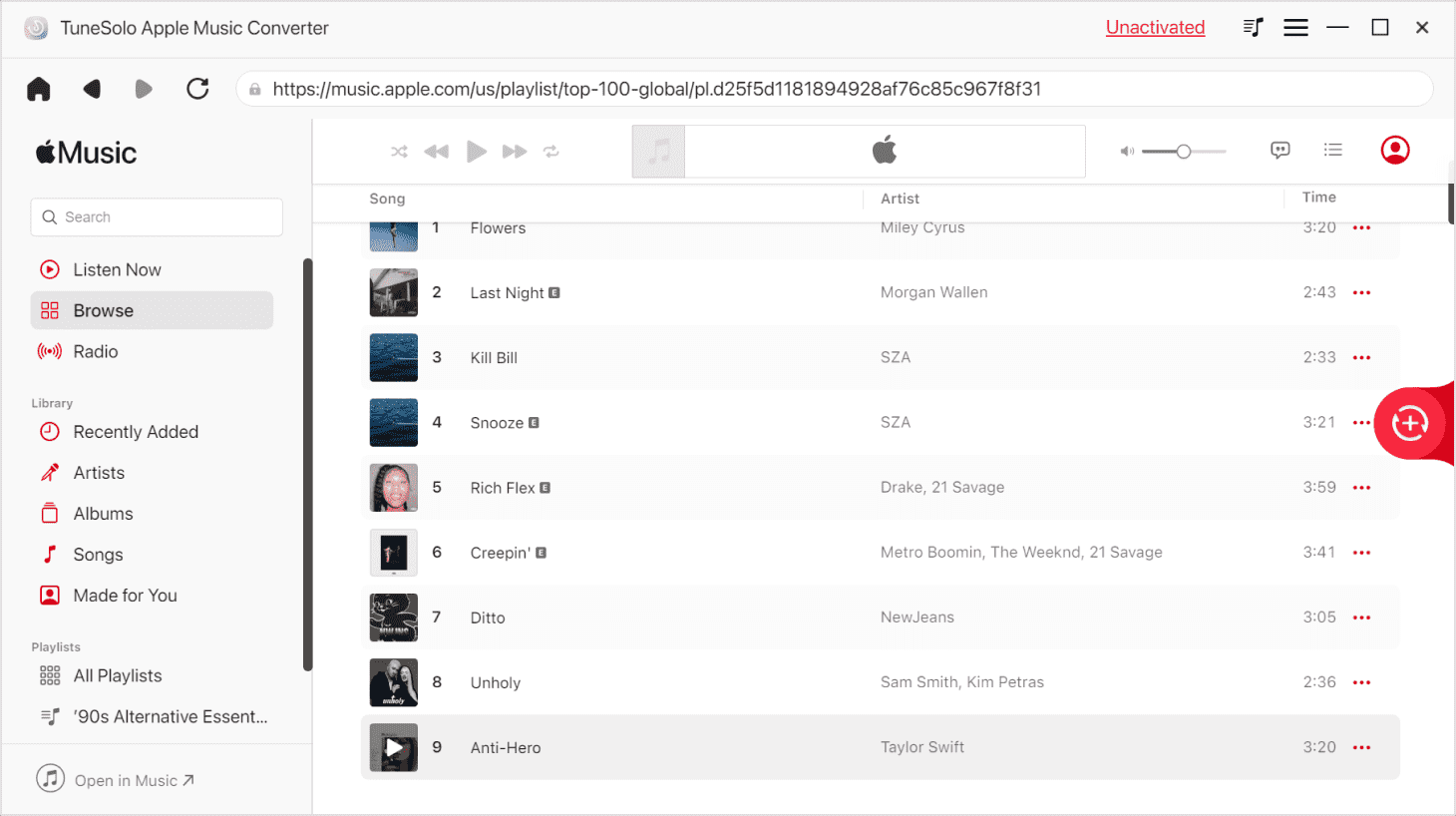 For your reference, below is an outline of steps to convert Apple Music to MP3.
Install the TuneSolo Apple Music Converter on your computer.
Add the Apple Music songs to convert to MP3.
Do the conversion now.
Of course, we have the details for each step here as well. You may refer to the below.
Step #1. Install The TuneSolo Apple Music Converter On Your Computer
You need to install the TuneSolo Apple Music Converter first on your personal computer. There are only a few requirements that are needed to accomplish this. Make sure to get the list of those things to proceed with the successful conversion process.
Updated 2023: The new version of Tunesolo Apple Music Converter no longer requires syncing with iTunes to process the offline music conversion anymore! We have an online built-in Apple Music web player to boost download efficiency. You need to log in with the Apple ID to do the music searching and converting.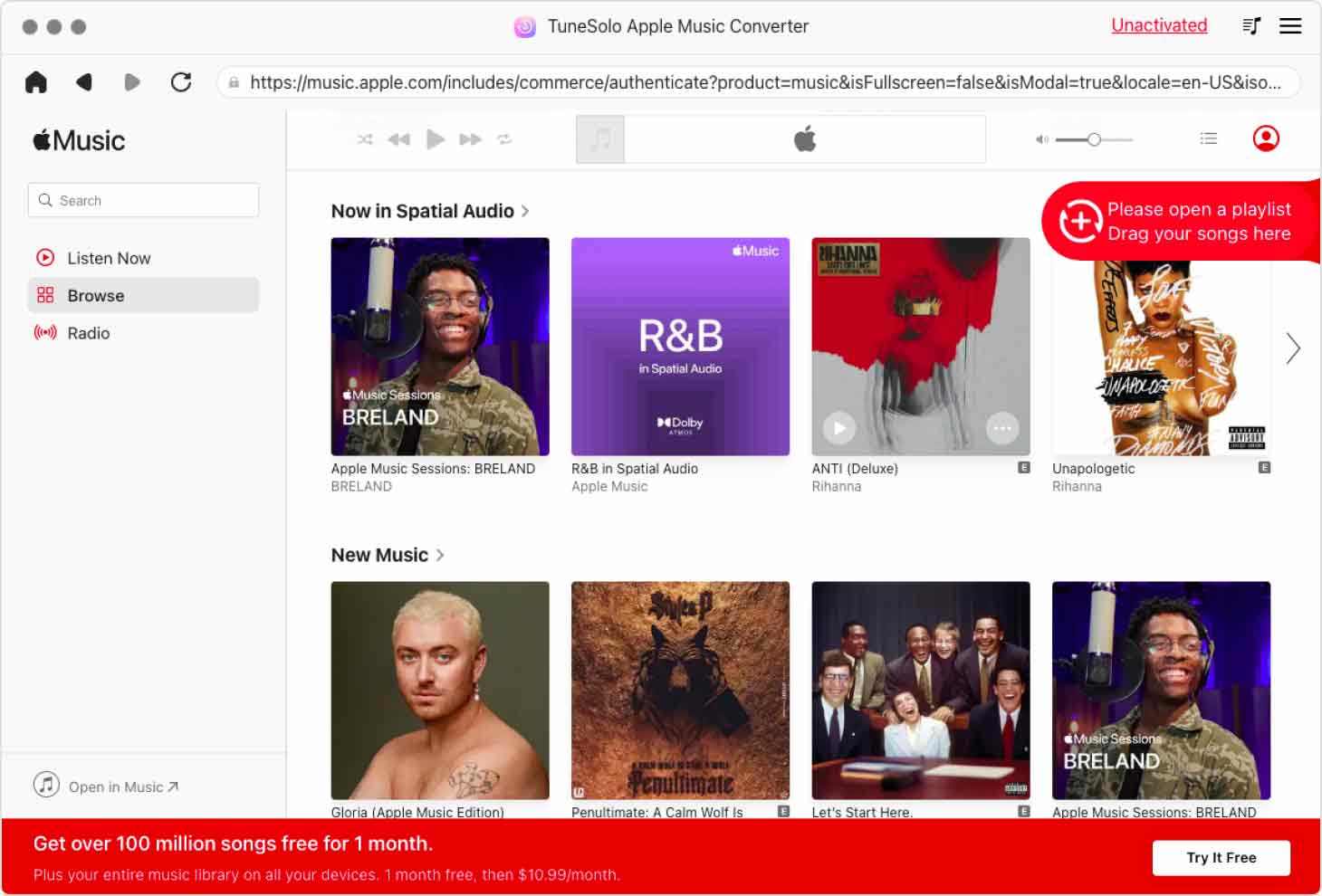 Step #2. Add Apple Music Songs to Convert To MP3
After the successful installation of the converter, you can add all those Apple Music songs that you wish to convert to the MP3 format. Since the tool has the ability to do batch processing of songs, you can import as many as you want.
After doing so, choose the resulting output format. Since we ought to convert the files to MP3, choose this among the available formats the tool supports. The user can also change some output settings if they wish to.
Step #3. Do The Conversion Now
Once done with the first two, there is a need to hit the "Convert" button that is located at the bottom area of the screen to finally begin the conversion process.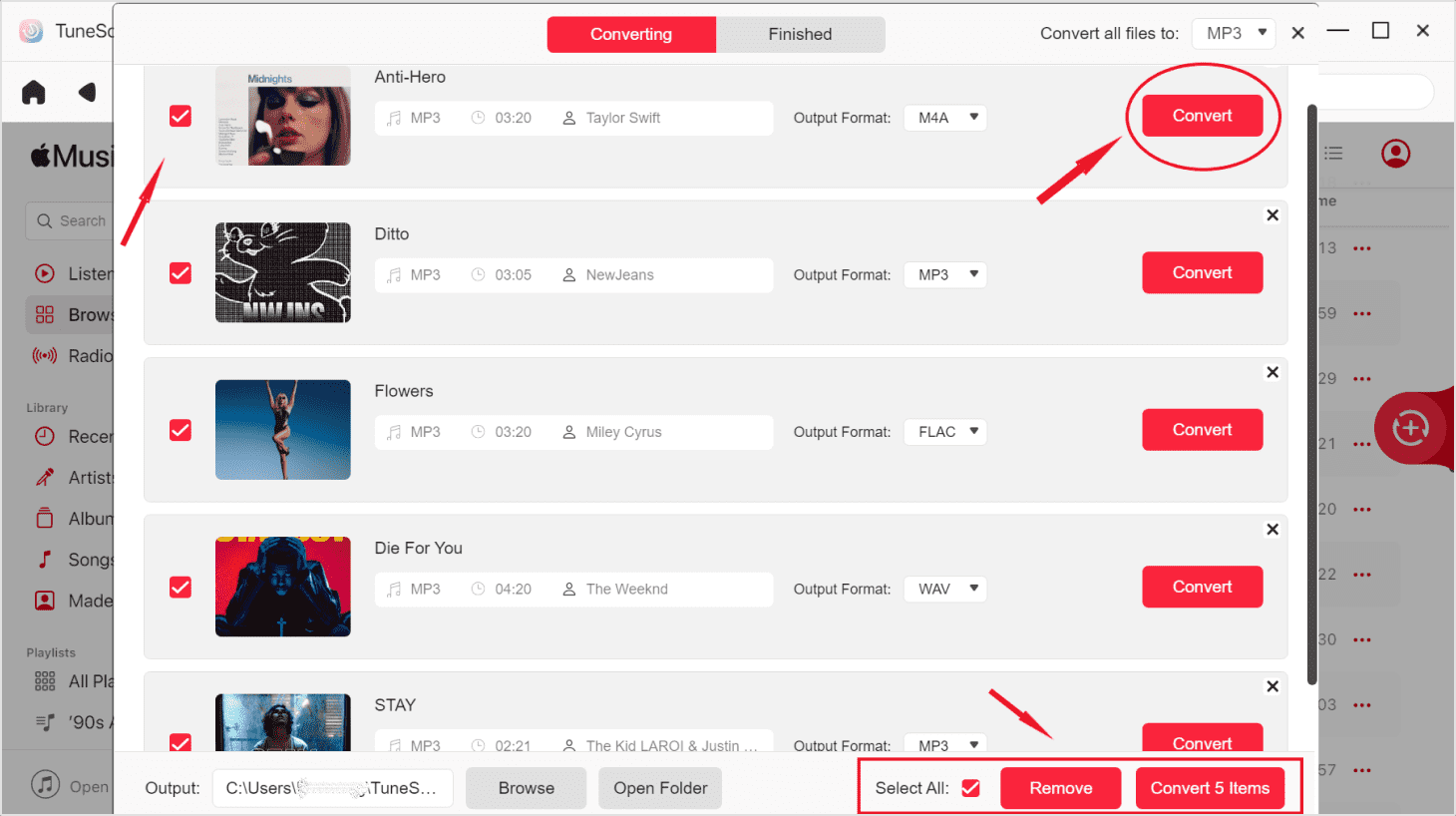 After some time, the songs would be converted and can be downloaded and kept forever even if one's Apple Music subscription expired.
Part 4. Conclusion
It is still always best to choose professional converters like TuneSolo Apple Music Converter as the tool to use for the conversion process. Well, free software applications like iTunes or any other online converters are good, however, if you do not want to experience some other drawbacks, then the recommendation relies on professional tools.