Most music lovers have their own collection of songs and other audio files. Usually, these are of the MP3 format since it's the most common. However, every now and then, you're bound to see files that are in a different format.
When this happens, it's a bit difficult to decide what to do with them, since you're still not familiar with what to do with that format. And in the history of music lovers, M4B is perhaps the most confusing format.
This article will talk more about this format and M4B to MP3 converters that might help you organize your collection a bit better. Let's start with some info about this format and why you'd want to change its format.
Article Content Part 1. What is M4B Format?Part 2. How to Convert M4B to MP3 Online and Offline? Part 3. Summary
Part 1. What is M4B Format?
Considering how mysterious the M4B format is, there are a couple of things you need to know about M4B if you intend to familiarize yourself with it. Below are answers to questions that you might be asking yourself.
What is M4B?
First off, M4B is a file extension meant for audiobooks. So, if you're wondering why you have an M4B music file on your collection, you probably downloaded an audiobook in the past.
They use AAC encoding which is the default format on iTunes and Apple Music. As such, M4B is more common to show up for users of the iTunes and Apple Music platforms. M4B is also the default format on Apple Books. M4B files are also very similar to M4A files.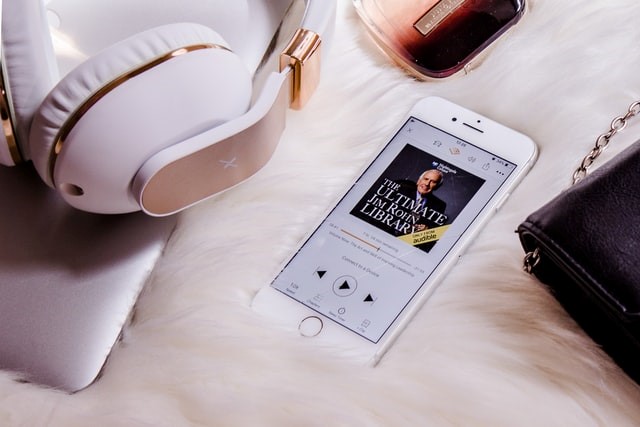 Where does M4B music files come from?
In the previous question, we've covered that M4B files are audiobooks. With that said, you can guess that M4B music files come from the iTunes Store or Apple Store. Users can get them by purchasing the audiobook on these platforms. Simply put, they can come from anywhere that sells audiobooks.
Can you download M4B music files?
When you purchase an M4B music file, you are only getting access to it. Since it's protected by the DRM protection system, you can't download it in a normal way. It can only be downloaded through means that are not authorized by Apple.
How do you open M4B files?
There are only a few programs that can open M4B files. These include iTunes, Roxio Creator, and Windows Media Player, hence why you should find an M4B to MP3 converterso you can play it in your devices.
What is unique to M4B?
While it's a bit difficult to open or access M4B music files, users can bookmark audiobooks that are in this format. This is a feature unique to M4B.
Part 2. How to Convert M4B to MP3 Online and Offline?
Now that you know what M4B is, you should already know how important it is to find an M4B to MP3 converter. With that being said, there are actually two types of converters, offline and online.
Option 1. Offline Methods to Convert M4B to MP3
You have two options if you only intend to use an offline M4B to MP3 converter. The first one would make use of iTunes, while the second option involves a third-party program. Let's start with the more recognized method.
No.1: Convert M4B to MP3 with iTunes
If you purchased an audiobook from iTunes or Apple Store in the past, it's natural to want to convert it into another format. Since you already have an M4B file, there's a good chance that iTunes is already installed in your operating system. Now here's how you can turn iTunes into an M4B to MP3 converter:
Open the iTunes app on your computer.
From the menu bar, click on iTunes and select Preferences.
Now on the Preferences window, go to General.
Click on the Import Settings
On the Import Using menu, select MP3 Encoder.
Now on the Setting dropdown menu, select the quality you want the output to have.
Click on OK.
This will set the configurations so that any music file converted will be turned into MP3. Now here's how to actually use the M4B to MP3 converter:
Click on Music from the left corner of the window and go to Audiobooks.
Click on Library to get a list of audiobook titles.
Select the ones with the M4B format. You can hold down Shift if you want to select multiple titles.
Now from the menu bar, go to File > Convert > Create MP3 Version.
Wait for the conversion and download process to complete.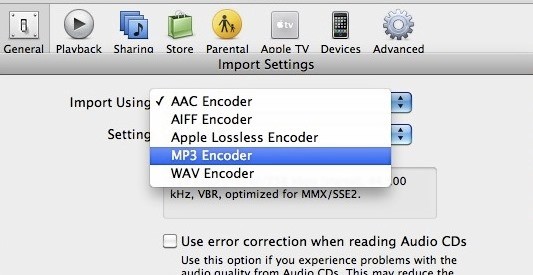 This is how you can use the M4B to MP3 converterbuilt inside the iTunes app. Not many know about this, so you have a special privilege in front of you.
Unfortunately, there are cases where users can't convert the M4B to MP3 because of an error saying that the file is protected. This is perhaps because of the DRM protection. In that case, you need to overcome this using an alternative method, which we will cover next.
No.2: The Best M4B to MP3 DRM Removal Converter
There is lots of software out there that awaits users, but there will always be one that stands atop of them. And in this case, our pick would go to TuneSolo Apple Music Converter.
TuneSolo Apple Music Converteris a tool that helps users download music files and convert them to any format that they want. It can convert songs, and podcasts, but most importantly, it can convert audiobooks as well.
This is made possible because of its ability to collect ID tags from the iTunes app. Once the ID tags are collected, it can then be used to complete the conversion of the audio file.
There are many other features that can set TuneSolo Apple Music Converter apart. The following are the key features of the software that you might want to know about:
Maintains Original Data. Information that came from the original file from iTunes such as Title, Album, Artists, and other tags will always be included in the final output.
Accessible on Most Operating Systems. TuneSolo is available for Windows PC and Mac as long as iTunes is installed on the operating system.
Offline Listening. All the audio files that were downloaded and converted can be played on most devices including iOS devices, Zune, PSP, Android, and more.
Fast Conversion Speed. TuneSolo can not only download fast, but it also has a very high conversion speed at 16x the normal rate of M4B to MP3 converters. Additionally, it supports batch operations.
Attention: We recommend you first try the new version of Tunesolo Apple Music Converter updated this 2023 because the tool no longer requires syncing with iTunes to process the offline music conversion anymore! We have a built-in Apple Music web player to make converting and downloading more easier!
Step 1. Set Up iTunes
Before anything else, you need to make sure the latest version of the iTunes app is installed on your computer. Once it's installed, open iTunes and go to File > Add File to Library. Now locate your M4B files and click Open. This will upload the audiobooks so the software can detect the necessary data so it can be converted.
Step 2. Select M4B Audiobooks
Next, launch TuneSolo Apple Music Converter on your computer. On the main page of TuneSolo, you will see a list of files which are the different music files from songs to audiobooks. Simply select the M4B audiobooks from this list.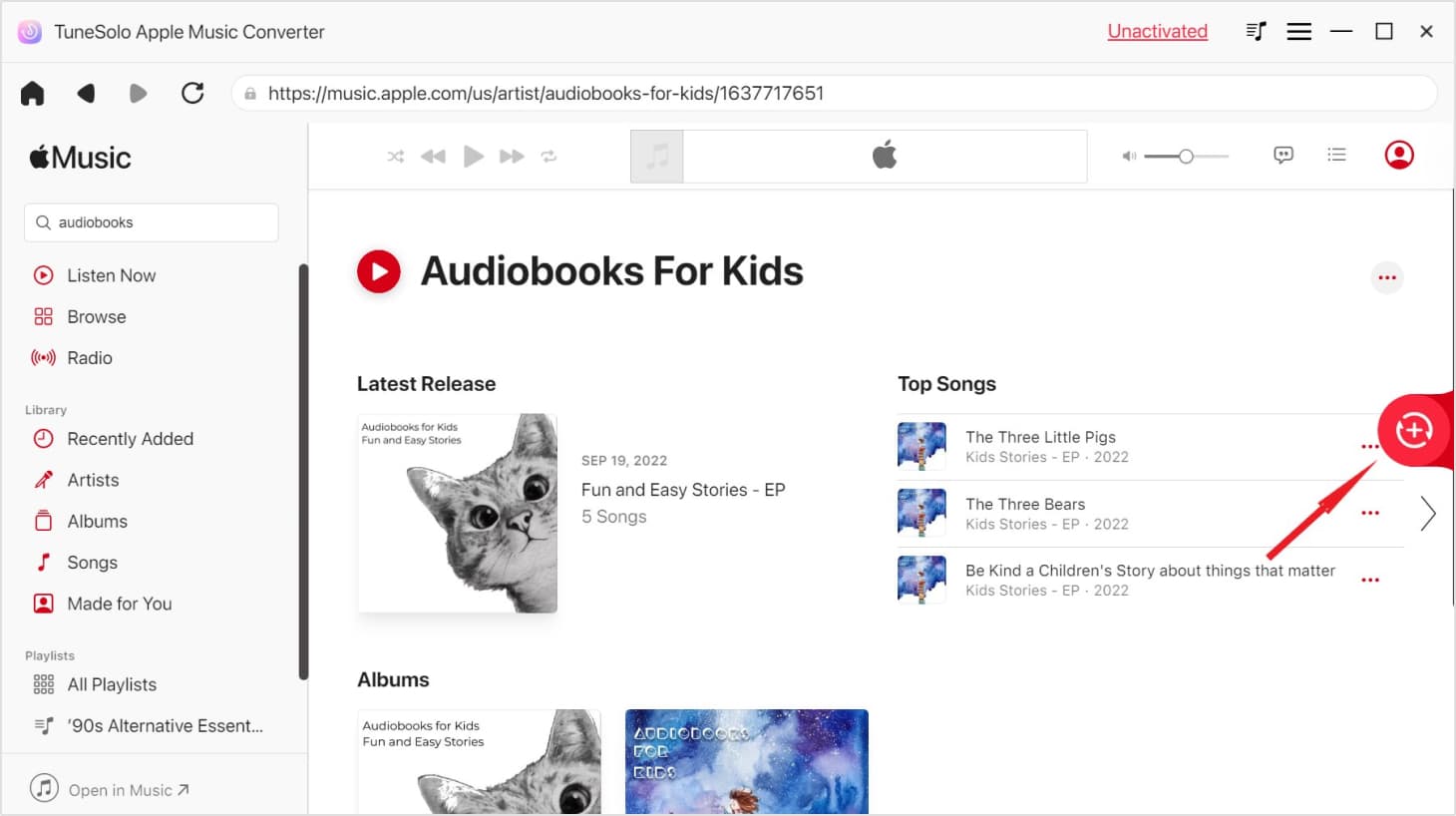 Step 3. Set the Output Settings
Under the list is the Output Settings. On the Output Format and Codec, set it to MP3. Now set the other configurations such as the Quality the way you want the output to be.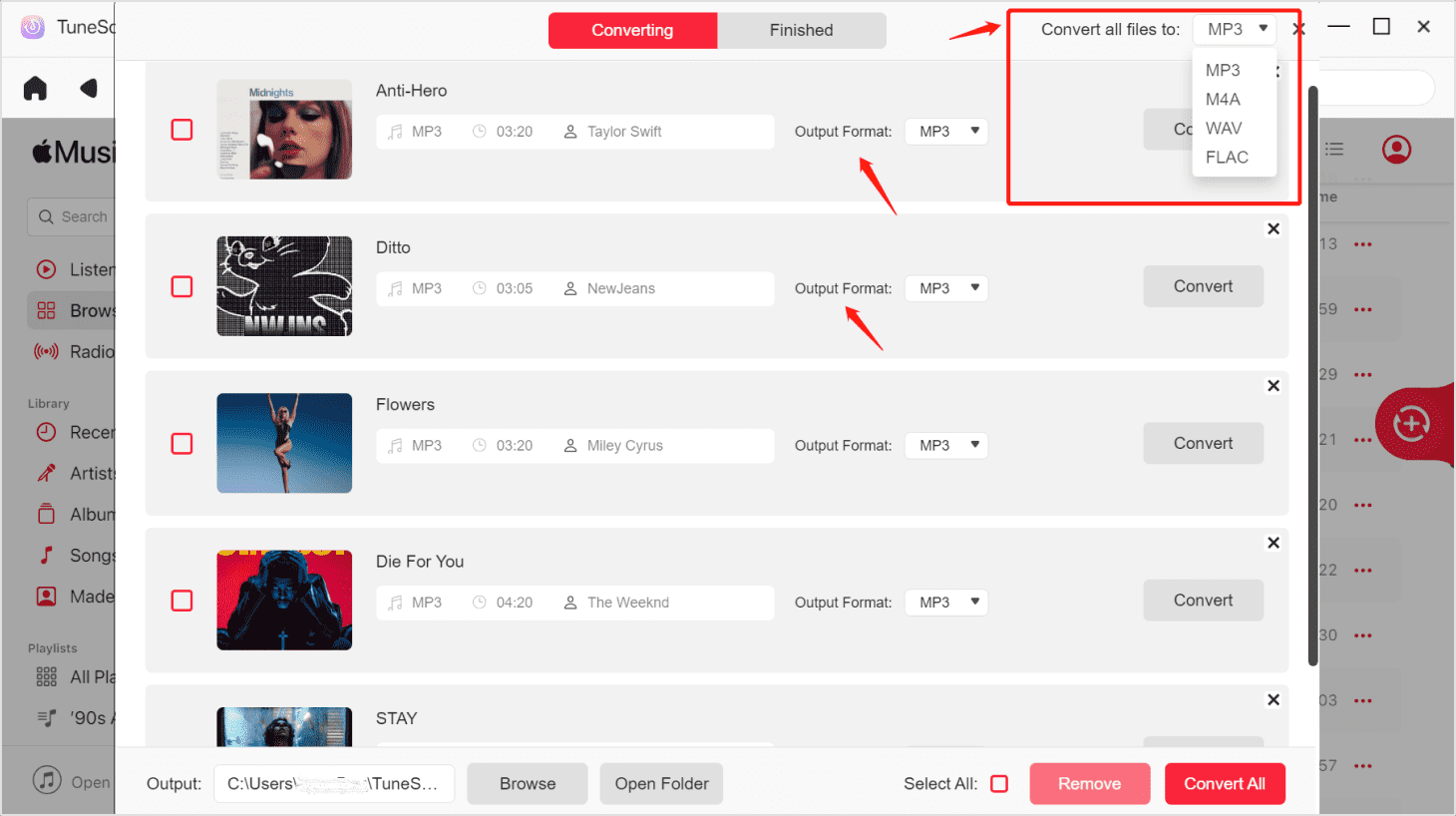 Step 4. Convert M4B to MP3
Once you're done setting up the Output Settings, click the Convert button. Simply wait for the conversion and download to finish. The output will then show up on the Finished tab, which you should then go to and check if the output is exactly as you wanted.
Tip: Please make sure that Apple Music/iTunes is closed before opening Apple Music Converter. And during the song conversion, please do not do any operation on Apple Music/iTunes.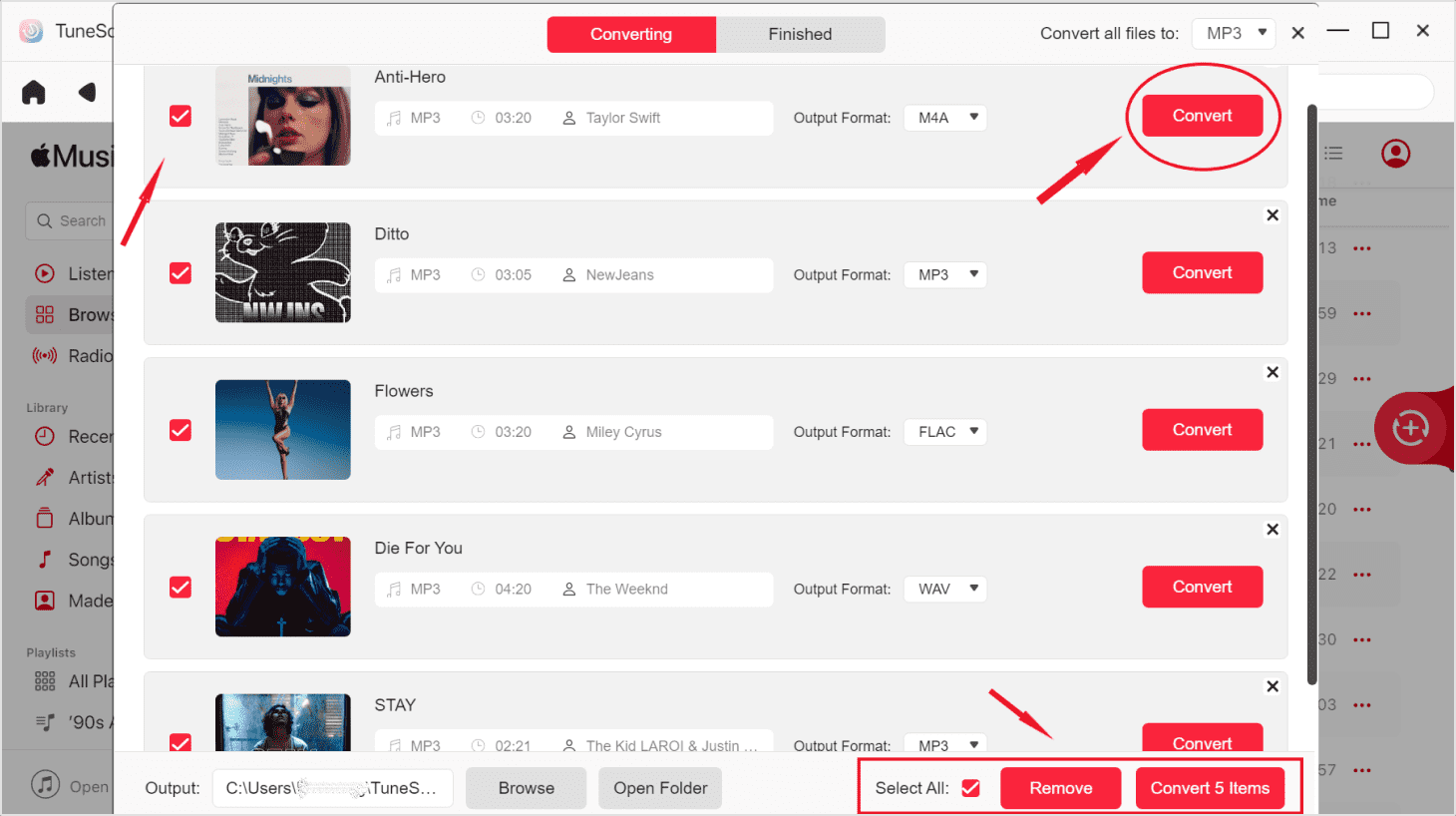 This is how you can use this M4B to MP3 converter. Considering how many trusts this software, it shouldn't be hard for you to trust it as well. Just remember to avoid taking advantage of this too much.
Since it's a little bit tricky to find completely legal software like this one, you can always rely on alternative methods that are quite popular nowadays.
Option 2. Convert M4B to MP3 Online
There are quite a few web-based music converters that you can use as an M4B to MP3 converter. Two of our favorites are CloudConvert and FreeConvert. Let's start with the former.
No.1: CloudConvert Online Converter
CloudConvert is a website created by Luna web way back in 2012. It was made to convert files into a different format. Now, it has the ability to become a dedicated M4B to MP3 converter.
It has a couple of reviews online, and so far they are satisfied with this website, and so are we, hence this recommendation. Below are some of the pros and cons of this website:
Pros:
Offers a variety of conversion options
It has a simple interface that beginners can easily get used to
There's a slim chance of having corrupt output files
It doesn't show you any ads unless you want to
Cons
The interface might be simple, but it's a bit outdated, though it shouldn't affect your decision that much
Steps:
Open the CloudConvert website on your browser.
On the upper area of the website, there's a Convert (blank) to (blank). Simply set it to Convert M4B to MP3.
Now click on Select File. Locate and open your M4B files. To convert multiple files at once, click the Add More Files
Once the music file is open, there will be a wrench icon. Simply click this icon and set up the configurations the way you like.
Click the Convert button once you're done and simply wait for the output.

No.2: Freeconvert.com Online Converter
FreeConvert is exactly what the name implies. It's a web-based tool that allows you to convert one format to another for free. It's a lot younger than CloudConvert, starting in 2018, only 2 years ago. Below are the pros and cons of this website:
Pros:
Similar to CloudConvert, it has a simple interface that anyone can get used to
Not only does it allow you to use it as an M4B to MP3 converter, but it also converts different file types such as documents, videos, and more
Most formats are supported for every file type
Cons:
Unlike CloudConvert, there will be ads when you got here, but it's understandable considering how new they are to the competition
The conversion can take a while, which can also be associated with how new the site is
Steps:
Open the FreeConvert website on your browser.
Under the MUSIC Converters section on Convert My File To, select MP3.
Now click on the Choose Files button, locate and open the M4B files. You may also simply drop the file into the button.
Click on the Advanced Settings (Optional) menu and configure the settings in the way you want it to be.
Click the Convert To MP3 button and wait for the conversion to complete.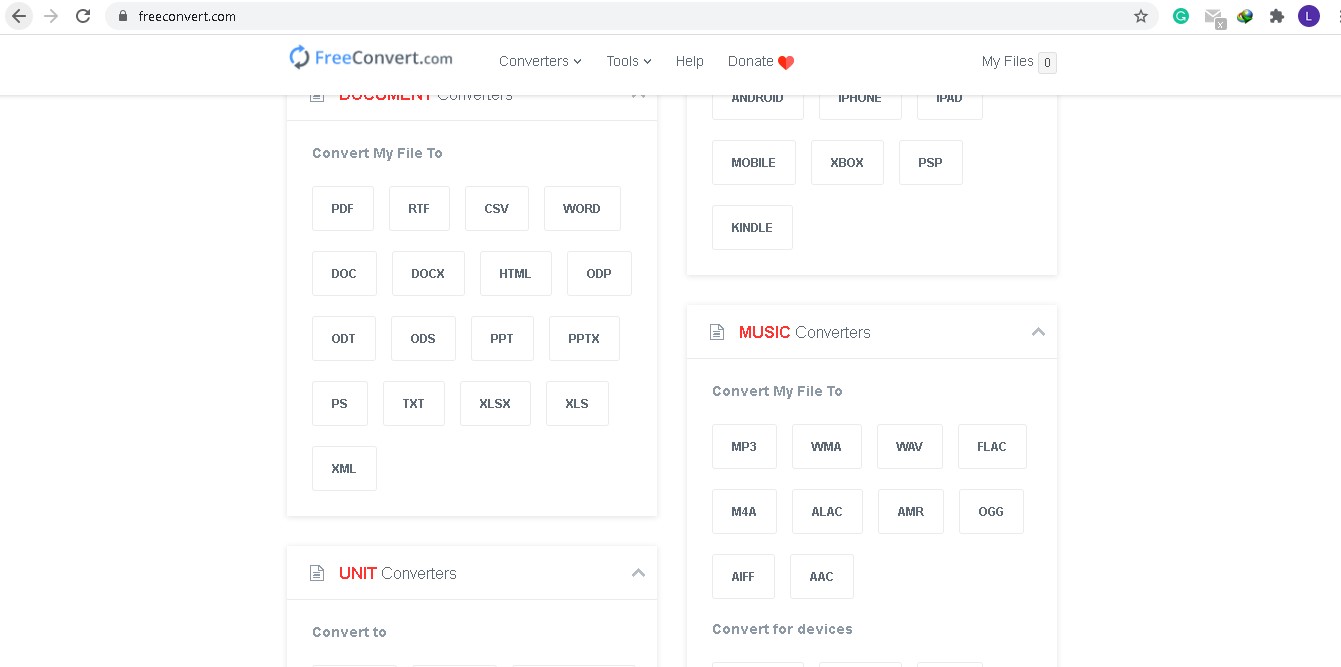 Part 3. Summary
There are many ways to enjoy music. Some download more and more music as they get bored in their current collection. While some make the collection look and feel better by organizing them. If you're the latter, that explains why you want an M4B to MP3 converter.
With this guide, you should be able to convert your music files the way you want. Now it shouldn't be too hard considering how in-depth this guide is.