For a long time, music lovers had the dream of being able to listen to any Apple music they want to listen to. After all, most songs from the Apple Music platform are high-quality that can really please the ears.
Now if you're one of those people, you've probably tried to download Apple Music to PC (Windows or Mac). That's to be expected since that would be too good to be true.
This guide will teach you how to get Apple Music songs for FREE on your Mac or Windows computer. Let's start with the easy ways.
Article Content Part 1. Why Do We Need to Download Apple Music Songs to Windows or Mac?Part 2. How to Download Apple Music to PC for FREE?Part 3. How to Download Apple Music to PCs with Apple Free-Trial?Conclusion
Part 1. Why Do We Need to Download Apple Music Songs to Windows or Mac?
In order to listen to Apple Music, you simply need an Apple ID and a device that you will use. That's how simple listening to Apple Music is. So why would you bother finding out how to download Apple Music to PC if you can listen to Apple music without breaking a sweat?
There are many reasons as to why you may want to download music:
You need internet whenever you use the Apple Music platform
You need to wait for the music to buffer before you can enjoy listening to the whole song
You can only access the Apple Music platform if you have an iTunes app installed on your computer
You are required to pay for a subscription to Apple Music in order to listen offline
If you unsubscribe from the Apple Music platform, all the music you've collected thus far will be removed
Since that's the case, you will eventually get tired of either paying for the subscription or the internet. So that's why you need to download Apple Music to PC.
There are tons of ways to download Apple Music to PC, but most of them require money. If you're looking for a free method, the next section is for you.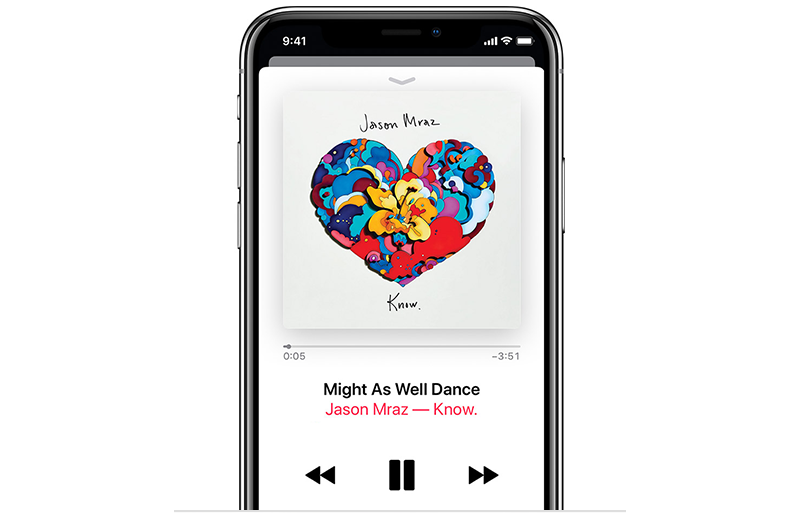 Part 2. How to Download Apple Music to PC for FREE?
TuneSolo Apple Music Converter is a tool that will scan your computer for Apple Music information. Such information includes Title, Artist, Album, and more, and it mostly comes from iTunes.
It is a DRM-removal tool that helps you get the protected Apple Music songs for free and keep the Apple Music tracks forever.
Why do we recommend the Tunesolo Apple Music Converter to be used to download Apple Music to PCs?
The songs can be converted to commonly used formats such as MP3, so that you can play the downloaded Apple Music songs on all devices and models of iPod, iPhone, iPad, Apple Watch, Android, and more
The Apple Music will retain its original quality after it has been downloaded or converted
The software can be launched on the latest version of Windows and macOS
You can convert the music from Apple unlock content without a subscription
........
Here is an overview of the instructions that how to download apple music to PC with TuneSolo:

How to Download Apple Music to Windows PC or Mac for FREE?
Tunesolo Apple Music Converter has updated some of its features to provide users with a better downloading and converting experience. Firstly, you can download the latest version of Tunesolo to your PC computers.
We offer a free trial for you to get Apple Music songs and save them on your PC.
Step 1. Open the Built-in Apple Web Player and Log in with Your Free Apple ID
When you open the Apple Music Converter, you will see a simple tutorial at startup. On the welcome page, click on the "Open the Apple web player" button, then you can access the built-in web player.
Note: The new version of Tunesolo Apple Music Converter no longer requires syncing with iTunes to process the music conversion anymore! We have a built-in Apple Music web player to boost conversion efficiency.
Log in with your Apple ID. You can also use the free account without an Apple Music membership subscription. If you can't sign in to your account, you can't browse the library and download or convert Apple music using the software.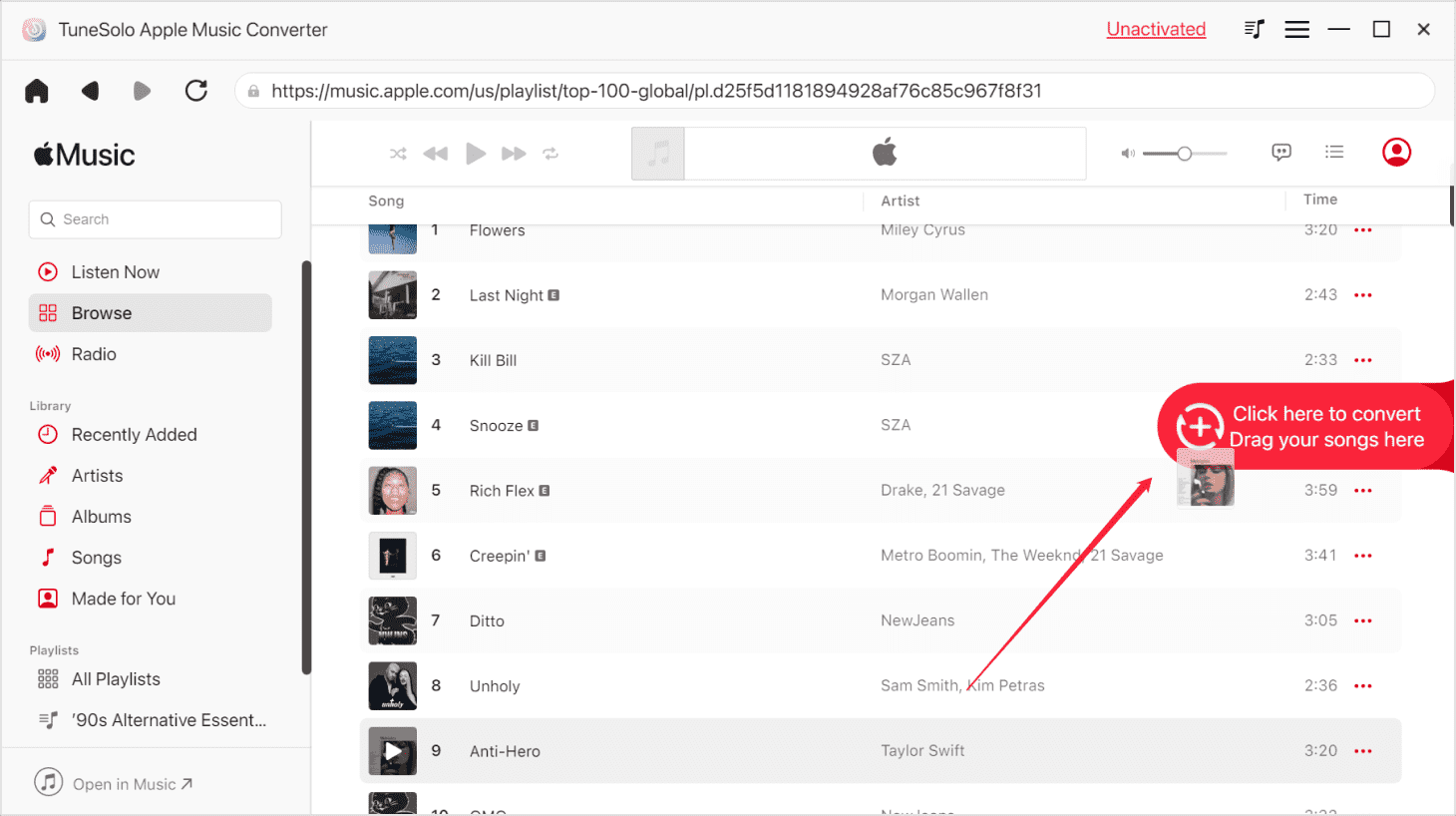 Step 2. Choose and Add the Apple Music Songs and Albums

You can use the search function to browse and find any song or album you want to download from Apple Music. You can also choose songs from your Library playlist.
After selecting a song, a playlist, or an album, drag and drop it directly into the "+" button, and then Tunesolo Apple Music Converter will add all the Apple Music tracks you selected to the conversion list.
Step 3. Modify Output Settings

On the pop-up converting window, you can select the output for each of the audio. And then you should select an output folder.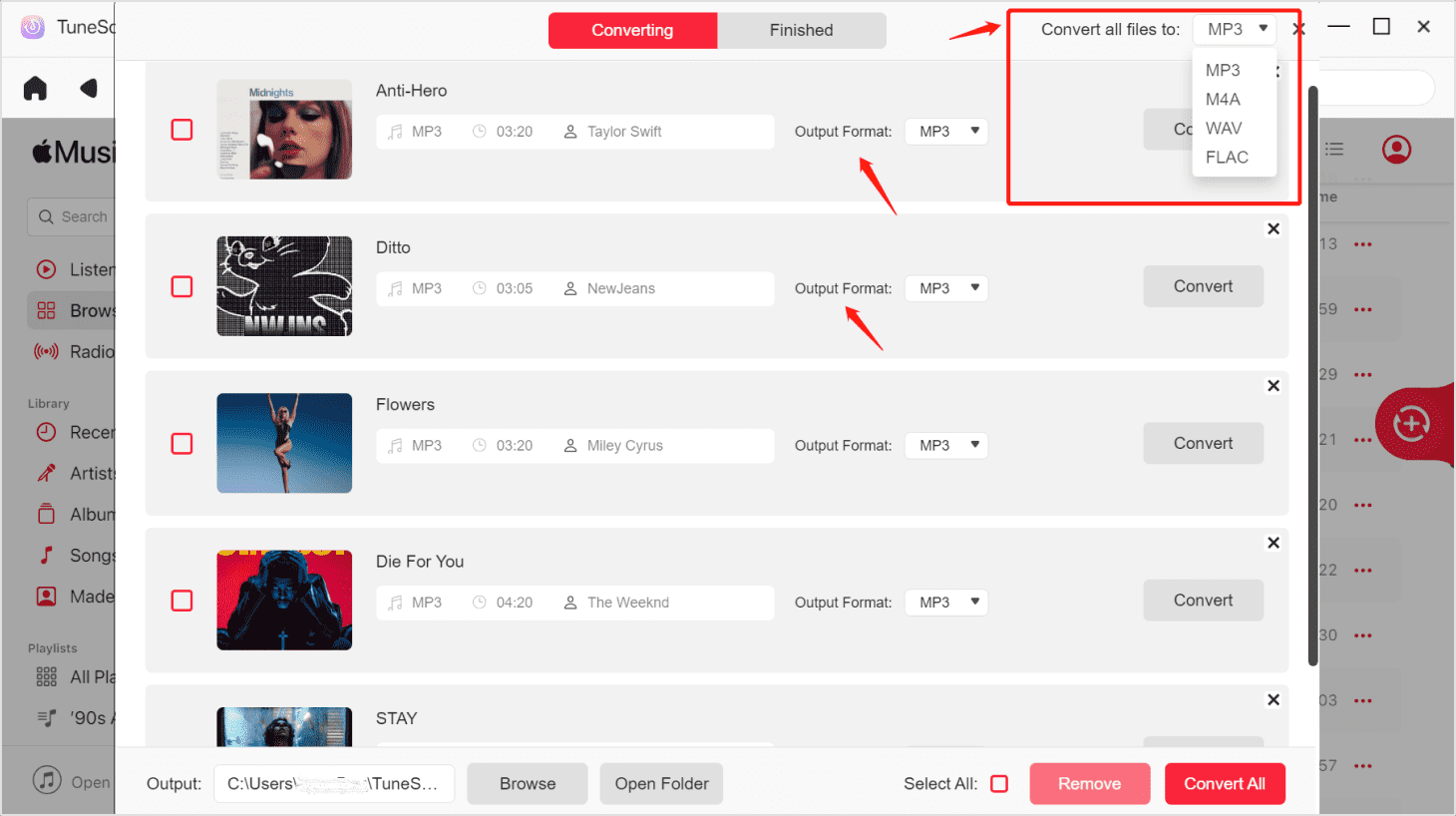 Step 4. Convert Download Apple Music to PC Easily
If you want to batch-convert the songs, click on the "Convert All Items" button below. This might take a while, but ultimately, you will see the downloading Apple Music files under the "Finished" tab. Here you can check if you converted the right music and if it's successful.
This should allow you to download Apple Music to PC regardless of its price on the Apple market. It means you have an unlimited source of music as long as you have this software.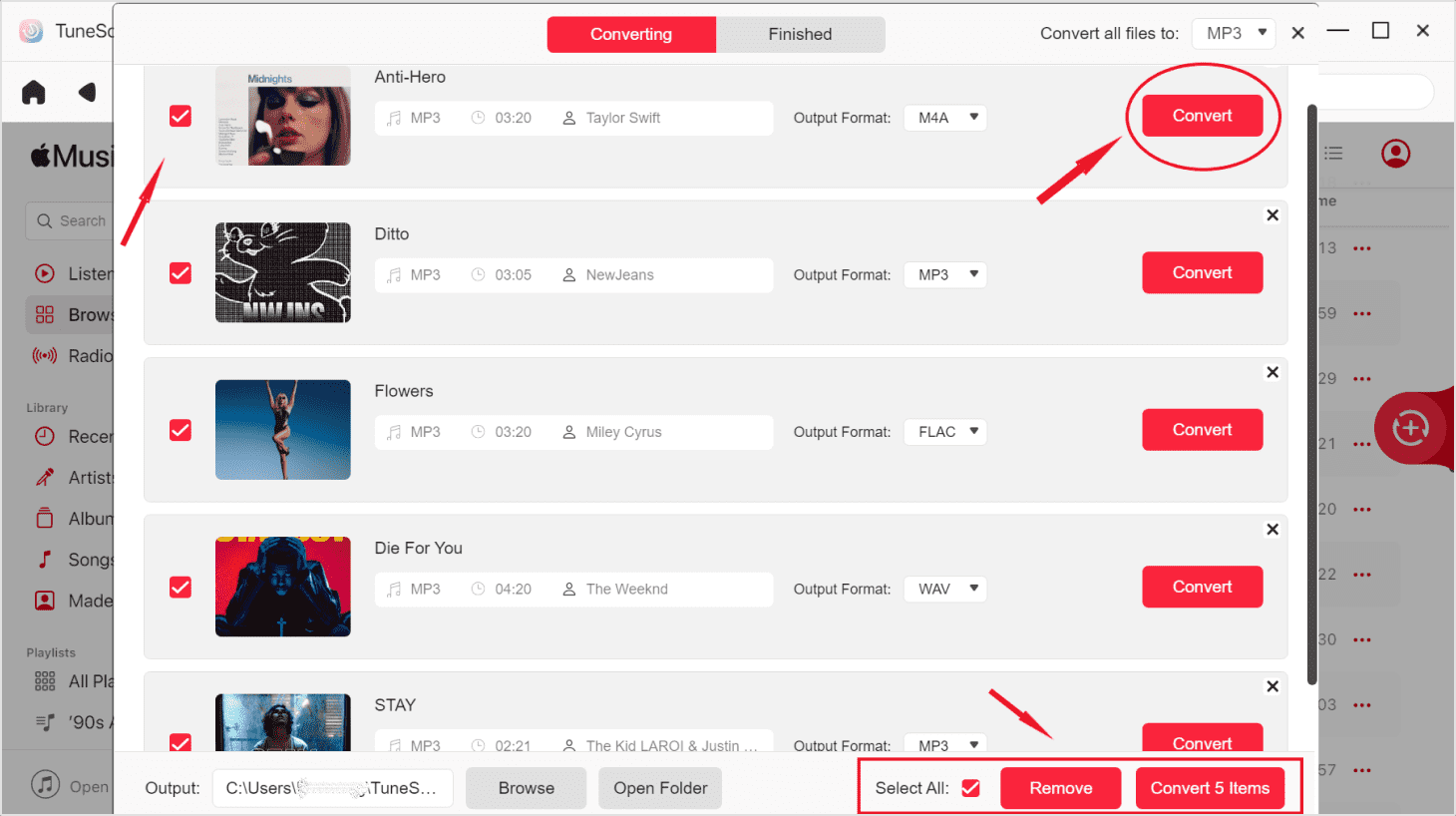 Part 3. How to Download Apple Music to PCs with Apple Free-Trial?
Although a tool will certainly make things easier for you, you can also trick the Apple Music platform so you can download Apple Music to PC for free, but it will be a lot harder, but it's not impossible.
Below are the steps to download Apple Music to your PC using Apple Music Free-Trial Plan, as an alternative if you can't use the TuneSolo software:
Download and install the iTunes app on your computer. Once installed, open iTunes.
On the iTunes app, go to the For You tab on iTunes.
Now click on the Start 3-Month Free Trial
Select an option that includes Individual and Family. Simply select one since you won't be charged either way until after your trial expires.
Enter your Apple account credentials including Apple ID and Password. Click on Buy.
Once you're on the iTunes Apple Music platform, simply select the songs you want to download just like how you would as a paid subscriber.
Now to avoid paying, simply go to the iTunes Store and click on Account.
Now enter your password and beside the Automatic Renewal option, tick the circle for Off.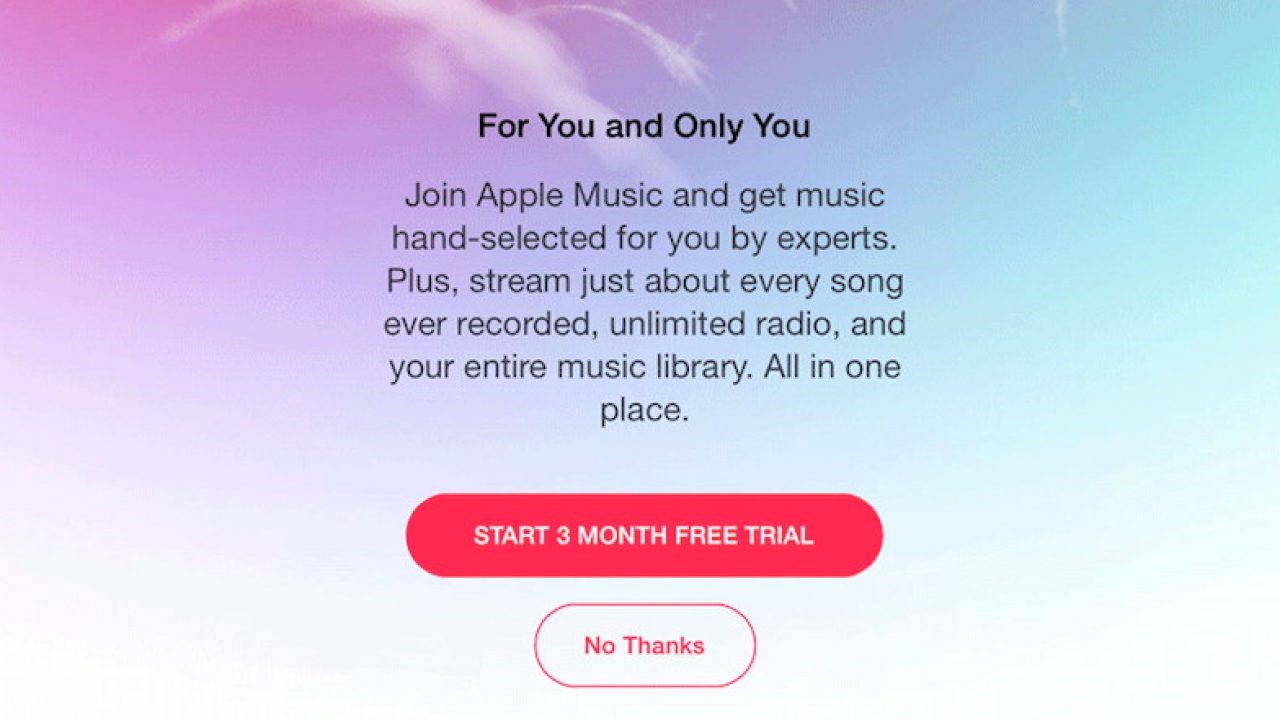 Conclusion
There are a couple of ways to listen to music, but since Apple Music houses arguably the best music out there, it's very tempting to use the platform. Unfortunately, if you can't afford to pay for a subscription, you can only take a glimpse of the music stored on this platform.
However, with the rise of software such as TuneSolo Apple Music Converter, you can easily download Apple Music to PC without having to pay money or spend too much effort into finding free music. Hopefully, this will help you improve your music experience because you can keep Apple Music songs on Windows or Mac computers for free forever!