DRM protection is a crucial component in every Apple Music file. But although it is 100% true, it's not without a flaw. Many users tend to have trouble managing their Apple Music files because of DRM, despite its benefits for the owners of the music.
This is why many people tend to look for ways on how to remove DRM protection. This, however, can only be achieved with free DRM removal software or by bypassing iTunes' security, which is quite hard.
This article will show you how you can remove DRM from Apple Music using a specialized tool. Before that, however, let's find out more about this DRM protection and what it does.
Article Content Part 1. What is Apple Music and DRM Protection?Part 2. Is It Legal to Remove DRM from Apple Music?Part 3. The Most Recommended Tool to Remove DRMPart 4. How to Remove DRM from Apple Music for Free?Part 5. Conclusion
Part 1. What is Apple Music and DRM Protection?
Before anything else, you need to first understand the concept behind Apple Music and DRM protection before you can remove it, or change it in any way for that matter.
Introduction to Apple Music
Apple Music is a music streaming service that follows the concept of subscriptions, similar to Spotify. What this means is that in order to access this platform, you either have to get a free trial or simply pay for a subscription.
This platform offers millions of songs, thus making it a platform with one of the biggest collections. It became very popular, even more, popular than Amazon Music in terms of subscribers, even though it was only released in 2015.
Apple Music supports the following formats: AAC, AIFF, Apple Lossless, WAV, and MP3. It is compatible to most devices owned by Apple and also some non-Apple devices.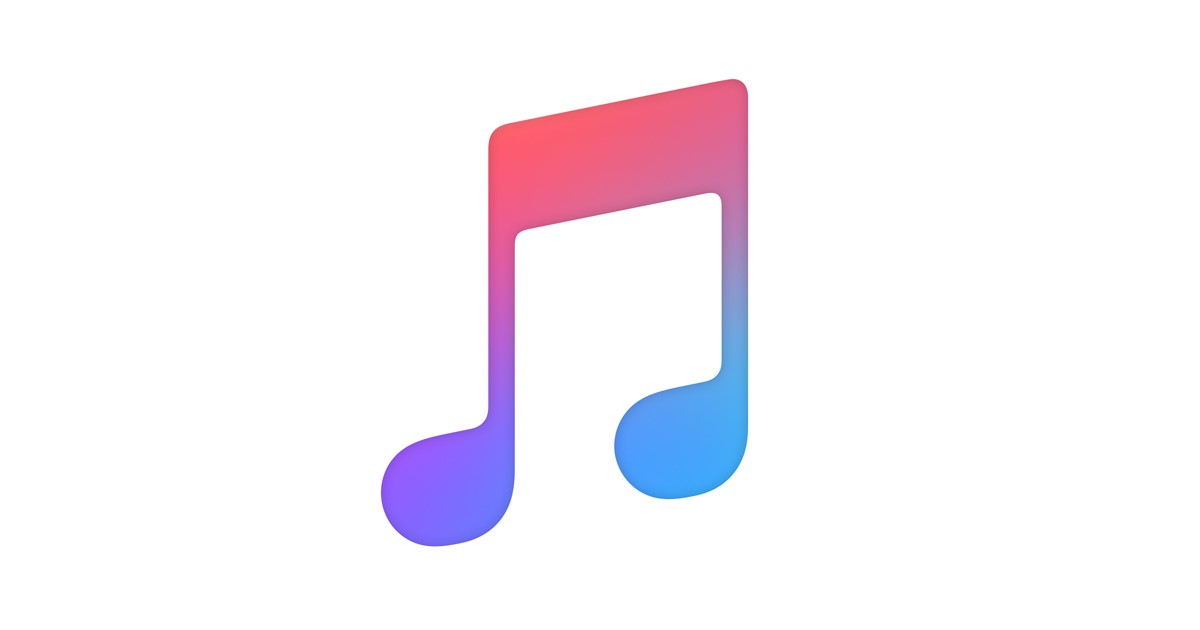 DRM Protection: What is it?
You may have heard of the letters DRM before, but it's natural if you don't know what it is. These three letters stand for Digital Rights Management, and as the name suggests, it is a policy that protects the copyright of digital media content.
Apple Music uses this policy so that users can't share it with others that haven't paid for a subscription on the platform. This is to prevent users from getting it for free, which will result in a loss of profit for the company.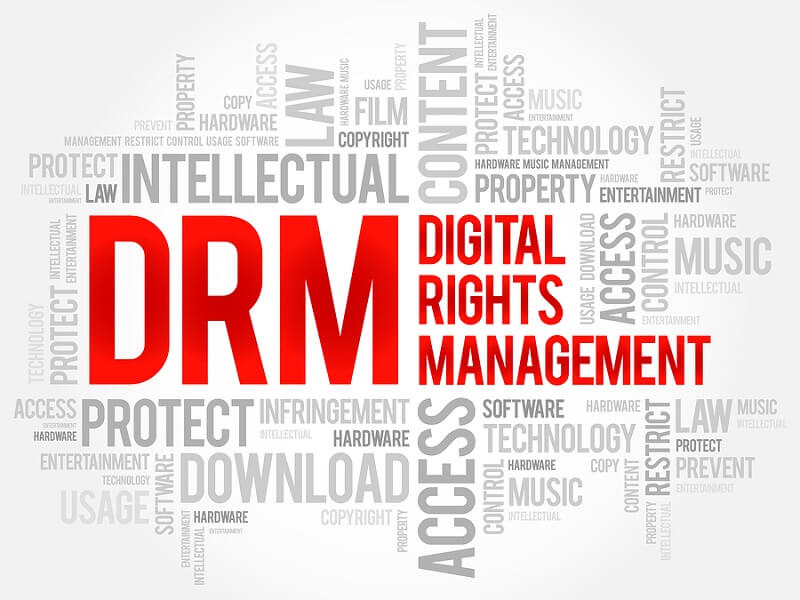 Part 2. Is It Legal to Remove DRM from Apple Music?
Your next question after learning about DRM is probably regarding whether it is fine to remove DRM from Apple Music. The answer to this can vary depending on how you do it.
We know that Digital Rights Management was made as an important privilege for content creators so they can profit more from their creations. This applies to both companies and individuals, so Apple, being a huge organization, makes use of this privilege.
In summary, Digital Rights Management:
Allows content creators to prevent the unauthorized use of their creations
Controls the distribution of the content
Helps companies keep their information confidential in cases where leaking the info will lead to negative aftereffects
Monitors who or what distributes the content
Makes it easier for digital security organizations to track illegal activities regarding the DRM-protected content
With that being said, as long as you don't violate any of these, it should be fine to remove DRM Apple Music. Since it was made to prevent loss of profit, as long as you don't use it for your personal gain, it's not illegal.
With that being said, one more question comes in, "How can you remove DRM from Apple Music for simple entertainment rather than for making profits?"
Part 3. The Most Recommended Tool to Remove DRM
A few years ago, it can be said that an individual trying to remove DRM from Apple Music is an impossible eat. However, with the rise of third-party tools, it's no longer difficult.
TuneSolo Apple Music Converter is a tool that allows users to collect information from iTunes and turn that information into convertible and downloadable files. These files will not include the DRM algorithm, thus effectively giving you the ability to remove DRM from Apple Music.
Apart from this function, there are many other features that TuneSolo has. Below are some of the key features of TuneSolo:
DRM Protection Removal
As previously said, DRM can be removed through the TuneSolo software. By doing so, you will gain access to many privileges including the ability to share the once DRM-protected file to your friends or transferring it to your other devices. However, make sure you don't use this free DRM removal software to gain profits as it can be considered illegal
Unlocks Premium Content
Another unique feature of TuneSolo is its ability to unlock the previously locked content that is supposedly for paid users only. This gives you a better music listening experience. This includes being able to access Apple Music, iTunes Music, Audiobooks, and Audible products
Offline Listening
Besides the fact that the DRM protection is already gone, you are also given the privilege to listen to the music file without having to connect to the internet or even mobile data. But make sure that your media player already supports the format that you converted into
Full Compatibility
In addition to not requiring internet, you can also play the downloaded music files in most devices including iOS gadgets and even devices that Apple usually doesn't authorize such as Xbox, Zune, PSP, and of course, Android devices
Fast Conversion
TuneSolo has a relatively high conversion rate. More specifically, it can go up to 16 times faster than the rate of common converters without risking a lower quality of audio compared to other converters
Batch Conversion
On top of being able to go faster than other converters, it also supports batch conversion which is basically converting multiple files at the same time
Supported Formats
TuneSolo Apple Music Converter supports many formats such as MP3, FLAC, M4A, and WAV. So it is possible to convert the songs to other formats like MP3.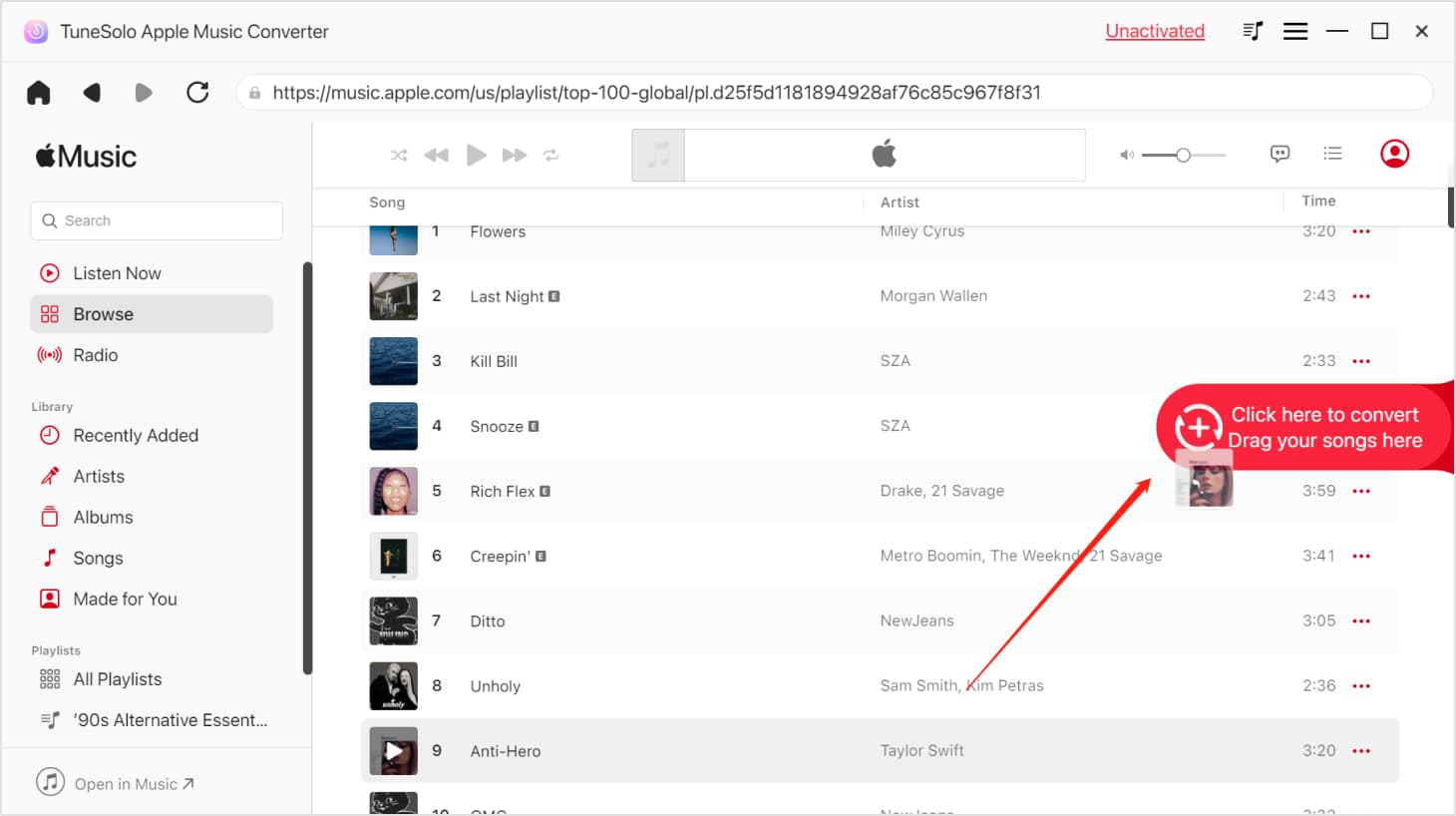 Part 4. How to Remove DRM from Apple Music for Free?
Now that you know what TuneSolo Apple Music Converter is and how powerful it is, it's time for you to learn how to actually remove DRM from Apple Music without spending a dime. Below are the steps that you need to follow.
With the above being said, you can now enter a step-by-step process. This is an overview for your easy reference.
Install TuneSolo Apple Music Converter on your PC.
Browse and add all the song files you like.
Click the "Convert" button to convert.
Note: The new version of Tunesolo Apple Music Converter no longer requires syncing with iTunes to process the offline music conversion anymore! We have a built-in Apple Music web player to boost download efficiency.
You need to log in with the Apple ID to continue the music searching and converting processes later on. Please free-try our new Apple Music Converter to know more about its fantastic features!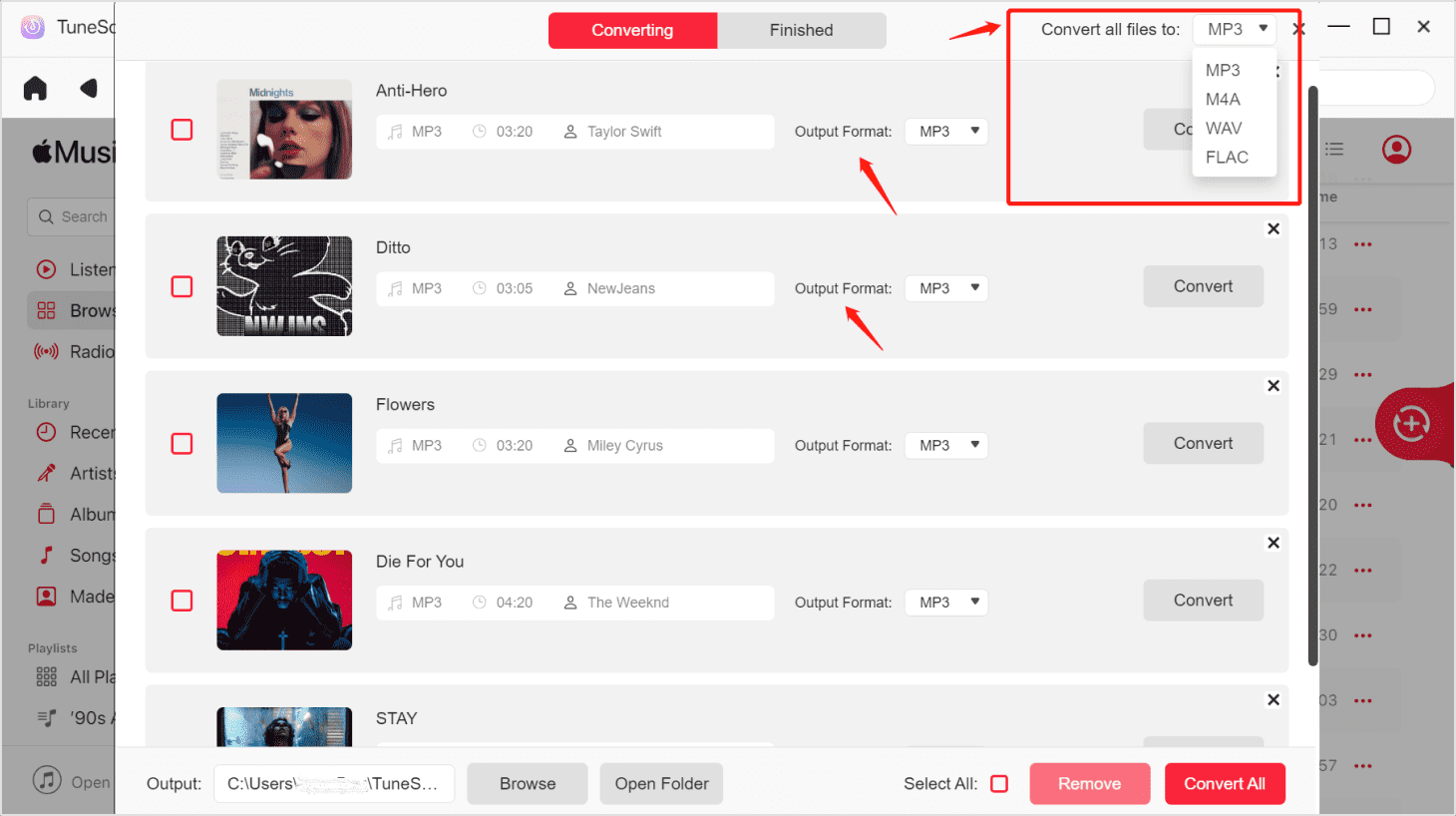 Once you have selected the necessary files, it's time to change the settings according to your preferences. Your first step is to change the Output Format and the Codec into matching options. If you were to choose MP3 on Format, make sure the same is on Codec, and vice versa. Nevertheless, the choice is entirely up to you. You can also change other minor settings such as Quality, Bitrate, and such.
After selecting the files and changing the settings, click on the Convert button on the bottom-right corner of the window. This may take a while, but it'll eventually be sent to the Finished tab once the process is completed. Check if the files on this tab are what you expected and if they were successfully converted with their DRM removed.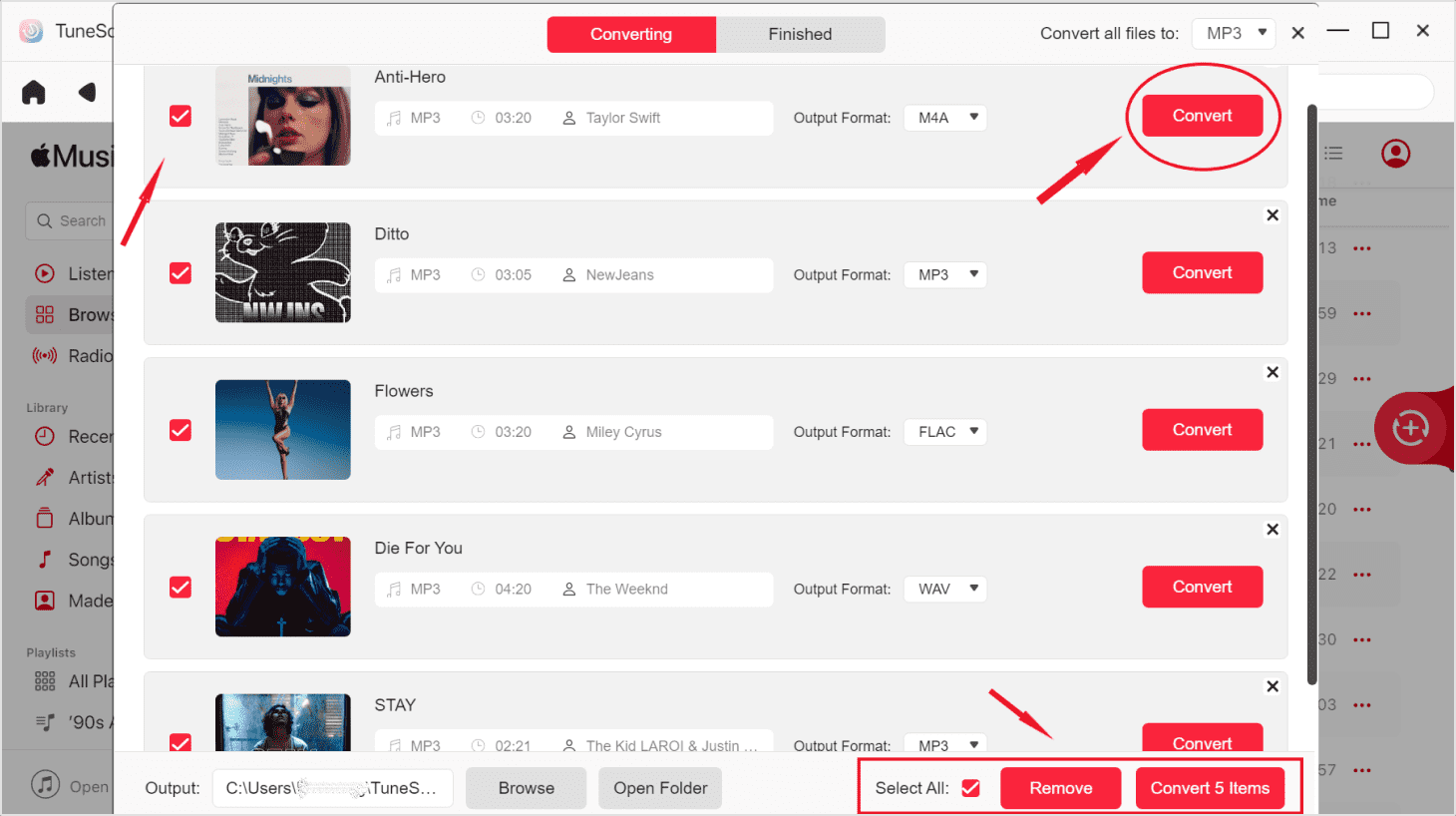 Part 5. Conclusion
Although it's quite nice to have a way to leverage the DRM protection on Apple Music files, you should remember that you're technically violating the DRM policy. As such, we recommend that you don't go too far when trying to remove DRM from Apple Music.
Only do this when you simply intend to make use of those Apple Music files for pure entertainment and not for your personal gain. With that said, hopefully, this helped you achieve your goal.