Apple Music hasn't been on the internet for too long, but it's become more popular than Amazon Music and other music streaming platforms. It offers over 30 million songs with some being exclusive releases from unknown artists.
Unfortunately, while Apple Music is one of the best platforms, you can't enjoy free Apple Music easily. After all, you have to pay for the music or a subscription. In other words, if you're looking to download free music, this isn't for you.
With this guide, however, we'll help you get free Apple Music through an Apple Music downloader that we highly recommend. Before that, let's find out more about Apple Music.
Article Content Part 1. Can You Download from Apple Music?Part 2. The Best Apple Music Downloader in 2020Part 3. How to Download Apple Music without Subscription?Part 4. Conclusion
Part 1. Can You Download from Apple Music?
Without a doubt, you will have some questions about Apple Music at first. After all, you will wonder why it has become as popular as it is now. We'll help you get a basic idea of why that is by answering some of the most frequent questions about Apple Music.
Can you download from Apple Music?
It is possible to download or save a song from Apple Music, but even after downloading, you can't transfer it to other devices. In other words, only on the device that you used for paying the subscription. This is simply because you actually didn't buy it, you're renting it.
What happens when I cancel my subscription?
If you cancel your subscription, or if it expires, then the files that you have saved will either disappear from your library or simply become inaccessible. This is why even after you download free songs from the platform; it won't work after some time.
However, if you downloaded it not because you have a subscription, but because you directly paid for it, then it will stay, even if the subscription ends. So in other words, if you get it as a free Apple Music, it will disappear, but if you buy it, it will stay.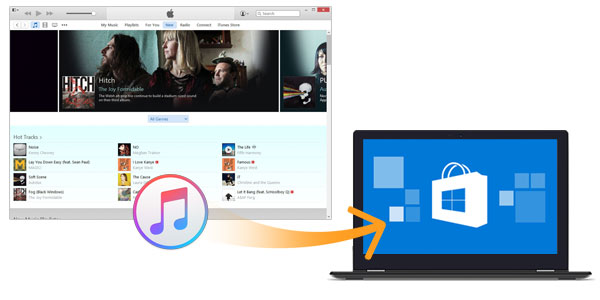 Why can't I use my downloaded Apple Music?
Now that you know that the downloaded songs disappear, it's only right to ask the reason as to why it happens automatically. This is mainly because of DRM, but what is DRM?
DRM stands for Digital Rights Management and it is an algorithm contained by most files in Apple Music. What it basically does is it protects the owner of the file from copyrights. As such, you can't transfer it to other devices as it can be the equivalent of distributing it to other people.
How can I download Apple Music permanently?
Now if you still want to get free Apple Music even after everything we've said, you're the only option is to find a way to bypass the DRM, hence why you need an Apple Music downloader.
Part 2. The Best Apple Music Downloader in 2020
There are numerous Apple Music downloaders out there, especially now in 2020. However, only a few can even be considered decent. As such, we recommend that you don't just use any converter that you find.
The best one should be worth it at the very least. It should at least have these characteristics:
It can disable the protection of Apple Music files and make them distributable
It can download Apple Music songs at a faster rate than common converters without risking a huge loss of quality
It can preserve the ID tags and metadata that each of the Apple Music file has such as the Title, Album, Genre, and more
It can support the majority of formats available for audio files
It doesn't show advertisements to the users throughout the conversion process
It supports both Mac and Windows
It is user-friendly and suitable for beginners
With all these in mind, we've come to the conclusion that there are only a few that fit this criterion, and our most recommended would be TuneSolo Apple Music Converter.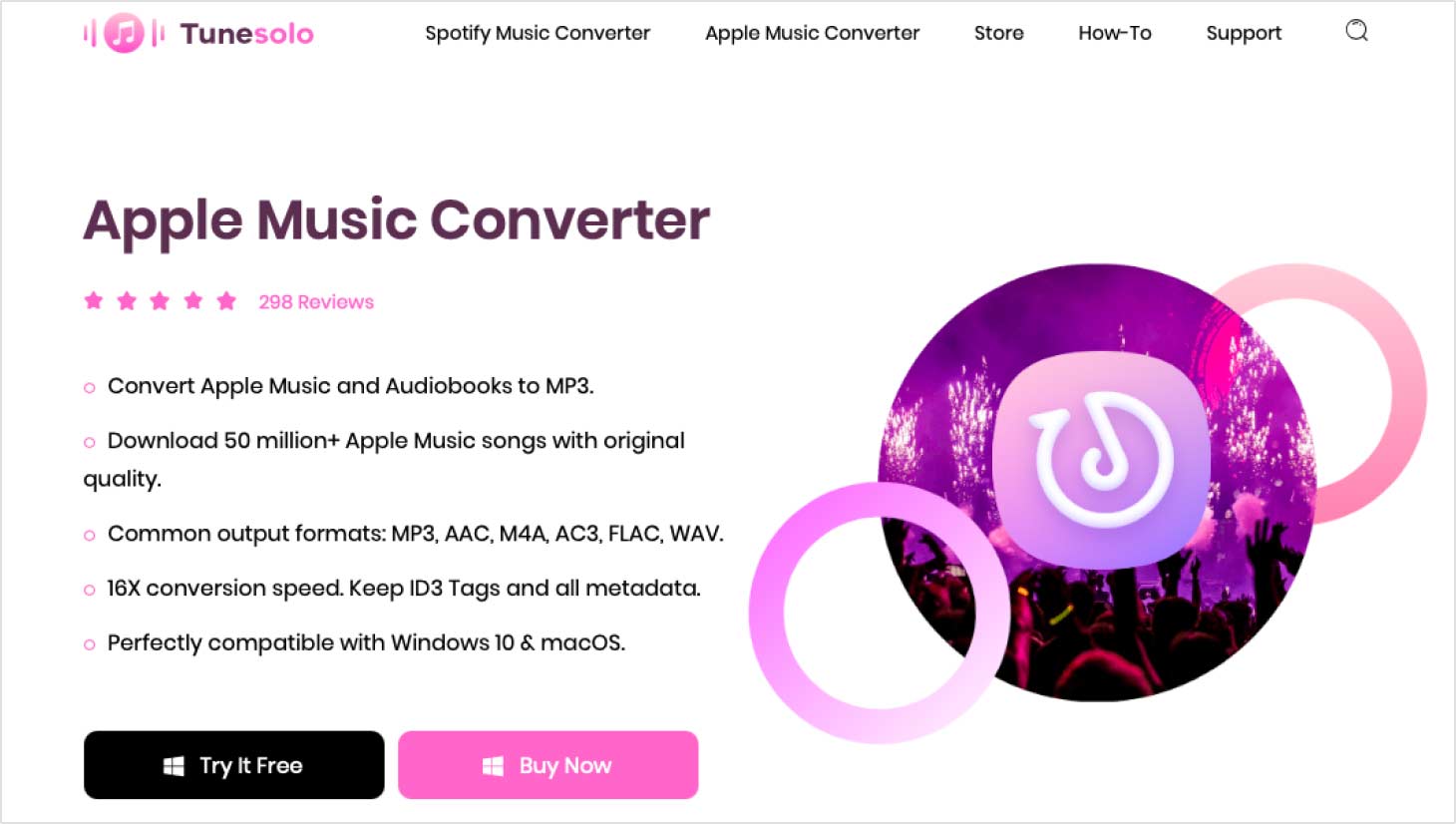 TuneSolo Apple Music Converter is a tool that is capable of helping users convert files from one format to another. With that being said, it's not only an Apple Music downloader, it is also a converter, and a good one at that. Below are the features of this software:
DRM Protection Removal. This software is capable of removing the DRM protection of any file from Apple Music, effectively giving you the ability to share it to others
Batch Conversion. In addition to having up to 16 times the speed of common converters, it also supports batch conversion allowing you to download multiple files at once
Preserve Original Data. TuneSolo makes it possible for the original metadata to be preserved including the Title, Album, Artists, and the likes
Supported Formats. It supports the majority of popular and unpopular formats as well as protected formats including AAC, MP3, M4B, M4A, and more
Unlocks Premium Content. Although the software is mostly free, it can give you the same privileges that people who pay for a subscription enjoy
Part 3. How to Download Apple Music without Subscription?
Now that you already have an idea of what TuneSolo Apple Music Converter is, let's find out how you can actually use this as an Apple Music downloader.
Step 1. Select Apple Music
Open the software on the computer. Since iTunes will be the source of Apple Music, install it first and if it's already installed, check if it's on the latest version. Now on the main page, you will see a list. Simply select the Apple Music songs that you want to download.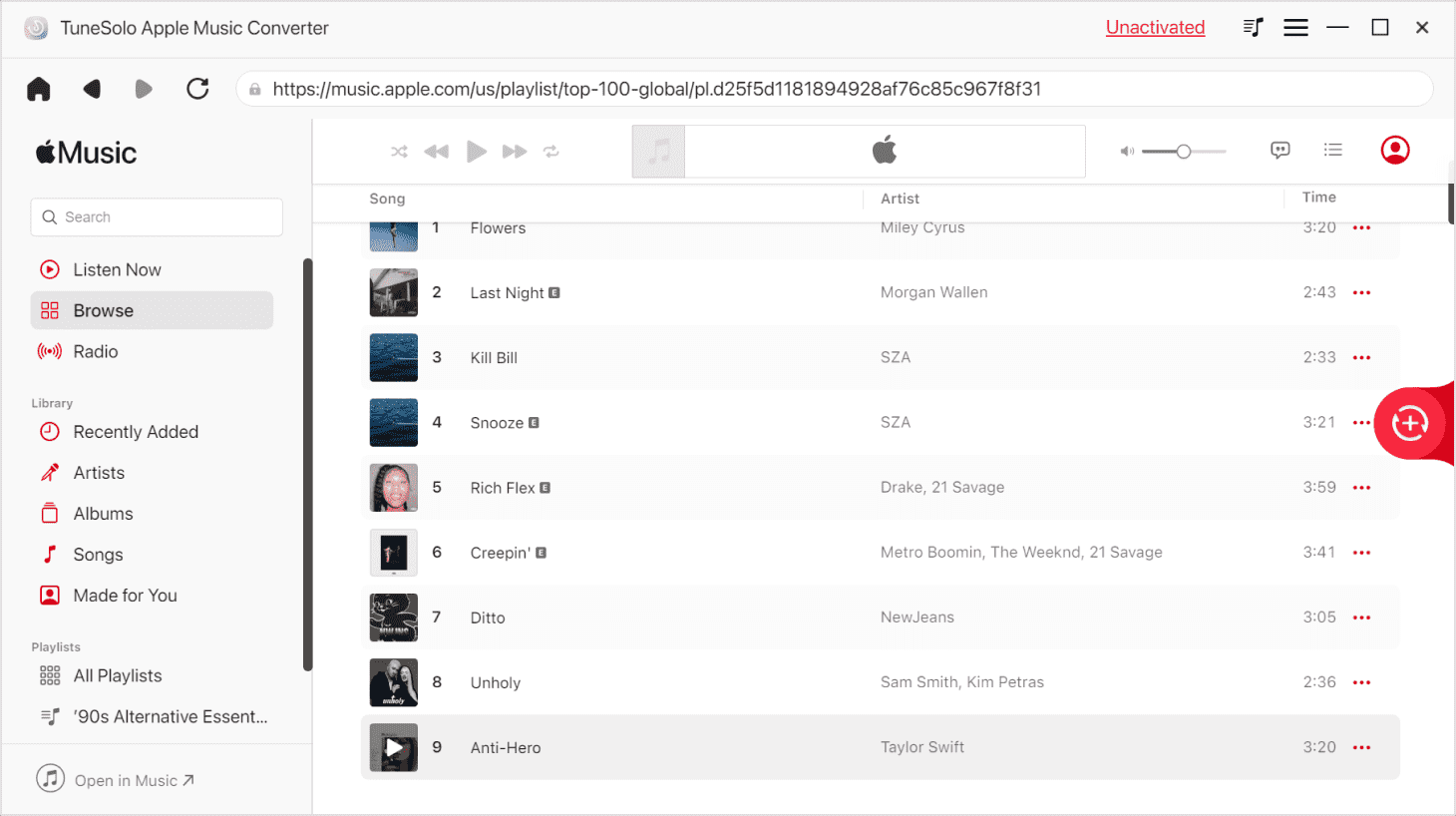 Step 2. Change Output Settings
After selecting the necessary files, go to the bottom of the window where Output Settings is located. Here, you can change the format, codec, quality, and other configurations according to your preferences.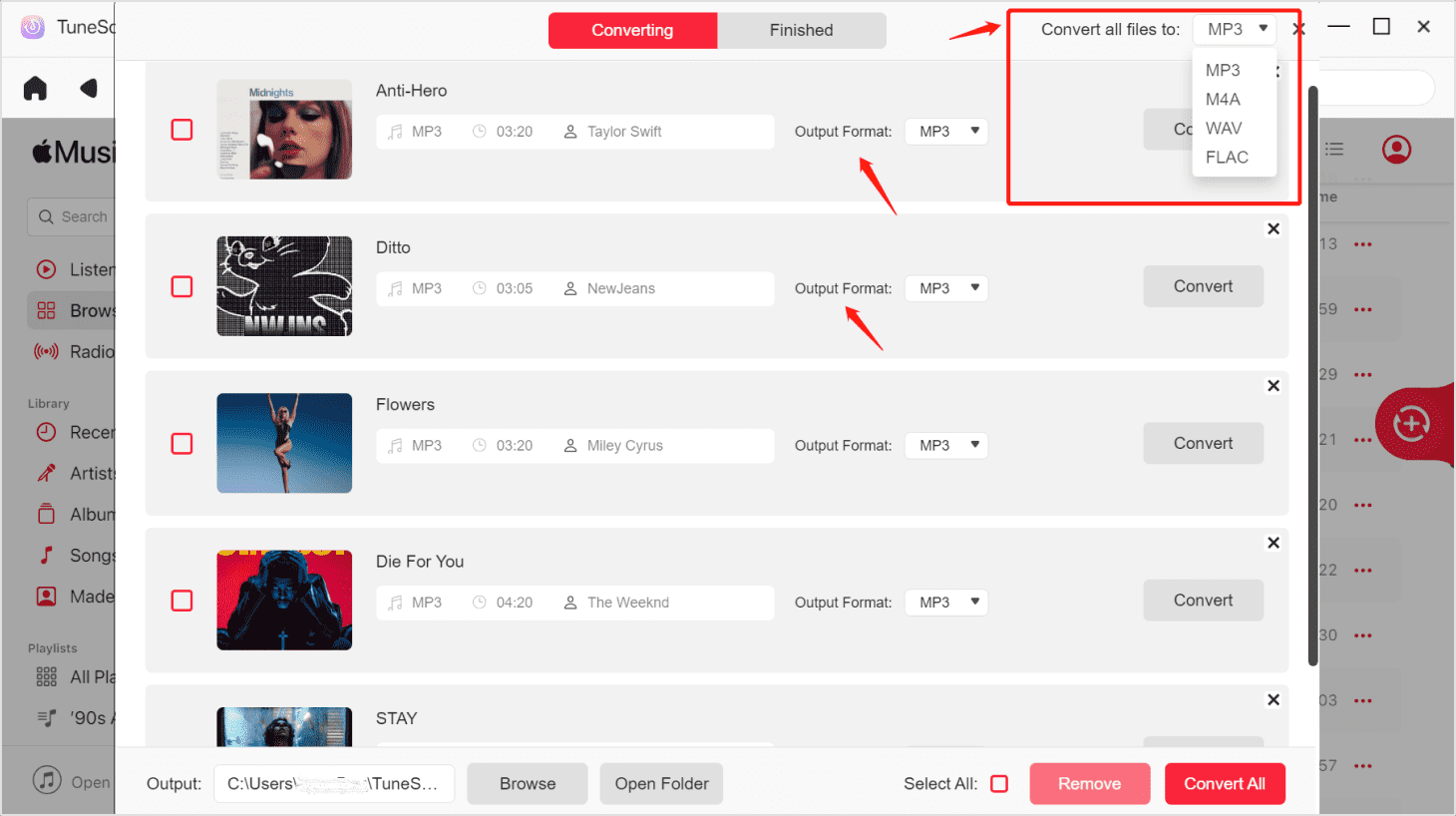 Step 3. Convert Apple Music
Upon selecting files and changing the output settings to your liking, you can finally click on the Convert button. Now go to the Finished tab and see if it was successful.
Tip: Please check that Apple Music/iTunes is currently closed before launching Apple Music Converter. And during the song conversion, avoid doing any operation on Apple Music/iTunes.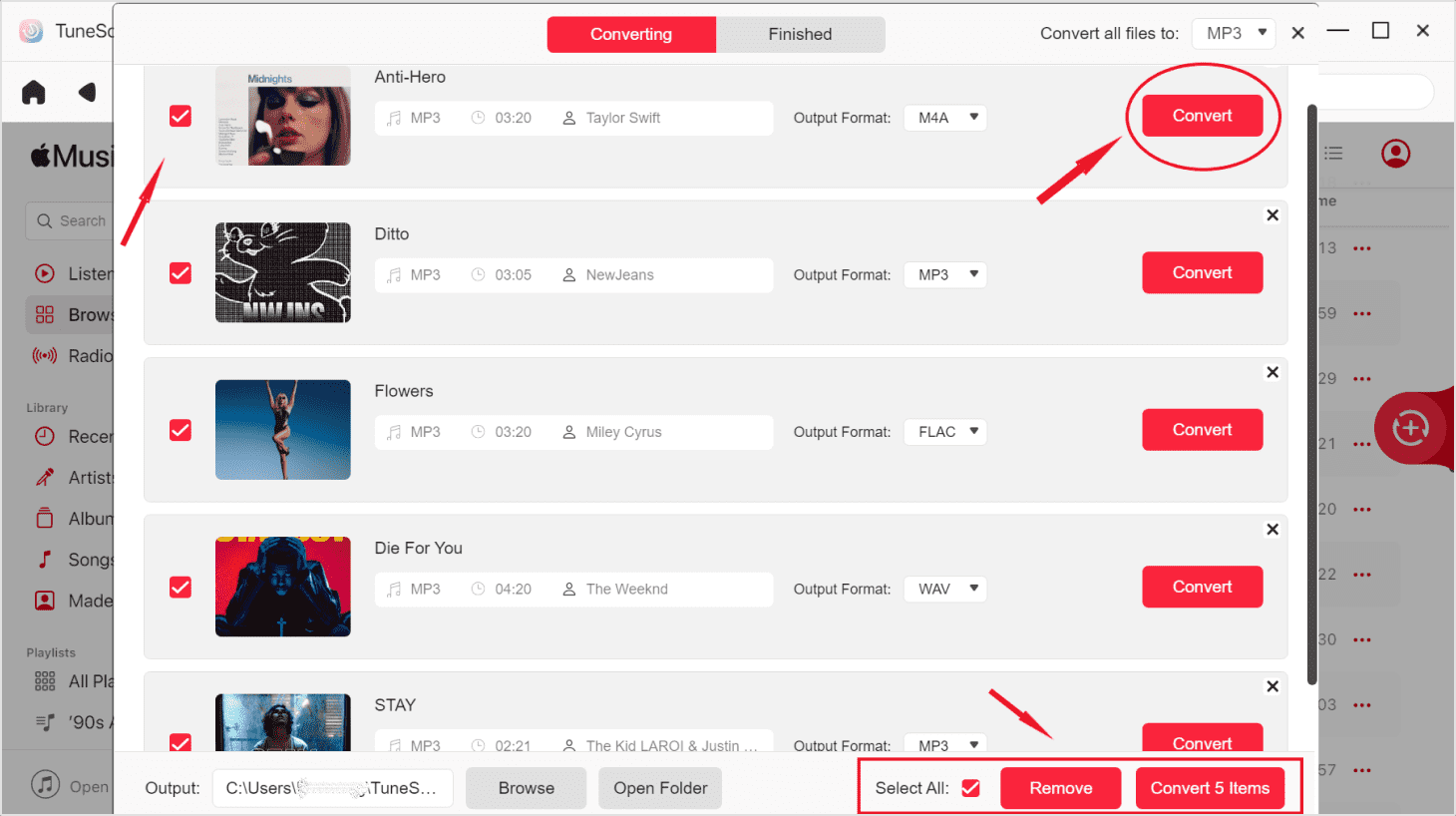 Part 4. Conclusion
It's not easy to get free Apple Music. You either have to get it from a pirated site or use a specialized tool, which in our case would be TuneSolo Apple Music Converter.
However, although you already have your dedicated Apple Music download, you shouldn't download all the files that you can see. After all, you're technically violating their policy which is the DRM.