There are a lot of things going on with Apple Music. It has features to help you discover music. The platform has a section for radio stations. You can also enjoy podcasts while streaming. Simply put, Apple Music is filled with myriads of features, but is an Apple Music offline playlist one of the benefits that you will enjoy?
Unfortunately, it's not easy to access such a perk. Your best bet, if you want to have an Apple Music offline playlist, is to purchase all songs that you want, but that would be costly.
This article aims to help you achieve your goal without spending too much. Let's get started.
Article Content Part 1. Can You Listen to Apple Music Offline?Part 2. How Do I Download My Entire Apple Music Library and Make Apple Music Offline Playlist?Part 3. Make Apple Music Offline Playlist on Unsupported DevicesPart 4. Summary
Part 1. Can You Listen to Apple Music Offline?
Before anything else, it's important to have a basic understanding of Apple Music. On that note, we will first introduce Apple Music and perhaps cover some topics that you may or may not know already.
Introduction to Apple Music
As you may already know, Apple Music is a popular music-streaming service. It was released in 2015 right after the Apple Company bought off the Beats Music service. This explains why Apple Music was announced right after the discontinuation of Beats.
While you may be a long-standing user of Apple Music, it's not known by a lot of people what this platform is known for. In truth, Apple Music is popular due to its interface. Not only does it offer recommendations, it also makes sure the songs that are shown to users fit their criteria. This is the unique selling point of Apple Music, and one of the reasons why it's popular.
Another detail that made this music-streaming service quite popular is that the interface consists of several sections. There is a section for you to discover music, a section for you to listen to radio stations, and a section to look browse the entire music collection of Apple. Still, Apple Music lacks in a certain department, and that is their accessibility.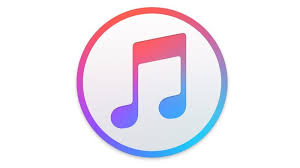 Limitations of Apple Music
Music has a fantastic security system. They make sure their content is not compromised by using FairPlay. Such an algorithm prevents users from illegally distributing content, making sure artists get their fair share of the profits made. However, this is not an ideal situation for the users, but what exactly is FairPlay?
FairPlay is a DRM technology that is embedded in all of the contents of Apple Music. Usually, this algorithm is found on AAC or MP4 files, so it's difficult to download your files for offline listening. However, while it may not be an easy feat, it's still possible as long as you pay for each song you download.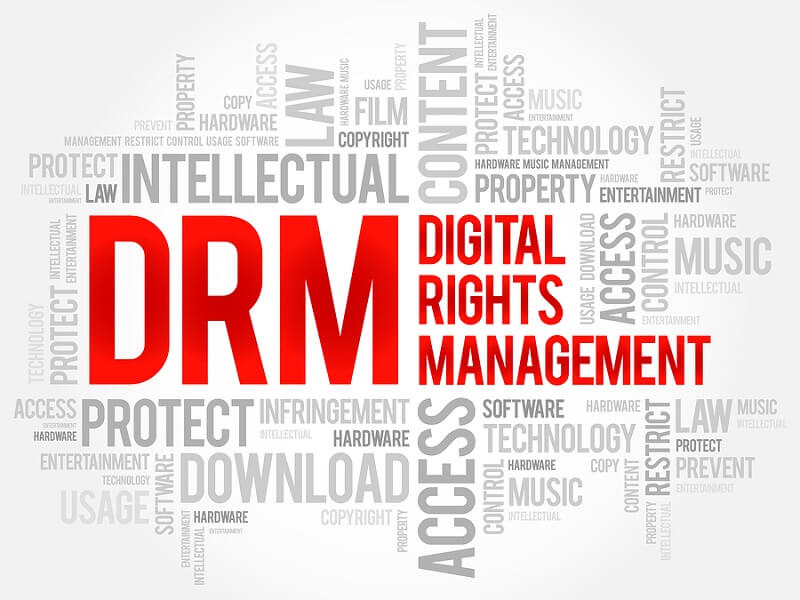 Offline Listening Feature
Streaming music often requires oneself to have internet. It may be harsh, but that's reality, so having an offline listening feature is greatly appreciated. Fortunately, Apple Music has such a feature, but it's only possible if you're a subscriber or you purchased the songs for yourself.
With that being said, you should be able to make your own Apple Music offline playlist as long as you're a subscriber. Since it's not going to be easy, I will discuss that in the next section.
Part 2. How Do I Download My Entire Apple Music Library and Make Apple Music Offline Playlist?
Offline listening is just one of the features that come with being a subscriber on Apple Music. So considering how you made it all the way here, you must be currently paying for a subscription plan, so let's not waste our time. First, you need to know that you can download songs and create an Apple Music offline playlist on mobile devices and on desktops. Let's start with the former.
#1. On iOS or Android Device
There are two ways to create an Apple Music offline playlist on your mobile device. You can add songs one by one which has a higher chance of success or you can do all your songs at once which may fail due to some errors. Here's how to download music on Apple Music:
Launch Apple Music on your mobile device.
Locate the songs that you want to add to your Apple Music offline playlist.
Now to add that particular song, simply tap on the +Add button at the top. By doing so, you will make it easier to download it later. Do this until all the songs that you want are in your library.
Go to your playlist. You can listen to the songs on your playlist, but you need the internet. To make them available offline, proceed to the next step.
Tap a song.
Tap on the Download button at the top. Do this to every song you want to add to your Apple Music offline playlist.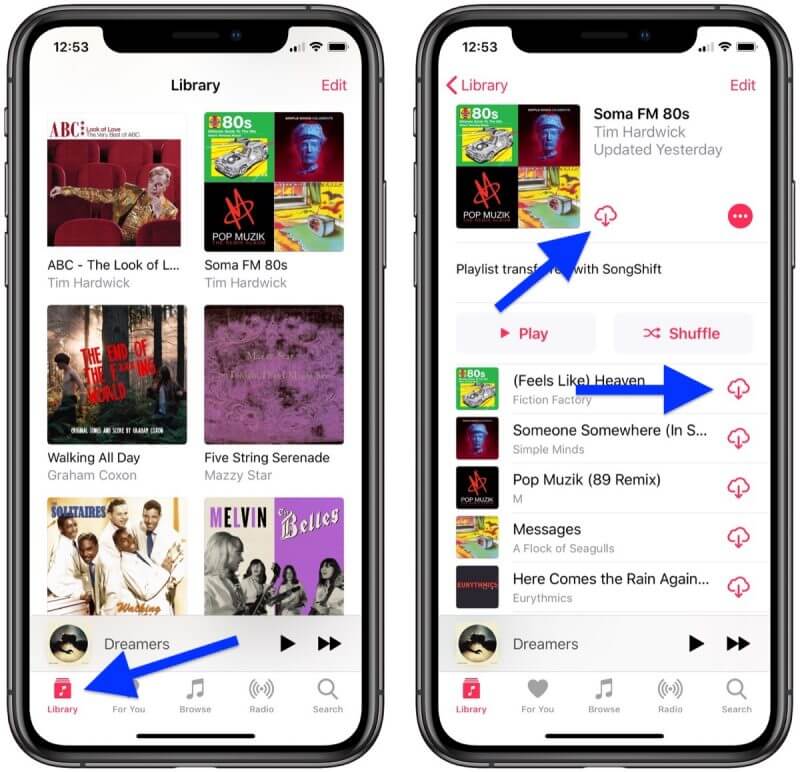 With these six steps, you will eventually end up with an offline playlist. The bad news is that if you cancel your subscription, all the effort that you've put in will be lost since your playlist will be deleted. Hence, I have another suggestion: sync your music.
You can do this by opening the Settings app of your device. Now go to Music and you will see several options. Look for the one that says Sync Library and turn it on. This should automatically create a copy of your songs into all your other devices so you can secure your playlist. This is also an easier method, but it doesn't work 100% of the time.
#2. On PC or Mac
If you have a Windows PC or a Mac, it should still be a possible task for you to create an Apple Music offline playlist. You can do it the same way as you downloaded songs on your mobile device using these steps:
Launch the Apple Music app or iTunes if that's what you prefer.
Search for the songs that you want on your playlist.
Add the songs to your collection by clicking on the +Add button.
Go to your collection and click on the Download button for each song you added.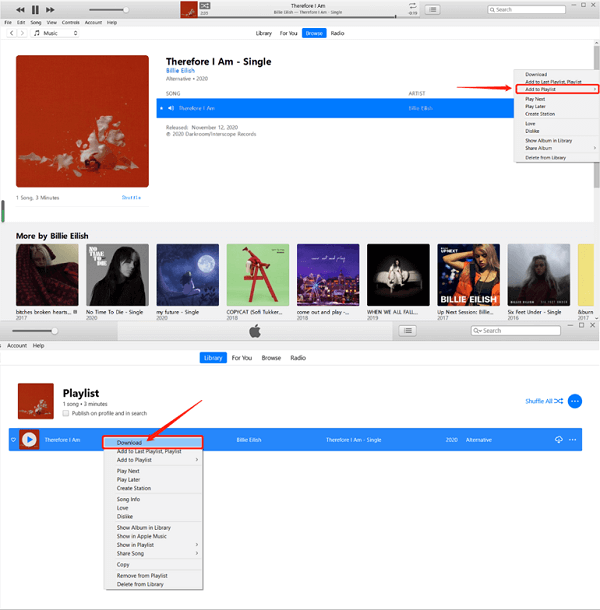 This is only applicable if you want to do it slowly. Since PC or Mac usually has a special tool which is iTunes, it should be possible to make the process a lot easier and simpler by using these steps for Apple Music download all songs in the library:
Open the iTunes program on your computer.
From the menu bar, click on Music and then select Preferences.
A popup window will appear with several sections. Simply go to the General tab.
You will see multiple options here. Just click on the box for Sync Library.
Once you're done, click on the OK button.
Part 3. Make Apple Music Offline Playlist on Unsupported Devices
In case you didn't know, you can only create an Apple Music offline playlist if your device supports the platform. Otherwise, you have to use a different method, and that method involves a tool called TuneSolo Apple Music Converter, a tool that has the ability to download songs from the platform without any restrictions. Simply put, you can create an Apple Music offline playlist on unsupported devices. Find out more about this program by reading about its features: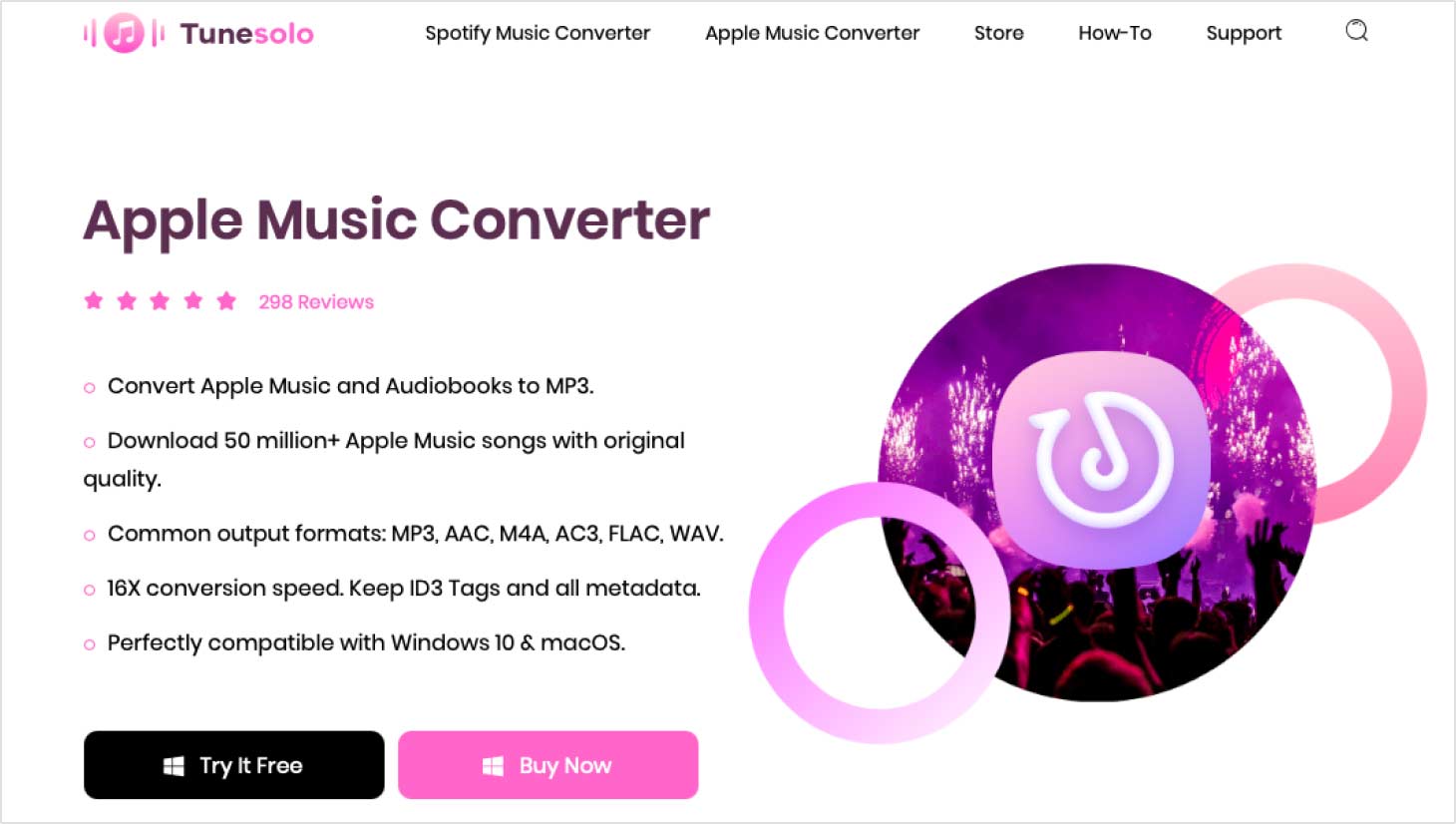 Main Feature:
Improved Compatibility. Once you download songs using TuneSolo, you can transfer the downloaded file to unsupported devices like Android, Xbox, PSP, Zune, and other devices. What's more, you can also access and listen to those songs without the internet
Other Features:
DRM Removal. You also have the privilege of removing the DRM protection on the files. Once FairPlay is removed, you can do anything you want with the songs. You can move them to different devices, share them on the internet, and many other possibilities
Faster Conversion. TuneSolo is also known for its fast conversion. It can convert and download up to 16 times faster than the typical converter. Coupled with its batch processing feature, you can convert and download multiple files at the same time
Supported Formats. Not only is TuneSolo a reliable Apple Music downloader, it also supports myriads of formats from popular ones like MP4, MP3, WAV, to unpopular ones like AAX, M4B, M4V
You can make an Apple Music offline playlist on unsupported devices with this software. Here's how to listen to Apple Music offline:
Step 1. Pick Your Songs
Before anything else, make sure iTunes is currently on your computer. Then, open the Apple Music Converter software. Upon opening it, you will see a list. On this list, you must pick the songs that you want to download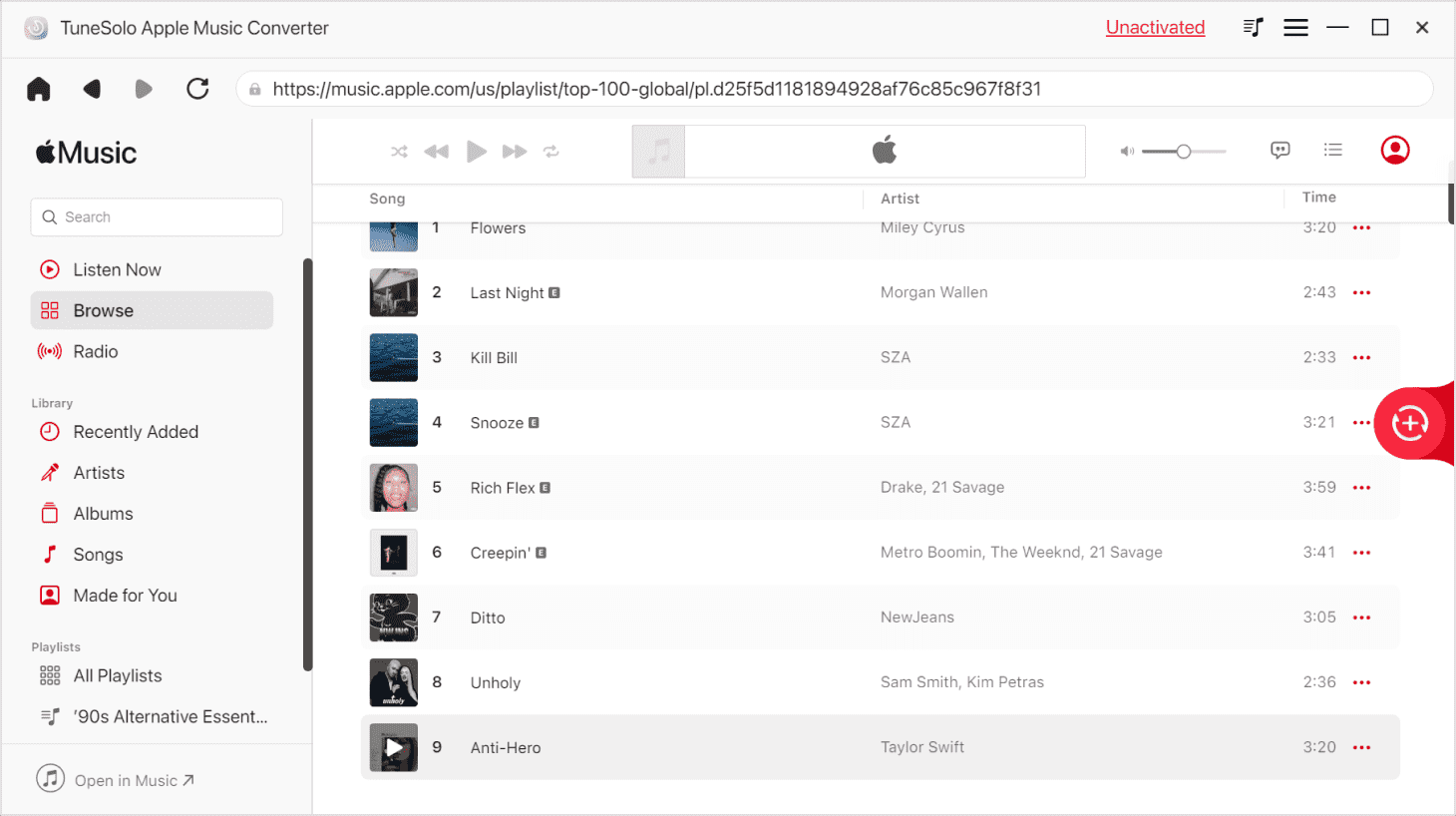 Step 2. Modify Settings
Now you will also see the Output Settings section. Here, you can change a lot of things regarding your songs such as their format, quality, codec, and the likes.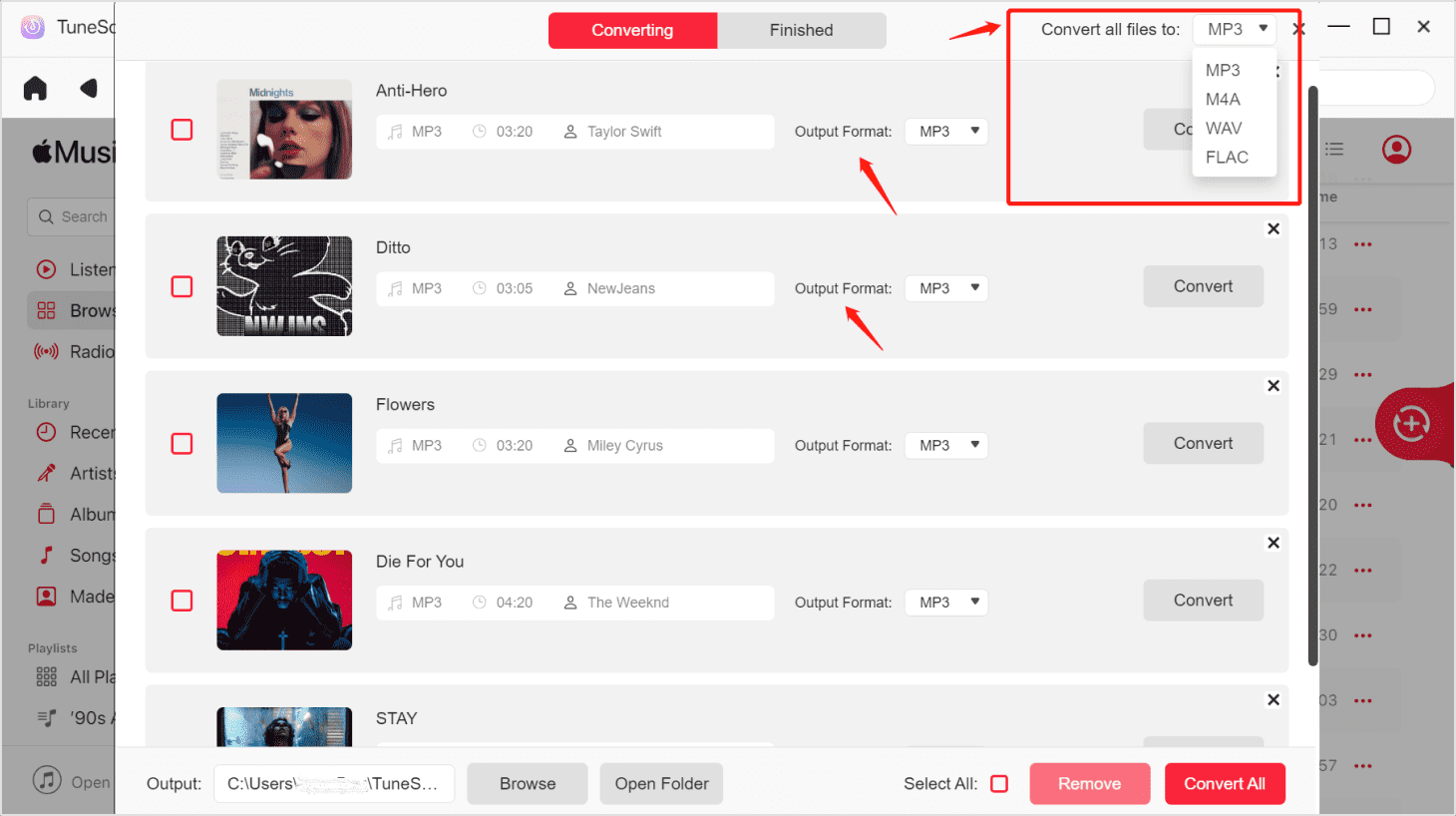 Step 3. Create Apple Music Offline Playlist
After setting the configurations, you must click the Convert button. This will begin the whole process and I suggest waiting patiently. Now connect your device to the computer and transfer the files by dragging and dropping the downloaded files.
Tip: Please make sure that Apple Music/iTunes is closed before opening Apple Music Converter. And during the song conversion, please do not do any operation on Apple Music/iTunes.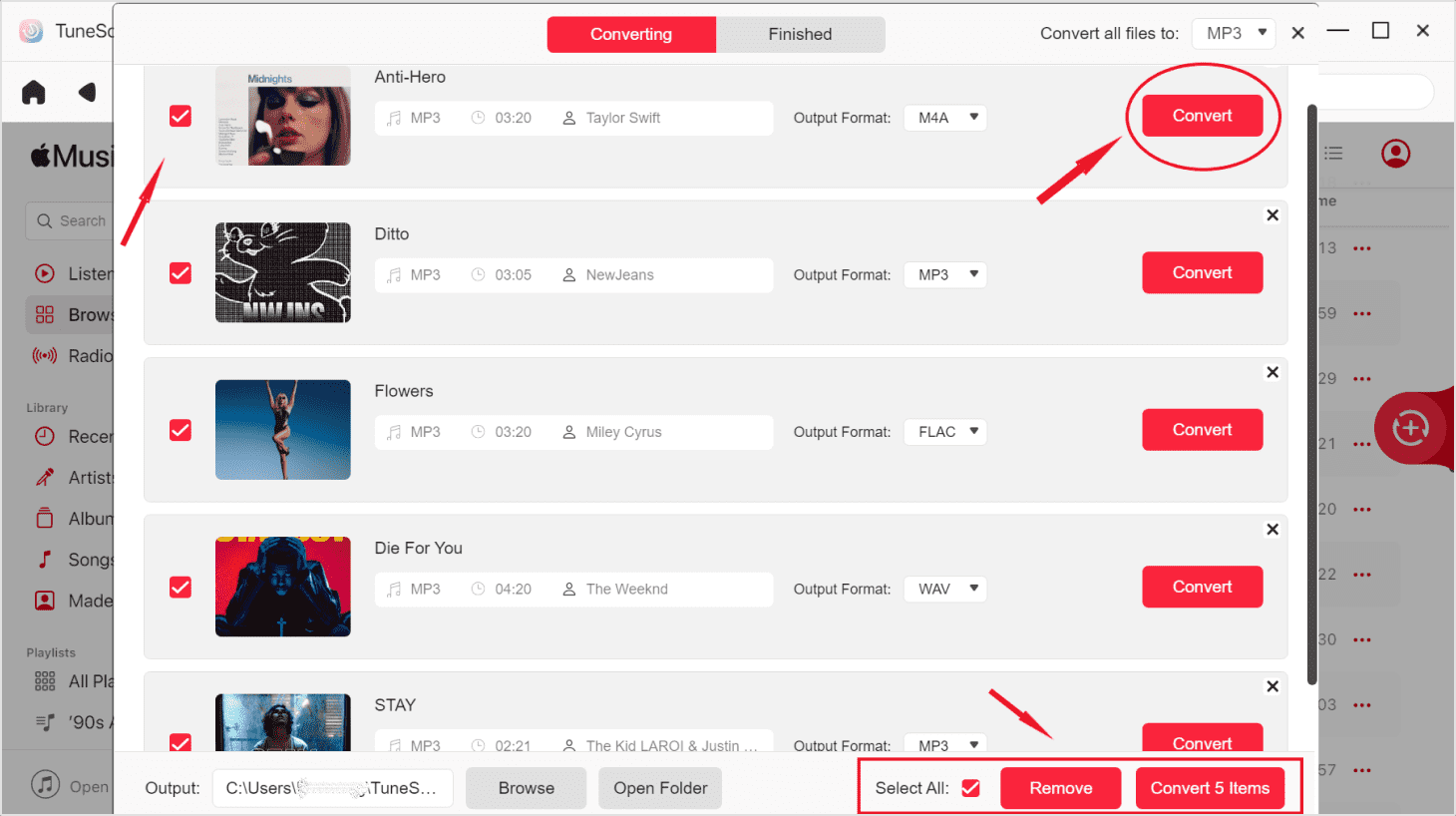 Part 4. Summary
Without a doubt, doing everything you can to obtain an Apple Music offline playlist is a lot better than paying for the internet or using your mobile data.
After all, after reading this guide, you should already be aware that downloading songs is actually easier than you thought. Hopefully, you can also apply what you've learned here on how to restore Apple Music library to other matters as well.