Upon researching Apple Music, you'll find that they offer a catalog of over 60 million songs from different artists. They also promise to allow you to download a lot of songs, probably more than what you can listen to in a year.
In other words, you're technically able to get Apple Music unlimited downloads, as long as you are paying for a subscription, but they actually leave the most important detail out, and that's what we will talk about today.
This article will help you understand why many people are becoming frustrated of this software and why the term "Apple Music unlimited downloads" isn't true.
Article Content Part 1. Is Apple Music Unlimited Downloads?Part 2. What Happens to My Music if I Cancel Apple Music?Part 3. How to Keep Songs Downloaded from Apple Music?Part 4. Conclusion
Part 1. Is Apple Music Unlimited Downloads?
When you first go to the Apple Music platform, you'll inevitably stumble upon a popup box showing you the benefits of Apple Music plans.
Benefits of Apple Music Plans
One of the many privileges that are mentioned on their ads will be about Apple Music unlimited downloads. They clearly say that you can download any song you want, no matter the number.
This is probably why many people immediately pay for subscription plans after going to the platform. Luckily, that much is true.
You do have the ability to download any song you want regardless of how many they are, although there is a catch that not many people know of, but we'll discuss that later on.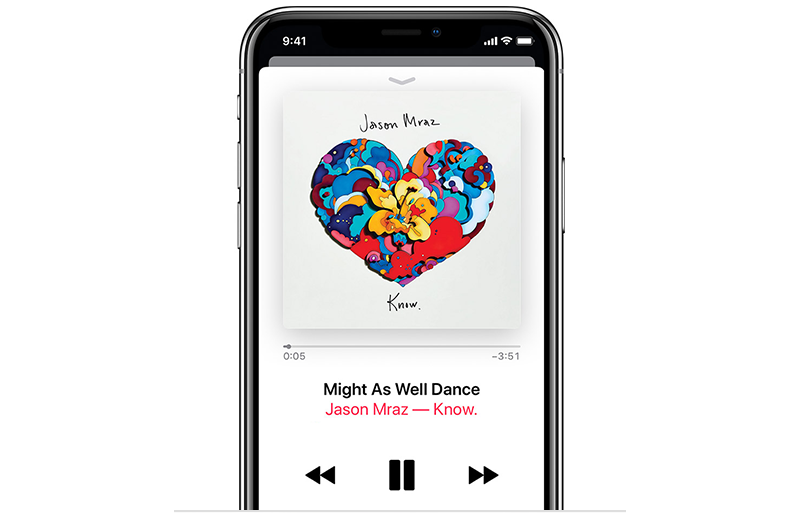 Exact Number of Downloads
To be precise, you can download at most 100,000 songs from the platform. Unless you're doing this for your career and not for personal matters, you won't be reaching the 100,000 limits.
So technically, you can download all the songs you want and still have extra space. Additionally, these songs can be synced to other devices if one of your devices no longer has space.
Apple Music Downloads: Subscription Plans
As you already know, there are a number of plans to choose from if you want to use this platform. Fortunately, each plan allows you to download the same number of songs, which is exactly 100,000.
As such, you don't have to worry about upgrading to a more expensive plan if you want to have fewer limitations. After all, the catch still holds for all the Apple Music plans.
Part 2. What Happens to My Music if I Cancel Apple Music?
Now we head to the million-dollar question, what happens to all the songs you download if you happen to cancel the Apple Music subscription plans?
Apple Music Plans: What Happens After
The answer to this is quite simple; they will no longer be available to you. This can be of many forms; the following are just two of the examples reported by a lot of users:
You may suddenly find that your Apple Music library is empty. This is the worst-case scenario since not only will it be unavailable, there's also a chance that you may forget the songs you downloaded in the first place
You may be able to see the titles in your library, but you won't be able to play them anymore. This is the most common cause for a lot of users, but it'll still come as a shock
So why does this happen? Why can't they just allow users to have access to the songs permanently? Why do they deliberately allow users to lose their songs?
Why did my Apple Music disappear?
The reason why the Apple Music files have disappeared from your library, or at least not available anymore, is because of Digital Rights Management or DRM.
DRM is a protection measure that makes sure that users won't be able to distribute the DRM-protected files freely. That means even while the subscription is active, you won't be able to share them with anyone.
The fact that you lose the titles from your library is just one of the consequences of having the DRM protection on the Apple Music files.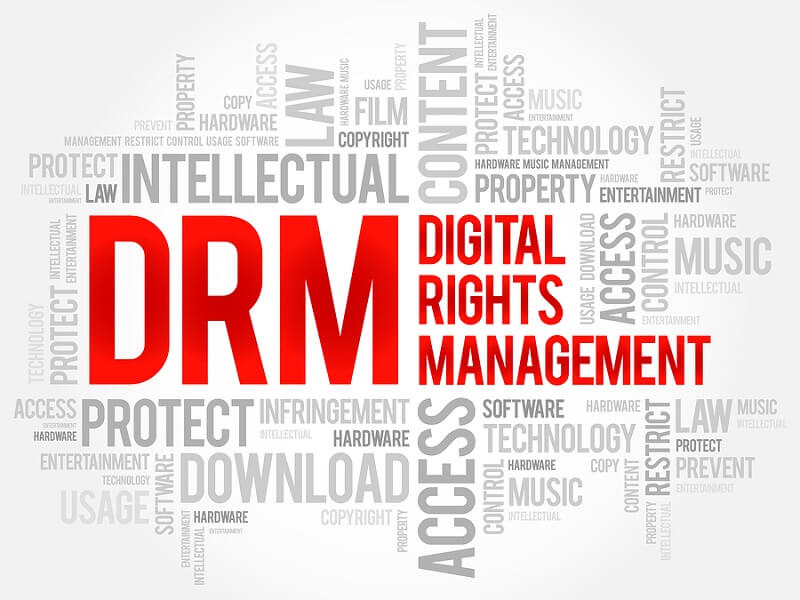 Part 3. How to Keep Songs Downloaded from Apple Music?
By now, it should be quite apparent that Apple Music unlimited downloads is, unfortunately, just an illusion. On the other hand, there's a method that will allow you to access Apple Music free and even download countless songs without risks or catch.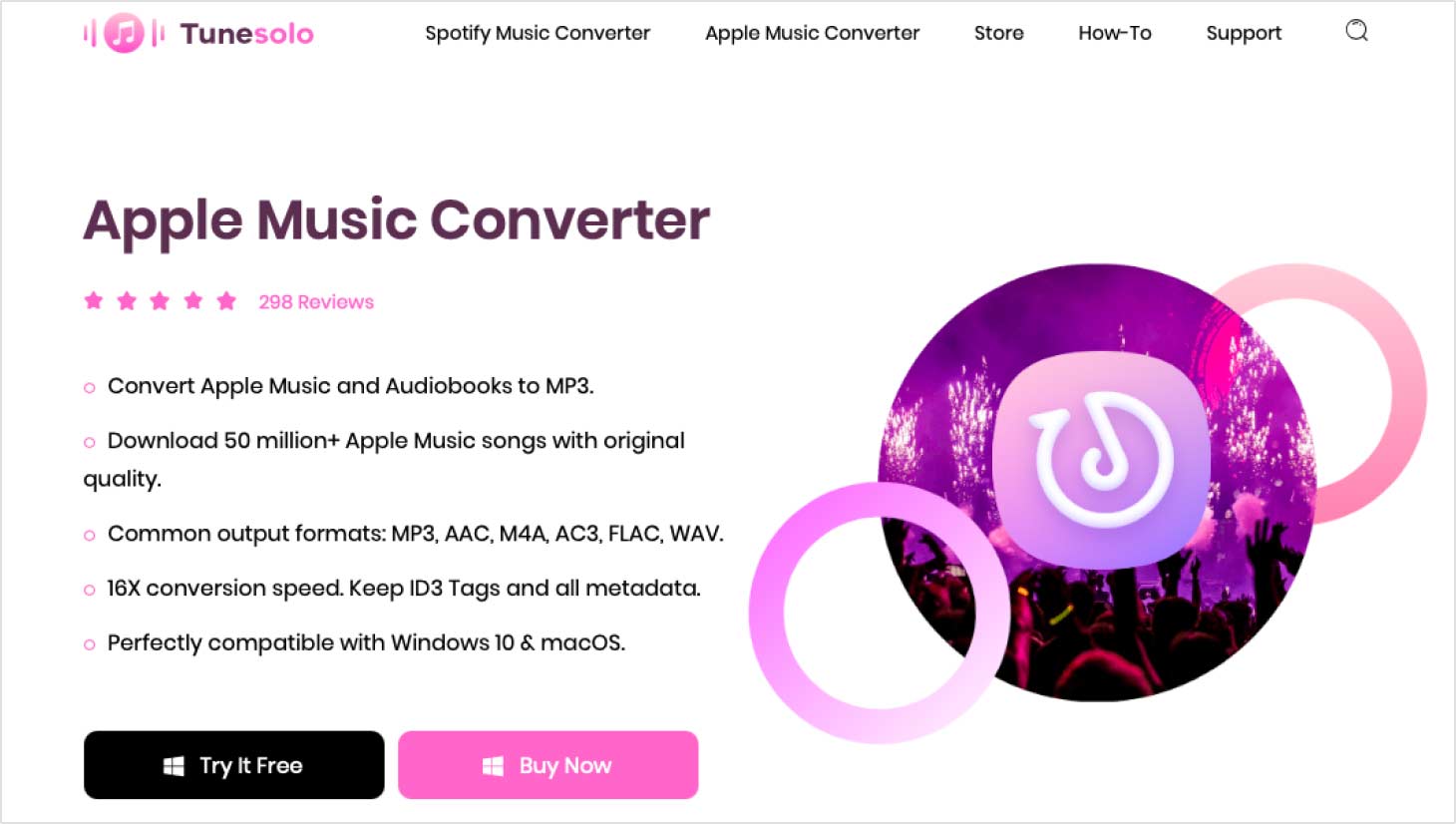 TuneSolo Apple Music Converter, as the name suggests, is a tool that has the ability to convert Apple Music. However, what we're after is its ability to remove the DRM protection, effectively allowing you to do whatever you want to the songs and make it permanently accessible.
Below are some of the features that you might like about this software:
You can remove the DRM protection, making the songs available permanently
You can listen to the songs without connecting to the internet
You will get Apple Music unlimited downloads through this software with no specific threshold unlike Apple that has a limit of 100,000
Now that you have an idea what we're dealing with, let's find out how you can get these Apple Music unlimited downloads through this software:
Step 1. Select Apple Music Titles
Open the converter on your computer. Ensure that iTunes is currently installed on your computer. On the first screen you'll see, there will be a list. Select the Apple Music titles that you want to download in this list.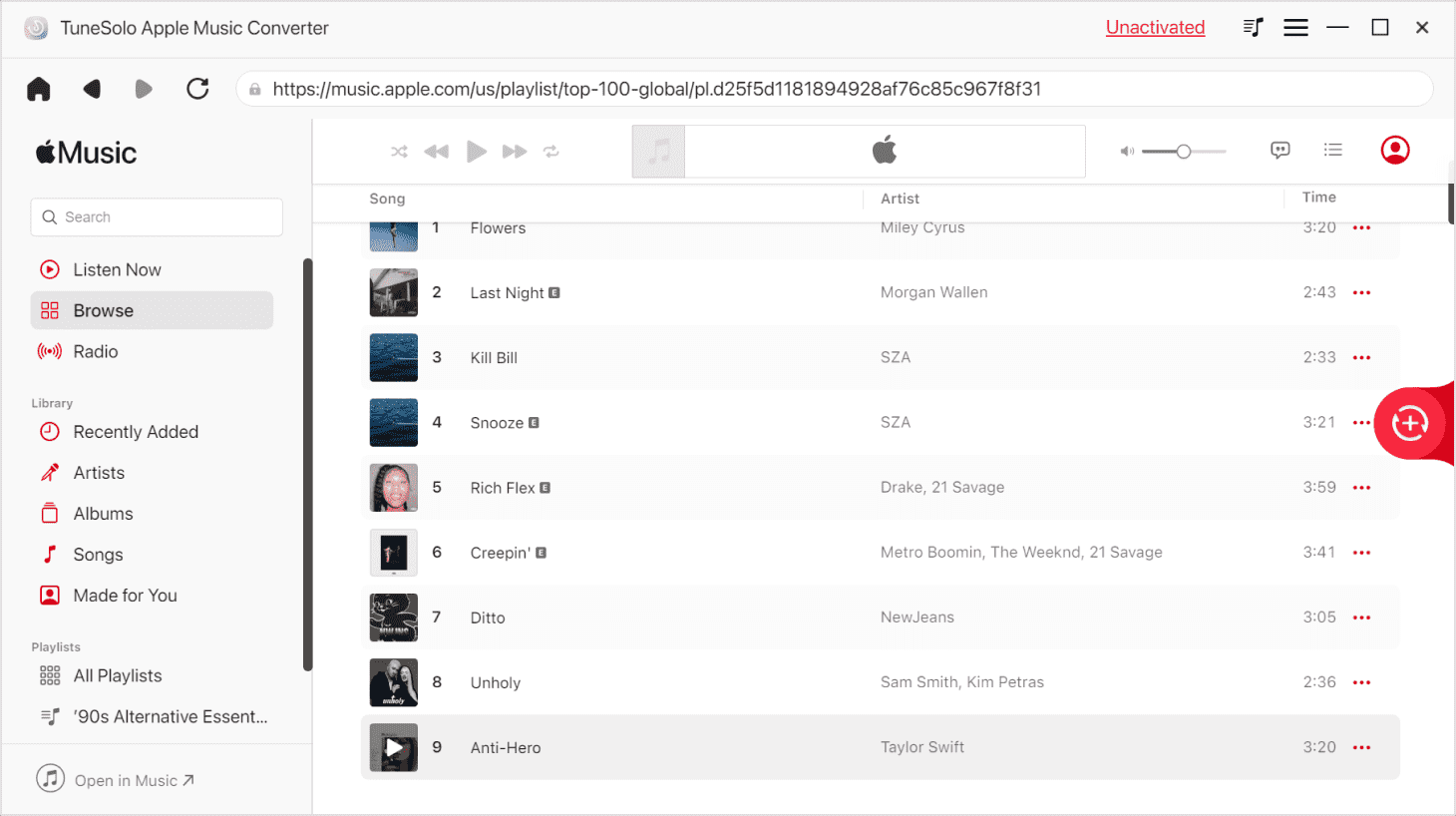 Step 2. Change Output Settings
Below the list of titles, you will see multiple dropdown menus. Click on these menus and select the option that you like for Format, Codec, Quality, and more.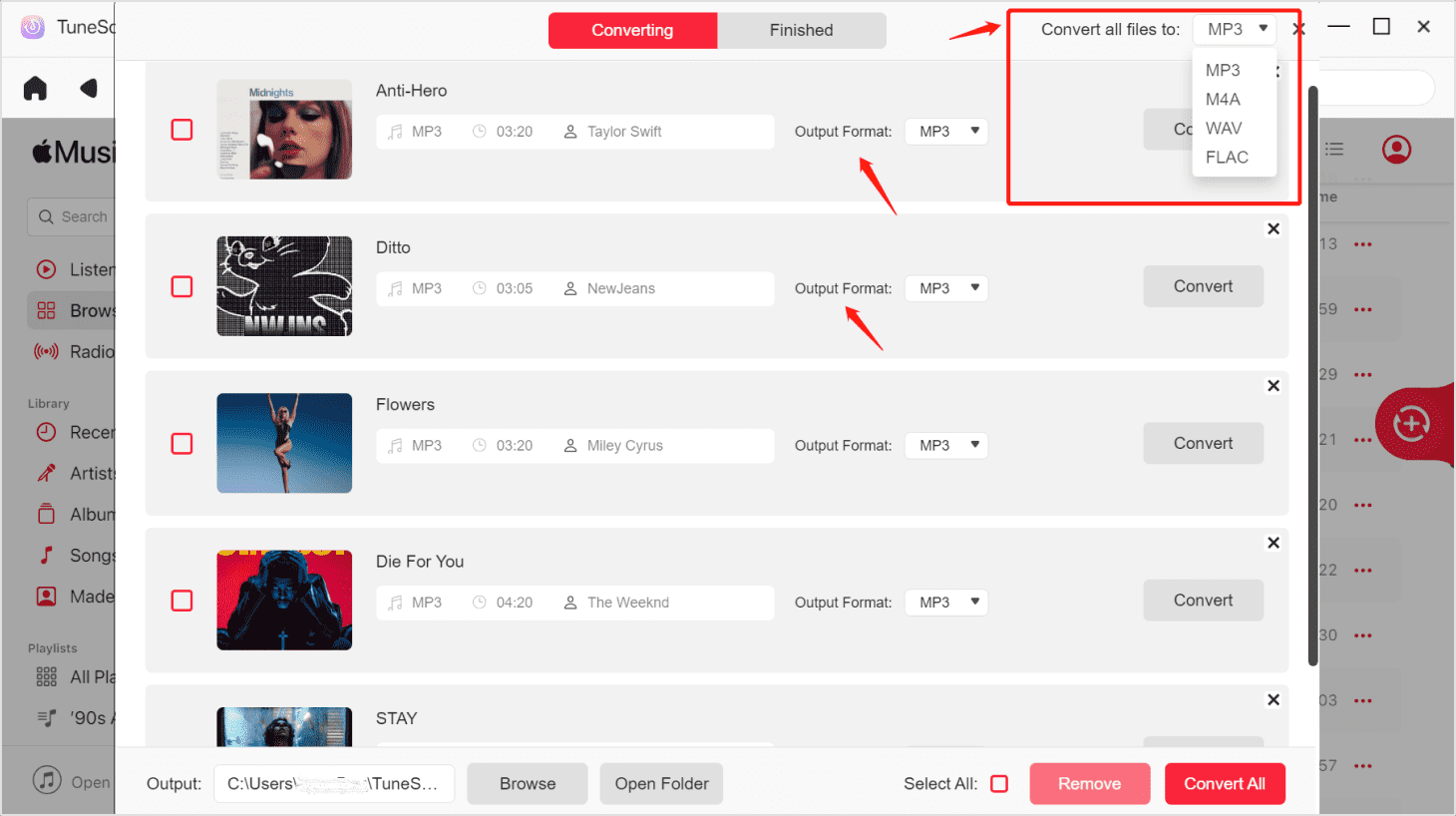 Step 3. Convert Apple Music
After you have set up the output, click Convert from the bottom of the window. This will begin the conversion process. Wait until the process is over and check if you converted it properly.
Tip: Please make sure that Apple Music/iTunes is closed before opening Apple Music Converter. And during the song conversion, please do not do any operation on Apple Music/iTunes.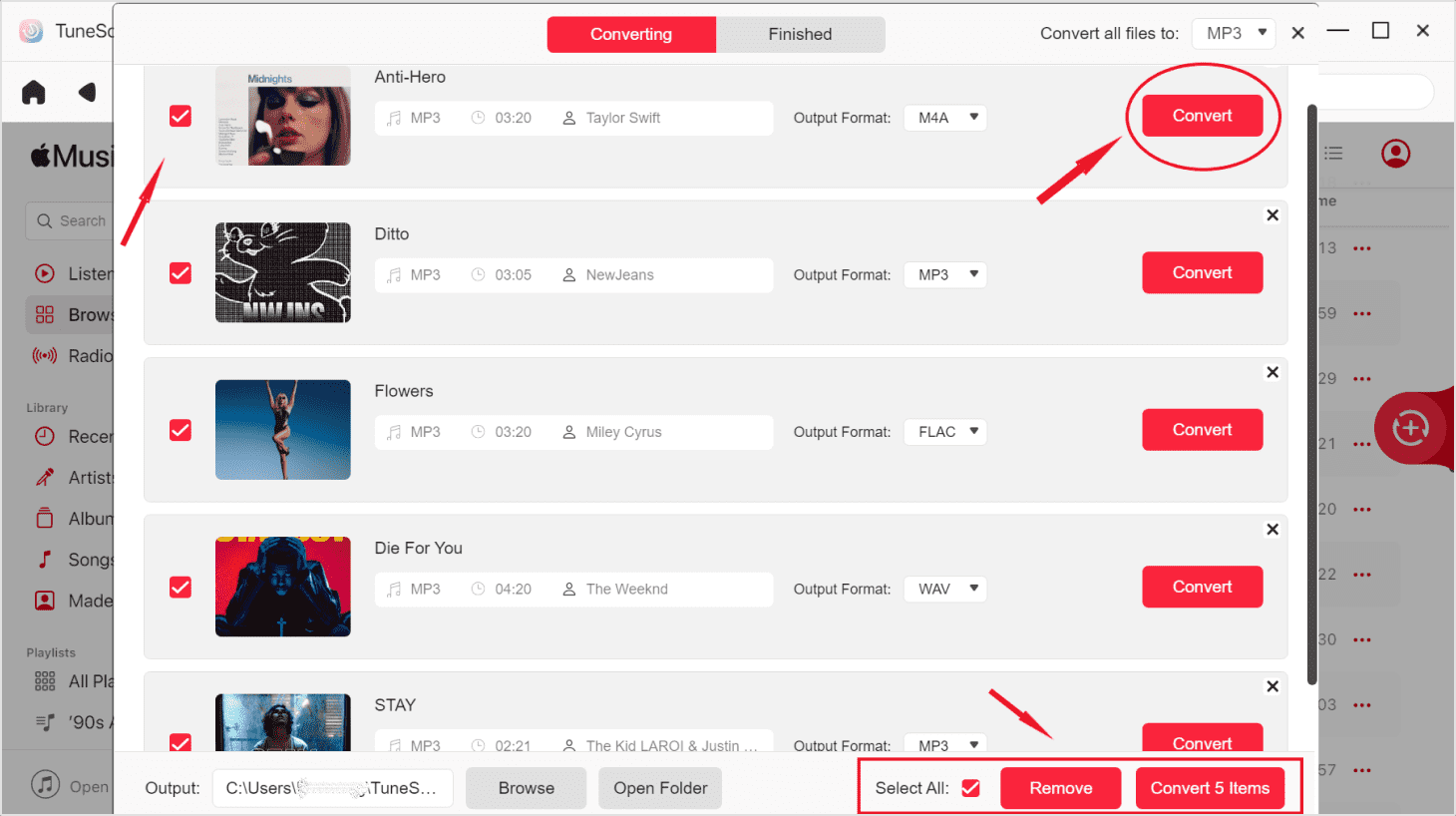 Part 4. Conclusion
If you're a loyal subscriber of Apple, you probably didn't have any reason to find out about Apple Music unlimited downloads. After all, this privilege was given to you and it won't be taken from you until you cancel your subscription.
However, it won't last forever. You'll eventually end up forgetting to pay for the subscription. If you don't want to lose the titles that you've collected for the last couple of years, this guide has probably helped you a lot, so don't forget to share it with others.