We all know that both Apple Music and Spotify Premium cost a lot of money. As such, it's not recommended that you pay for a subscription without doing your research first. If you want to save money, you have to at least look up some terms regarding the said platforms.
Another way to find out if that platform is worth it is to compare it with other platforms. That's precisely why this Apple Music vs. Spotify Premium comparison is here.
In this article, you will find out which is better between these two platforms as we tackle several aspects of these music-streaming services. Without further ado, let's proceed with the comparison.

Article Content Part 1. Comparison between Apple Music and Spotify PremiumPart 2. Which Music Streaming Service is the Best?Part 3. Bonus: How to Play Apple Music on Spotify?Part 4. Summary
Part 1. Comparison between Apple Music and Spotify Premium
Apple Music and Spotify Premium have a lot of similarities with each other, but that's not what makes them popular. What sets these two platforms apart from the competition is their unique features, and that's what this guide is for. Today, we're going to find out the differences as well as similarities between Apple Music and Spotify Premium.
#1. Apple Music VS Spotify Premium: Subscription Plan and Free Trials Compared
A single Apple Music subscription has a price tag of $9.99 a month, although this can vary according to your country or the territory you're in. Likewise, a Spotify subscription has the same price, but this corresponds to the Premium plan.
In addition to this Premium plan, Spotify also has a free service supported by ads. So you should expect to see some ads if you opt for the free version of Spotify. Unfortunately, they made sure to impose some limitations to free Spotify users.
Both Spotify and Apple Music have a student subscription plan and family subscription plan. The student plan goes for $4.99 a month while the family subscription plan goes for $14.99 a month. Spotify, however, offers additional services to students by including access to SHOWTIME as well as Hulu. Other than that, their plans are similar.
The family plan gives access to six people. However, Apple Music is quite strict on this aspect since they require that all members use the same credit card for the subscription plan.
When it comes to free trials, both offer free trial. Apple Music offers three months of free trial while Spotify offers 1 month of free trial. However, after the Apple Music free trial ends, all the privileges are stripped off, while you can still keep the privileges on Spotify without spending money. This is because of the free ad-supported service that we previously mentioned.
Personally, I like the subscription plans of Spotify better, especially since they offer a free ad-supported service, unlike Apple Music, but you can have a different opinion, of course.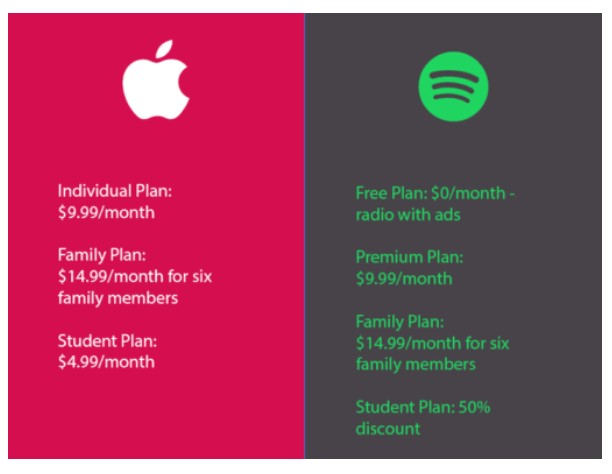 #2. Apple Music VS Spotify Premium: Music Library
All the subscription plans offered by Apple Music and Spotify provide you with access to an archive consisting of tens of millions of songs. For Apple Music, you get to access over 50 million songs while Spotify offers over 35 million songs.
So regardless of which you choose, you still get to access millions of songs, and I'm pretty sure you won't be able to check each one of those songs. However, the difference can be seen when we look at the offline listening feature.
For Apple Music users, it's possible to store up to 100,000 songs in the library. The Apple iCloud Music Library can also be synced so you can access it across multiple devices, as long as you're using the same Apple ID.
On the other hand, Spotify Premium members can store up to 10,000 songs, but this applies to each device. Since you can use 5 different devices for one account, you can store a total of 50,000 songs, but I'm sure you won't be able to use up all that storage.
Additionally, regardless of which platform you choose, you can always download videos, songs, and other content. Moreover, Spotify users can access podcasts and audiobooks.
The good news is that they're investing in podcasts, so there should be an increase in podcast offerings in the next few months. This is a huge advantage to Spotify subscribers. However, for this aspect, I think there's no clear winner. In short, it's a draw.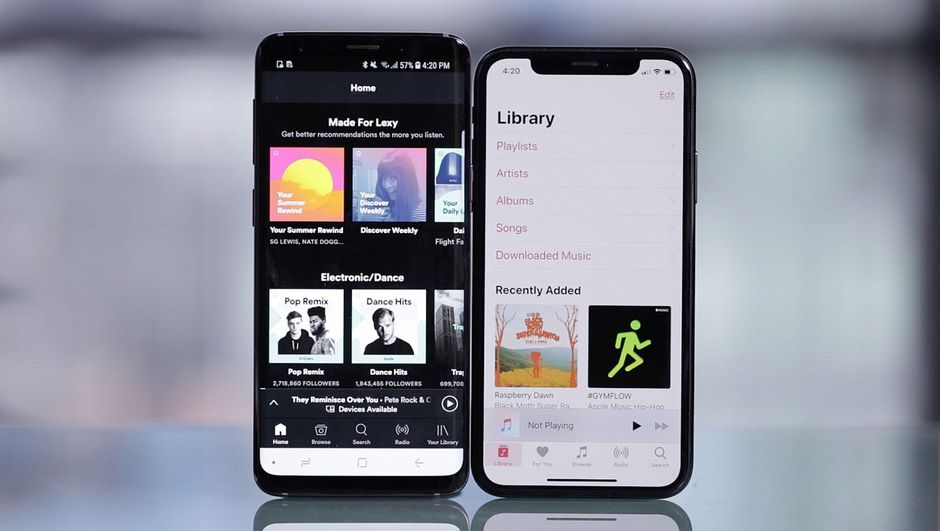 #3. Apple Music VS Spotify Premium: Music Streaming Quality
When it comes to streaming quality, it's a bit hard to judge, especially since the difference in bitrate doesn't have a significant impact on the sound. Anyway, Spotify uses the Ogg Vorbis format while Apple Music uses the AAC format. Normally, Ogg Vorbis has higher sound quality, but AAC is also a great format.
However, Apple Music can stream up to 256 kbps. This is adjustable through the settings in Apple Music. On the other hand, Spotify can stream in different quality. It can stream in low quality which is 24 kbps, normal quality which is 96 kbps, high quality of 160 kbps, and very high quality which can reach up to 320 kbps.
So if we're looking at the numbers, Spotify clearly has an advantage over Apple Music. However, apart from really particular music listeners, this doesn't make much difference to the audio quality. At the end, the one with faster streaming speed wins. With that being said, it should be noted that higher bitrate doesn't necessarily mean faster-streaming speed.
#4. Apple Music VS Spotify Premium: Music Discovery
As a music lover, it's not a good idea to stick with one genre. You have to keep discovering all kinds of music. That's precisely why platforms have music discovery features. And that's also why this Apple Music vs. Spotify Premium comparison has a say on this aspect.
For Apple Music, you will immediately get asked to select your favorite artists. This is so that they can get a sense of your interests in music. Afterwards, they will populate the For You section with releases, mixes, and playlists that appeal to your interests according to the artists that you selected.
Comparatively, Spotify has a home screen that features sections such as Discover Weekly and Daily Mixes. These sections provide different types of music for you to discover. However, these suggestions are not personalized, unlike with Apple Music.
There is good news, though. Spotify has a Made for Everyone section where they provide music that is recommended for everyone. Although it's not personalized, it's still a great way to discover music. Some examples of music that will end up in this section include songs from top charts, trending songs, popular music videos, and more.
Apple Music also offers a different way to discover music, and that is by offering ratio stations. Radio stations constantly stream music of different kinds, so it's inevitable that you'll encounter a song that will catch your interest. So for this factor, it's clear that Apple Music takes the cake.
Part 2. Which Music Streaming Service is the Best?
If you don't want to pay for music, Spotify is your best option. They offer a free ad-supported service, but that also means you'll constantly get annoyed with ads. However, if you're planning on paying for a music-streaming service, the decision gets more complicated.
For one, Apple Music plays well when used on Apple devices. The Siri voice control helps a lot if you're an Apple device user. Plus, if you have HomePod in your home, Apple Music is really your only option. On the other hand, Spotify is compatible with many devices. It's even available on game consoles and smart speakers.
In other words, Apple Music is great for Apple device users while Spotify is great if you don't own an Apple device. There's also no need to worry about their price since both have the same costs. Nevertheless, Apple Music does a better way of curating and tailoring playlists to your interests, while Spotify has a better streaming quality.
When you look at it clearly, the two have their own strengths and weaknesses. So to summarize this comparison, let's proceed by highlighting the pros and cons of each platform:
Apple Music Pros and Cons:
Curates and recommends playlists to your interests
Works very well with Apple devices
Siri support can help with various tasks
Automatic synchronization across your Apple devices
User-friendly design
Apple Music library disappears when the subscription or free trial expires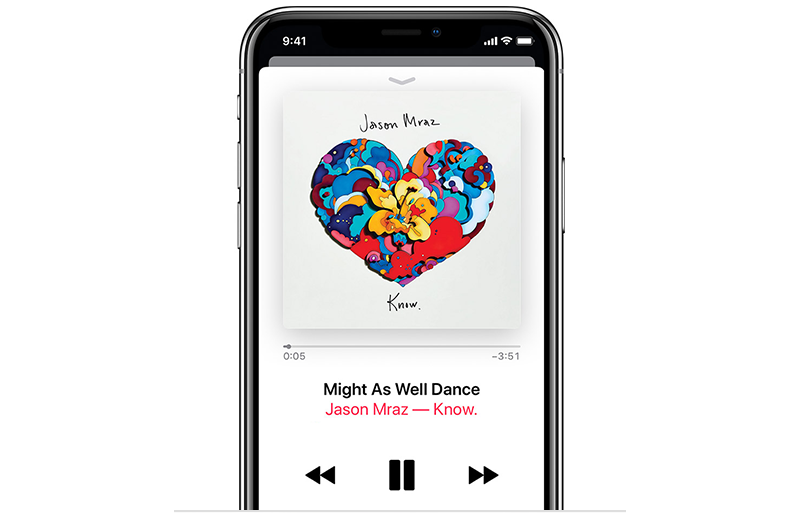 Spotify Premium Pros and Cons:
Great cross-compatibility
Available free ad-supported service
Powerful recommendation algorithm
Slightly higher streaming quality than Apple Music
You can't save music locally into your device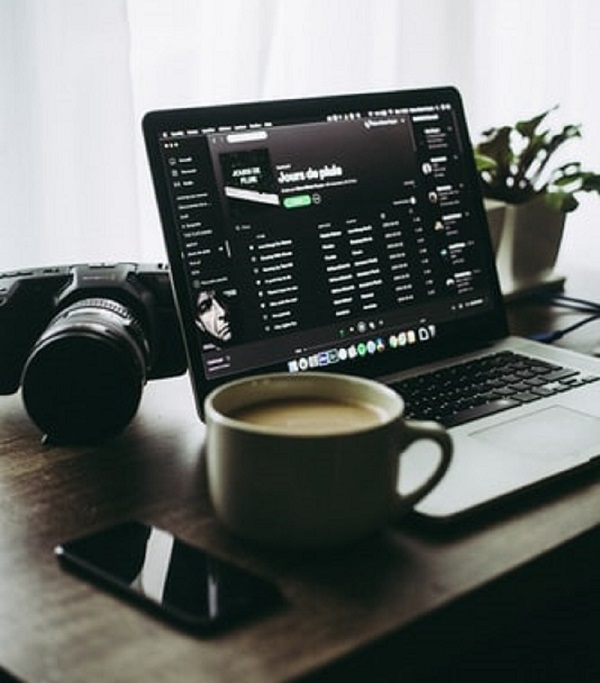 As you can see, both platforms have strengths and weaknesses. But did you know that it's actually possible to integrate Apple Music with Spotify? That's what we're going to be talking about in the next section.
Part 3. Bonus: How to Play Apple Music on Spotify?
TuneSolo Apple Music Converter is a powerful tool that will help you integrate Apple Music and Spotify Premium together. It is capable of downloading files from iTunes including Apple Music. This will be your key to play Apple Music on Spotify. If you want to know more about this software, check out some of its features by clicking the button below.
Below are the main features of this software:
DRM Removal. The only obstacle that hinders your ability to play Apple Music on Spotify is the DRM protection. With TuneSolo, you can easily remove the DRM protection. Once the protection is removed, you will be able to do whatever you want with the Apple Music songs
Offline Listening. You can also access the files without internet, as long as you download the files properly. You can also transfer the downloaded files using devices such iPhones, iPods, Xbox, PSP, Zune, and even Android devices
Faster Conversion. TuneSolo has a fast conversion speed which can go up to 16 times the rate of common converters. You can also convert multiple files at the same time, so you can save a lot of time with TuneSolo
Supported Formats. TuneSolo supports numerous formats from protected ones like M4V, M4B, and AAX as well as unprotected formats such as MP3, WAV, FLAC, and even video formats like MP4 and many more
After reading the aforementioned review, it should be quite apparent that TuneSolo is a powerful tool. So without further ado, let's discuss the steps on how to use this software to play Apple Music on Spotify:
Step 1. Select Apple Music Songs
The first step you need to take is to check if iTunes is installed on the computer. Once you have confirmed it, open the converter on your computer. The main page will consist of a list of titles. Simply select the Apple Music songs from this list.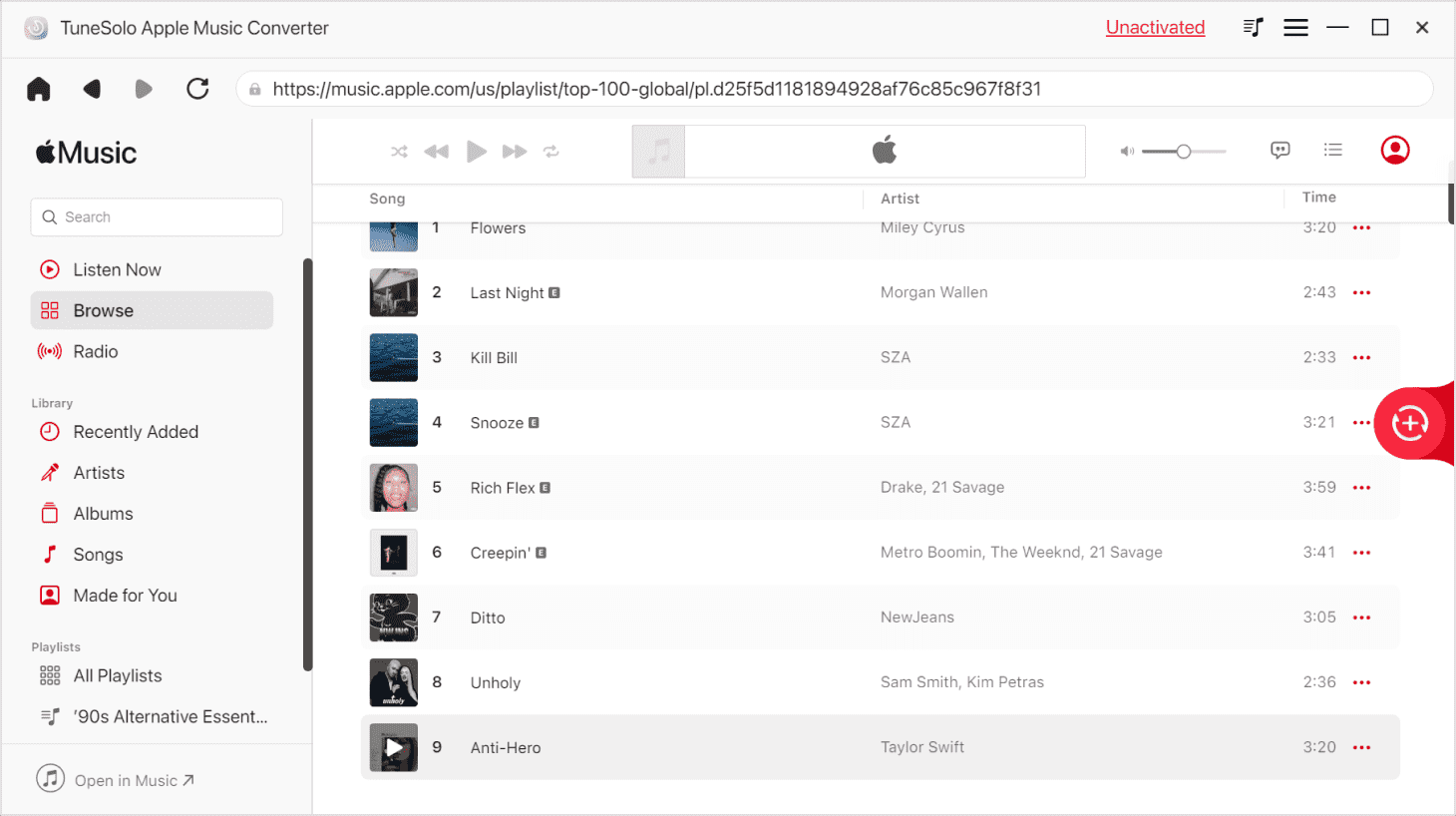 Step 2. Configure the Output
As you scroll down, you will see the Output Settings section. This is where you'll be able to change the Format, Codec, Quality, and other properties. Simply change it the way you want to.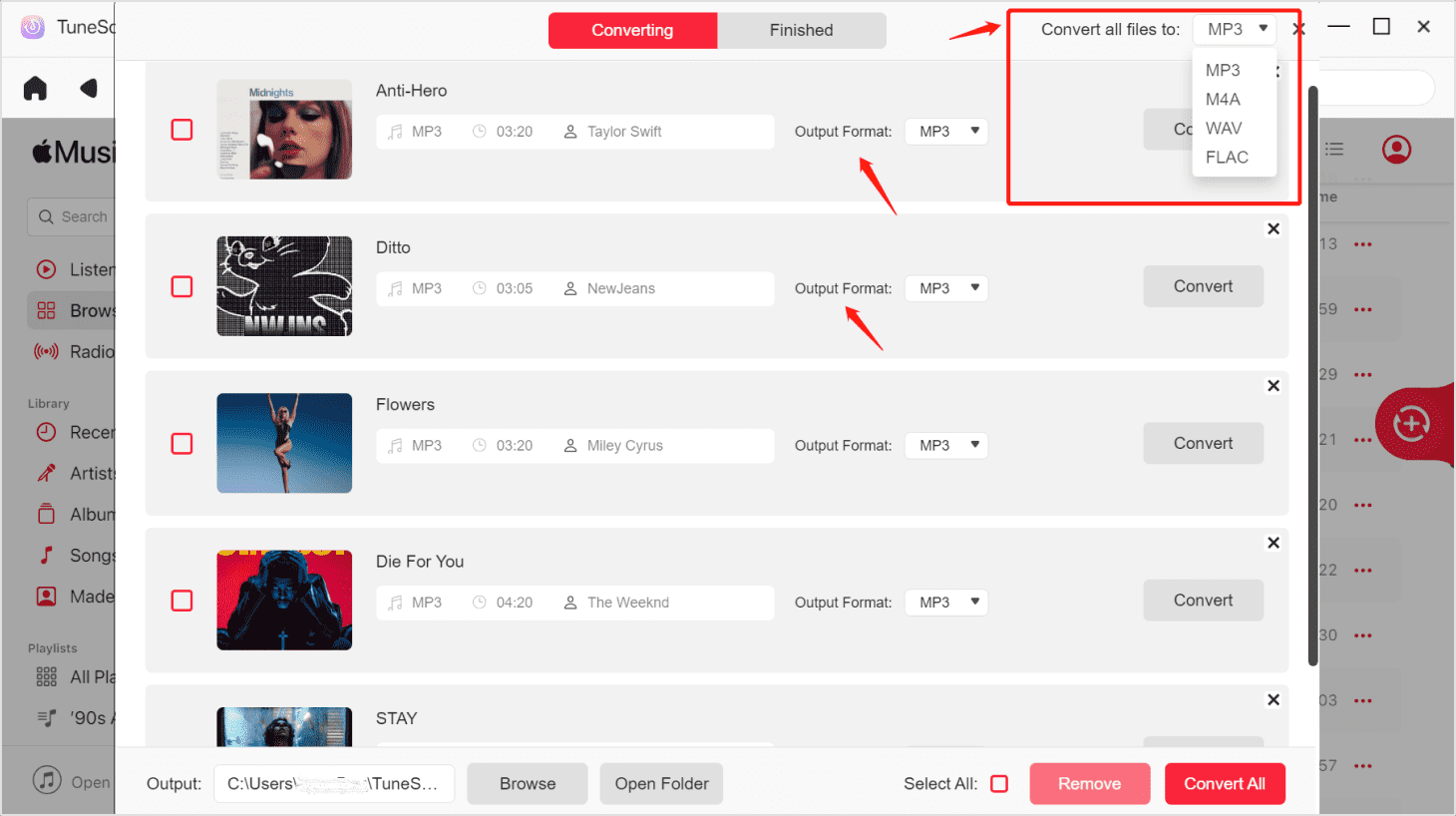 Step 3. Convert Apple Music Songs
After selecting the songs and changing the settings, it's time to click the Convert button. This will start the downloading and conversion process. It may take a while, but all you have to do is wait until it's over.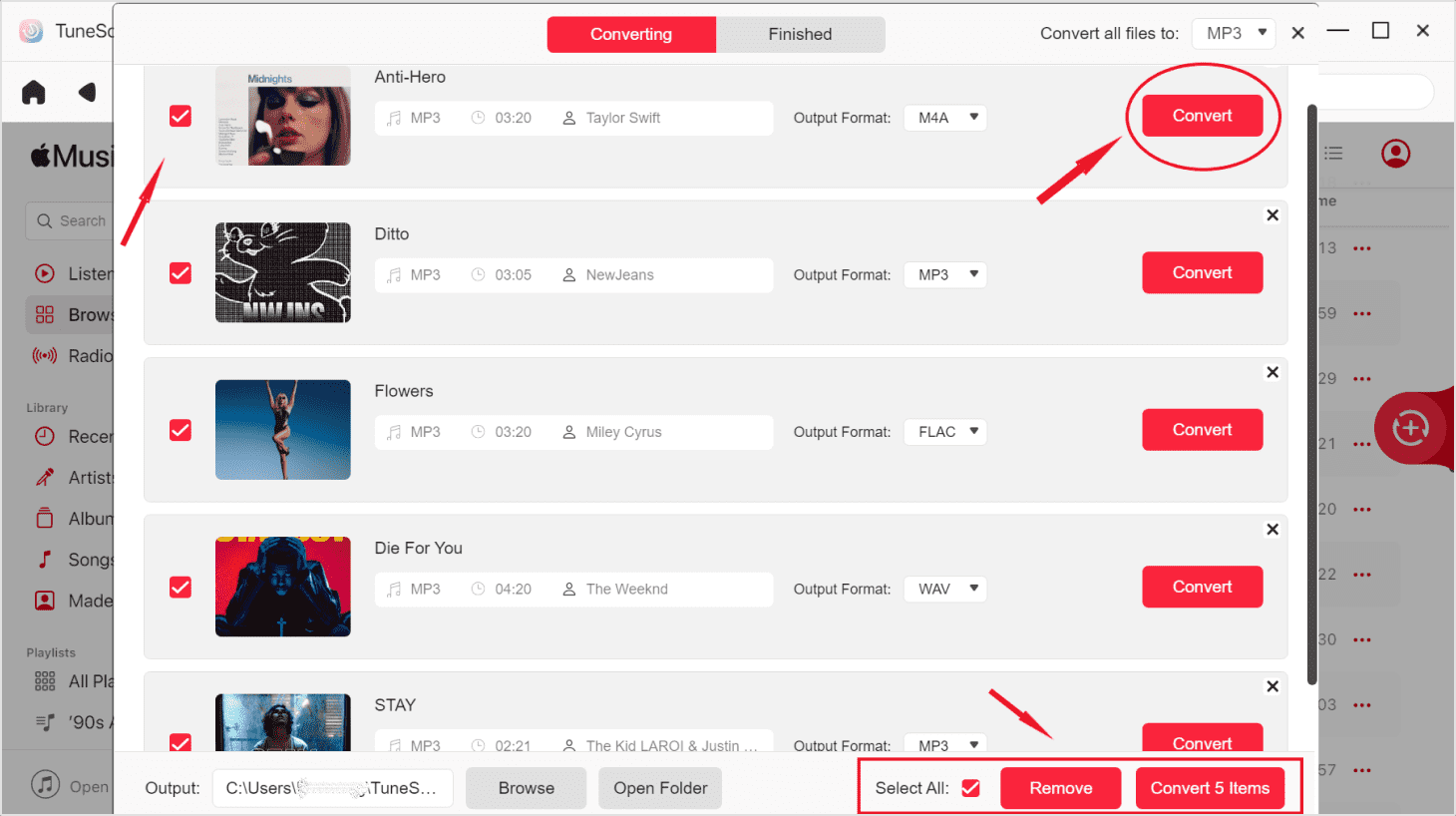 Step 4. Upload to Spotify
Once you've downloaded the Apple Music songs, go to Spotify and click the Upload button. Next, browse to where the downloaded songs are and select those songs. This will upload the said songs into the Spotify platform, allowing you to play Apple Music on Spotify.
Tip: Please make sure that Apple Music/iTunes is closed before opening Apple Music Converter. And during the song conversion, please do not do any operation on Apple Music/iTunes.
Part 4. Summary
At some point, you'll eventually ask yourself if you're using the best music-streaming platform on the market. Did you make the right decision when you chose Apple Music? Is it the right course of action when you paid for Spotify Premium?
This Apple Music vs. Spotify Premium comparison aims to answer that question for you. With this guide, you should be able to make an objective conclusion and decide once and for all which is the better subscription plan, Apple Music or Spotify Premium? Howerver, if you want to integrate Apple Music and Spotify Premium together, you can achieve this by using TuneSolo Apple Music Converter.