It is always best and convenient to just listen to audiobooks instead of reading the actual books on your hand. Imagine? There is no need for you to bring the book every time you go out. As long as you have the audiobook file saved on your device, you can listen to it anytime and anywhere you want to. However, there are some issues arising when one is trying to save AAX files. This is why the need for a guide to convert AAX to MP3 also became popular.
Being an audiobook enthusiast would require one to stock up some collections of audiobooks on the devices that they are always using. However, the file format AAX sometimes is causing a restriction for users to enjoy the audiobook files they love. The reason why we need to convert AAX to MP3 format as well as detailed information about the AAX format will be discussed in this post. Added to this, you are also to learn about the tools that you can use both online and offline which can do the mentioned conversion without hassle at your side.
If you are curious to find out about all those specified above, then you must stick to this post until the end.
Article Content Part 1. What is AAX?Part 2. Why Convert AAX to MP3?Part 3. How to Convert AAX to MP3?Part 4. Conclusion
Part 1. What is AAX?
As initially mentioned, before heading to the ways and tools to use in order to convert AAX to MP3, we will be giving you an idea about the AAX file format first. Surely, you might be listening to audiobooks for some time now but you might not have enough knowledge about one of the file formats that is being used by audiobook files – the AAX file format.
The AAX file format is a format that is associated with audiobook files that are purchased from online sites like Audible and others. This is one format that was developed and created by Audible. Files in this format contain media such as images, videos, timeline, and even links. Files maintaining this format are using the .aax file extension. Such files can be played on several media players including iTunes, Microsoft Zune, Amazon Kindle, iPod, and Creative Zen. And, in order to have your favorite Audiobooks from Audible played on these gadgets mentioned, an account via the site and subscription is needed. Since these AAX audiobooks are supported by the iTunes application, a user can listen to those using either a Windows computer or a Mac computer.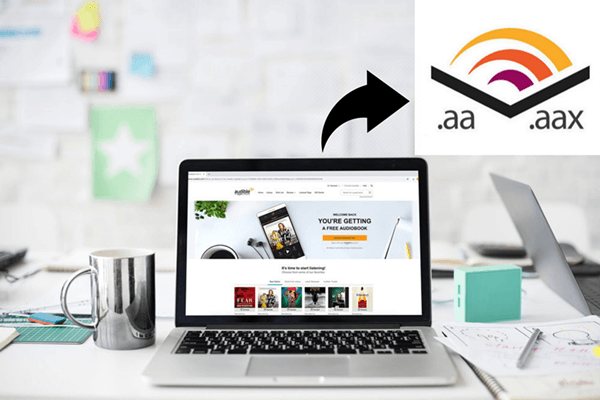 Added to the above, those files maintaining the .aax file extension are a bit larger in size, thus, taking more time to download. The reason for this is because AAX files are compressed. They have a bit rate of 64 Kbit per second. This is known as the first option if you are to download via Audible.
In case you are wondering how you can open an AAX file, you can simply launch this same as other files, double-clicking. Those applications capable of opening this will immediately open the file. But, the issue will arise in case you do not have any applications that can support the opening of those files and even a gadget than can open it. What must you do? You must keep on reading as we are about to unlock the details on how to convert AAX to MP3 format (which is a more playable format compared to AAX).
Part 2. Why Convert AAX to MP3?
Why is there a need to convert AAX to MP3 format? Perhaps, this query also bothered you before or is continuously bothering you up to now. If you have been encountering an issue in opening the AAX files on the device you are currently using, then this could be one reason why you should go ahead and look for procedures in order to convert AAX to MP3 format. Other than that, here are some other popular reasons why.
AAX files are protected by DRM protection. This is a protection that is being used by content creators in order to avoid the playing or streaming of content on unauthorized devices as well as downloading and sharing of files. Thus, making it difficult for people to download AAX files to their device and hindering them to keep those forever.
Not all media players can support the playing of AAX files. There are a limited number of media players with the ability to do so. You may initially refer to those enumerated in the previous part of this article.
Due to DRM protection restriction, the ability to download AAX files is removed. Thus, removing the users' ability to share the files to anyone they want to.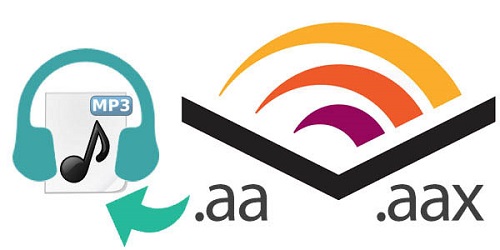 If you got at least one reason from those mentioned, then surely, there is a need for you to head on and look for some software applications that can convert AAX to MP3. How can you do it?
Part 3. How to Convert AAX to MP3?
There are many ways you can convert AAX to MP3 format. And here, we are about to share some solutions to you. If you wish to know more details, continue reading this post.
Solution 1. Convert AAX to MP3 with a Powerful Converter
It is indeed true that there are several converters that the web is offering and suggesting every time you key in "applications to convert AAX to MP3 format". But though there are a lot, you should always be keen enough to identify which from those will really give the results you are expecting. Here, what we recommend is the use of the TuneSolo Apple Music Converter. Apart from being a great tool with the ability to transform Apple Music tracks, it is also capable of handling audiobooks. Thus, offering the service to many fanatics as well.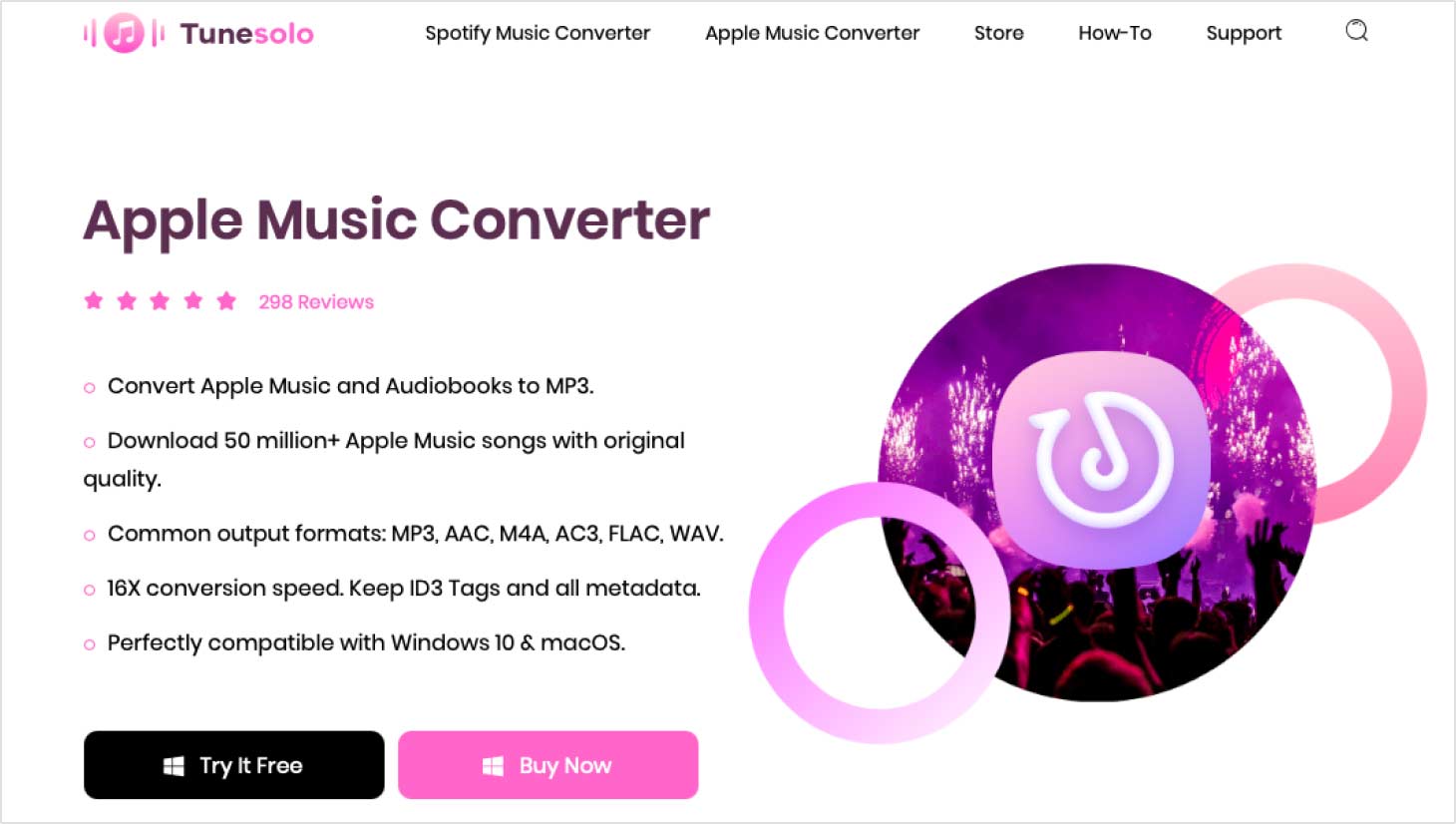 How can you use this TuneSolo Apple Music Converter in converting your AAX files to MP3? You can follow the below simple guide.
Launch the TuneSolo Apple Music Converter on your PC.
Import the AAX files to convert and choose MP3 as the output format.
Head on to the process of conversion.
Though TuneSolo Apple Music Converter has a user-friendly interface, we still want to keep you informed about the details corresponding to each step for easier conversion. This is why we have prepared the next texts for you. Just keep in mind about below tip.
Tip: Both your Apple Music and iTunes applications must be kept closed and non-operational during the conversion via TuneSolo Apple Music Converter so as to ensure that successful conversion will be done and output desired will be achieved.
Step #1. Launch The TuneSolo Apple Music Converter On Your PC
You need to install the TuneSolo Apple Music Converter first on your PC. The requirements are only simple to complete. Once the successful installation has been done, you can now open and launch the converter. Make sure to head on to the main page of the tool.
Step #2. Import The AAX Files To Convert And Choose MP3 As The Output Format
Since you can convert not only one file but a bunch in one go, you can now import as many AAX files as you want.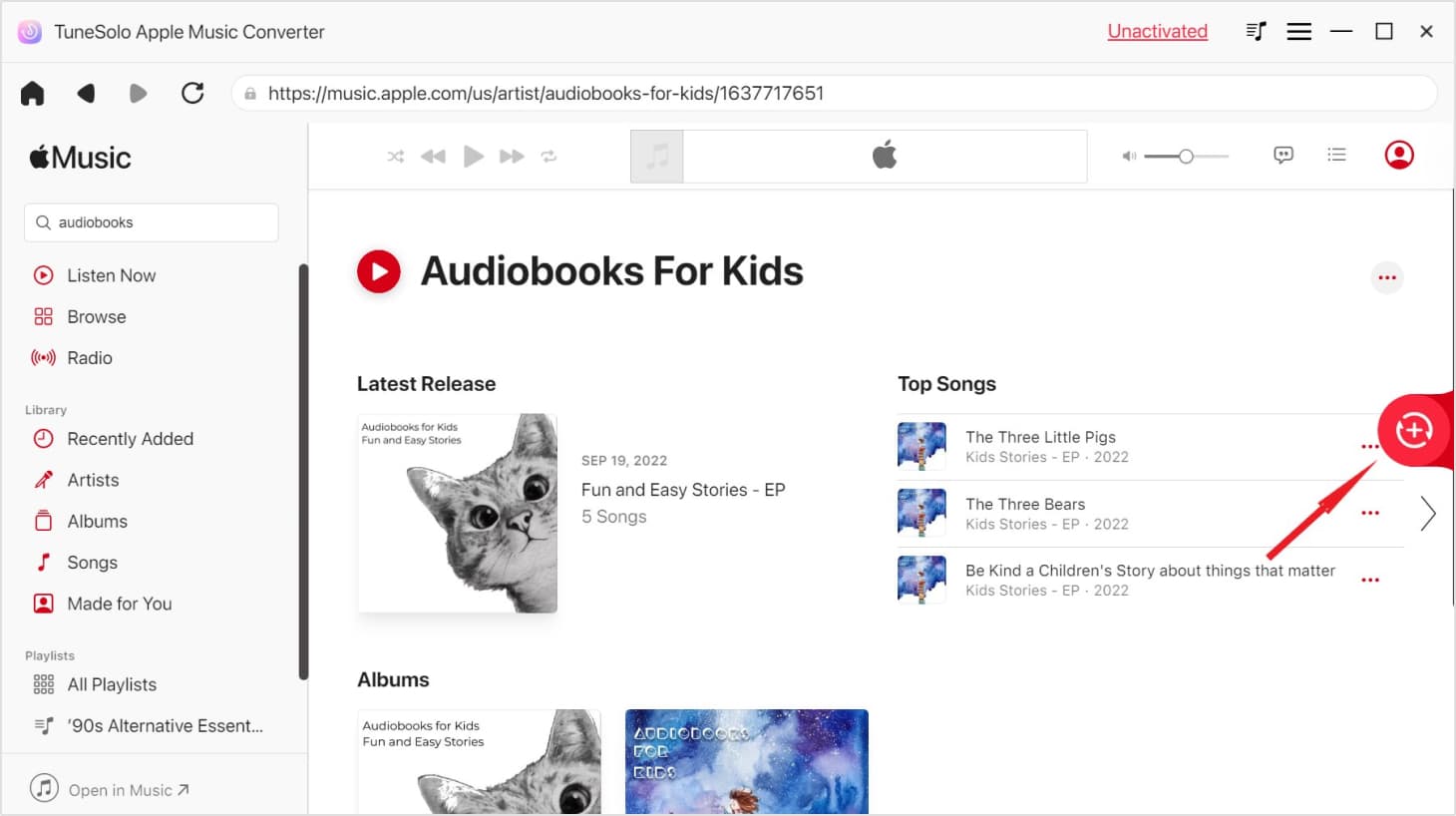 Once adding of files has been completed, make sure to choose the output format that you desire which in this case is MP3. There are numerous formats supported. You can also use the tool to convert your other files to many other file formats. Moreover, you have the option to edit some output settings during this step depending on your preference.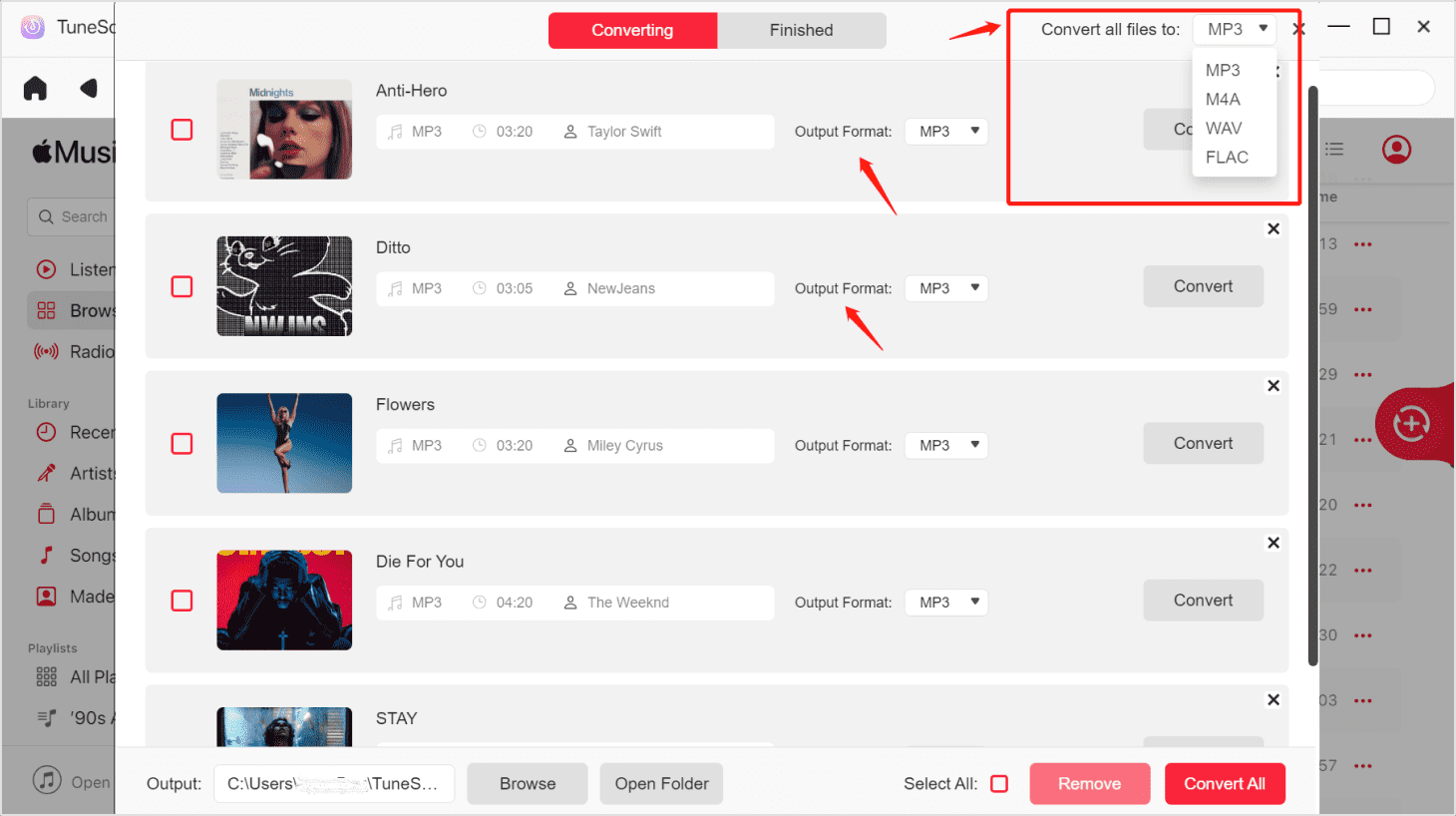 Step #3. Head On To The Process Of Conversion
To begin converting, you can just hit the "Convert" button that is located at the bottom area of the page. Once done, all those imported AAX files will be converted to MP3 format. You would also be able to download the converted files once the conversion has been completed.
Solution 2. Convert AAX to MP3 by iTunes
Another option that users can try is to have those AAX files converted via the iTunes application. This is a free tool that could possibly be installed already on one's PC and can easily be installed in case not present.
Here are the steps that you need to accomplish.
Step #1. Open your iTunes application.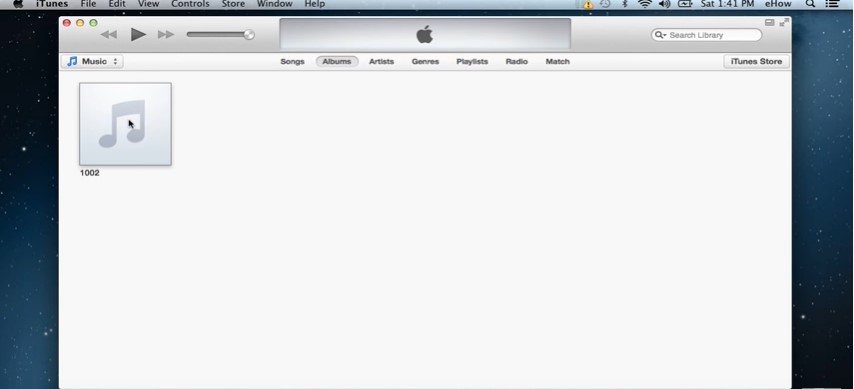 Step #2. Head to the "File" button that is located at the top area of the screen then choose "New Playlist". Have this named depending on your preference. Make sure that you will be adding all those AAX files onto this new playlist created. Do this by performing the dragging and dropping procedure.
Step #3. Insert a blank CD on your PC's drive. Once detected, choose the new playlist that you have created and from the options, select "Burn Disc". Indicate the speed that you want and hit the "Burn" button. You might encounter a popup message saying that the AAX file cannot be processed. This only means that the file is too long and you might need to use two CDs to complete the process.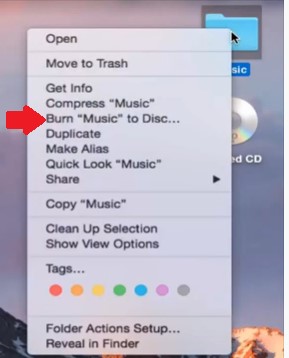 Step #4. Now, you need to import back those files that you burn on the CD. Reinsert the CD and open your iTunes again. Go to the "General Preferences" button followed by "Edit" then "Preferences". Make sure to click "Import Settings" afterward then choose "MP3 Encoder". Ensure that you will tick the "OK" button to complete. Highlight the CD that you will see in the side panel and tick the "Import Option". By doing so, the application will begin the importing process of the converted AAX files.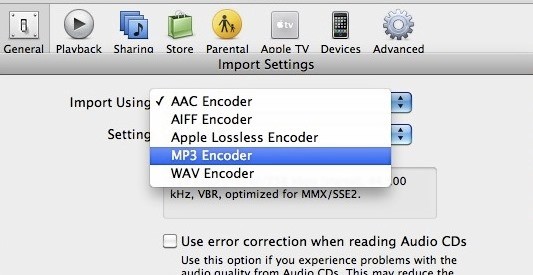 Part 4. Conclusion
In order to convert AAX to MP3, there are many ways that a user can try. The best is to resort to professional converters like TuneSolo Apple Music Converter. If you have faced an issue about this before you can check out and try using the mentioned tool. Or if not, you can surely use this as a reference. What do you think?