Most of the time, people tend to get bored when doing the same thing over and over again. The same goes for when you use the same things repeatedly. Of course, this also applies to when you frequently use iTunes but often use only one file format.
Unfortunately, iTunes is very secure with their files, so it's a bit hard to change the format all of a sudden simply because you're bored. But no matter how hard it is, it's not impossible to do such a thing.
This article will talk about the best iTunes converters that will help you change your perspective of iTunes through other formats. Before we begin, let's start by finding out the reasons why you'd want to convert iTunes to MP3 or to any other format for that matter.
Article Content Part 1. Why Do People Need iTunes Converter?Part 2. iTunes Converter Reviews Part 3. Summary
Part 1. Why Do People Need iTunes Converter?
As you already know, Apple isn't the best brand for people who want to share their files to their friends. This is mainly because it doesn't share the same algorithms and formats as most devices. But that's only what's on the surface. This time, we'll delve deeper into what Apple's iTunes is and why you need an iTunes converter.
iTunes: Introduction
iTunes was originally a media player/music management app, but it became more and more like a file manager. However, it goes without saying that it's the reason why we can listen to music on our Mac computers and on our Apple gadgets.
It has a lot to offer to its users, which is why it's still being used despite its obvious flaws. So what are these obvious flaws that led to the importance of iTunes converters?

DRM Protection
Due to the extreme security that iTunes has, people tend to have difficulty and sharing their files online or making their files as a free download to their friends. But why exactly are their files very hard to come by unless you're an Apple user?
DRM protection, or Digital Rights Management, is an algorithm present in all Apple Music files. With that said, you'll find that most files inside iTunes have this algorithm. So what does it do?
DRM protection prevents the user from distributing the DRM-protected file in any way. While it may sound very simple, it actually carries a lot of disadvantages and restrictions.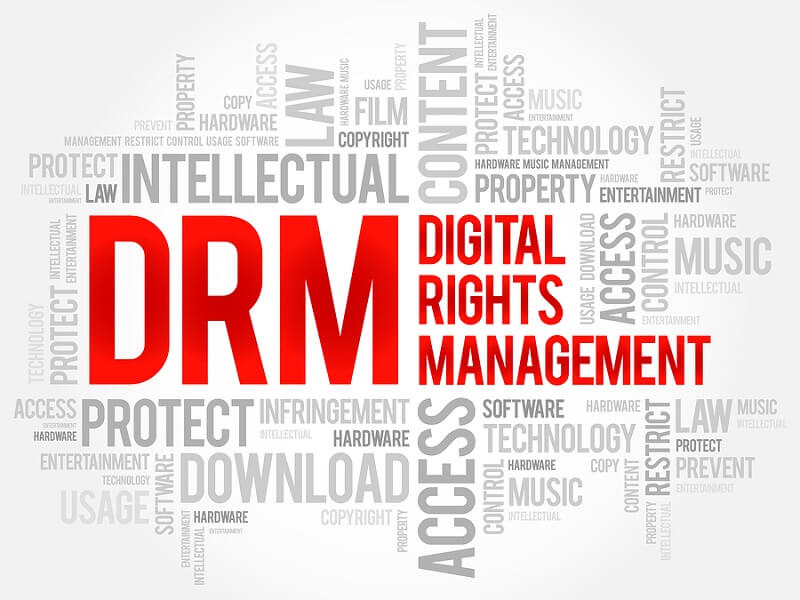 DRM Protection: Restrictions
There are a couple of limitations that a DRM-protected file has. Below is a list of those restrictions and also the reason why you need to use a free download iTunes converter or an online iTunes converter:
Once your subscription or free trial ends with Apple Music, all files within iTunes will be unusable and you will have to pay for the subscription to use them again
Even during the subscription, you cannot transfer files from iTunes to any other device besides the authorized devices of Apple
Files from iTunes that are DRM-protected cannot be stored in other storage drives such as CD, DVD, external hard drives, and more, besides iTunes
Part 2. iTunes Converter Reviews
The fact that DRM protection is very inconvenient is already reason enough to use an iTunes converter. However, we suggest that you not take it too far and convert anything that you see on iTunes. Make sure to do it in moderation. Either way, let's start with the most official method first then proceed with more advanced options.
No.1: iTunes
Despite everything that we said, it's still without a doubt that iTunes is very helpful for many things. And as ironic as it may be, iTunes can actually be used as an iTunes converter, though the DRM protection will remain.
As you already know, iTunes is a built-in app on Mac. Although it's now meant as a file management app, it has tons of features that you didn't even know. It can serve as a free downloader that can be used offline or online. It can also authorize devices. Ad most importantly, it can convert files, effectively making it an iTunes converter.
Below are some of the pros and cons of this software that may be the deciding factor of whether you choose this or not:
Pros:
Switch Between Compressed and Uncompressed. Users can use iTunes to convert from compressed formats such as MP3 and AAC into uncompressed formats. This can also be done in reverse, with as little quality loss as possible, ultimately making it possible to switch between compressed and uncompressed with the risk as low as possible..
Official Apple App. Since it's already an official app of Apple, you don't have to heed to our warnings of taking it in moderation. You can use it as an iTunes converter as much as you want since you're technically not violating any of their policies.
Retains Original Quality. As previously said, although it doesn't necessarily maintain 100% of the quality of the original file, you will get as much of it as you can.
Cons:
Cannot Remove DRM. Since it cannot remove DRM, it doesn't really serve its purpose as an iTunes converter, but that is if your main goal is to remove the DRM. If not, then iTunes is the best for you.
No.2: DRM-Removal Software Application
TuneSolo Apple Music Converter is our most recommended tool when it comes to iTunes converters. On the surface, it's simply a tool that allows users to download and convert files as you like. This is done by collecting the data stored on iTunes and turning those data into a file that you can download and convert.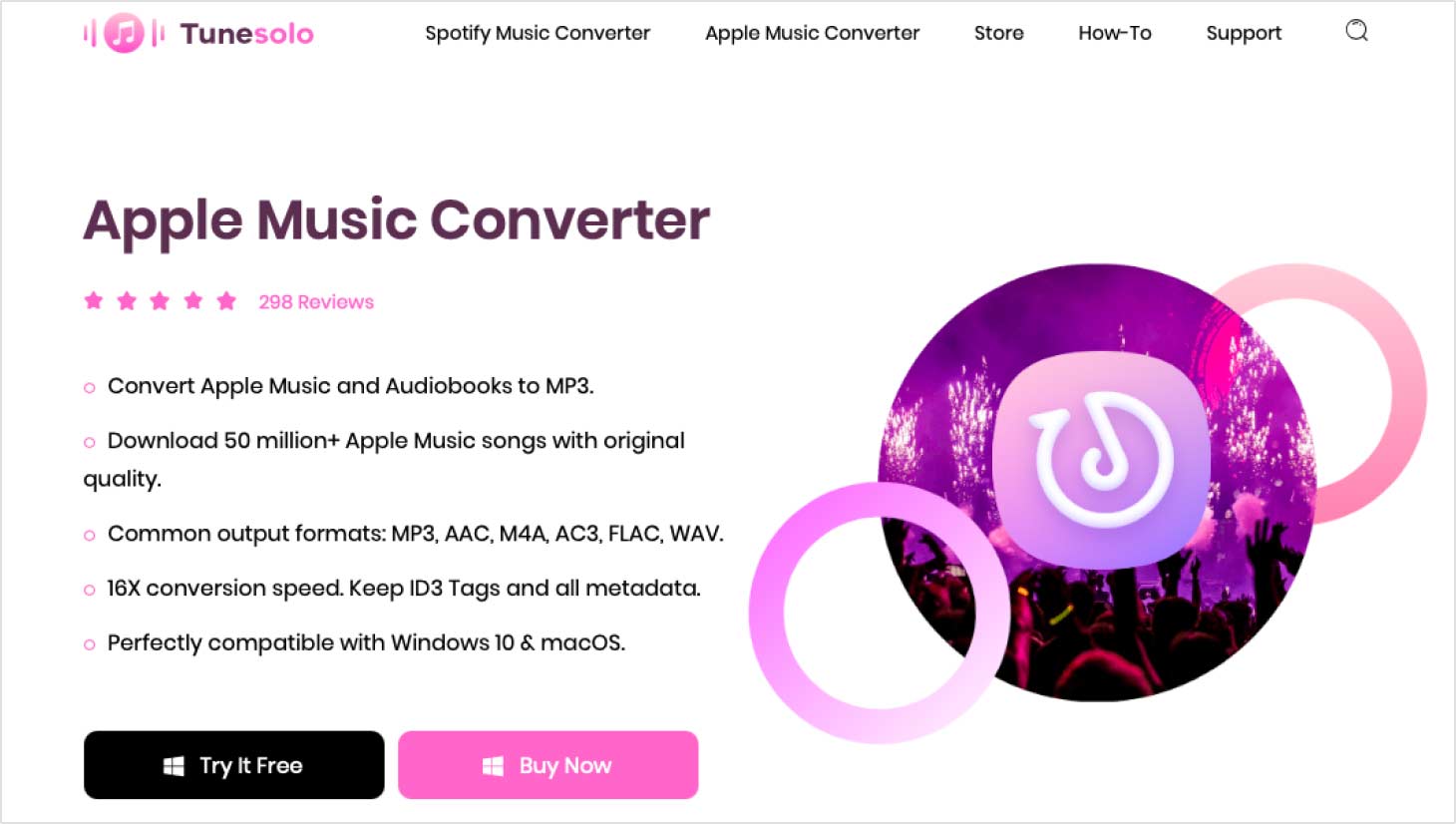 As such, iTunes is a necessary program to make this work. However, that's not all there is to this software. To give you a better understanding of why you should make this your official iTunes converter, let's check out the features of this software:
Fast Conversion Speed. The first thing you'll notice about this software is its very quick conversion. It can go up to 16 times faster than the normal rate. Plus, it supports batch processing, allowing you to convert and download multiple files at once
Offline Listening on Any Device. After downloading and converting the audio file into the format that you chose, you can choose where and when you listen to those files. You can transfer it to virtually any device, be it iPod, iPhone, Android, Zune, Xbox, and more
Comprehensive Support. As if the conversion speed and device support is not enough, it can even support virtually any format like the universal ones such as AAC, MP3, AIFF, and even protected ones including M4A, M4B, and more
DRM Protection Removal. The most significant feature of this software is that it has the ability to remove the DRM protection. That means you can share it as a free download to others online and even transfer it to devices not authorized by Apple
You now know how powerful TuneSolo is. Now let's find out how you can actually use this iTunes converter and do whatever you want with the files from iTunes.
Step 1. Select the Audio Files
Open the Apple Music Converter on your computer. Make sure iTunes is already installed in the computer since it will be the source of the music. Now on the main page, there will be a list of audio files. Simply select the audio files by clicking on their corresponding boxes.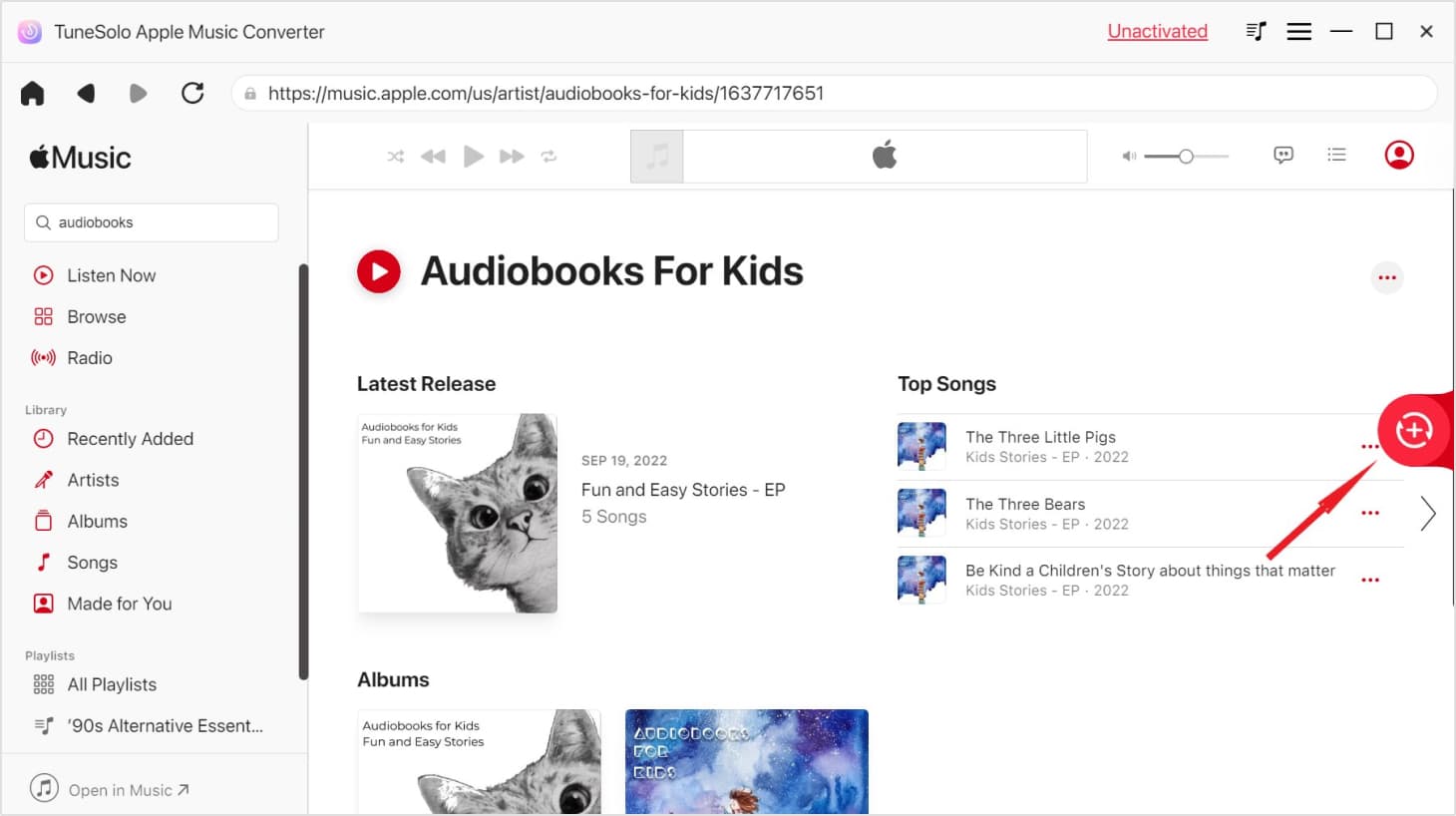 Step 2. Set the Output Settings
Below the list, you will see the Output Settings. Simply set the settings as you like, but make sure the Output Format and Codec is the right combination.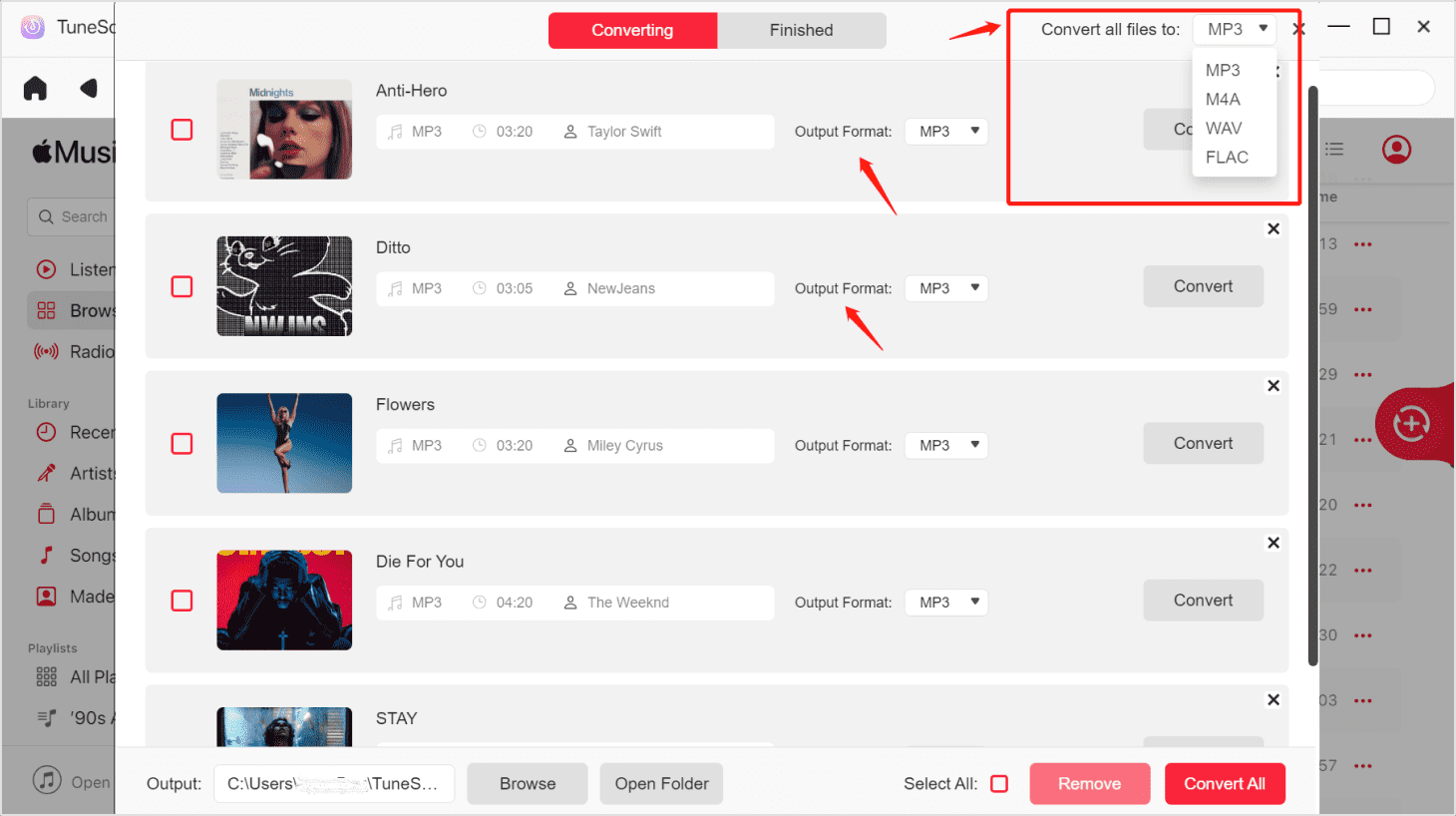 Step 3. Convert Audio Files
Once you're done setting up the settings, click on the Convert button below. This might take a while, but ultimately, you will see the results under the Finished tab. Check if you chose the right files and if it was successful.
Tip: Please make sure that Apple Music/iTunes is closed before opening Apple Music Converter. And during the song conversion, please do not do any operation on Apple Music/iTunes.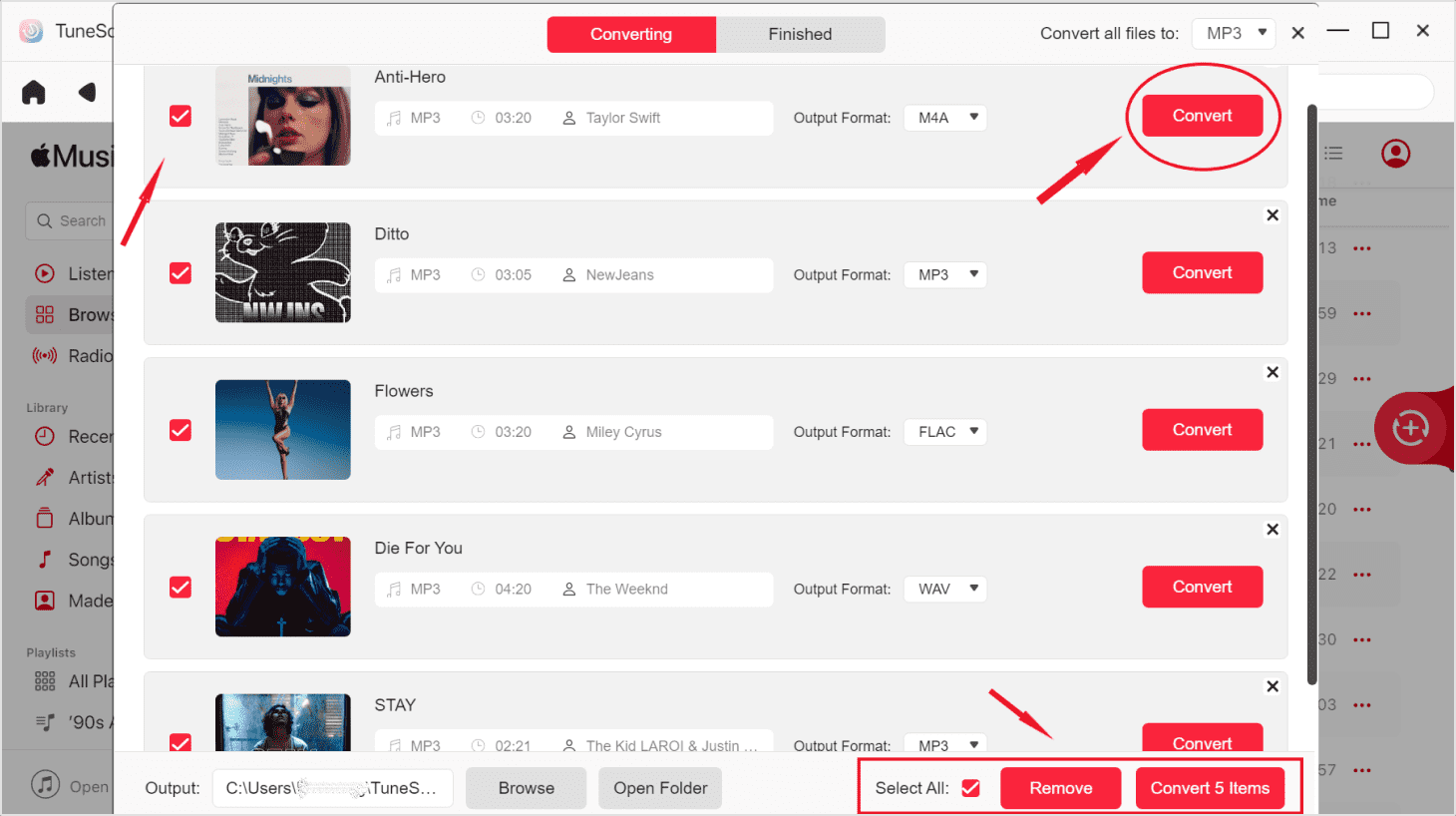 No.3: Online iTunes Converter
Your last choice is to use an online converter. And as luck would have it, we also have a recommendation for that.
CloudConvert is a website launched by Lunaweb. Since it existed even back in 2012, you can be sure that it's very dedicated. It has a lot of pros as well. It offers various options and has an interface that anyone can get.
But as you have guessed, you need the internet to use this one. For that reason, it's not the best when it comes to convenience, and we are still leaning on using third-party software as your iTunes converter.

Part 3. Summary
You're not the only one who wants to convert files from iTunes. There are a lot of people like you, and that's precisely why iTunes converters were made.
With this, you can easily add some color in your iTunes music experience with various formats. Either way, you should still take it in moderation. After all, you're basically removing DRM which is an algorithm that Apple is proud of.