As you may already know, all the music coming from iTunes are in the AAC format. And it's only natural if you don't know much about AAC. After all, we're kind of used to the MP3 format, and we associate every music file to MP3.
That's precisely why it can be a bit frustrating seeing that your iTunes music collection is filled with files in the AAC format.
This article will talk about the best iTunes music to MP3 converter to help you organize your collection more as well as some other reasons why you need to do this. Let's start with the whys.
Article Content Part 1. Why do We Need to Convert iTunes Music to MP3?Part 2. iTunes Music to MP3 Converter ReviewsPart 3. The Best iTunes Music DRM Removal Converter in 2023Part 4. Conclusion
Part 1. Why do We Need to Convert iTunes Music to MP3?
Before using an iTunes music to MP3converter, do you even have a reason to use these tools considering that there's a risk that comes with it?
Actually, there are a couple of reasons why converting iTunes music into MP3 is a very good idea. The following are of those reasons:
iTunes music cannot be transferred into other devices, unless they are in another format. That's why you need to convert it first to other formats, but MP3 is the most ideal.
iTunes doesn't have an official feature that helps with converting music into other formats, which makes iTunes music to MP3 converter the only choice.
All music files from iTunes use DRM or Digital Rights Management which is a protective measure so that users are not allowed to distribute them.
iTunes music takes the AAC format which is not supported by most media players, unlike MP3 which is supported by the majority of media players on the market.
In addition to these, the MP3 format also has disadvantages when it comes to storage. It's one of the smallest formats so users can store a lot of them in a small space.
Unfortunately, there are also some cons. The biggest disadvantage is perhaps the fact that the audio can be a bit deteriorated, which isn't good for audiophiles.
Either way, that's why you might want to look for the best iTunes music to MP3converter.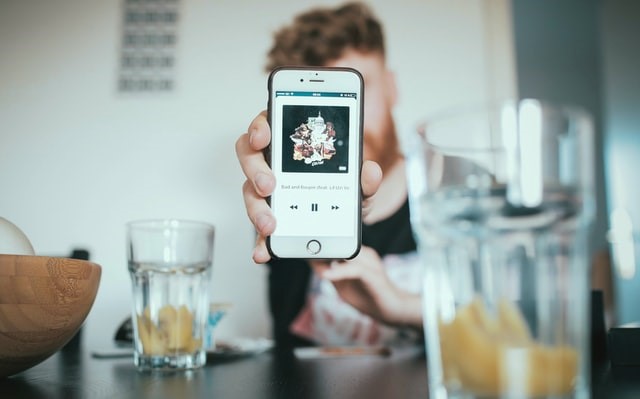 Part 2. iTunes Music to MP3 Converter Reviews
Having the MP3 format is very helpful especially for accessibility, but after the previous section, you should see that there are a lot more advantages to converting than you first thought.
With that said, let's start finding the iTunes music to MP3 converter out there. We have three recommendations for you.
No.1: TuneSolo Apple Music Converter
TuneSolo Apple Music Converter is a converter developed by the TuneSolo group. Below are the pros and cons of this software and why you need to use it ASAP.
We recommend you try the new version of Tunesolo Apple Music Converter this 2023 because the tool no longer requires syncing with iTunes to process the offline music conversion anymore! We have a built-in Apple Music web player to make converting and downloading more easier!
Pros:
It has the ability to directly connect to iTunes. When the connection is established, it can collect all ID tags and other data needed to convert and download all music files contained within the iTunes account
The output from this tool maintains the tags of the original including Title, Album, Artist, Year, and more.
All music files converted and downloaded through this software can be transferred to virtually any device including iOS, Android, PSP, Xbox, and more.
TuneSolo can convert music files from one format to another 16x faster than the normal rate and supports batch conversion
It supports most formats including AAC, which is the initial format of iTunes music, and it can convert into MP3, which is the format you're looking to convert to
Removes DRM so iTunes music can be distributed as the user desires
Cons:
The latest version of iTunes must be installed in the operating system so the software can work properly and collect necessary info to convert and download music files
Other than this, there's really no reason to not use TuneSolo as your preferred iTunes music to MP3converter. Plus, most converters nowadays require iTunes anyway, so the one con of TuneSolo doesn't make much of a difference.
No.2: Sidify Apple Music Converter
Your next option is Sidify Apple Music Converter, a rather popular tool nowadays that many people are aware of, though it's no different from TuneSolo.
Below are the pros and cons that may decide what your iTunes music to MP3 converter will be in the future:
Sidify allows users to handle batch conversions and downloads
It automates the transfer of the output files into a designated folder for better organization and quick access
The conversion speed is high considering how fast it can convert and download music
It supports MP3 and AAC and is available for Windows PC and Mac users
No extra hardware needed
The Mac version supports the latest version of iTunes and macOS
Cons:
iTunes is required in order to make the software work properly, similar to TuneSolo Apple Music Converter
You can't change the ID tags such as the Title, Album, Artists which makes customization a bit lacking
The memory consumption is a bit high which might make it laggy for those with low spec hardware for their desktop computers
Overall, Sidify is a relatively good iTunes music to MP3 converter. Compared to TuneSolo, the conversion speed and quality is almost the same. As for the features, it's up to you whether TuneSolo has more helpful features or if it's Sidify.
No.3: Freemake Audio Converter
Now our last option is Freemake Audio Converter which is also fairly popular similar to Sidify. Quite frankly, this is a unique software that will surely catch your attention.
Below are the pros and cons of this iTunes music to MP3 converter:
Pros:
Users can upload online videos into the software and convert them into desirable formats.
It can extract the audio from video files, another unique feature of Freemake
It supports the formats that mostsupport, though some formats are found to be fully incompatible
It can merge video files in case there are duplicates according to the advanced ID tags
Freemake can transfer the files and directly burn them into a disc
The converted and downloaded music files can include subtitles, depending on whether you enable this feature or not
It works with many mobile devices unlike other software
Cons:
The conversion speed is not that high and is overtaken by the majority of iTunes music to MP3convertersout there
There hasn't been an update since 2017, so there might be bugs that we don't know of yet
It cannot convert from M4P to MP3 as well as music coming directly from the Apple Music app
It only has the Windows version
It doesn't detect music files automatically, so it will take some time to collect all required music files to convert
Offers a completely unnecessary third-party tool during the installation process
As you can see on the pros, there are quite a few features that are unique to Freemake. This makes it very ideal if you're looking for that exact feature. However, you can also see that there are many cons.
Overall, Freemake is a great iTunes music to MP3converterbut there is a lot of room for improvement, but sadly it won't be able to fill that room since it stopped development for a long time now.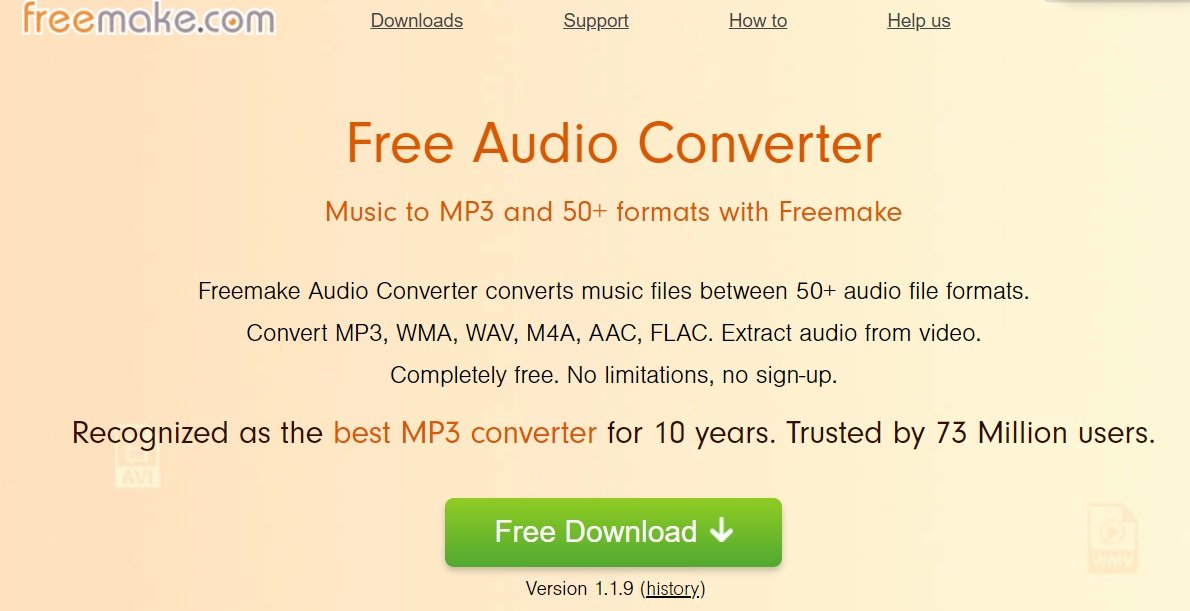 Part 3. The Best iTunes Music DRM Removal Converter in 2023
Naturally, we will not discuss all the steps for each three of the iTunes music to MP3converters. We will only discuss the steps for what we think is the best, and that would be TuneSolo Apple Music Converter.
Below are the steps to convert iTunes music into MP3:
Step 1. Select iTunes Music Files
Open the TuneSolo Apple Music Converter software. Make sure iTunes is installed, but there's no need to open it. Now on the main page of the software, you will see a list of music files. Select the ones that you want to convert.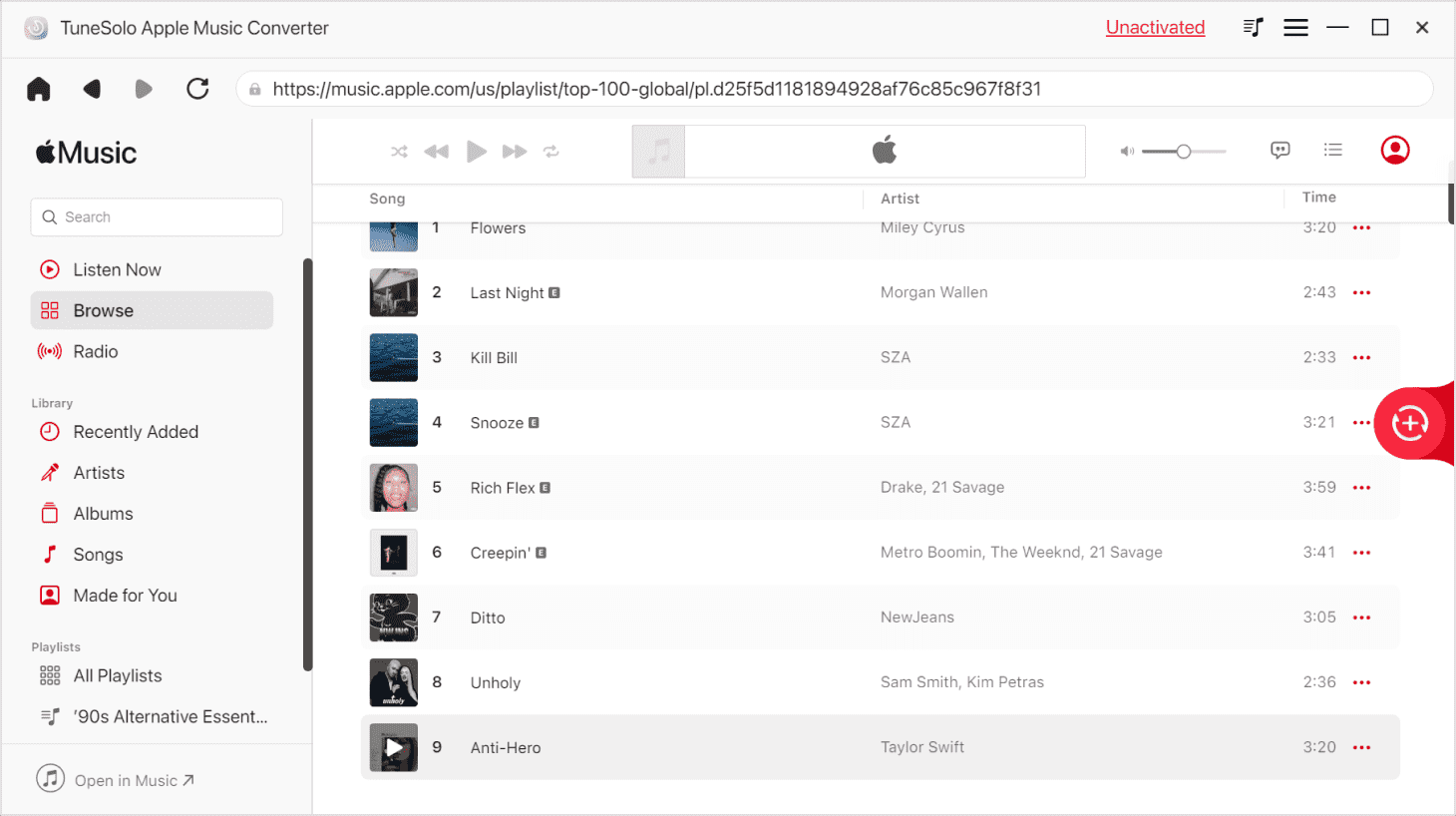 Step 2. Configure Output Settings
Below the list are the Output Settings. Simply set it so that the Output Format and Codec is MP3. You may also set up some other things according to your preferences.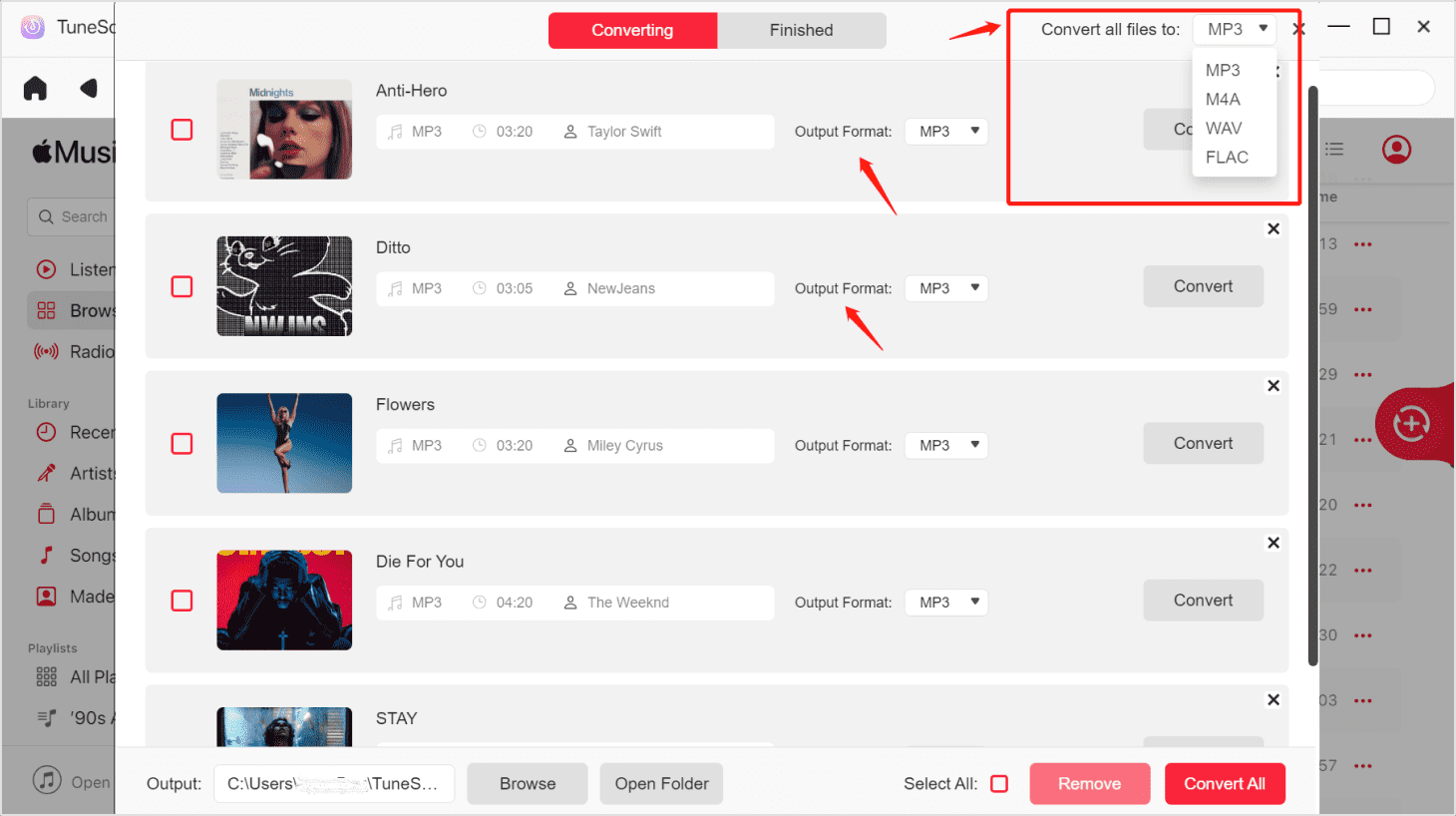 Step 3. Convert iTunes Music to MP3
Finally, click on the Convert button at the very bottom of the software. Once you click this, wait until the results show up on the Finished tab as seen above. Proceed to this tab and check if you converted the right music files with the right configurations.
Tip: Please make sure that Apple Music/iTunes is closed before opening Apple Music Converter. And during the song conversion, please do not do any operation on Apple Music/iTunes.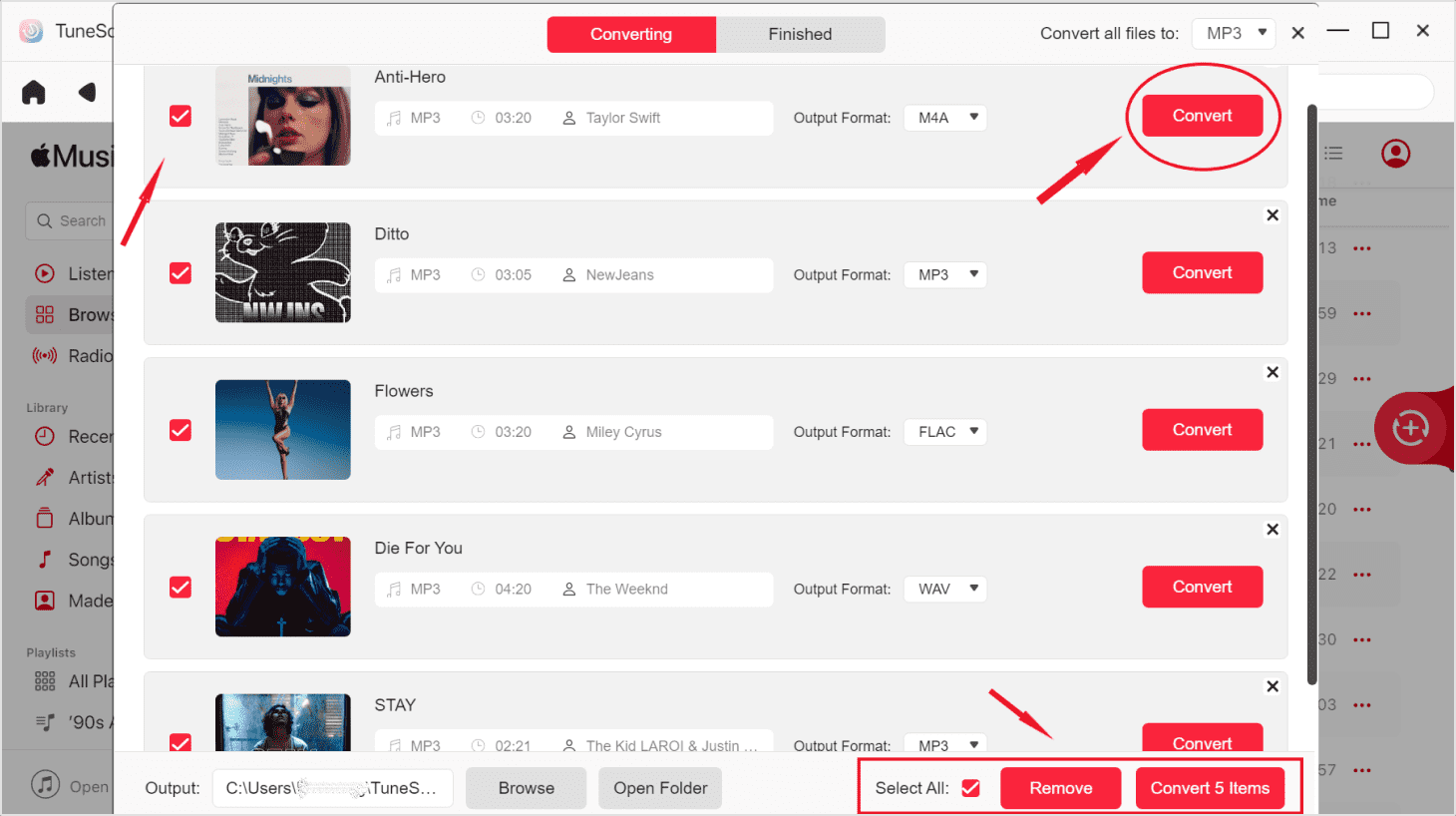 This is how you can use TuneSolo which is what we consider to be the best iTunes music to MP3converter. That should help you organize your music collection better.
Part 4. Conclusion
It's not easy to organize your music files on your iTunes collection when they're of different formats. Since MP3 is the most commonly used format, it would be a good idea to just stick to this format, unless you find something better.
Hopefully, at least one of these three iTunes music to MP3 converters can catch your attention and convince you to use them. With them, you should be able to easily organize your music files.