iTunes offers a lot of good music. That's why it's only normal if you tend to transfer music from iTunes to iPhone every once in a while from your iTunes playlist to your iPhone. However, after doing it several times, you must've spent a good deal of your time with this chore. Unfortunately, it's your only option if you want to keep listening to your iTunes playlist, but is it really your last resort?
As luck would have it, Apple developed a way for us to easily sync iTunes playlist to iPhone. That way, you won't ever have to transfer the music manually, because iTunes will do it for you. The best part about this is that it's free.
So in this guide, you will be learning how to sync music from iTunes to iPhone without spending a dime. We will also discuss an alternative if you want to make this task simpler. Let's get started!
Article Content Part 1. Why Do We Need to Sync iTunes Playlist to iPhone?Part 2. How to Sync iTunes Playlist to iPhone with Ease?Part 3. Transfer iTunes Playlist to iPhone with TuneSoloPart 4. Summary
Part 1. Why Do We Need to Sync iTunes Playlist to iPhone?
Without a doubt, iTunes is a very powerful program. You can use it to access your files in a simple manner. Plus, you get to access exclusive content through the software. However, it's not perfect. There are limitations, and thus, better solutions are made. So what exactly are these limitations that we're talking about?
Limitations of iTunes
The main limitation of iTunes is the fact that it's no longer updating. After all, Apple has abandoned it for quite some time now. It's only normal to look for alternatives. But of course, iTunes has other limitations besides that such as the following:
You can't use multiple accounts and sync your iTunes playlists between these accounts
You can't manually delete a song from an iTunes playlist
It's not very fast compared to when you're using your iPhone
There are several issues that may arise due to bugs that Apple hasn't fixed yet
You can't customize how the iTunes window looks like
These and many other limitations are the reasons why iTunes was abandoned in the first place. And that is why we try to sync iTunes playlist to iPhone instead. That way, we won't use iTunes again to manually transfer our files.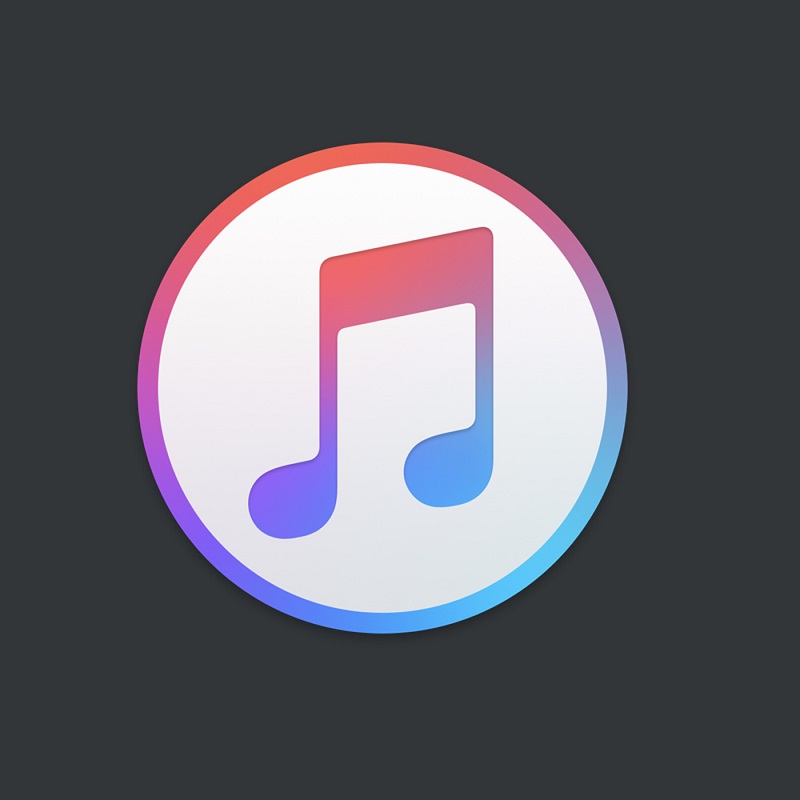 Benefits of Syncing iTunes Playlist to iPhone
On a side note, there are several benefits of syncing your iTunes playlist to iPhone, and that's what we're going to talk about right now. Let's proceed with these benefits:
Storage – Since you're going to sync your iTunes playlist to your iPhone, you can save storage space for the entire RAM that is used up when you constantly transfer the files. Thus, you're effectively saving storage
Portability – Syncing your iTunes playlist to your iPhone also results in better portability. After all, when you travel with just your iPhone in you, you can't exactly transfer the files since you can't access your computer
Accessibility – Once you sync iTunes playlist to iPhone, it would come in handy in case you want to access a particular file from that playlist.
Security – You can also rest assured that your songs from the iTunes playlist will be safe, considering how it's stored on each of your devices
Sharing – Lastly, you can easily share your iTunes playlist with your friends since it is now on your iPhone. You can share it either through AirDrop, Bluetooth, or other methods
As you can see, not only will you be able to avoid the regulations and disadvantages of iTunes, you will also enjoy the benefits when you sync iTunes playlist to iPhone.
Part 2. How to Sync iTunes Playlist to iPhone with Ease?
You now know the limitations and benefits of syncing iTunes. So how do I access my iTunes library on my iPhone? There are three methods available to you.
Option 1. WiFi
The first method involves using WiFi. Although it is the easiest, you need WiFi to pull it off. So if you don't have an internet connection, you can proceed with the next method. Otherwise, you can check out these steps:
Open iTunes on your computer.
Connect your iPhone to the computer with a USB cord.
Once recognized, you will see the device on the right side of iTunes. Click that device and go to the Summary section.
You will see the Sync with this device over WiFi option. Check this option and click on the Apply button.
Now disconnect your device and connect the computer and your iPhone to the WiFi.
On your iTunes, select the files that you want to sync and click on Sync.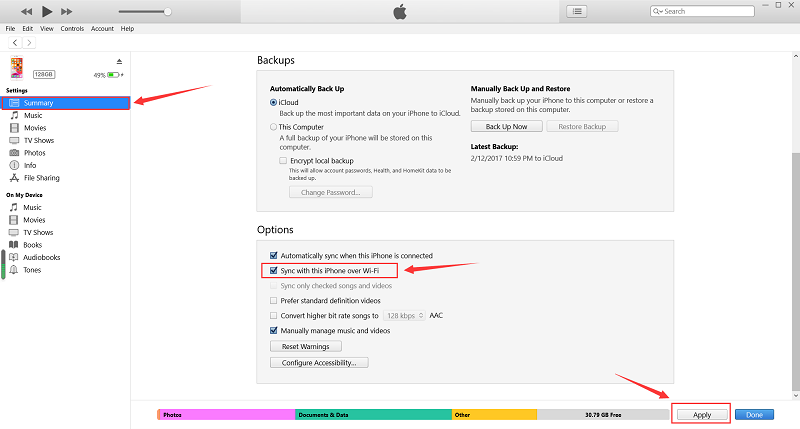 Option 2. USB Cord
Your next option is to use a USB cord. This is more accessible than a WiFi network since most iPhones come with a USB cord. Below are the steps you need to follow:
Go to iTunes.
On the left sidebar, you will see different content types such as Audiobooks, Podcasts, Movies, and such. Simply select Music.
You will then see an option that says Sync Music. Make sure its box is ticked.
Note: There will also be an option for the Entire Music Library. Make sure this box is ticked as well.
Now your next step is to click on the Apply button. You should wait for a bit since it may take a while.
On your mobile device, check if the files have been synced.
Option 3. Mobile Device
The last method is to use your mobile device. This is the most accessible option since you don't need anything except your iPhone. Anyway, here are the steps you need to follow:
On your iPhone, go to Settings.
Tap on your Apple ID.
Go to the iCloud settings.
You will see several options here including Music. Simply make sure Music is turned on.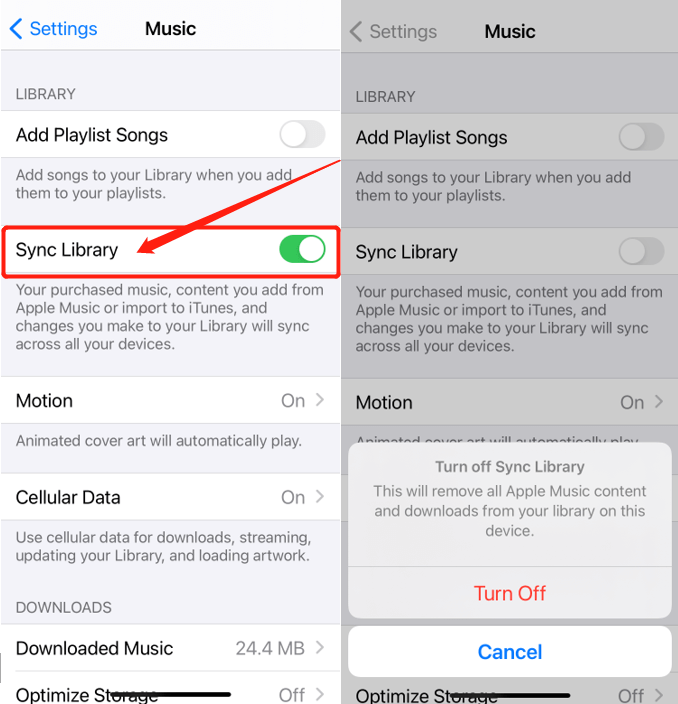 Part 3. Transfer iTunes Playlist to iPhone with TuneSolo
So we've already discussed three options as to how you can sync iTunes playlist to iPhone. Unfortunately, you won't be able to keep those songs with you forever because of copyright reasons. However, you can do it if you use third-party software.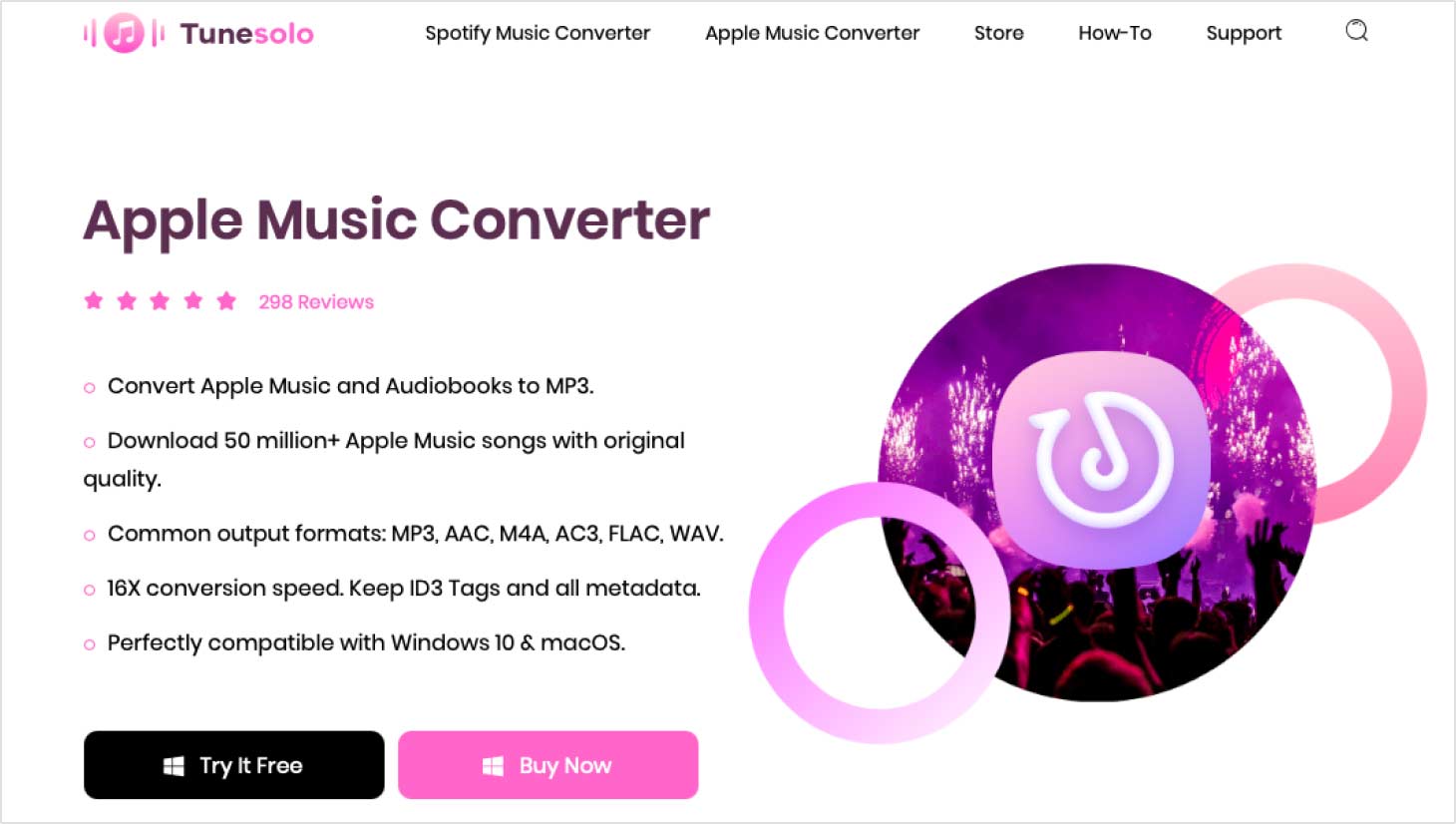 TuneSolo Apple Music Converter is a tool with the ability to take out the files from your iTunes playlist and download them individually. The best part about this is that you get to keep the downloaded files forever, so it's a huge advantage. If you think this software would be very helpful, you can find out more about it below:
Main Feature:
DRM Removal. This software has the ability to remove the FairPlay DRM protection from your iTunes playlist. Once the DRM protection is removed, you'll be able to do whatever you want with the playlist. You can even transfer the playlist to your iPhone without any hassle
Other Features:
Offline Listening. In addition to keeping them forever, you can also listen to the iTunes playlist without the internet. You can do this on your iOS device, Zune, Xbox, PSP console, and even Android
Faster Conversion. TuneSolo featuring a fast conversion speed. It can go 16 times faster than that of your typical converter. What's more, it has the ability to support batch processing, so you can convert and download multiple files at once
Supported Formats. TuneSolo supports most formats that you encounter. This includes popular formats such as MP3, MP4, and WAV. It also includes formats that aren't very well-known like M4V, M4B, AAX, and many more
Without a doubt, TuneSolo is a powerful tool. Below are the steps on how to use iTunes on iPhone with this software:
Step 1. Pick iTunes Playlist Songs
On your computer, ensure that iTunes is installed. After that, you can open the Apple Music Converter. Once open, you'll see a list on the main page. This will be where you have to select the iTunes playlist songs that you want to transfer to your iPhone.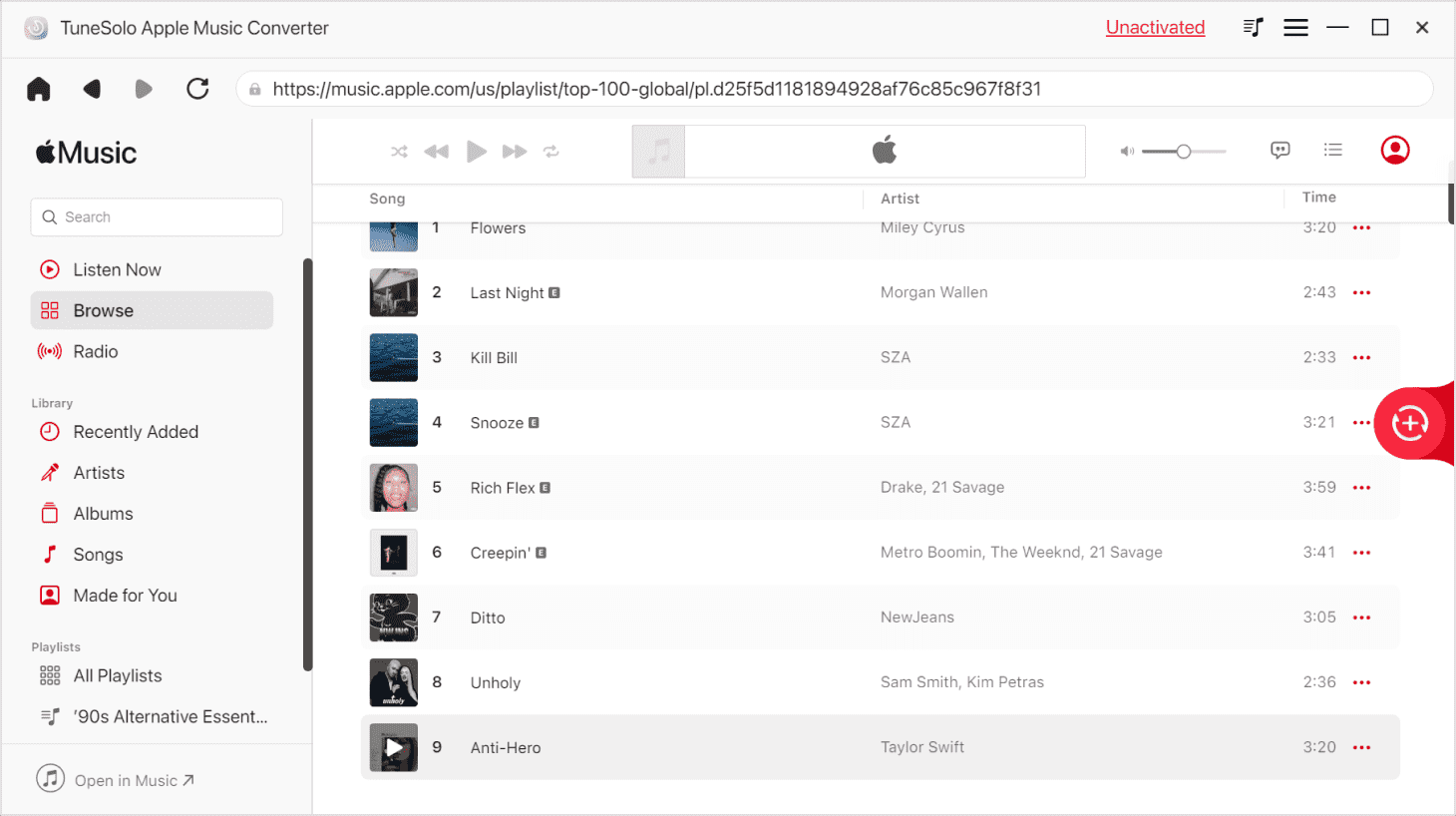 Step 2. Adjust Output Settings
After selecting the iTunes playlist songs, scroll down to the bottom area. This is where you'll find the output settings. Simply adjust the settings located here such as the codec, bit rate, sample rate, and others.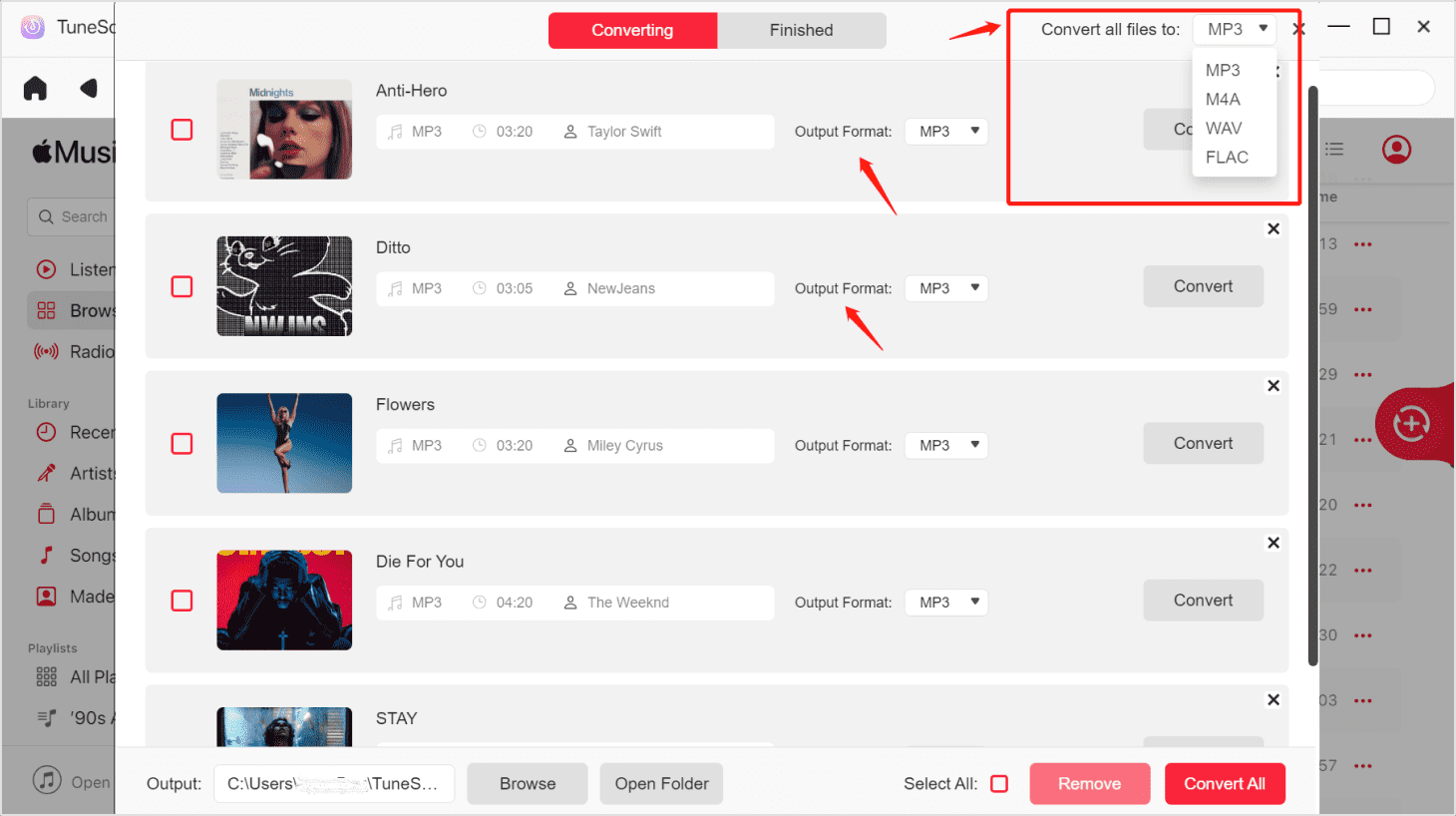 Step 3. Convert iTunes Playlist
Click on the Convert button to start converting the iTunes playlist songs that you selected. Now all you have to do is to wait until it's over.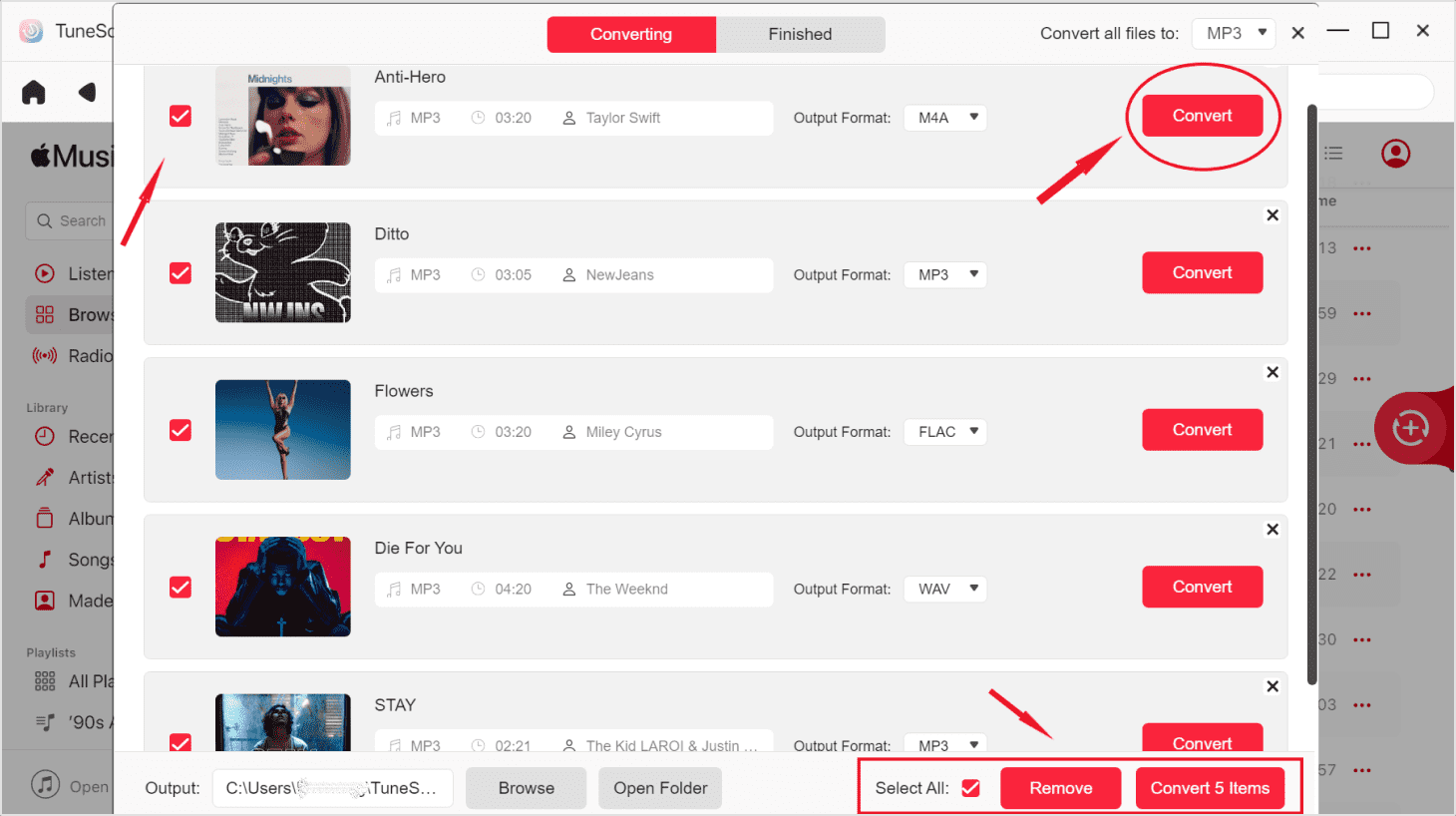 Step 4. Transfer iTunes Playlist to iPhone
Your last step is to connect your iPhone to the computer. Once connected, drag the files that you downloaded with TuneSolo and drop them into the iPhone's internal storage.
Tip: Please make sure that Apple Music/iTunes is closed before opening Apple Music Converter. And during the song conversion, please do not do any operation on Apple Music/iTunes.
Part 4. Summary
iTunes has already been abandoned for a long time. Hence, there are many bugs in the program. That is why it's suggested that you sync iTunes playlist to iPhone as soon as possible to avoid any potential problems.
With this guide, it should be an easy task for you. Plus, you have learned not only how to sync, but also to transfer your iTunes playlist to your iPhone. This should be more than enough to make things easier for you.