Am I the only one who misses wandering in the streets in a different place? Exploring cultures, diversity, and engaging with other people? I bet you even forget how you can listen to Spotify on a plane as you cruise against the turbulence. When the pandemic started, almost every one of us was forced to stay at home. Businesses and establishments were closed. Workers were sent home for a work-from-home setup, and some, in the hybrid work. While most of us are isolated, some of us have been looking forward to traveling again. Traveling is probably one of the many things that we miss doing in these tumultuous times. Fortunately, in the middle of this year, things seemed to have been optimistic. We can almost feel like the world is taking a turn, making us feel good about tomorrow.
The best news about today is that travel bans are lifted, airlines are slowly offering new travels, and people around the globe are welcome to enter some places again. It's pretty exciting to think. Now, if you are one of the lucky ones who travel a lot, even amidst this pandemic crisis, listening to Spotify on a plane may be your essential activity in your every travel. And if you're someone who's getting prepared to leave on a plane, and you're thinking how you can enjoy your adventure through listening to Spotify, this one is for you. Let me guide you on what you can do to listen to Spotify on a plane.
Article Content Part 1. What is Spotify, and Can You Listen to Spotify on a Plane? Part 2. Listen to Spotify On A Plane with Premium Part 3. Listen to Spotify On A Plane without Spotify Premium Summary
Part 1. What is Spotify, and Can You Listen to Spotify on a Plane?
Since we have been introduced to many digital audio streaming services, our travels have become more enjoyable than ever. The walkman and MP3 players were the best things, but we never knew digital streaming would change our lives. Now, you don't bring with you too many things. All you need to secure is your smartphone, your digital audio streaming provider, and, well, a list of music you want to listen to for the whole duration of your plane travel. If you are music savvy, you are probably already familiar with the best mobile music streaming apps such as Apple Music, Google Music. YouTube Music, Deezer, and Spotify. Nowadays, Spotify is a big deal in the vast digital music industry. Spotify has earned its place as the most used music streaming app in the market, with 350 million global subscribers.
What makes Spotify stand above the rest? It would simply explain its ecosystem and the features programmed in its app. Spotify is not famous for no significant reason. Its popularity is rooted in its features that allow users to get instant music. Users can customize their playlists, and even if they won't, Spotify already has amazing playlists curated according to your interests. To top it all off, its playlists are intricately curated based on the era, genre, theme, and artist. Spotify also offers different plans to cater to each individual. The app has an individual plan at $9.99, a family at $14.99, and a student discount at $4.99. Basically, Spotify is the best. You can utilize a digital streaming app if you want a quality music listening experience from playlists, artists, and podcast content, down to its shareability and compatibility with other devices. And lastly, Spotify allows you to enjoy your travel with its feature that will enable you to listen to Spotify on a plane.
Part 2. Listen to Spotify On A Plane with Premium
There are so many perks that come with the Spotify premium subscription you bought. But did you know you can listen to Spotify on a plane? It's excellent news, is it not? Spotify Premium allows you to create your playlist and let you save it for offline listening. You only need to toggle on the "Offline Mode," which permits you to download any Spotify song, a fantastic playlist, and even podcast content on your smartphone. This "Offline Mode" will not require a network connection at all. Here's how you can do it.
Step 1.
Launch Spotify app on your mobile phone.
Step 2.
Go to Library > Settings > Playback > then, you toggle on the Offline Mode button.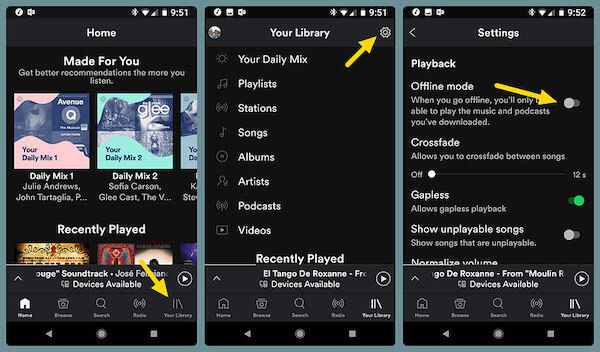 Part 3. Listen to Spotify On A Plane without Spotify Premium
I bet you didn't know you can listen to Spotify on a plane without having to purchase a monthly premium subscription. Yes, you read that right. Using a third-party and handy app to convert your Spotify songs allows you to get on that plane and enjoy your travel across the skies. TuneSolo Spotify Music Converter is a freeware that helps you convert your Spotify music without a premium account. That means you need not worry about paying for a premium account to indulge in the Spotify Offline Mode. With this tool, you can listen to your songs wherever and whenever.
TuneSolo Spotify Music Converter Awesome Features:
Download Spotify playlists and albums
Convert Spotify music to MP3 and other formats
Play Spotify music on devices just like premium users would
Offline streaming of your Spotify songs
Play Spotify music on different devices at the same time
Rips off DRM encryption of Spotify
Convert Spotify media files to other formats like AAC, WAV, FLAC, and more
Convert and download Spotify songs at 5x faster speed compared to other converter tools
Supports batch conversion to help save time
Losslessly convert and download Spotify tracks in 100% original sound quality
Retains ID3 tags and metadata information crucial to Spotify media files
Manageable output folder for easily converted files access
How to Convert Music to Listen to Spotify on a Plane with TuneSolo Spotify Music Converter:
Step 1.
Download and Install TuneSolo Spotify Music Converter from this link.
Step 2.
Import Spotify songs by following a "Copy & Paste or Drag and Add" method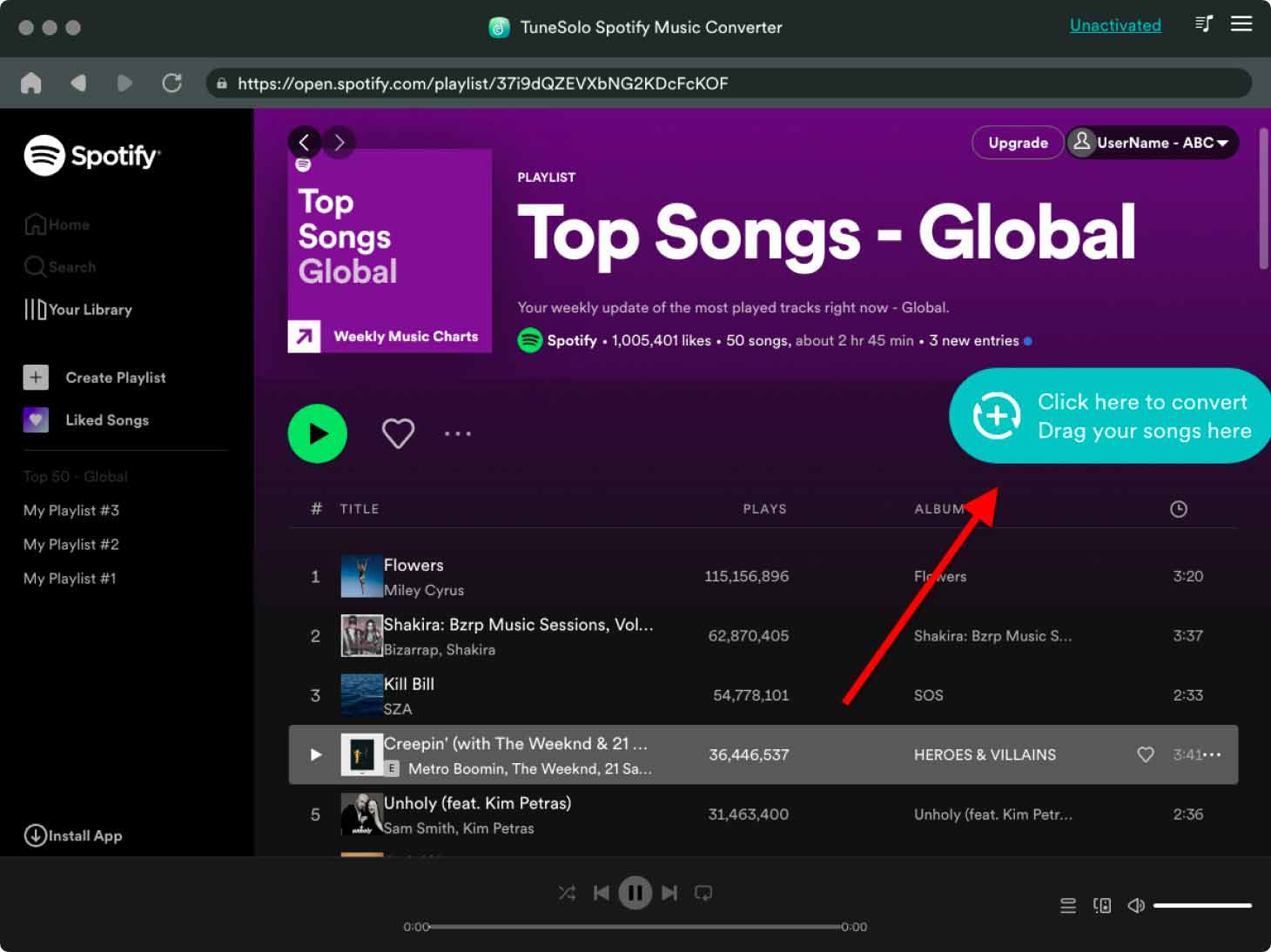 Step 3.
Setup the outputs you want for "Output Format" and "Output Folder."
Step 4.
Start to convert your Spotify songs by clicking the button "Convert All."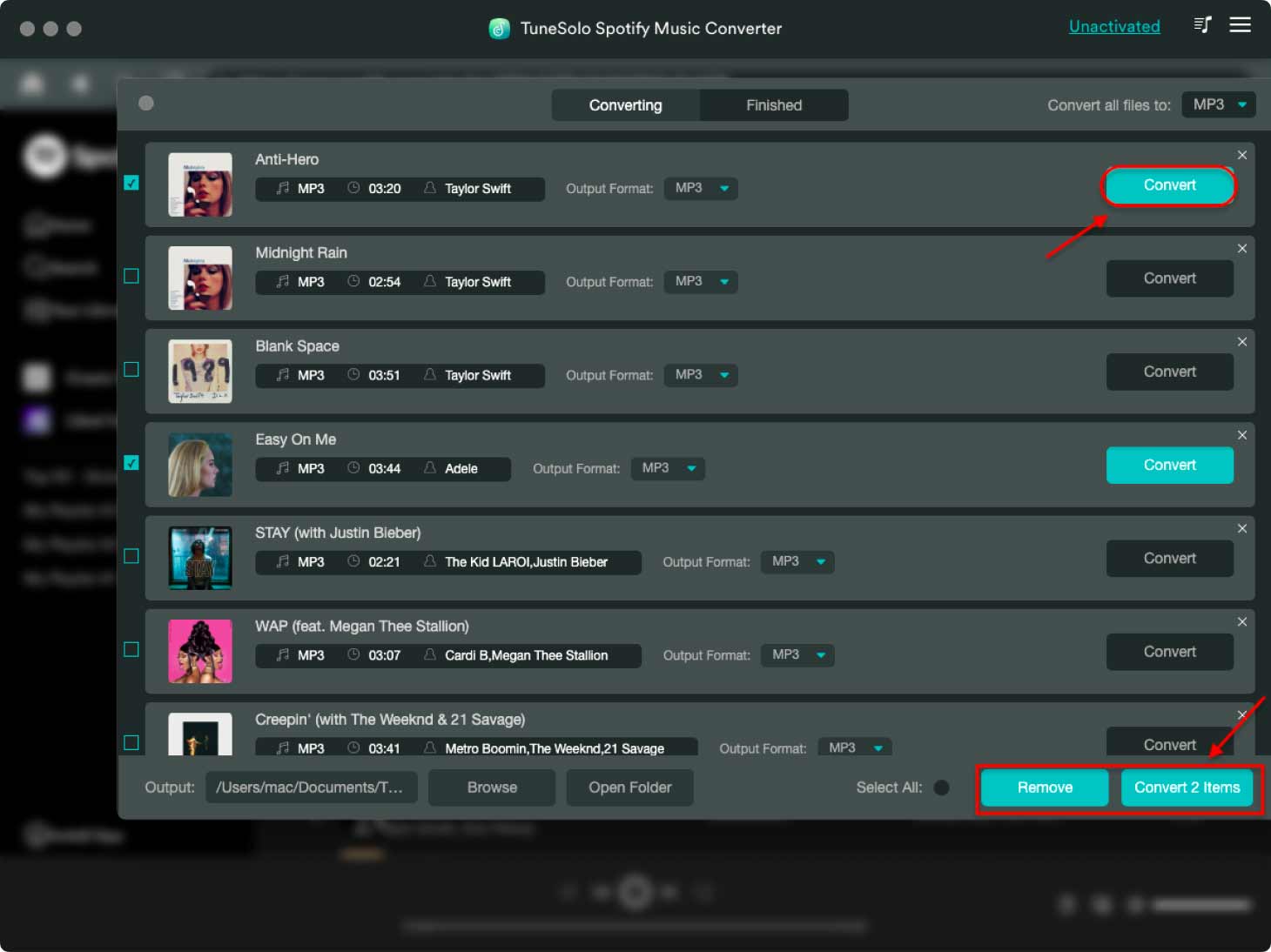 Summary
Get on that plane and start the offline streaming of your favorite songs, artists, playlist, and relatable podcast content and creators. Your journey wouldn't be complete without music raving in your ears. Remember, if you are not sold on purchasing a Spotify premium account for you to listen offline and unlimited playback, TuneSolo Spotify Music Converter is your savior. It's hassle-free, convenient, and accessible anywhere around the world.