"How to listen to greyed out songs on Spotify?" This is actually a common question asked by Spotify users. They surely have some tracks being greyed out in their lists and are not available for playing. Now, the question is how to solve this problem? Well generally, to solve this problem, you must know first the reason why it is happening and then apply a solution.
In this article, I will be sharing a discussion about greyed out songs and the procedure that you can follow on how to listen to greyed out songs on Spotify. Just make sure to keep on reading this post until the end.
Article Content Part 1. Why Are Spotify Songs Greyed Out?Part 2. How Do I Fix Greyed Out Songs On Spotify?Part 3. How To Listen To Greyed Out Songs On Spotify Without Premium?Part 4. Summary
Part 1. Why Are Spotify Songs Greyed Out?
Most of you have already experienced, for sure, seeing a greyed-out song on your Spotify playlist. If you haven't experienced seeing any, it may be because the "Show unavailable songs in playlists" option under Display options has not been turned on since then. With this being turned off, you won't get to see all those unavailable songs because Spotify will automatically not include or will automatically hide these songs in your playlist.
If you want to have an idea of which songs have been greyed out in your playlist, just go to Settings and under Display options, turn the switch oppositely beside "Show unavailable songs in playlists". After a few minutes, when you check your playlist, you will see all the tracks that have been greyed out with a message saying track unavailable. Now, what are the main reasons behind these greyed-out songs?
Format Error
One reason could be the format of the greyed-out songs might not be the same as the formats supported by Spotify. So, if you have some tracks imported to Spotify, this might be the reason. Also, most of the songs that are from other streaming services are DRM protected making them not accessible and playable in just any streaming application and in any device.
Connection Issues
From the word itself, it might be caused by the internet connection you use. You might be having a poor or slow internet connection and are having problems in loading them. Another reason might be accidentally turning on the Offline mode in Spotify. Before using the application, make sure that you have an active internet connection to avoid problems to happen.
Region Limitations
Not all contents from Spotify are accessible and available in all places around the world. So, if you are going into another country, expect already that some of the songs that you have saved in your Spotify playlist might be unavailable and would be greyed out automatically.
Licensing Agreement Problems
Another possible reason could be that problems regarding licensing agreements with Spotify have aroused. This could be the reason why some of your favorite exclusive hits on Spotify would be gone one day.
With the possible reasons discussed above, Spotify users are wondering how to know these unavailable tracks and are questioning as well how to listen to greyed out songs on Spotify. With this being mentioned, I have here an upcoming discussion about the procedure on how to listen to greyed out songs on Spotify. If you wish to know-how, the upcoming part of this post will help you do so.
How To Delete Greyed Out Songs On Spotify?
Deleting the greyed-out songs on Spotify might be impossible for you. The only way to remove them is by having them not shown on your Spotify playlists. In order to do this, go to Settings and turn off the option "Show unplayable songs". Turning this option off will automatically not show the unavailable tracks.
Part 2. How Do I Fix Greyed Out Songs On Spotify?
As mentioned, the possible reasons behind the songs being unavailable are those listed above. To solve these problems, I have here below the effective solutions to avoid experiencing the issues stated just a while ago.
Import The Songs Into Spotify Once Again
Like what was discussed, the songs that you got from other streaming services could be protected by DRM so converting them into a format supported by Spotify would be hard for you unless you know a third-party application that is very effective when it comes to DRM removal. The best tool to use is TuneSolo Spotify Music Converter which is to be elaborated more in the coming section. If the songs are already DRM-free, you can now have them converted into an output format that Spotify supports.
Check Your Internet Connection
One problem could be your internet. Make it a habit to check your internet first because it could be the simplest error behind the tracks being greyed out.
Change Your Network Settings
In order to address the issue about greyed-out songs due to unavailability in countries and regions, you may use a VPN service and another type of server like American or European. These two servers are reliable and stable when it comes to Spotify music streaming.
Reinstall Spotify Application
Reinstalling the application is one of the usual and most commonly used solution in fixing Spotify issues. You may do the same as well whenever you encounter the unusual greying out of songs in your Spotify playlist. You can also delete some of the cache files because they might be the reason as well. Having a too-loaded music library would cause errors and slow down the application itself. Another method to try out is deleting the greyed-out songs that have appeared on your playlist and then downloading them once again.
This might be a total hassle but this could be the most effective method to utilize. Now, let us discover the perfect way on how to listen to greyed out songs on Spotify by reading the next part of this article.
Part 3. How To Listen To Greyed Out Songs On Spotify Without Premium?
The Premium users of the application are allowed to download tracks from Spotify but are not allowed to transfer these downloaded files to another device. Like what I mentioned in the previous section, the best tool that I could recommend for you to use is TuneSolo Spotify Music Converter. This tool is very capable of DRM removal and its effective use in converting the tracks. Once the songs are converted into any of the formats among MP3, WAV, AAC, and FLAC, it would be easier for you now to move them in any other device. With the help of TuneSolo, you can stream your favorite music anytime you want and without any restrictions.
Here are the steps in utilizing TuneSolo Spotify Music Converter in relation to the procedure on how to listen to greyed out songs on Spotify.
The first step to do is to download the application of TuneSolo Spotify Music Converter. To have the application downloaded to your device, you have to open your browser and search for the official website of TuneSolo. After the complete download of the application, proceed to the installation and launching of it.
The next step now is to add the songs into the music converter. To totally avoid the tracks being greyed out, it would be better to download them in another format. Now, after the successful launching of TuneSolo, all of your playlists will be loaded in the converter. You may now start selecting the tracks and adding them into TuneSolo by copying and pasting their links or by just dragging and dropping them.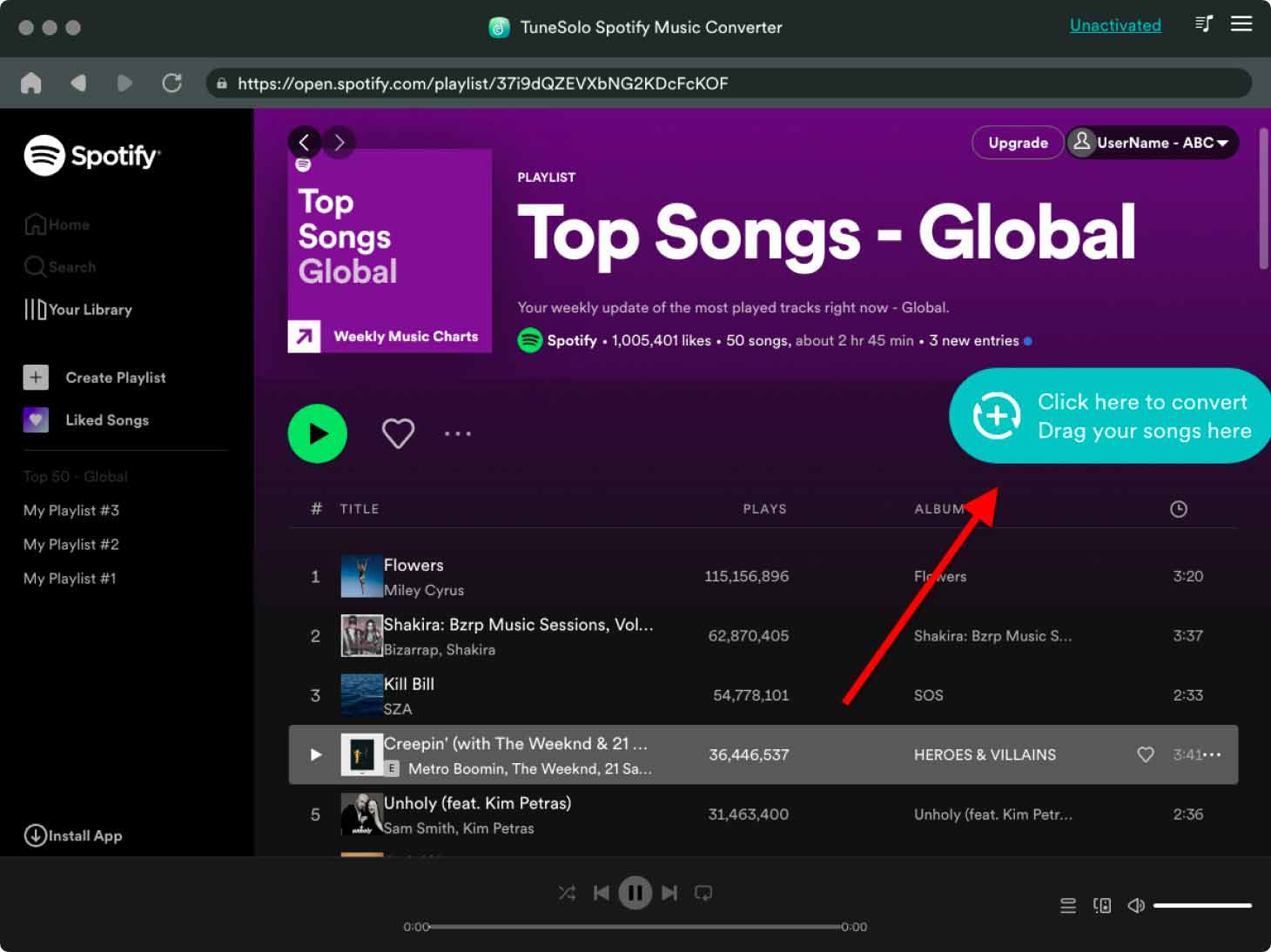 After doing so, choose the output format of the songs. From the formats mentioned a while ago, choose any format you wish to have the most. After that, choose an output folder as well in saving the files that have been converted.
Now, since everything is already set, click on the "Convert All" button and have the conversion process started. Wait for a few minutes until the whole process was done.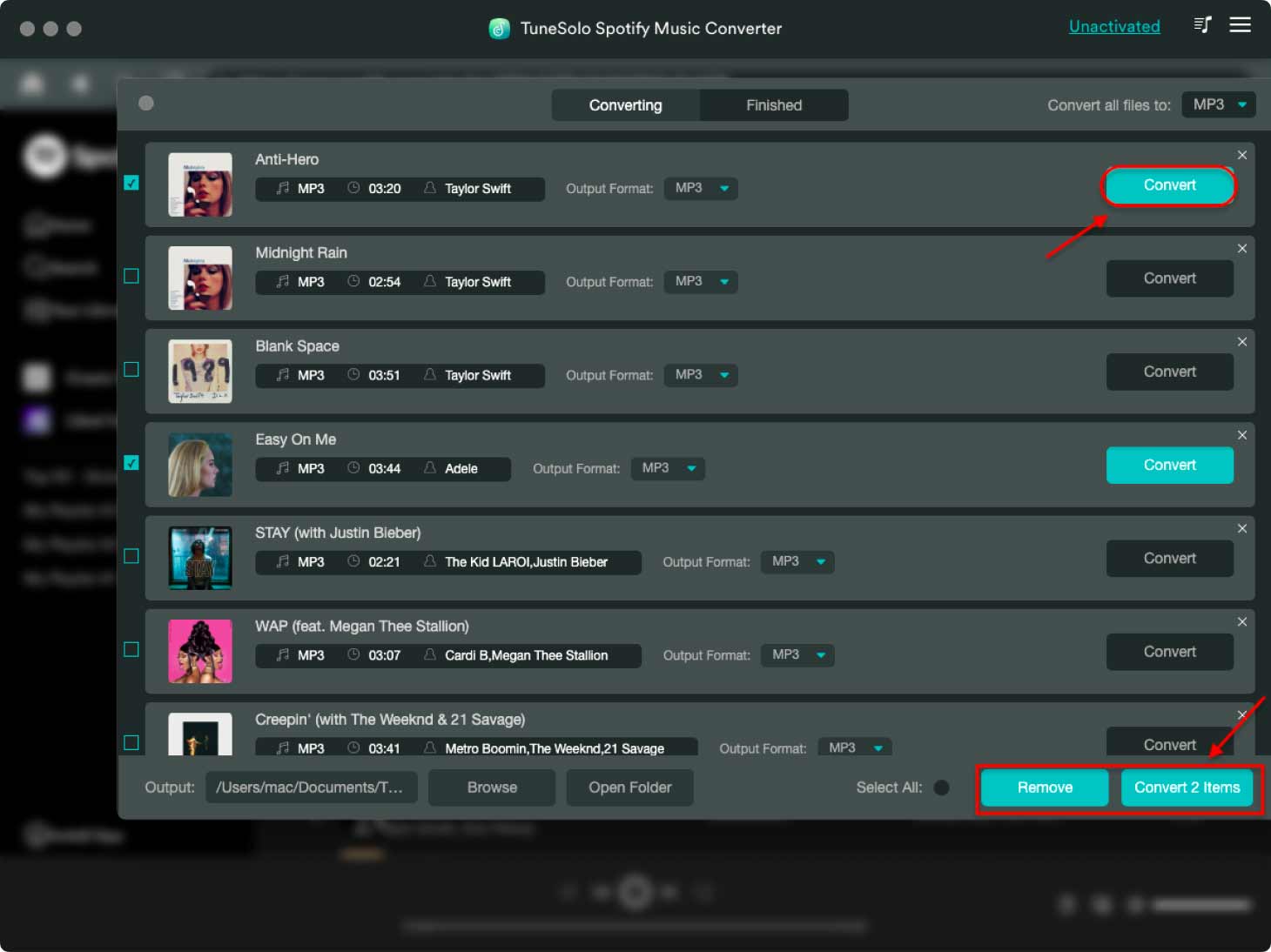 If the conversion process is already done, click on the View Output File section and download the songs into your computer as local files.
These are the simple steps to follow on how to listen to greyed out songs on Spotify. You have to follow them properly in order to avoid the songs from being greyed out. Now that the songs are saved locally, you can now have them transferred from one device to another and stream them outside of the Spotify app.
Part 4. Summary
To summarize the article, you have known by now the most possible reasons why the songs are being greyed out and unavailable. The first thing that you must do about it is to identify what is the main issue behind this. Once it is identified already, you may now do the solution to solve this. The possible and effective solutions to this have been discussed as well. Now, if you wish to prevent the issue from happening, you better make use of the TuneSolo Spotify Music Converter and download the songs on your device beforehand. This tool would be the most helpful method on how to listen to greyed out songs on Spotify.