As one of the most commonly-used streaming platforms on the internet, Apple Music gained a lot of subscribers for the past few years. It offers millions of songs from their library. Unfortunately, the songs you get from Apple Music will be gone once the subscription expires or is canceled.
So that begs the question, how can you extract music so it stays on your device forever? This is a question that many people are asking right now.
Find out how to rip music from Apple Music app with these three app recommendations. Before we proceed, let us first answer a question that I know you've been asking for a while now.
Article Content Part 1. Why Do We Need to Rip Music from Apple Music?Part 2. Top 3 Apple Music Rippers in 2020Part 3. How to Rip Music from Apple Music with TuneSolo?Part 4. Summary
Part 1. Why Do We Need to Rip Music from Apple Music?
Although Apple Music is worth its price to a lot of people, there are some who don't believe that they should be spending money just to listen to music. That's why the idea of ripping music off from this platform is becoming more and more prevalent. However, before you get into some risky business, you need to know more about Apple Music.
What is Apple Music?
Apple Music is a subscription-based service launched by Apple Inc. in 2015. What they're selling is access to a platform that offers a catalog of music from different places, even from artists who don't normally show their music to the public.
This and many other factors were the reason why Apple Music rose in popularity at a very fast rate. The interface is made up of several sections including a section for recommendations, a section for music discovery, and a section dedicated to your favorite music.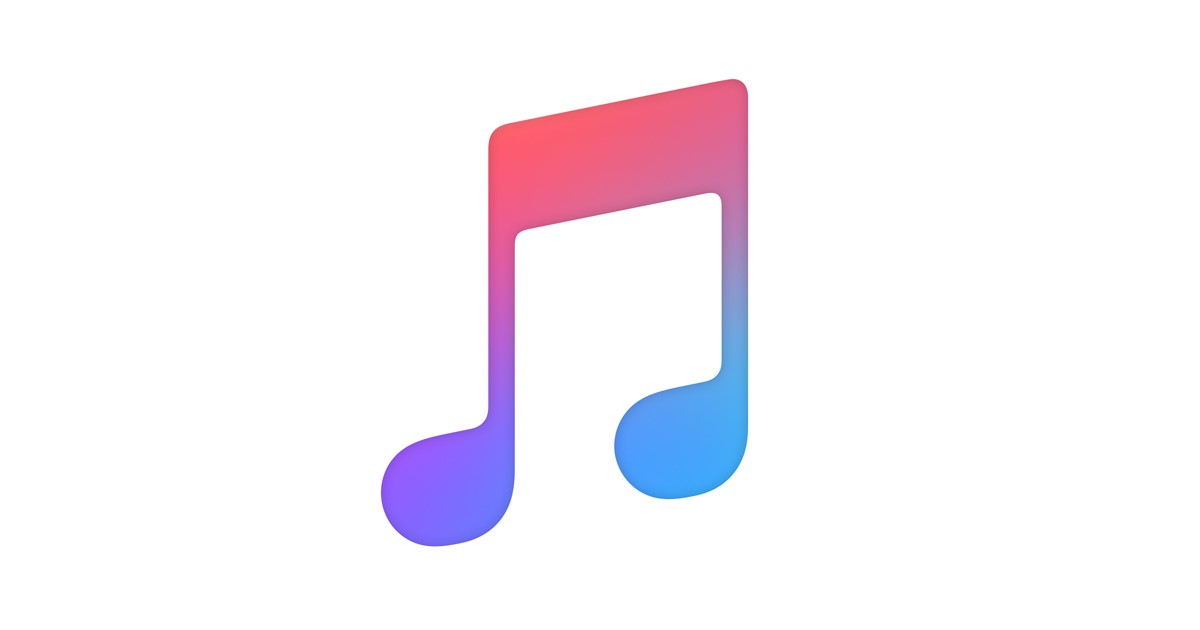 Regulations in Apple Music
As expected, there are a lot of regulations within the Apple Music platform. For one, you cannot convert the files contained within the platform. You have to purchase them first before you can have full access to the said file.
That means you also can't transfer these songs into your alternative devices. This and many other regulations led to a lot of complaints from users. And this leads us to your question, why we need to rip music from Apple Music.
Why do we need to rip music from Apple Music?
I'm sure you already know the answer. You aren't given complete access to the songs unless you really purchase them individually. That is why we rip music off from this platform. And fortunately, this solves our main problem. By ripping the music off, you can do whatever you want with the songs.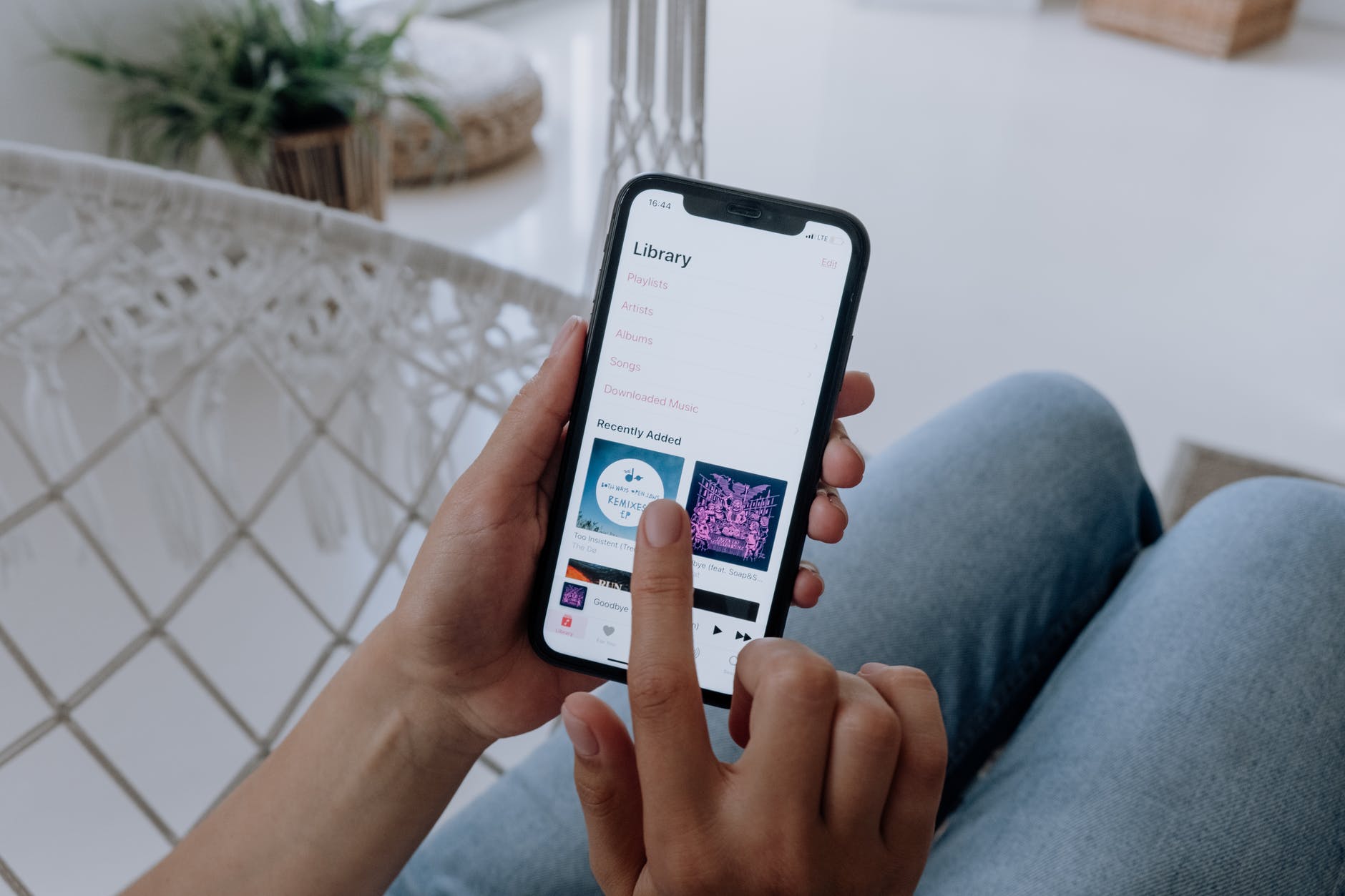 Part 2. Top 3 Apple Music Rippers in 2020
If you intend to rip off music from Apple Music, there are several ways to do it. However, since you're not exactly a specialist in this subject, your best option is to use an Apple Music ripper app. And for that, we have three recommendations. Let's start with my top recommendation.
No.1: TuneSolo Apple Music Converter
TuneSolo Apple Music Converter is an application designed to convert and download MP3 files from iTunes. This includes podcasts, audiobooks, and most importantly, Apple Music. This is why this software is the perfect tool for the job. Anyway, here are some of its features that will help you with your goal: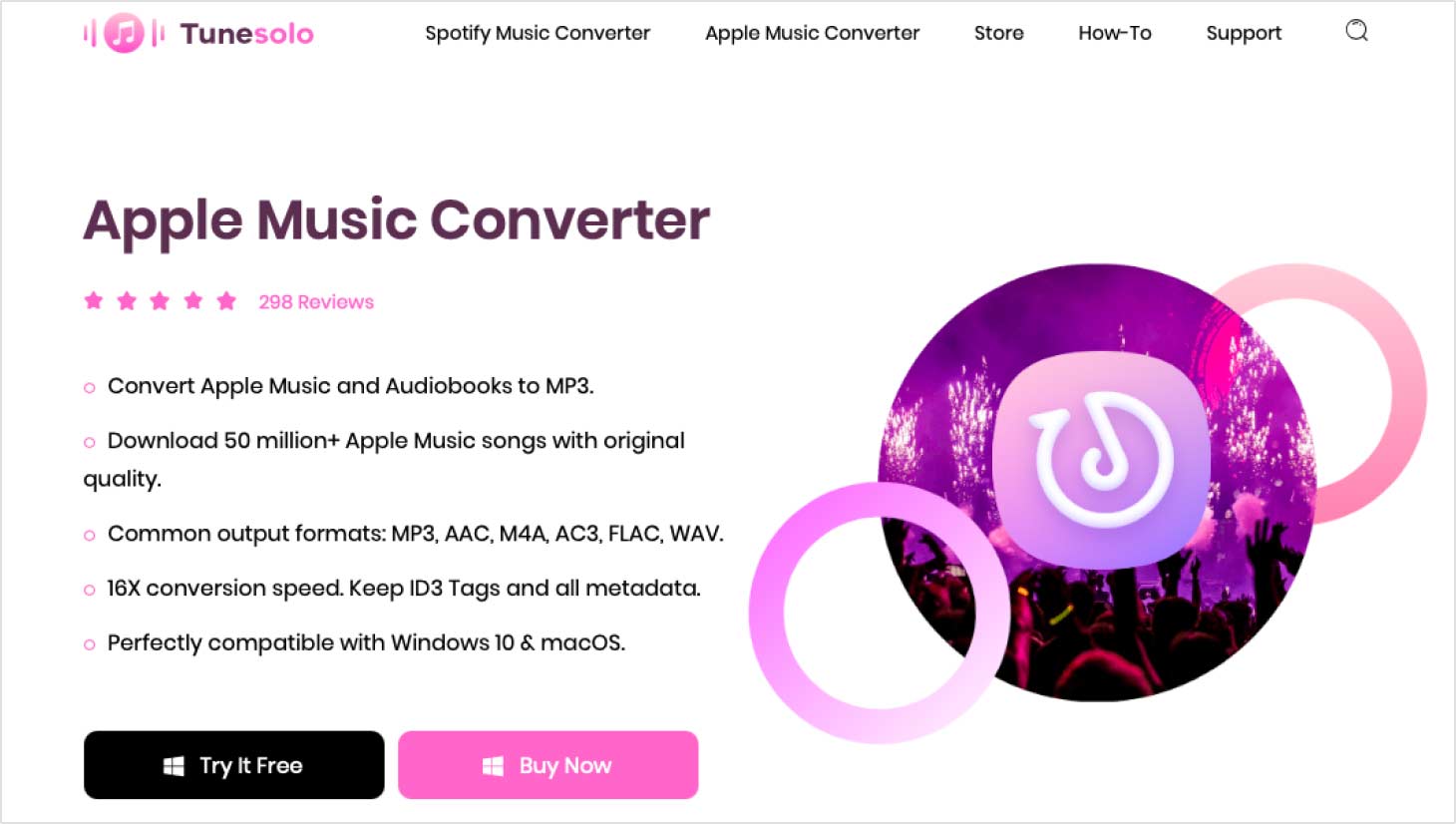 Main Feature:
You can remove the FairPlay protection on any Apple Music files using this software. With the protection removed, you can do whatever you want with the Apple Music files
Once you download the songs using TuneSolo, you can listen to it without connecting to the internet
Files downloaded from TuneSolo are supported by devices including Zune, Xbox, PSP, iPhones, iPods, and even Android devices
You can convert at 16 times the speed of common converters to save you a lot of time
You can convert multiple files at the same time
You can convert Apple Music to MP3 and other formats including AIFF, M4V, M4B, as well as unprotected formats such as MP4, WAV, FLAC, and more
You can access content that is only accessible by premium subscribers by using the TuneSolo software
No.2: NoteBurner iTunes Audio Converter
NoteBurner is one of the most popular DRM removal tools on the market. NoteBurner was better known as the company that made the M4V Converter Plus, and now their Apple Music Ripper is becoming known as well. It's no wonder, considering the features that they offer. Here's a look at some of the app's main features: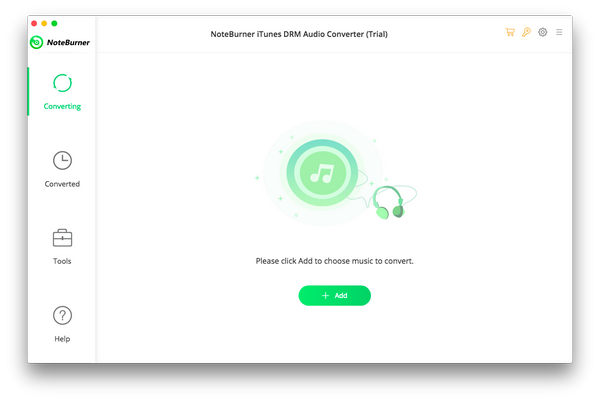 Main Features:
Remove the DRM protection from Apple Music files
Convert files from formats such as FLAC, WAV, AAC, and more
Maintain an audio quality of up to 320 kbps
Convert protected iTunes songs and audiobooks
Maintain the metadata tags including Artist, Album, Year, Track Number, etc.
Fast conversion speed
User-friendly interface
There are a lot of things to like about NoteBurner. However, the feature that attracted me the most was its ability to convert at a very fast rate. Although it's not clear if they support batch conversion, it's still something I'd recommend if you can't avail of TuneSolo.
Additionally, NoteBurner is available on Windows PC as well as Mac, so that's a plus. Unfortunately, they haven't developed a Linux version yet, but they're working on it.
NoteBurner would be the best option for you if you call yourself an audiophile and want to get high-quality conversions instead of songs that have crappy quality.
No.3: DRmare Audio Converter
My last recommendation is DRmare Audio Converter, and I'm sure you're already familiar with the name. DRmare is also quite popular. It's known as a file converter focusing on audio files, but they also have a couple of software that might interest you. Anyway, DRmare has some features that may be of interest: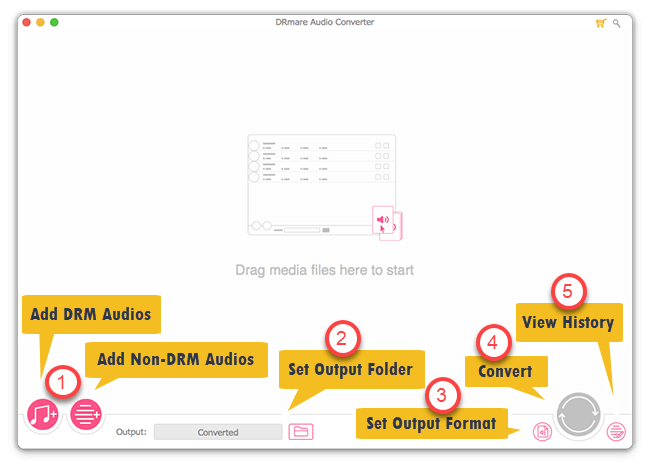 Main Features:
Remove DRM protection from Apple Music audio files
Convert protected audio files to unprotected audio files and vice versa
Customize the output quality, codec, bit rate, channel, and other settings for more customized conversions
Fast conversion rate which can go up to 10 times faster than competitors while maintaining 100% quality of the original data
Maintain the ID3 tags of downloaded files including the Artwork, Album, Genre, and other data contained within the said file
Personally, I've used this software and haven't found any problems yet. Of course, that's not to say that this software is perfect. It's easy to use even to beginners and I'm sure you can master it easily. Overall, I recommend DRmare Audio Converter mainly because of its simplicity. With that being said, if you're more into flashy apps, DRmare may not be the best choice.
Part 3. How to Rip Music from Apple Music with TuneSolo?
If you remember, I mentioned TuneSolo earlier as number 1 in the top Apple Music rippers in 2020. As luck would have it, it's very easy to use TuneSolo, and so learning how to rip music from Apple Music using this software won't be challenging.
With that being said, we're going to find out what steps there are to ripping music using Apple Music. So without further ado, let's proceed with the steps on how to rip music from Apple Music and the perfect Apple Music to MP3 shortcut:
Step 1. Select Apple Music Songs
On your computer, check your apps if iTunes is already installed. If it is, then continue by launching the TuneSolo Apple Music Converter on your computer. Once opened, the first thing that'll greet you is a list of songs. From this list, select the ones that you want to download or convert.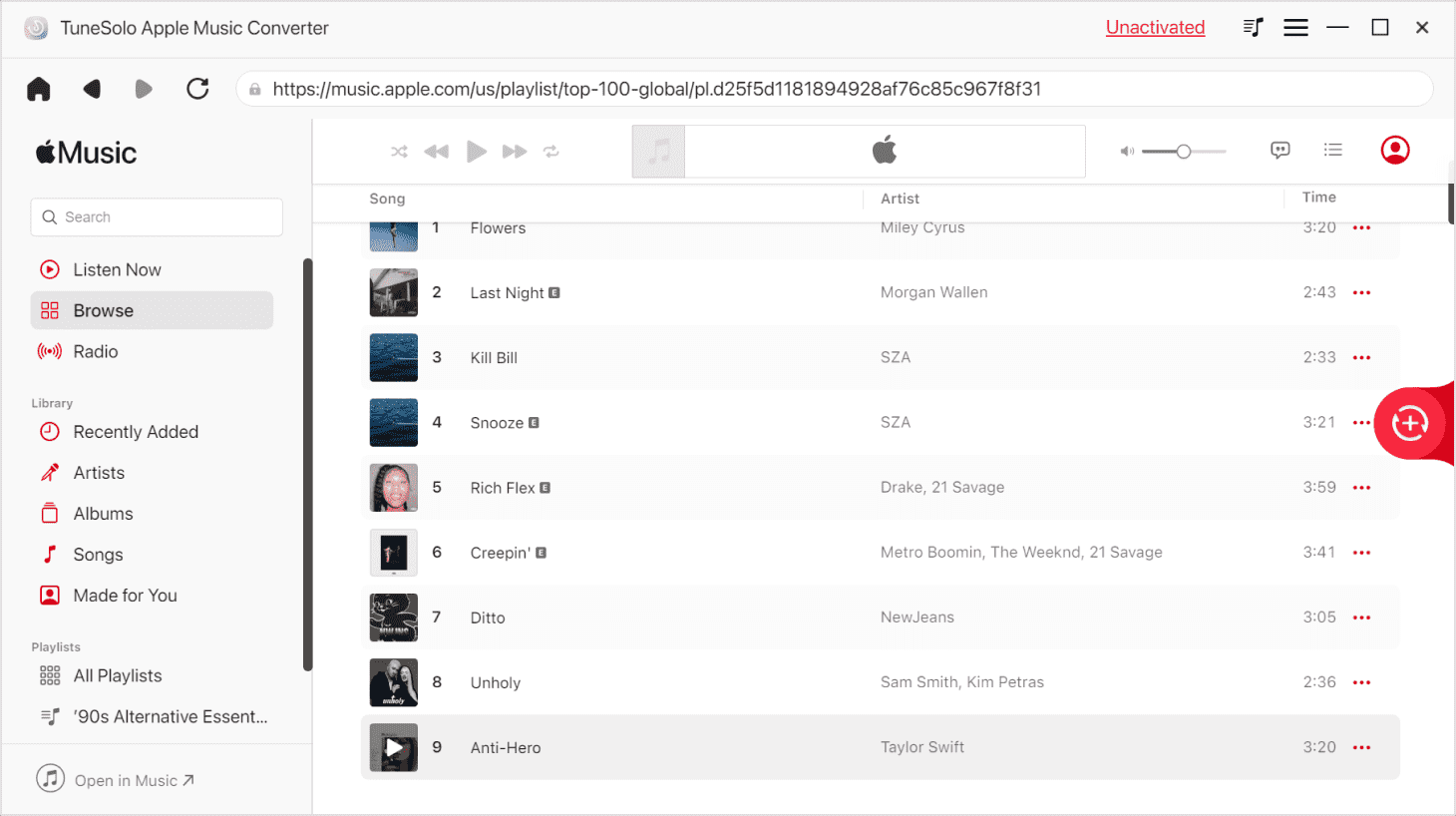 Step 2. Configure Output
After selecting the songs, scroll down to the bottom of the window until you see the Output Settings section. This is where you can change different properties such a Quality, Codec, Format, and more. That, of course, would be up to you.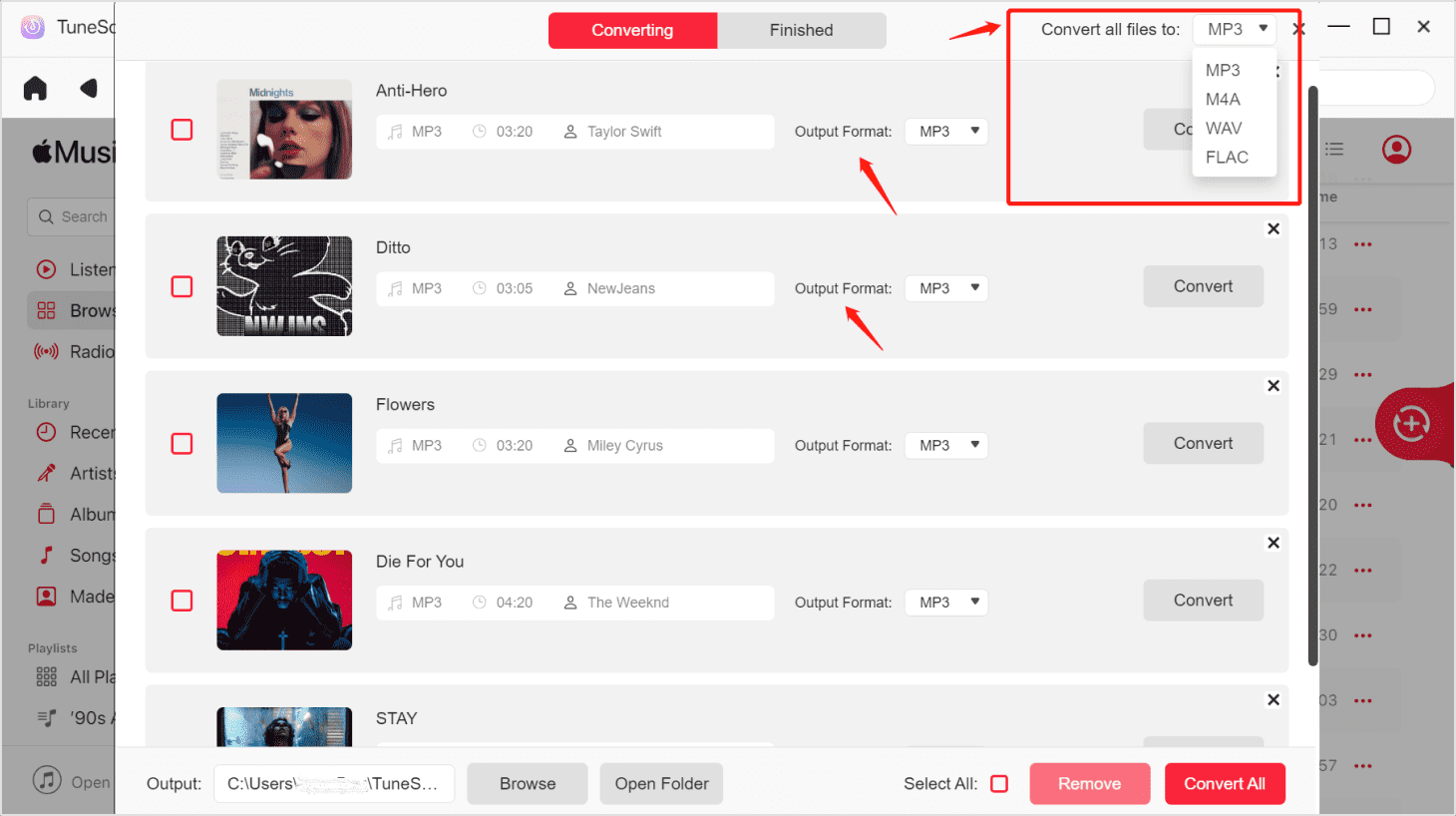 Step 3. Convert Apple Music
After changing the settings, click the Convert button from the bottom of the window. This will start the download and conversion process. All you have to do now is wait until it's over.
Tip: Please make sure that Apple Music/iTunes is closed before opening Apple Music Converter. And during the song conversion, please do not do any operation on Apple Music/iTunes.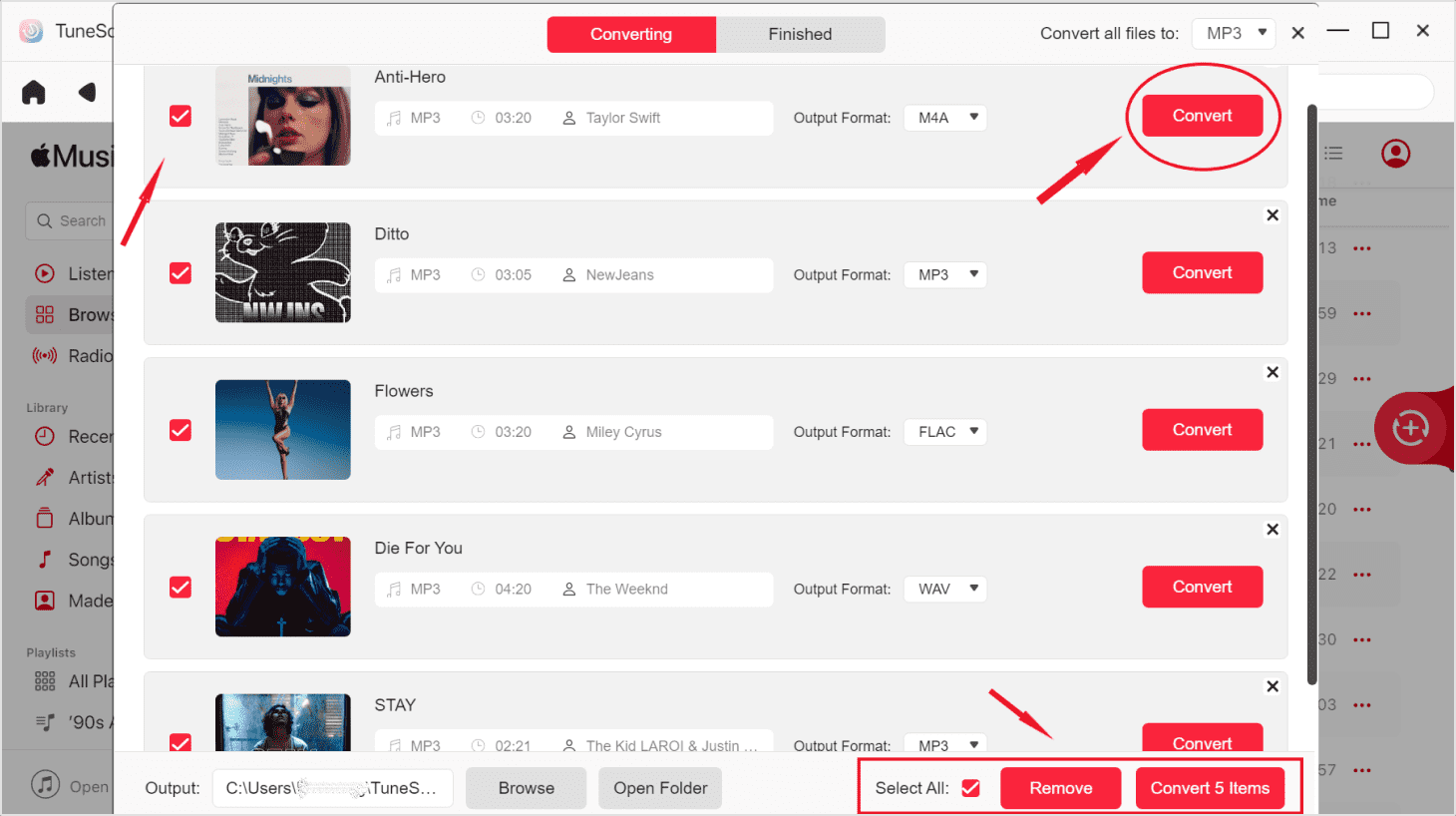 After doing the following three steps, you would have successfully ripped off music from Apple Music. Remember that this is only applicable to Apple Music, so it won't work on other music-streaming platforms such as Google Music or Spotify.
Part 4. Summary
Without a doubt, there are a lot of ways on how to rip music from Apple Music. You can choose to do it the traditional way, but you can also take the easy way out by using an Apple Music ripper.
However, after having a look at the top 3 Apple Music rippers, it should be easy to make a decision now. Hopefully, your decision is the right one and you won't regret it in the future.