"I have been experiencing an issue in playing my favorite AAC files on other devices that I have. Is there any way I can use to convert protected AAC to MP3 format?"
The above question has been raised multiple times on many community platforms and discussions. If you have been so curious about the methods to convert AAC to MP3 format, perhaps, you also tried searching the topic on the web and saw some discussions about it.
We wanted to deal with the information on how a user can easily convert the protected Apple Music or iTunes AAC files to MP3 format and keep their Apple Music songs free forever without the hassle of reading and comprehending all those complicated guides that are usually found in community discussions.
Let us start with our discussion.
Article Content Part 1. What is Protected AAC Audio File?Part 2. How Do I Convert Protected AAC to MP3 with iTunesPart 3. Easily Convert Protected Apple Music/iTunes AAC Files to MP3Part 4. Conclusion
Part 1. What is Protected AAC Audio File?
Since our main topic of discussion in this blog post is about the procedures to convert protected AAC to MP3 format, we will be giving some basic information about these the protected AAC audio format in this portion.
You are surely aware that apart from the Spotify application and many other music streaming platforms, you have the iTunes app as one of the most popular. I bet you are also using this app. If you do, do you know that it is using protected AAC audio files as the default format for those being sold from the top prior year 2009? You can easily see if the songs you have are protected by enabling the "Kind" option in the iTunes app. Those protected are labeled with "protected AAC audio file".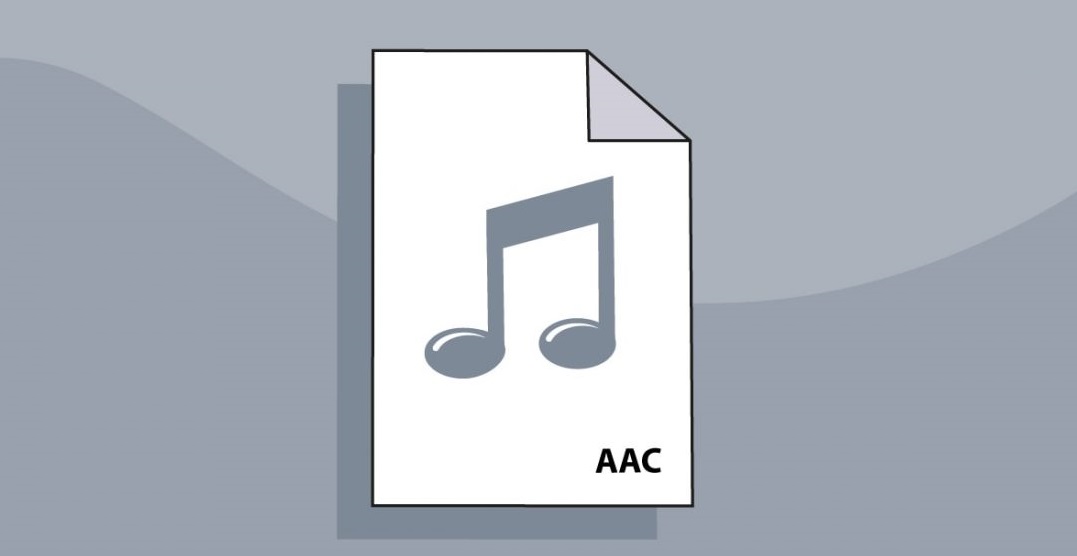 What does it mean when iTunes songs are protected? This signifies that the pieces are protected under Apple's DRM (Digital Rights Management) protection. The mentioned is being used by Apple to protect the content from copying, sharing, and playing on unauthorized devices. This is why you can't have the audio played on other devices like Android phones, Sonos hi-fi systems, and many other non-Apple gadgets.
After April 2009, the Apple team stopped keeping this protection on iTunes songs. They also make use of a new format that is known as iTunes Plus. This is now the default format of songs that are being purchased from the iTunes application.
Songs from iTunes that are now DRM-free are called iTunes-purchased AAC audio files. But what if you still have the protected AAC audio file with you and you wish to convert the protected AAC to MP3 format; we have some guesses made available in this post to help you out. We will begin with those in the second part of this article.

Part 2. How Do I Convert Protected AAC to MP3 with iTunes
You could be surprised upon reading the subheading of the second part of this article. But yes! This is true. You can actually use your iTunes application in order to convert protected AAC to MP3 format.
Many users are not that aware that the iTunes app can do it because most of us are only looking at the iTunes application as a platform wherein we can play songs, movies, videos, and more and store and access those media files we have. Surprisingly, it has this conversion feature that can somehow help the conversion of your protected AAC files to MP3 format.
Below is an easy guide for your in case you want to convert protected AAC to MP3 via the iTunes app.
Step 1. Open your iTunes application. You can install this app easily by downloading if firstly from either Google Play Store or Apple Store.
Step 2. Make sure that you will be looking for the "iTunes Preference" option. In case you are using the app via a Windows computer, you can head to the "Edit" option at the top left area of the screen and then hit the "Preference" button. For Mac computer users, tick the "iTunes" button at the top area of the screen as well and from there, you will see the "Preference" option. Just click this one to proceed.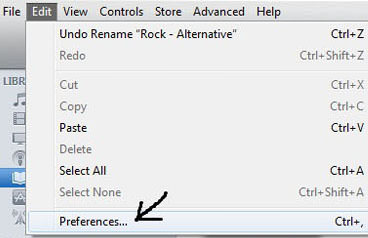 Step 3. After completing the second step, go ahead and hit the "General" button. Look for "Importing Settings" and click it. This is in the lower area of the page.
Step 4. There would be a popup menu that would be displayed on the screen. Here is where you will be choosing which encoding format you want the iTunes songs to be converted to. There are other available formats. Make sure that you will choose MP3 from the list.
Step 5. You can now proceed with the selection of songs to be converted. After doing so, head to the "File" button then tick the "Create New Version" menu. From the choices, choose "Create MP3 version".
After completion of the above steps, you can now have the MP3 version of those AAC files you have before.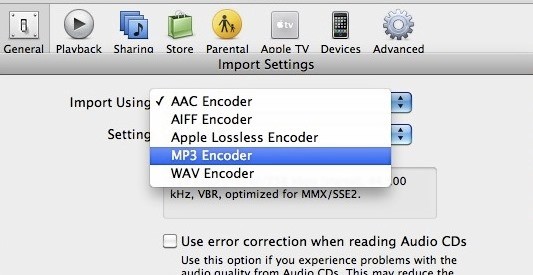 Part 3. Easily Convert Protected Apple Music/iTunes AAC Files to MP3
Apart from iTunes, you can also rely on a professional converter that is very much capable to convert protected AAC to MP3 format. There are numerous converters on the web but what we know that truly stands out from the rest is this TuneSolo Apple Music Converter.
With the ability to convert the online protected Apple Music AAC files, you can enjoy the MP3 files immediately. If you are wondering if this can handle the conversion of a number of files at one time, that is also possible!
Updated: The new version of Tunesolo Apple Music Converter no longer requires syncing with iTunes to process the offline music conversion anymore! We have a built-in Apple Music web player to boost download efficiency. You need to log in with the Apple ID to continue the music searching and converting processes later on. Please free-try our new Apple Music Converter to know more about its fantastic features!
Why we recommend you to choose Tunesolo Apple Music Converter to convert the protected AAC files to MP3? This tool has many great features:
Convert protected Apple Music tracks to common output formats: MP3, M4A, FLAC, WAV, etc.
Download all Apple Music/iTunes songs with original quality.
Directly search, convert, and download the songs from the built-in Apple web player.
Fast conversion speed.
Keep ID3 Tags and all metadata.
Perfectly compatible with many PC devices like Windows 10 & macOS.
Here are further detailed steps for you to convert the protected Apple Music AAC songs to MP3 format using the TuneSolo Apple Music Converter.
Step #1. Launch The Built-in Apple Music Web Player in the Converter
The installation requirements for TuneSolo Apple Music Converter are only a few so you can surely have it downloaded fast on your Mac or Windows PC. Open the converter to begin with the whole process of AAC to MP3 conversion.
When you open the tool, you will see a simple tutorial at startup. On the welcome page, click on the "Open the Apple web player" button, then you can access to the built-in Apple web player.
Note: When you enter the built-in web player, you need to log in with your Apple ID to continue the music searching and converting processes later on. If you can't sign in your account, you can't browse the library and download or convert the Apple music using the software.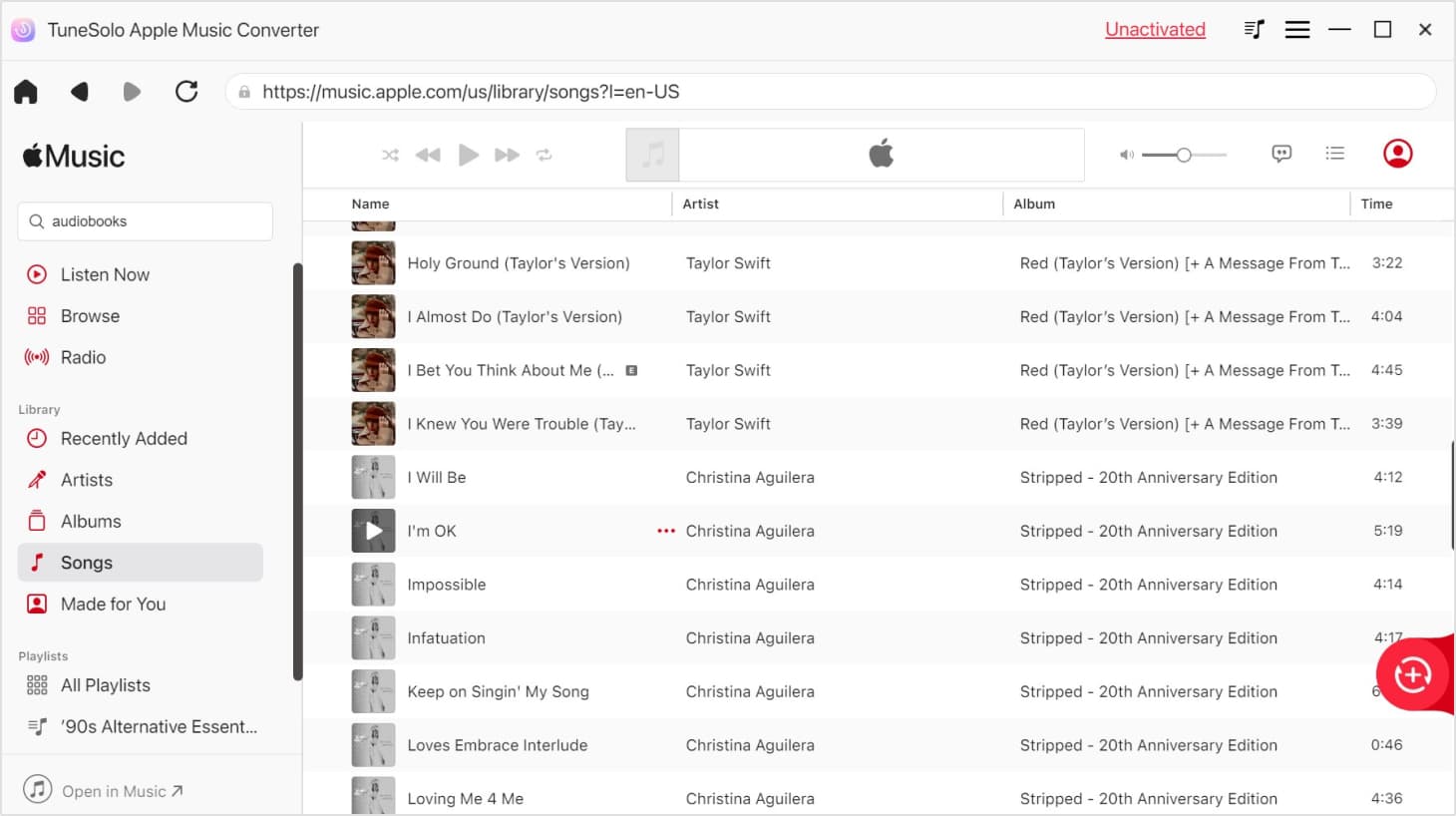 Step #2. Drag All Those Online Protected AAC Songs to Converting List
Drag and drop the Apple Music AAC songs/playlists/albums you prefer to the red bubble on the right of the interface.
Now, choose MP3 as the output format. Also, you can edit some output settings if you desired to and set the output path during this step.
Step #3. Convert Protected Apple Music AAC Files to MP3
Lastly, you can now hit the "Convert All Items" button located at the bottom area of the screen to start the conversion process. This will only take a short while so there is not much waiting time at your side.
Now you are able to download, view, and listen to the output MP3 files by clicking "Finished" > "View Output File". Enjoy the Apple Music songs for listening offline now!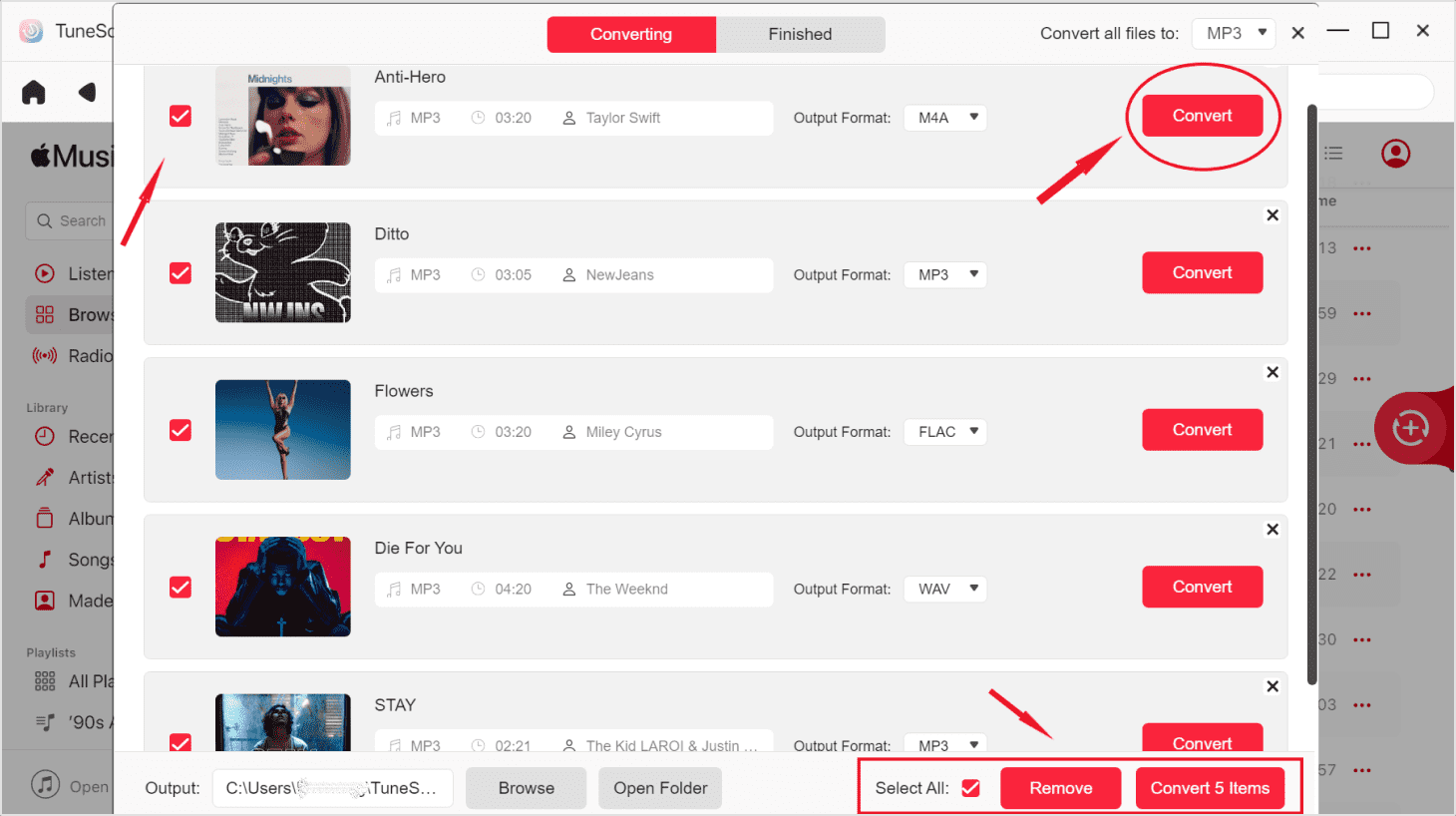 Part 4. Conclusion
It is very easy to convert protected AAC to MP3. You can always choose trusted professional converters like TuneSolo Apple Music Converter or check out some freeware like iTunes in case you are on a tight budget. Keep in mind that in choosing free tools, you might be needing to sacrifice some things including quality, or encounter some limitations. But still, the choice is yours.