We all know that iTunes is capable of managing your files, creating backups and performing other tasks on different devices, and it can even play music.
However, there are several flaws within this program, and many users are suffering due to such issues. One of these issues is the DRM protection embedded on all iTunes files.
This article is made to show you how to unprotect iTunes songs so you won't have to bear with the inconvenience of DRM protection. Let's start by knowing a bit more about iTunes.
Article Content Part 1. What is A Protected Song on iTunes?Part 2. How Do I Unprotect an iTunes Song?Part 3. Summary
Part 1. What is A Protected Song on iTunes?
We already know the issues regarding iTunes. Perhaps you have a general idea of that issue, but it's still a good idea to know how iTunes works and where its issues originate.
What is iTunes?
ITunes is considered as a digital media platform managed by the Apple Company. It was launched on April, 2003 due to the company's desire to uphold a place for music to strive. In the beginning, the music platform of iTunes only offers music from five sources. However, after 17 years, it has gathered a lot of attention and managed to store over 60 million songs. They even manage different content such as apps, TV shows, podcasts, and the likes.
It's quite obvious that iTunes has hit the jackpot, especially with its 575 million active users. There are also other factors that contribute to its popularity such as the fact that it is available on Apple devices and even Mac. In fact, they even created a version of iTunes for Windows users. Thus, it's no longer exclusive to Apple devices.

What makes a protected song on iTunes?
Now the next question involves protected songs on iTunes. We all know that you can't do anything to the songs from iTunes because it is somehow protected, but what makes a protected song?
This is all possible due to Digital Rights Management or DRM, or to be precise, FairPlay. FairPlay is a DRM policy that was used by Apple on most files offered by them. That's why you can't do anything unless you learn how to unprotect iTunes songs, and that's exactly what we're going to do. However, you still have some alternatives.
As you may already know, not all music from iTunes or Apple Music is all protected by FairPlay. This is because Apple decided to remove the DRM protection from their music in 2009. But that doesn't change the fact that all the music files from before this year is protected, so what do you have to do to access such songs?
How do you obtain protected songs?
One option is to purchase a protected song. Of course, this would cost you around a dollar for each song. However, there are some songs with high value, hence their higher price. Likewise, there are some that are cheaper. Either way, as long as you purchase the song, the protection will be removed automatically. So how can you do this for free?
Part 2. How Do I Unprotect an iTunes Song?
It's basically impossible to learn How to unprotect iTunes songs without using a special tool. That's why I recommend using the TuneSolo Apple Music Converter software.
This is a protected music converter downloading and even converting the contents of iTunes. That includes podcasts, TV shows, and of course, iTunes songs. Here are some of its other features: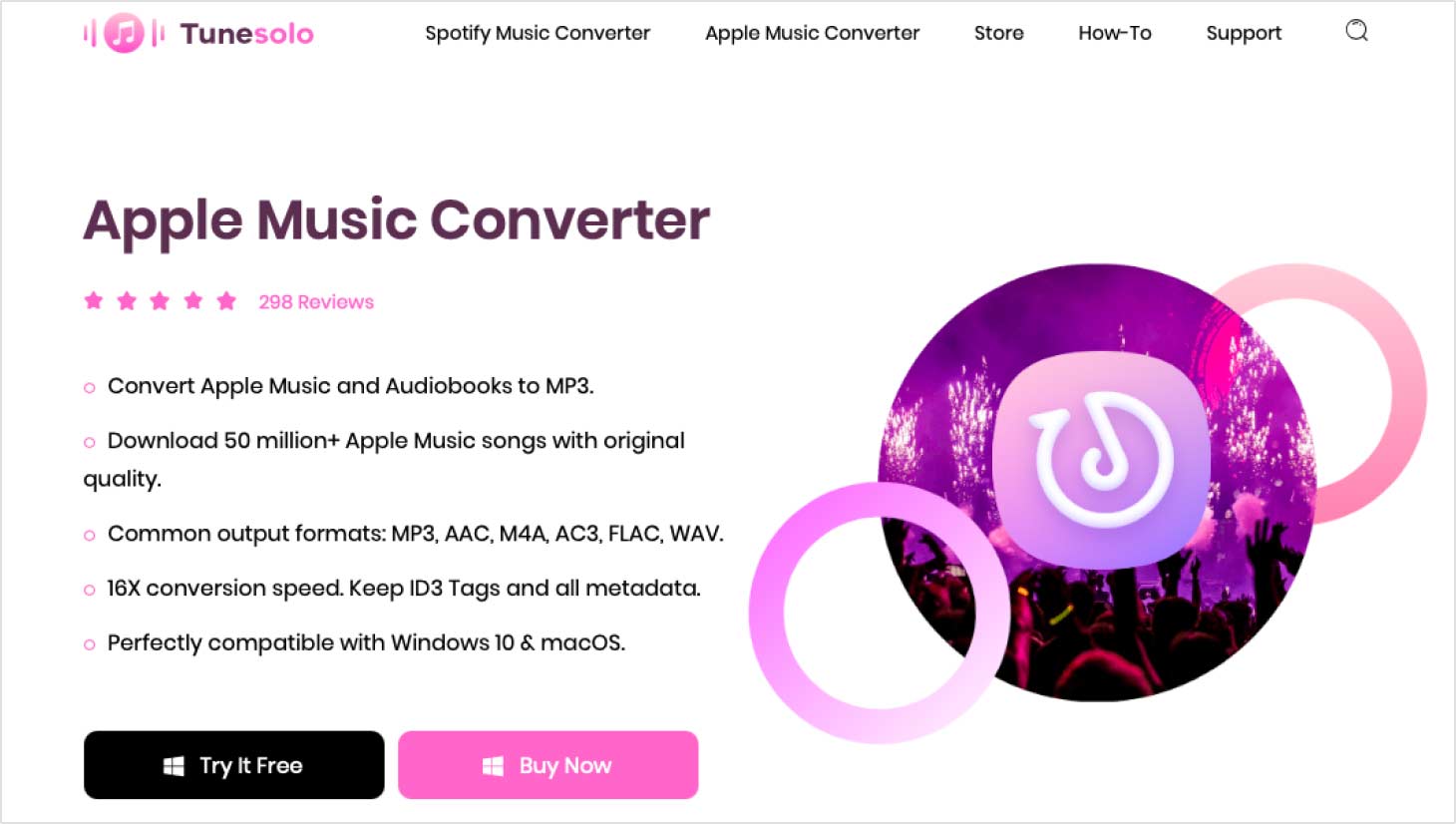 Main Feature:
DRM Removal. Since you need to learn how to unprotected iTunes songs, the DRM removal function of TuneSolo will be crucial. This allows you to remove the FairPlay code on iTunes songs, effectively removing its protection
Other Features:
Offline Listening. It's also convenient how you can listen to the download songs without internet. Moreover, this is possible for many devices like iOS and Android devices and Xbox, Zune, and PSP consoles
Faster Conversion. You may also like how the software processes quickly. In fact, it can download and convert files 16 times faster than normal converts. What's more, you can convert and download multiple files at the same time, further increasing its speed
Supported Formats. It should also be noted that TuneSolo supports a lot of formats including protected formats like M4B, M4V, and more. It also supports unprotected formats like MP3. In other words, it's an unprotected-protected music converter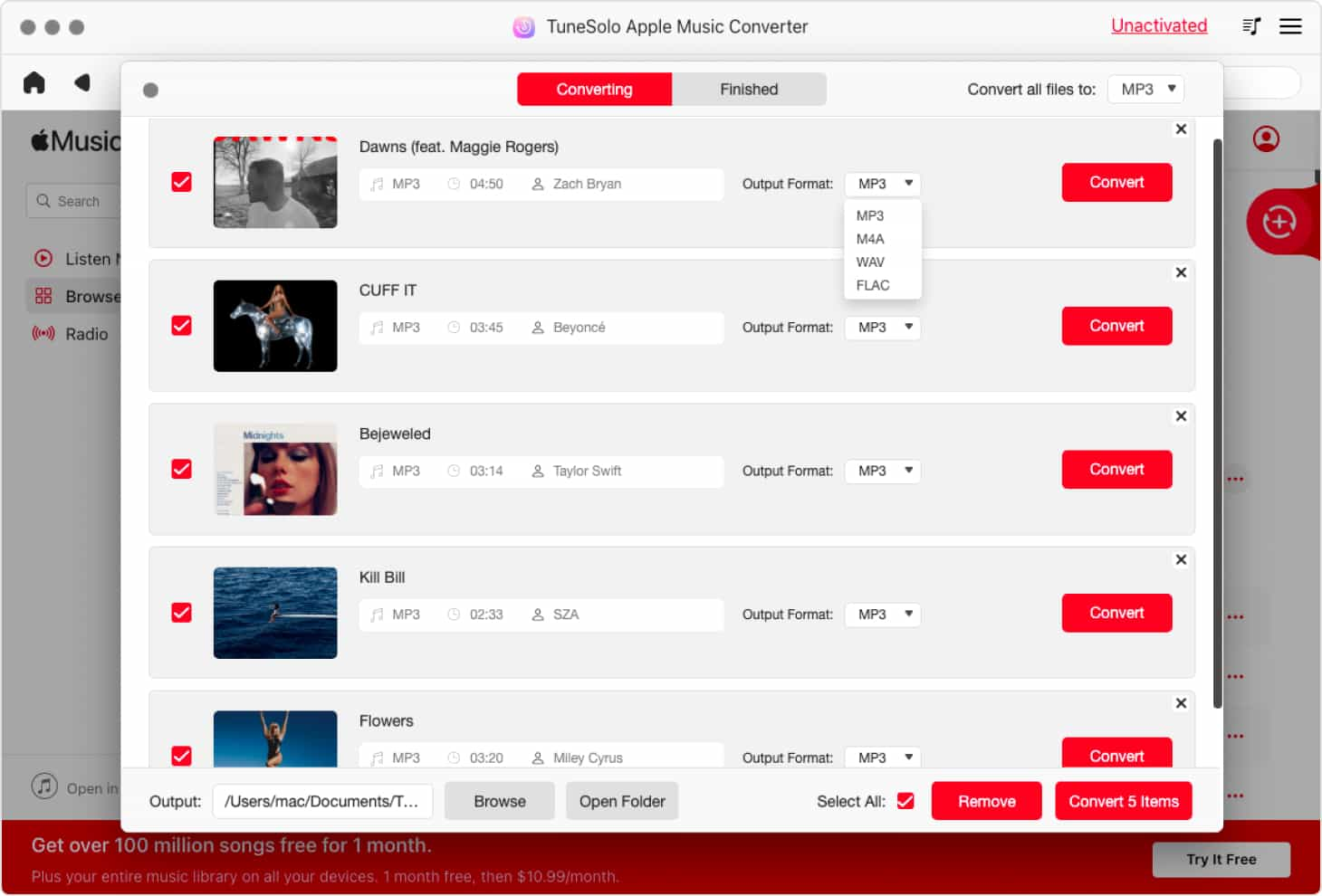 It's quite easy to see that TuneSolo Apple Music Converter offers a lot to its users. So without dragging this out, let's proceed with the steps on how to unprotect iTunes songs for free:

Pick iTunes Songs
Modify Output Settings
Download/Convert iTunes Songs
Note: The new version of Tunesolo Apple Music Converter no longer requires syncing with iTunes to process the offline music conversion anymore! We have a built-in Apple Music web player to boost download efficiency. You need to log in with the Apple ID to continue the music searching and converting processes later on. Please free-try our new Apple Music Converter to know more about its fantastic features!
Step 1. Pick iTunes Songs
Before you start, check if iTunes is in your applications list. If so, continue by opening the Apple Music converter. The first thing you'll notice is the long list of titles. What you need to do is select the ones that you want to unprotect.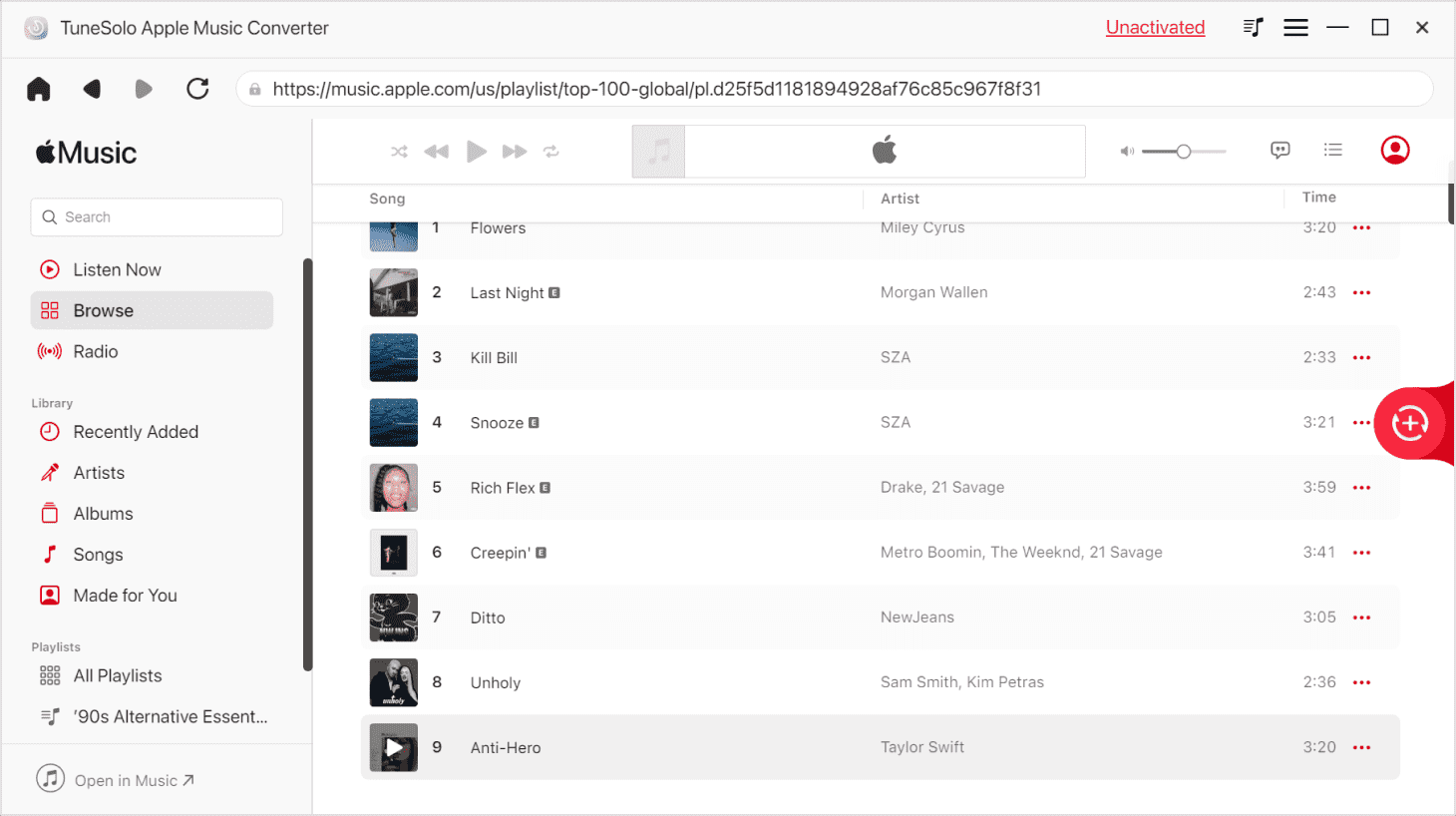 Step 2. Modify Output Settings
Your next step is to head to the Output Settings section. This is located at the bottom of the window and this is where you can change properties like quality, codec, and other settings.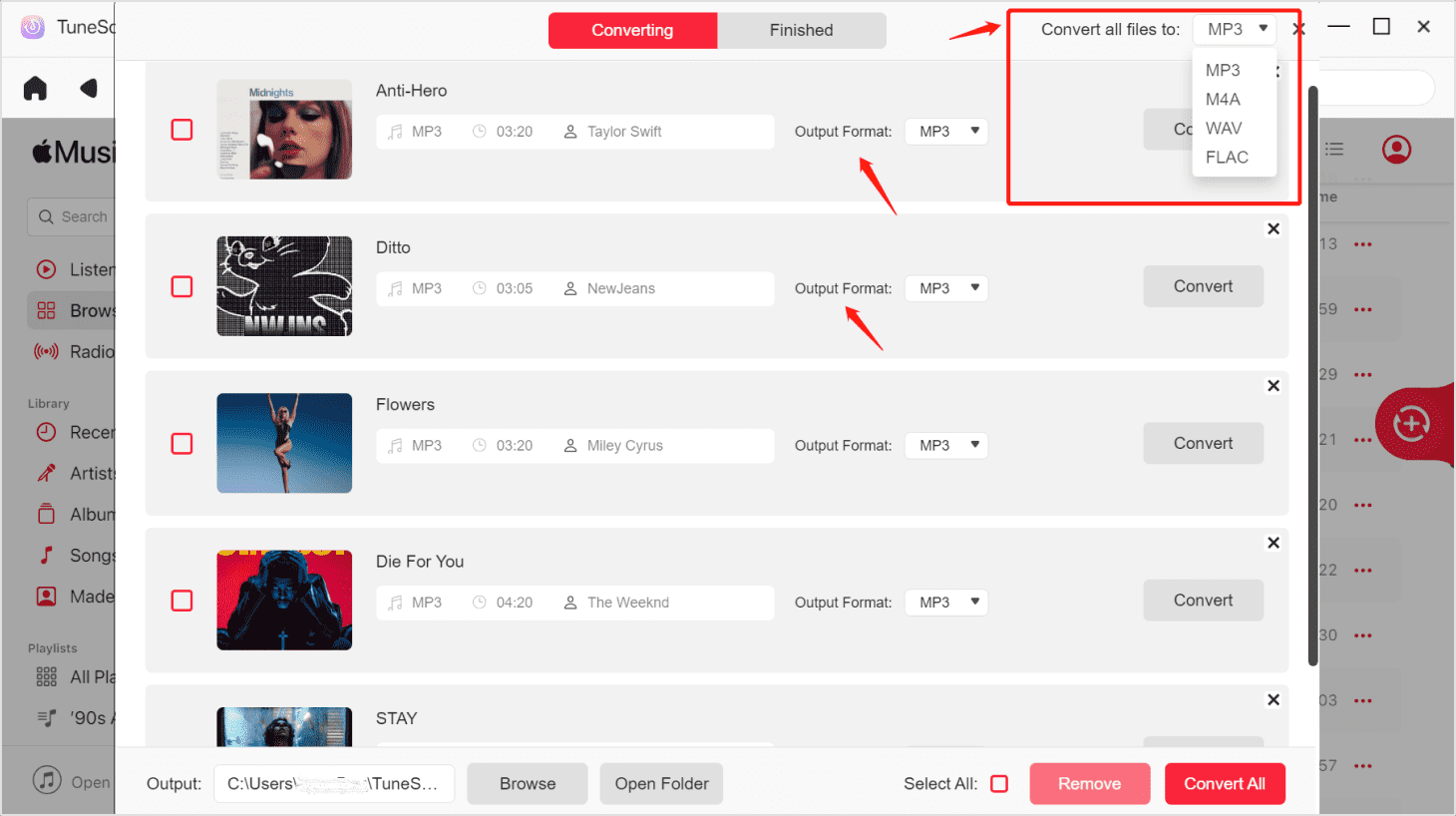 Step 3. Download/Convert iTunes Songs
Upon changing the settings, you can end this by clicking the Convert button at the bottom-right corner of the window. Now wait until it's all finished.
Tip: Please make sure that Apple Music/iTunes is closed before opening Apple Music Converter. And during the song conversion, please do not do any operation on Apple Music/iTunes.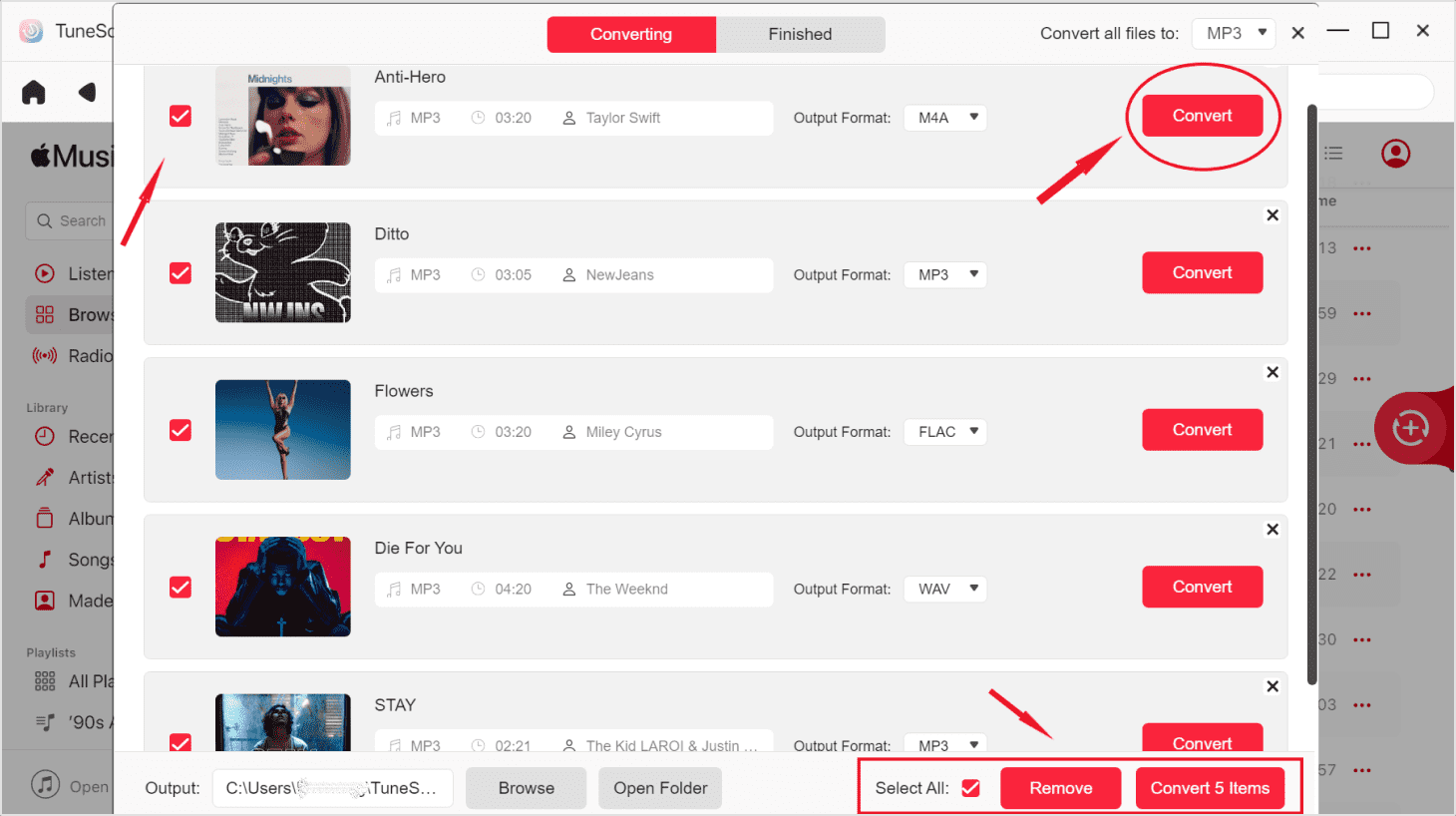 Part 3. Summary
iTunes songs nowadays have no protection. Only the songs created before 2009 has the protection that's hindering users. However, there's no denying that there are a lot of great songs from before 2009. That's probably why you want to learn how to unprotect iTunes songs.
This article should have done its job to teach you everything you need to know, from the history of iTunes to the ways to unprotect songs. Hopefully, you can use this knowledge in other matters as well.